WWE RAW April 24, 2023 Live Results, Updates, Highlights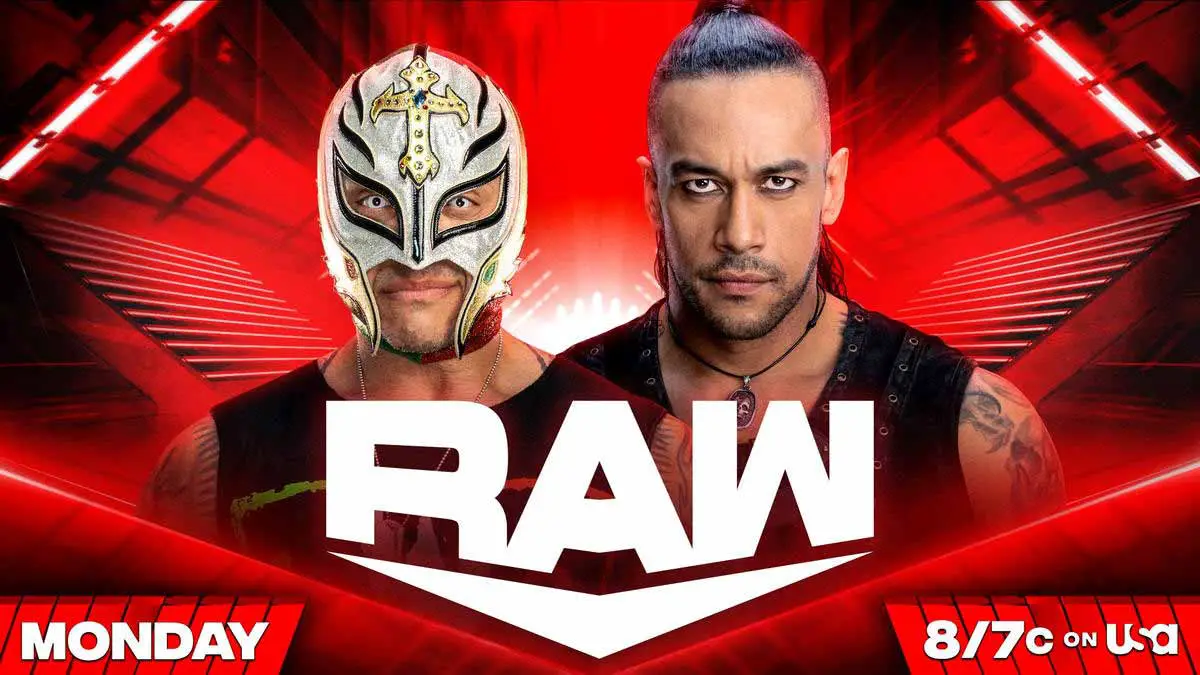 Welcome to the live results blog for WWE RAW April 24, 2023 episode which continued to build-up towards Backlash 2023 event.
Bad Bunny, the host of Backlash 2023, returned to RAW this week after being put through announce table by Damian Priest 3 weeks back. Did we see him getting involved with Damian Priest or Judgment Day once again? Rey Mysterio was set to face Priest in a singles match already.
No other matches were announced for the show. But, we can everyone on the roster to try to impress before WWE Draft 2023. We heard from Seth Rollins after his match against Omos was announced for Backlash. We also saw a segment between Bobby Lashley, Bronson Reed and Austin Theory after their triple threat match was announced for US title.
A big announcement was made by Triple H. What was it? Check below for all the updates from WWE Monday Night RAW April 24, 2023 episode with live results, winners, highlights and complete action.
WWE RAW April 24, 2023 Results
The Bloodline(Solo Sikoa, Jey Uso & Jimmy Uso) defeated LWO(Santos Escobar, Cruz Del Toro & Joaquin Wilde) in a tag team match via pinfall.
The Street Profits(Montez Ford & Angelo Dawkins) defeated Cedric Alexander & Shelton Benjamin in a tag team match via pinfall.
Bianca Belair, Liv Morgan & Raquel Rodriguez defeated Damage CTRL(Iyo Sky, Dakota Kai & Bayley) in a tag team match via pinfall.
Mustafa Ali defeated Chad Gable in a singles match via pinfall.
Cody Rhodes defeated Finn Balor in a singles match via pinfall.
Rey Mysterio defeated Damian Priest in a singles match via disqualification.
Live Updates
Cody & Judgment Day
Cody Rhodes opens the show to a great ovation. Cody says they could talk about WWE Draft where he can end up on SmackDown or stay at RAW, or they could talk about his match against Brock Lesnar, who is the most celebrated combat athlete of all time. Cody says it is surprising that Brock waited for his back to be turned before attacking him. Cody calls it the most humiliating beatdown.
Then, he wants to show us something else. He removes his blazer and the shirt. He points at the surgery mark and points how this is the first time he is here at Allstate Arena since beating Seth Rollins inside Hell in a Cell. He says Lesnar has not learnt the lessons because he can only give him one more scar like this. And the reason he did not give a heroic spin to it because he did not do anything but it was a packed crowd who picked him up and gave him the will to fight. Cody thanks the crowd from the bottom of his heart.
Finn Balor's music hits and he comes out. Balor tells Cody that everyone has scars but does not go showing around. Balor says he saw what happened at WrestleMania and how he got screwed. So, he sees why Cody agreed for Brock Lesnar to be his tag team partner because he had no one else. Balor says Cody needs to be smart in choosing. Cody cuts him off and says despite there being a mutual respect between them, he is not buying whatever Balor is selling.
Balor says if Cody respects him, he will listen to him and join Judgment Day. Balor points out everyone is thriving under Judgment Day. Rhea being the SmackDown Women's Champion, Priest putting Bad Bunny through the table and Dominik surpassing his Hall of Famer dad already. Cody respectfully declines joining the stable. Balor replies that either he is with Judgment Day, or against Judgment Day, and he will slap his head down someday. Cody says he was cleared medically earlier in the day and he thinks it is a good way to send a message to Brock Lesnar to beat Balor tonight.
The Bloodline(Solo Sikoa, Jey Uso & Jimmy Uso) vs LWO(Santos Escobar, Cruz Del Toro & Joaquin Wilde)
Wilde and Jey start the match. Jey starts with an arm wringer. Wilde counters and hits a headscissors takedown. Jey takes him to the corner and The Usos make quick tags to beat up Wilde in the corner. Solo runs him over with a double ax handle. Santos and Del Toro come in after Wilde lands on his feet on a back body drop. They hit stereo dropkicks on The Usos before throwing them on the floor. Wilde and Del Toro hit a suicide dive on The Usos before Escobar does the same to Solo on the other side. We cut to a break.
Wilde hits a DDT to come back into the match. Santos and Jimmy get the tag. Escobar hits tackles on Jimmy before knocking off Jey and Solo. Escobar hits more tackles before Jimmy cut him off with a back elbow. Escobar follows up with a knee strike, an enzuigiri from the apron and a crossbody to get a two-count. Cruz Del Toro tags in and hits a Pheoniz splash on Jimmy, only for Jey to break the pin.
Santos and Jey fight on the floor. Jey sends Santos into the ringpost. Solo hits Wilde with an Urinage on the apron. Solo hits Del Toro with a Samoan Spike while Jey distracted the referee. The Usos hit 1D on Del Toro to get the pinfall.
Winner – The Bloodline
The Usos take the mic after the match and say they had just one bad day to the tag team titles. But, they will take those titles back this Friday and dedicate them to The Tribal Cheif Roman Reigns.
---
WWE RAW Women's Champion Bianca Belair is interviewed backstage and asked about her match at Backlash against Iyo Sky. Bianca says she is excited as she always stays ready. Damage CTRL interrupt her and hype Iyo. Iyo screams at her in Japanese and Dakota sums it up as Iyo wanting to face Bianca tonight. Bayley adds that they also want to beat her up and challenges Bianca for a trios match. Bianca agrees.
---
Sami Zayn cuts off Jey Uso backstage and brings up The Usos dedicating Tag Team titles win to Roman Reigns. Sami says Roman is gonna be mad if The Usos lose now. Jey asks why is he bothered about it. Sami says it is because he feels bad. Jey says Sami chose his side, and that they will win the titles back.
---
We get a recap of Trish Stratus' promo from last week along with her attack on Becky Lynch. Trish is interviewed backstage and asked if she has some inside information on Becky Lynch's disappearance from the past two weeks from RAW. Trish says Becky is overwhelmed for carrying the women's division, be the Man and also be a mom. Trish says she is also a mom and has plethora of other things, but she is here. Trish says Becky must be sitting at home and should be saying, "Thank You, Trish".
The Street Profits(Montez Ford & Angelo Dawkins) vs Cedric Alexander & Shelton Benjamin
Shelton knocks off Dawkins off the apron with a knee strike. Ford fights with him before Cedric takes a blind tag and hits Ford with a Michinoku driver. Cedric and Shelton unload on Ford for a while before Ford hits back at Shelton with an enzuigiri. Dawkins gets the tag and hits some tackles. He blocks Cedric's move before hitting more quick moves. Dawkins hits silencer but Shelton breaks the pin. Shelton blocks an enzuigiri from Ford before Dawkins drops him. Dawkins slams Cedric to the mat. Ford hit a frog splash to get the pinfall.
Winners – The Street Profits
Triple H Announcement!
Triple H makes his entrance. He says he had the opportunity to compete at the highest level, and had the incredible priviledge to defend WWE Championship against John Cena at his same building at WrestleMania 22. Tonight, he is here to talk about Roman Reigns. Triple H brings up how Roman is closing in on 1000 days as the champion, and there are not many from WWE's past who could hang with Roman.
Triple H says Roman has defended the title against some of the best in WWE during this riegn. But he also did something that Triple H would have also done in the same position. Roman smartly negotiated a deal where he does not have to defend the title as often. While that is good for Roman Reigns, it is not good for WWE and for the fans.
So, with the draft, whichever brand Roman Reigns is drafted to, he and the WWE Universal Championship will remain in that brand. And the other brand will get a new champion. At WWE Night of the Champion on May 27, a new World Heavyweight Champion will be crowned. Triple H unviels the new World title belt. He says this champion will not ask for our acknowledgment but will earn the acknowledgment.
---
Judgment Day are interviewed backstage. Balor gets mad at being overlooked for questions. Priest tells him he should get ready for his match against Cody. Damian Priest says Bad Bunny being here tonight is awesome as he is a megastar, but if he's looking to get in their business again, he will be put through a table again. Priest says he did not go to Coachella last week to ruin Bad Bunny performance after all.
Dominik says he is just excited to see Priest beat up his dead beat dad. Priest says he is going to exterminate Rey Mysterio.
---
We get a video package for Bronson Reed.
---
Jimmy is manifesting how the tag team title match will go on this Friday. Jey is not chatting and is lost in his own thoughts. Jimmy asks him where his mind at. Jey asks what happens if they do not win the titles. Jimmy asks from where these talks are coming. Jey tells him how Sami was talking to him in the hallway. Jimmy snaps at him for talking to Sami. Jey says he is just talking about what if they do not win the titles. Jimmy tells him that they will win the titles back for The Tribal Chief.
Bianca Belair & TBA vs Damage CTRL(Iyo Sky, Dakota Kai & Bayley)
Iyo and Bianca start the match. They both dodge each other's attacks. Bianca hits a dropkick and Iyo quickly tags out to Kai. Bianca hits a suplex on Dakota before tagging in Liv. Liv and Raquel work together on Dakota with tanden offense. Bayley comes in and is sent into the corner by Raquel. Raquel also throws Liv on top of them before Liv hits a hurricanrana to send Raquel into Bayley in the corner. Liv hits a knee strike on Dakota before a Codebreaker. Dakota leaves to the floor. Liv chases her to the apron. Bayley distracts the referee and Iyo hits a knee strike on Liv to take over control. We cut to a break.
Damage CTRL trio make quick tags to keep control over Liv. Bayley hits a running knee. Iyo hits a Meteora in the corner. Iyo keeps Liv grounded. Liv fights back against Dakota and Iyo. She throws Iyo to the floor and hits Dakota with a knee. Liv drags herself to her corner but Iyo pulls Bianca off the apron. Liv hits double knees to Dakota's back. Liv tags in Raquel who hits clotheslines and tackles on Bayley. Iyo is kept off the apron.
Raquel hits a fallaway slam on Bayley before a running tackle. Liv comes back and throws Dakota to the floor. Raquel hits a powerbomb on Liv to throw her into Dakota and Bayley. Iyo hits Raquel with a dropkick after Bianca tags in. Bianca goes for KOD on Iyo but she grabs the ropes. Bianca sends Iyo face first into the ringpost. Bayley comes in and Bianca hits her with KOD to get the pinfall.
Winners – Bianca Belair, Liv Morgan & Raquel Rodriguez
US Title Competitors!
United States Champion Austin Theory made his entrance before the break. He takes the mic and talks about his opponents for Backlash in Bronson Reed and Bobby Lashley. Theory claims that he is the greatest United States Champion of all time but he gets no respect and had no say in his opponents for this match. He brings up the new World Heavyweight Championship and says that title should be around his waist instead of being on the pedestal. But instead, he is in a triple threat match where he can lose the title without being pinned or submitted.
Bobby Lashley makes his entrance. Theory asks him what is his problem. Lashley says the only problem is that Theory is holding his title. Lashley asks Theory when he is going to stop running away from obstacles he should be running towards. Lashley claims that Theory knows how tough he actually is. Lashley asks if Theory is just lazy or scared. He should be welcoming every opportunity to fight for that title, because Lashley would and requested the triple threat. Theory retorts by asking him where was he requesting matches at WrestleMania?
Lashley laughs it off and says he should knock Theory's teeth down his throat. Theory throws a punch but Lashley ducks it and takes him down. They brawl on the floor where Lashley sends Theory into the barricade. Bronson Reed attacks Lashley. Theory puts Lashley against the ringpost and Reed hits him with a splash against it. Theory hits A-Town Down on Lashley but turns around to a tackle from Reed. Reed hits a senton and Tsunami splash. He holds the US title in the air to close the segment.
---
Earlier today, Elias is trying to calm Rick Boogs down over Draft on Friday. He brings in Chad Gable, who explains the rules of the draft. Gable says he has made sure that Alpha Academy remain intact. Maxxine Dupri comes in and says she has made sure Otis goes where she goes. Mustafa Ali comes in and calls for the need to have a more positive mentality. He says maybe Gable could reach his full potential and become World Heavyweight Champion but tonight he is gonna be a loser when they face off. Otis tells Ali that Chad is gonna show him a shakedown.
Chad Gable vs Mustafa Ali
Gable starts with a single leg takedown. They trade arm drags before stopping. Gable hits a snap belly-to-belly suplex after Ali comes off the ropes. Gable sends him to the corner for quick shots. Ali hits a knee and rolls in but Gable hits him with a dragon suplex. More back and forth action follows. Gable looks for a move but Ali uses a sunset flip and gets the pinfall.
Winner – Mustafa Ali
Sami Zayn is walking backstage when he is interrupted by Jimmy. Jimmy says he should stop meddling in Bloodline business. He asks Sami what will happen if they lose the titles on Friday, and if Kevin Owens is gonna be with Sami. Jimmy says KO did not forget everytime Sami has backstabbed him but just used him to win the titles.
Finn Balor vs Cody Rhodes
Balor starts with an arm wringer. Cody reverses it and pushes Balor into the corner. Cody puts on a side headlock. Balor hits an armdrag but Cody quickly takes him down in a headlock. Balor gets up and pushes Cody to the ropes. Cody picks him up and hits a nutbuster. Cody hits his signature jabs. He gets Balor up in delayed suplex position for a long time before dropping him. A bit and forth before Cody misses a crossbody and lands on the ropes. Cody is down on his knee after being hit on the ribs. Balor pushes his ribs into the announce table. We cut to a break.
Balor is targeting Cody's ribs as we return. Balor hit a slingblade next. Cody comes back with kick to midsection and Cody cutter for a two-count. Cody stomps on Balor's ribs after a takedown. Balor hits a shotgun dropkick. Cody avoids the Coupe de Grace. Cody goes for cross-rhodes but Balor gets in an inside cradle for a two-count. Cody hits Balor with a pedigree. He hits Crossrhodes to get the pinfall.
Winner – Cody Rhodes
Rollins, World Title & Omos
Seth Rollins made his entrance before the break. The crowd keeps singing his theme song. Rollins brings up his match against Omos, but says something bigger has caught his eyes. He looks towards the new WWE World Heavyweight Championship. The crowd chants, "You deserve it". Rollins asks them if they are saying it because he is a Chicago Bears fan. Rollins says Triple H had some great words for Roman earlier in the day but beating Rollins was not one of Roman's accomplishments.
Rollins gets to the floor and stands near the World title. He says this title would put all of Roman's politics at rest and he can not think of any better man to hold this title than…. Omos' music hits and he comes out with MVP. MVP takes the mic and says he respects Rollins immensly, and that Rollins is one of the most impressive superstars to embrace WWE ring. MVP says he has accomplished everything there to accomplish. But it is MVP's job to get Omos impressive matches and a win over Rollins would be huge.
So, MVP cautions him against any future predictions because Rollins may not have a future after backlash after Omos is finished with him. Rollins looks at Omos and says thank you to MVP. The crowd starts to sing for Rollins once again. Rollins says we should thank you to MVP but he has undersold Omos. Rollins says Omos is the tallest man he has ever seen. But Omos is once in a generation because he was born that way. And Rollins is once in a generation because he worked hard to become that. Rollins says he will give Omos his best match in his career and then stomp his head into the mat and the crowd will be singing his song.
---
Kevin Owens is backstage and gets his ears eaten by Matt Riddle. Owens is relieved watching Sami walk in. He ask where he was all night. Sami tells him that he had a bad day after talking to Jey and then to Jimmy. Owens asks why is he talking to The Usos. He tells them he should not be worried what Roman is gonna do with them. They had their time to figure it out themselves. Sami should instead be worried about defending tag team titles. Owens leaves in anger. Matt Riddle tells Sami that he knows how Sami is feeling. Sami is confused and asks how Riddle knows how he is feeling. Riddle says he was in a tag team with Randy Orton and everyone keep telling him that Randy would RKO him, but he never did because they were bros. And Sami and KO are bros.
Rey Mysterio vs Damian Priest
Rey Mysterio rushes Priest with quick shots. Priest pushes him away and goes to slam him but Rey escapes and hits more shots. Priest drops Rey with a big shot himself. He hits a gutbuster. We see Bad Bunny's car entering in the parking lot. Priest takes Rey to the top. Rey counters and hits a hurricanrana from the top rope. Priest blocks his move and throws him to the floor. We cut to a break.
Priest hits a clap bell on Rey. He throws Rey to the corner before hitting a corner splash. He misses a running tackle in the other corner. Rey hits a moonsault on the floor. Back to the ring, he hits a seated senton and crossbody to get a two-count. Rey hits a kick to his face and a low dropkick to set up 619. Priest hits him with a thrust kick to cut him off. Damian goes for Razor's edge but Rey slips out and hits a chop block. Priest hits a flatliner to get a two-count.
Priest hits some punches on the mat. He goes to the floor and gets a chair. Rey hits him with a dropkick on the apron. They both go for the chair. Rey grabs the chair but Priest grabs his throat. Rey breaks free and hits a dropkick to set up 619. He hits 619 and goes to the top. Priest throws a chair at his face on the top rope to stop the final splash. The referee calls for DQ.
Winner – Rey Mysterio(via DQ)
Priest beats up Rey for a while. Bad Bunny's music hits and he comes out with a kendo stick. They face off from the opposite side of the ring. Bunny hits Priest with the kendo stick. Priest rolls to the floor. He pushes Bunny off the announce table. Bunny trips him with a kendo stick. He unloads more and more shots. Priest runs into the crowd. Bad Bunny takes the mic and announces that he is not hosting Backlash anymore but he is going to kick his a## in Puerto Rico. Bad Bunny vs Damian Priest in a stree fight at Backlash.