WWE NXT Results & Live Updates November 29, 2022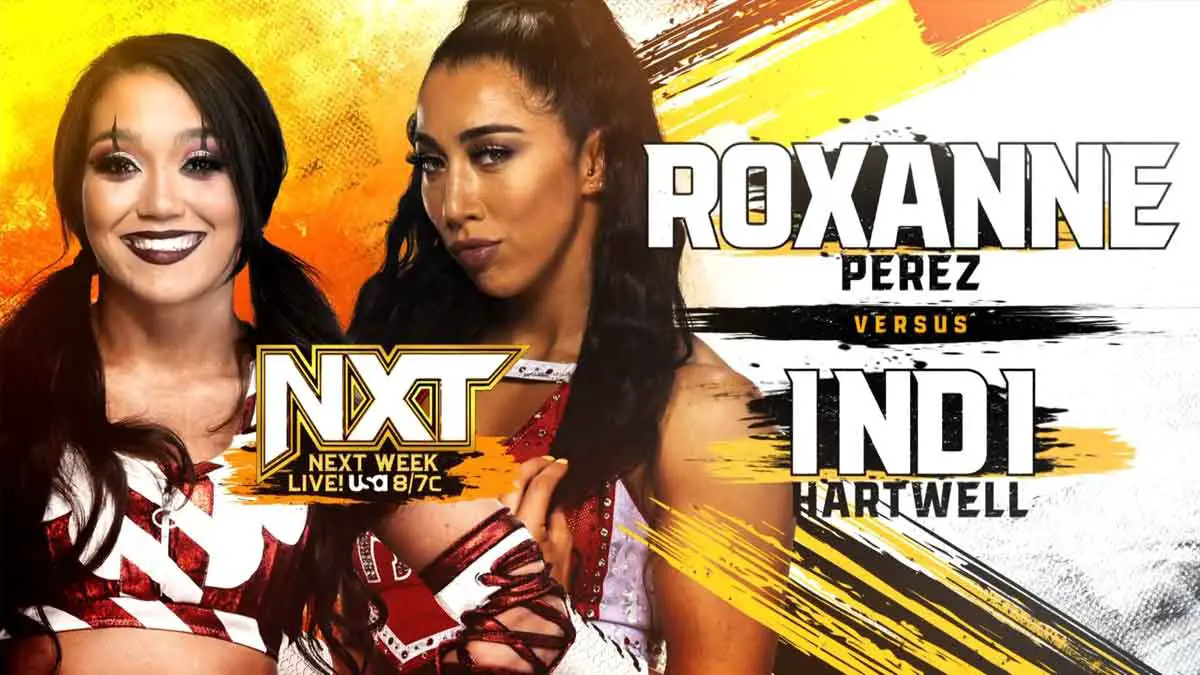 Welcome to the live results blog for WWE NXT episode of November 29, 2022, which will feature build-up for NXT Deadline 2022 event.
The show will feature Roxanne Perez vs Indi Hartwell singles showdown. Toxic Attraction will take on the trio of Nikkita Lyons, Kayden Carter & Katana Chance. Bron Breakker's program with Apollo Crews is expected to continue as they get ready for their title match.
Shawn Michaels will announce the participants for Iron Survivor Challenge match at Deadline. Road Dogg, Aluendra Blaze and Molly Holly will appear on the show to help him out on this.
Tune in below as we post results from WWE NXT episode of November 29, 2022, with live updates, highlights and complete action.
RESULTS
Roxanne Perez defeated Indi Hartwell in a singles match via pinfall.
Dijak defeated Dante Chen in a singles match via pinfall.
Grayson Waller defeated Duke Hudson in a singles match via pinfall.
Kiana James defeated Fallon Henley in a singles match via pinfall.
Axiom defeated Javier Bernal in a singles match via pinfall.
Julius Creed defeated JD McDonagh in a singles match via disqualification.
Von Wagner defeated Malik Blade in a singles match via pinfall.
Toxic Attraction(Mandy Rose, Gigi Dolin & Jacy Jayne) defeated Nikitta Lyons, Kayden Carter & Katana Chance in a tag team match via pinfall.
LIVE UPDATES
Indi Hartwell vs Roxanne Perez
Indi puts on a side headlock. Roxanne counters with an arm wrench. She takes Indi down with headscissors. Indi picks her up and drops her on the turnbuckles. Roxanne rolls her up to get a two-count. Roxanne puts a sleeper hold with body scissors. Indi misses an elbow drop before Roxanne hits a dropkick for another two-count. Roxanne puts on body scissors again but Indi slams her face into the ropes to break it. Roxanne goes to the top and Indi pushes her off the top and down to the floor.
Roxanne beats the countdown but Indi was ready to start beating her up. Indi keeps control with boots to the face, body slams, some kicks and big blows. She hits another body slam to get a two-count. Indi counters a roll-up with a pin attempt of her own. Indi drops Roxanne with a short clothesline to get a near fall. Another clothesline and a side slam follow. She puts on a choke. Roxanne was trying to get to her feet but Indi hits at the back of her knees and slams her face into the mat.
Roxanne fires back with forearms, counters a side slam and drops Indi with an uppercut. Roxanne hits back elbows into the ribs, slams Indi to the corner, hits clotheslines and a basement dropkick on Indi in quick succession. Perez dumps her to the floor and hits a suicide dive. Indi catches Roxannee's crossbody but Perez puts her in an inside cradle. Roxanne hits a couple of spinning heel kicks to midsection and hits Pop-Rox to get the pin.
Winner – Roxanne Perez
Andre Chase is backstage when Thea Hail and Duke Hudson arrive to talk to him. Hudson talks about how he ended up booting Chase in the face during their tag team match and apologizes for it. He says he has started a signature campaign to get Chase a place in Iron Survivor Challenge match. Grayson Waller comes in and mocks and warns Andre Chase against Duke Hudson. Thea Hail gets irate when Waller says Chase is not champion material. Waller runs away and Hudson says he will take care of Waller.
Dijak vs Dante Chen
Dijak hits a big blow to Chen's back. He grabs Chen's throat. Chen fires back with shots but Dijak pushes him to the floor. Chen drives him into the apron. Chen boots on her face. Dijak cuts him off and hits a chokeslam. Chen hits punches to midsection. Dijak sends him to the corner and hits him with boots and body shots before hitting another chokeslam. Chen counters with shots to midsection. Dijak hits a lariat. He puts on a hammerlock and a sleeper choke. Dijak hits Feast to Eyes to get the pin.
Winner – Dijak
JD McDonagh is in Diamond Mine dojo talking to Ivy Nile to warn her about Creed Brothers taking on Indus Sher. Creed Brothers come in and say they do not care about JD's opinion.
---
Shawn Michaels is with Alundra Blaze, Molly Holly, Road Dogg and X-Pac to discuss which NXT stars have the best year to put them in Iron Survivor Challenge match. Dogg proposes Carmelo Hayes's name as the first entrant. Blaze proposes Tony D'Angelo, but Michaels reveals that he is injured and might not make it to Deadline. X-Pac puts JD McDonagh's name in the bowl. Holly puts on Joe Gacy's name for the match. Dogg and X-Pac talk about Axiom but he is also injured. Von Wagner is discussed as another name along with Grayson Waller. Michaels asks them each to submit their five names for the match.
Grayson Waller vs Duke Hudson
Waller puts on a side headlock. Duke goes for a back body drop but Waller lands on his feet and grabs his hair. Duke grabs his hair in response but Chase tells him not to break rules. Waller blindsides him. Duke runs over Waller with a lariat and hits a side walk slam to get a two-count. Duke avoids a roll-up and tries to grab onto the ropes, but Chase once again stops him from cheating. Waller takes advantage of this distraction again with a cheap shot. Waller sends him to the corner and hits a back elbow. He chokes Duke in the ropes.
Waller misses an elbow drop. Duke starts to hulk up and no-sells Waller's punches. He hits several shots and drops Waller with a big punch. He follows up with a lariat, a belly-to-belly suplex and an elbow. Waller goes to the floor and ducks a boot. Duke almost catches Hail with that boot, but he controls his momentum. Duke tells Hail that he can control it whenever he wants. Chase wonders why did he not do that last week. Waller catches Duke with a stunner when he gets back to the ring and gets the pinfall.
Winner – Grayson Waller
"Big Body Javi" Javier Bernal is backstage and pitches several products in holiday sale season. Axiom comes in and asks him if he wanted a match with him. Axiom reveals that he is cleared for action now and will see him later tonight.
Fallon Henley vs Kiana James
James starts a pushing contest and Henley pushes her to the mat. They lock up after this and James puts Henley in the corner to slap her. We cut to a break.
Henley fights back with a back elbow as we return. James drops her arm on the ropes and starts working on it. James drops the arm on the ropes again before slamming it into the corner. She hits a handspring slam in the corner. James hits a body slam before slamming the arm on the mat. James keeps control. James starts to trade big blows with James. She hits a slingshot bulldog and both women are down.
Henley starts to build momentum with big punches. James hits a kick midsection to cut her off. James hits a backbreaker and a clothesline to get a two-count. Henley drops James on the ropes and hits a big forearm from the floor. James runs out and picks up her bag. She throws it in Henley's face and blindsides her with a low dropkick. James hits 401k to get the pin.
Winner – Fallon Henley
Malik Blade is upset at comments from Von Wagner over his father's sweater. Edris Enofe and Odessey Jones are trying to hype him up to not heed any attention to those comments. Blade is now pumped to face Wagner later tonight.
---
The Hall of Fame panel is now discussing women's Iron Survivor Challenge match. Roxanne Perez gets everyone's approval. Road Dogg puts in Zoey Stark's names. Indi Hartwell is the next name discussed but they all wonder if she is ready. X-Pac talks about Cora Jade's possibilities. Fallon Henley gets approval from Road Dogg. Kiana James' name come from X-Pac. Holly brings in Alba Fyre's name for discussion, but Dogg says she is currently focused on Isla Dawn. Michaels now wants them put names on the paper.
---
We see a Tik-Tok from Cora Jade mocking Wendy Choo for her loss last week.
---
Kayden Carter & Katana Chance make their entrance for the match against Toxic Attraction. Zoey Starks attacks Nikkita Lyons during her entrance. Stark runs away until Chance and Carter come to help Lyons. Lyons' leg is injured. Carter and Chance help her to the back
---
Lyra Valkyrie gets an introduction video package.
---
Elektra Lopez talks about Indi Hartwell backstage and says Indi comes with the highest impact with the lowest risk. Lopez explains that Indi is a fan favourite for some reason and beating her would make the biggest impact.
Javier Bernal vs Axiom
Axiom hits him with a snapmare and puts on a side headlock. Bernal comes out of it but a dropkick from Axiom sends him to the floor. We cut to a break.
Bernal is working on Axiom's leg as we return. He hits a big kick to face. Axiom fires up but Bernal kicks him to his legs to drop him. Axion hits a couple of punches but Bernal works on his leg once again. Axiom gets a two-count with a sunset flip. Axiom puts on leg scissors and an arm triangle. Bernal has to power up to hit a powerbomb to break free. Bernal puts on figure four. Axoim turns it around and Bernal has to grab the ropes to break it.
Axiom hits a couple of forearm before hitting a dropkick. He hits a knee in the corner before springboard clothesline. Bernal avoids a superkick and hits a DDT. Bernal goes to the top and Axiom catches up with him to hit a superplex. Axiom hits a superkick to get the pinfall.
Winner – Axiom
Nikkita Lyons is declared fit to compete later tonight.
---
Bron Breakker meets Apollo Crews in a diner. Breakker wonders why he was not on Crews' list of opponents when he initially came. Crews says now that he is at performance centre, he wants the NXT title more and more. They continue to talk for a while.
JD McDonagh vs Julius Creed
Julius starts with a takedown attempt. JD counters with a side headlock. Julius nails a punch but JD puts on the side headlock once again. Julius goes to hit a back suplex but JD does not let go of the headlock. Julius hits punches to midsection to break free. He drops JD with a spinning slam. He runs over JD with a clothesline. JD trips him on the apron and hits a suicide dive on the floor. We cut to a break.
Sanga and Veer are out on the floor as we return from the break. Julius fights free of a body scissors. Julius drops JD with punches before hitting a slam. Julius goes for a vertical suplex but JD blocks it with knee shots. Julius powers up and hits the suplex anyway. Julius keeps up the momentum with more slams and suplexes. JD runs him into the corner. Julius falls to the floor and JD hits him with a penalty kick from the apron. JD blocks a German suplex off the apron and hits a moonsault.
JD works on Julius' leg. He goes for a leg crank but Julius kicks him away to the floor. JD sends Julius into the ringpost. He picks up a chair and goes for a chair shot, but Sanga suddenly pushes Julius away and gets the chair shot. The referee calls of a DQ.
Winner – Julius Creed
Indus Sher duo tell The Creed Brothers that they need Creed Brothers at 100%.
Malik Blade vs Von Wagner
Malik starts with quick moves. Wagner slams him to the mat to break his momentum. Blade takes him to the floor and slams his face into the announce table a few times. Wagner hits a knee as they return to the ring. Blade counters a powerbomb into a pin attempt and almost gets a pinfall. A bit of back-and-forth action before Blade hits a body slam. Wagner gets his knees up on the frog splash. Wagner hits F5 to get the pin.
Winner – Von Wagner
Edris Enofe runs out to save Blade from a post-match attack but Wagner beats him up too. Odessey Jones comes out and clotheslines Wagner to the floor.
Shawn Michaels announced the participants for Iron Survivor Challenge match. Carmelo Hayes, JD McDonagh, Grayson Waller and Joe Gacy are announced for men's match. Cora Jade, Zoey Stark, Roxanne Perez and Kiana James are announced women's match. The last participants will be identified next week with a wild cards match.
Toxic Attraction(Mandy Rose, Gigi Dolin & Jacy Jayne) vs Nikitta Lyons, Kayden Carter & Katana Chance
Jayne and Chance start the match. Jayne hits big shots to start and hits a senton. Chance fires back with some shots and hits a springboard dropkick. Both teams are in the ring now. Toxic Attraction are throw to the floor and their opponents hit them with dives one by one. Rose tags in when things get settled. Carter and Chance double team on her to keep control. Gigi runs a distraction on Carter and Rose drops her from behind. Carter is cornered now with the ring cut in half. Rose hits her with a spinebuster. Carter throws her over her head. She gets a two-count with a sunset flip.
Carter tags in Chance who hits quick moves on Gigi. Gigi hits a backbreaker when Jayne runs a distraction. Everyone start to get involved for a while until Gigi and Chance are the only one remaining in the ring. Gigi hits Chance with a Russian Leg Sweep. Chance tags in Carter and try to go for a double-team move. Jayne pulls Carter out to stop it. More back-and-forth action continues. Lyons hits a split legged drop to Jayne but Gigi breaks the pin. Toxic Attraction isolate Lyons and work on her knee. They finish her off with high-low to get the pin.
Winner – Toxic Attraction