WWE RAW 25 January 2021: Live Results, Highlights, Winners & Grades
Welcome to ITN's Live blog for WWE Monday Night RAW episode of 25 January 2021(1/25/2021) as we bring you the Live Results, Updates, Highlights, Winners and Grades from the go-home episode for Royal Rumble 2021.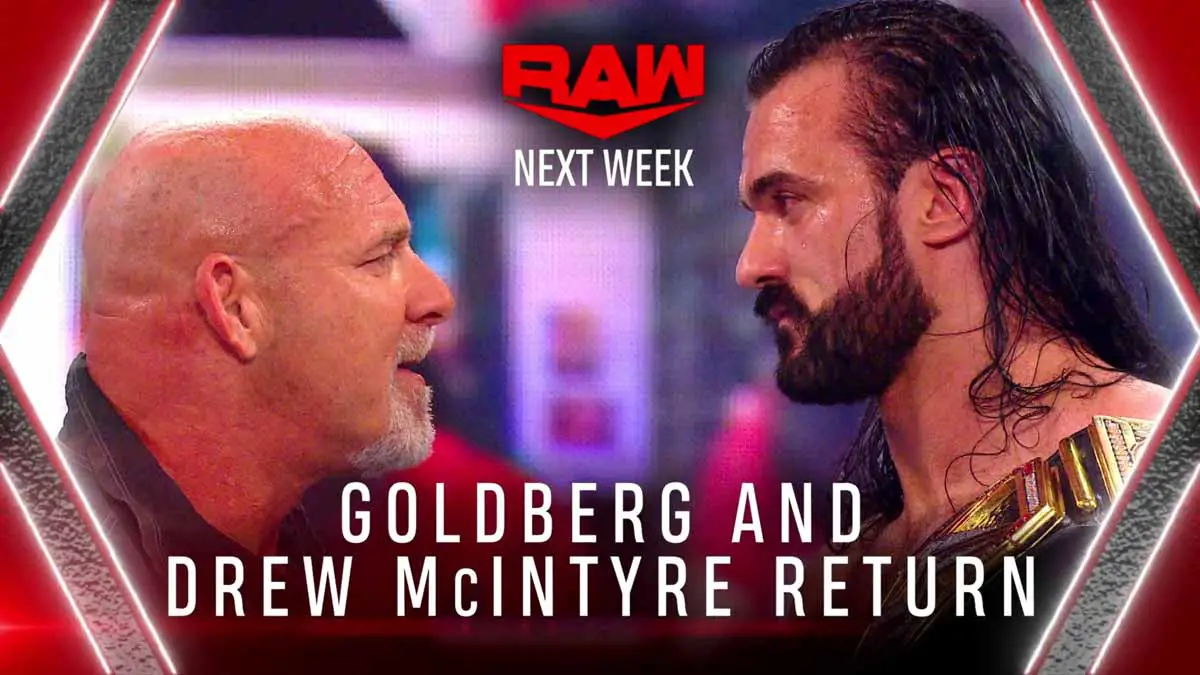 You can check the preview for the show here.
McIntyre & Goldberg Come Face to Face
WWE Champion Drew McIntyre comes out to the ring, making TV return after recovering from Coronavirus. He says his win against Goldberg at Royal Rumble will be dedicated to everyone who has suffered from COVID-19. McIntyre then talks about Goldberg a bit, discussing his streak and being one of his favorite while growing up. Drew says Goldberg's streak of winning will end this Sunday.
Miz and John Morrison come out and stand on the apron. Miz taunts McIntyre and says whoever is left standing on Sunday will be a sitting duck for them. Miz says he would cash-in the MITB briefcase to win the WWE Championship. Goldberg's music hits now. He enters the ring and have a face-off with McIntyre. Goldberg utters his famous line, "You are next," but Miz & Morrison ask them to say more things. McIntyre and Goldberg pull both of them into the ring and hit them with their finishers. Goldberg leaves as we go to the ring.
Grade- C. McIntyre's promo was good but other than that, everything else seemed monotonous. No real hype for the WWE Title match At Rumble.
---
Charlotte Flair vs Shayna Baszler
Charlotte Flair is at backstage for an interview. She talks about her opponent for a while before starting to talk about the Women's Royal Rumble. Flair is also asked about her father Ric Flair and Lacey Evans. She says she is aware of Evans' intentions but isn't worried as her focus is on Baszler.
Both women make their entrance. The match starts and they lock up. Flair gets the first takedown and kicks Jax through the ropes. Baszler goes for the Kirifuda Clutch early but . Flair fights off. Flair goes for Figure Four but Jax comes into the ring and hits the leg drop to cause a DQ.
Winner- Charlotte Flair(by DQ)
Jax and Baszler continue to beat up Flair after the bell. Mandy Rose and Dana Brooke hit the ring to make the save. Lacey Evans is also out now and starts beating up Flair. The brawling between the 6 women continues.
Charlotte Flair, Dana Brooke & Mandy Rose vs Shayna Baszler, Nia Jax & Lacey Evans
Mandy and Evans start. Evans taunt Charlotte with Ric Flair's strut. Rose with a takedown on Evans and Charlotte taunts Evans back. Rose with a kick in the gut and tags in Brooke for a double suplex. Brooke with a clothesline and a bulldog and a kick to the face. Flair tags in and Evans quickly tags out to Baszler. They aovid each other's moves. Flair catches Shayna with chops and hits a Fallaway Slam. Brooke and Rose double team on Baszler. Quick tags continue between the faces.
Baszler whips Charlotte but Flair gets in control and ends up taking Baszler to the outside. Baszler landed on her head on the floor. Flair goes after her and Baszler ends up thrashing Flair into the apron and sends her into the ring. However, Baszler does not get into the ring in time. Baszler is counted out. We go to the break as Baszler starts arguing with the referee.
The match is restarted. Nia and Dana are going at it. Brooke with a headscissors to send Jax into the corner. The heels keep control over Brooke with quick tags. A kick to the back and more arm manipulation from Baszler. Brooke tries to fight out against Jax. She is unable to do the sunset flip but still end up tagging in Rose. Rose comes in hot against Evans. Rose drops Baszler, clotheslines on Evans, takes her to the corner to unload. A pump knee strike on Evans but the pin is broken by Baszler.
Flair with a spear on Baszler. Jax runs in and drops Flair. Jax tags in. Evans pulls Flair out and then runs away as Flair gets angry. Brooke tags in for her team. Jax overpowers her despite efforts from Brooke. Jax with a chokeslam and a leg drop on Brooke to get the win.
Winners- Shayna Baszler, Nia Jax & Lacey Evans
Grade- C. The whole series of matches, starting from Baszler vs Flair, were poor. In the end, they were able to take the Flair-Evans storyline forward and make Nia Jax look like a monster.
---
Xavier Woods vs Slapjack(w/ RETRIBUTION)
Mustafa Ali cuts a couple of promos from WWE Network against Kofi Kingston. He continues to play into "KofiMania happened because of me" storyline. RETRIBUTION enter for the match. Woods enters after the break.
Woods starts in a ferocious mood and hits some big chops in the corner. Slapjack counters and ends up taking down in the middle of the ring. Woods avoids a stomp from the second rope. Woods with more chops and strikes, leg sweep, a dropkick, and a lariat to get two-count. Ali instructs T-Bar to cause a distraction. Woods still hits his finisher to get the win.
Winner – Xavier Woods
Woods goes to leave but T-Bar runs him over with a boot. RETRIBUTION takes Woods into the ring. T-Bar & Mace hit him with a double chokeslam. They hold him up for a chair shot. Ali shouts at him to look towards him. Ali decides against the chair shot and starts a promo instead. He tells Woods to deliver a message to Kofi Kingston that while Kofi will not be able to be in the Royal Rumble, Ali will take his place.
Grade- C-. Very Short match to be rated. The surrounding promos from Mustafa Ali were good though.
---
We see Matt Riddle backstage. He see 24/7 Champion R-Truth hiding. R-Truth tells him Hurt Business is throwing him a birthday party. They apparently have a 24 Gold Carots surprise for the VIP Lounge.
---
VIP Lounge
MVP starts his promo as the ring is setup for VIP Loung segment and hype Hurt Business. He then discuss the Gauntlet match against Matt Riddle next and asks Cedric Alexander to focus at the task at hand. Rest of The Hurt Business then reveal a special gift for MVP. It is a 24-carat Gold chair with Hurt Business initials- THB. MVP thanks them. Alexander says he was working with designers on the design. Benjamin takes offense on this.
R-Truth comes out and tells them he knows about surprise party. When Benjamin tells him there is no party, R-Truth says even the initials say so- Truth Happy Birthday. Lashley plays along and asks him to come into the ring. Instead, a horde of wrestlers run out for 24/7 title. Hurt Business starts beating them all one by one. Riddle runs out and takes out MVP as he was alone in the ring.
Grade- C. The segment felt more like a filler one than to try and achieve anything else. Most of the RAW tonight is feeling same though.
After the break, Adam Pearce was strolling backstage when he sees R-Truth. He tells Pearce that he wants to prove himself to be worthy of being in the Money in the Bank Ladder match. Pearce is confused. AJ Styles & Omus walk in. AJ clarifies that R-Truth means Royal Rumble match. Pearce announces a match between AJ and R-Truth, if R-Truth wins, he will enter Royal Rumble.
Sheamus vs John Morrison
They lock up and Sheamus takes Morrison down to the mat. Morrison gets a waistlock and goes for the sleeper. Sheamus catches his knee and drops him. They try to counter each other on the mat now. The match is going nowhere as they continue to reverse each other on the mat. Both get two-counts with roll-ups. Morrison finally gets some strikes going in the corner. Sheamus counters with a back body drop. Sheamus with more kicks, back elbow and an uppercut.
Miz tries to hype Morrison for a rally. Morrison kicks Sheamus in the throat and follows with more kicks. Sheamus whips him to the corner before an Irish Curse Backbreaker. Miz delays Sheamus' clothesline from the top and Morrison takes out his knees mid-air. Morrison has started to work on the knee now. A knee strike, Russian leg sweep and a leg lock- all are hurting Sheamus' knee.
Sheamus comes out of the leg lock with some elbow strikes. He gets up slowly but runs down Morrison with a double axe-handle. Morrison counters the white noise but ends up getting planted on the mat for a two-count. Morrison counters at the ropes but Sheamus catches him and hits the white noise for the pin.
Winner- Sheamus
Miz takes the mic just after the match. He tells Sheamus if he wants to prepare for Royal Rumble, he should face Morrison and him in a 2-on-1 match right away. Sheamus agrees.
Sheamus vs The Miz & John Morrison – 2-on-1 Handicapped Tornado Match
Sheamus throws Morrison out but Miz was ready to strike him from the back. Sheamus tries to hit the White Noise but Morrison return to the ring. Miz and Morrison continue to beat him up. A clothesline sends Sheamus out of the ring and Morrison hits a plancha. Sheamus is then launched into the barricade. Miz and Morrison continue to beat up Sheamus for a while. Sheamus counters and Morrison is sent outside.
Sheamus with a couple of clotheslines on Miz. Morrison runs in only to be taken down and take a senton. Sheamus was striking Miz with his signature blows on the apron when Morrison ran down Miz. Morrison gets clubbing blows on the chest. Sheamus takes both opponent out with a clothesline from the top. He takes Morrison back to the ring and gets ready for the Brogue kick. Morrison catches his legs. Morrison runs in and eats the Brogue kick. This gives Miz the chance to hit him with the Skull Crushing Finale.
Winner- The Miz & John Morrison
Grade- B-. Both matches were fine. But the problem here was that Sheamus is supposed to a heel, and he worked like a babyface the whole time.
AJ Styles vs R-Truth
AJ gets the strikes going to start the match. Truth decks him in the corner but AJ hits him with a backbreaker. Truth ends up throwing AJ out of the ring which pisses AJ off. AJ comes back and drops him with a toe hold. Omus is scaring Truth as he stands near him on the floor. Truth gets up and avoids the Phenomenal Forearm. He drops AJ and hits the 5-knuckle shuffle. AJ counters the Attitude Adjustment and puts him in the calf crusher for the win.
Winner – AJ Styles
Not long enough to be rated.
Matt Riddle vs Shelton Benjamin, Cedric Alexander & MVP – Gauntlet Match for United States Title Opportunity
Riddle starts with quick strikes. Runs into the corner with more moves. Shelton counters but Riddle keeps control. Shelton drops him with a spinebuster for a two-count. Shelton puts him on the top turnbuckle now and hits a big strike. Shelton keeps control for a while. Riddle with some forearms, but he runs into a boot from Shelton. Shelton with another knee strike for a two-count. Riddle is selling his ribs. Shelton with a waistlock, putting pressure on the ribs.
Riddle counters by putting Benjamin in the guillotine clutch. Shelton counters and takes him in the vertical suplex position. Riddle avoids the move though. Benjamin rolls up Riddle but Cedric Alexander has distracted the referee. Riddle with a headscissors into a small package to get the pin on Benjamin. Shelton Benjamin is eliminated.
MVP and Benjamin are shouting at Alexander for causing the distraction. MVP heads into the ring to go against Riddle. Benjamin and Alexander continue their argument and MVP tries to calm them down. The bell has already rung and Riddle catches MVP in a leg lock to get the submission. MVP is eliminated.
Alexander is in control as we return from the break. He drops Riddle's ribs on his knees. Alexander with a stretch to cause more pain in the ribs. Riddle comes out of the stretch, gets a forearm strike in the corner but runs into a dropkick. Alexander with another octopus stretch to work on the ribs.
Riddle gets out of the stretch with a few elbows. He takes Alexander in the fireman's carry, but Alexander counters it into a DDT for another two-count. Riddle starts a rally after coming out of a headlock. Pele kick, forearm in the corner, exploder suplex, standing senton. Alexander moves out of the Broton. Riddle eats a kick in the gut before hitting a German Suplex. Alexander with a brainbuster in reply. Riddle kicks out.
MVP is shouting at Alexander for not finishing up Riddle. Alexander with more strikes in anger. Riddle avoids a splash from the top and tries to go for the triangle choke. Alexander hits the powerbomb but Riddle again tries to put on the triangle choke. Riddle ends up rolling up Alexander for the pin.
Winner- Matt Riddle
Riddle runs away from the ring right after the match as MVP and Benjamin come in. Bobby Lashley run down from the back and drops Riddle. Riddle is sent into the barricade as the segment come to an end.
Edge Announces Royal Rumble Entry
WWE Hall of Famer Edge joins RAW via video. He is in a ring actually. He says 2020 taught us all that you can't sleep on tomorrow and need to pick ourselves to fight for every day. He recalls his career-ending injury in 2011 and how he returned at Royal Rumble last year. And then at WWE Backlash, he got injured which was a reminder that everything you hold close can be torn away just like that. Edge goes on and announces his entry for Royal Rumble. He says the stakes are higher this year because the window closes for him more and more every day. So, he needs to win the Rumble, headline WrestleMania 37, and take back what he never lost, what is his(World Championship).
Asuka(c) vs Alexa Bliss – WWE RAW Women's Championship match
Some stalling to start the match. Asuka with kicks on Alexa and tosses her across the ring a few times. Asuka takes Bliss down but Bliss is just smiling. Asuka hits a missile dropkick in the corner. She goes for a hip attack but Bliss sends her out of the ring. Some music starts playing and we see Bliss riding a rocking horse in the middle of the ring. Asuka is confused as we go back to the break.
Asuka misses in the corner as we return from the break. She keeps up with the attack but Bliss starts laughing. She grabs Asuka's hair and sends her face-first into the corner. Bliss keeps control for a while. Asuka gets free from a headlock but Bliss takes her right back down. She keeps laughing until Asuka fights out with elbow strikes. Bliss runs into a big kick to the face.
Bliss' hair has transformed now. Asuka levels her and follows with a hip attack in the corner, a German suplex and a sliding kick. Asuka takes her to the corner again. Bliss' music starts playing. Asuka stops and we see that Bliss has transformed back into her normal attire(before getting involved with the Fiend). Asuka is stunned.
Bliss starts crying as she gets up from the corner. Asuka charges but gets sent into the turnbuckle. Bliss walks into the corner and the lights start going down. Firefly Fun House music plays now. The lights come up and the dark version of Bliss is back. She is standing turned upside down in the corner like Bray Wyatt. Asuka's lips are also all black.
Asuka attacks but Bliss keeps blocking her with ease. Asuka takes her down for the Asuka Lock but Bliss resists. Bliss applies the Mandible Claw now. Randy Orton, without the mask, appears behind Bliss in the middle of the ring. Bliss turns around and Orton drops her with the RKO. The boos get louder as Orton slowly gets back to his feet and looks at a laid out Bliss as the show goes off the air.