WWE RAW 1 February 2021: Live Results, Updates & Winners
Welcome to ITN's Live blog for WWE Monday Night RAW episode of 1 February 2021(2/1/2021) as we bring you the Live Results, Updates, Highlights and Winners from the show.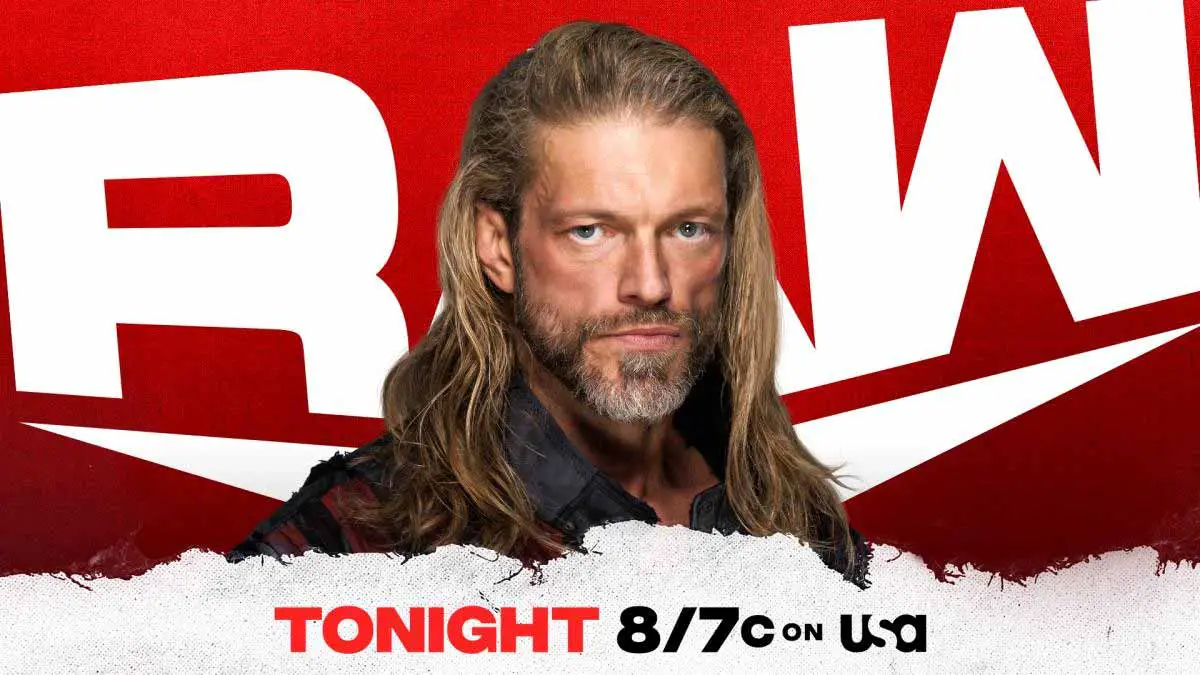 The Royal Rumble is done and Drew McIntyre emerged as still the WWE Champion while Edge and Bianca Belair won the men's and women's Rumble matches respectively. Charlotte Flair's rivalry with Lacey Evans continued with Evans costing Flair the WWE Women's title. Hurt Business vs Riddle is also there.
All in all, there are so many storylines as the fallout from Royal Rumble 2021 and on the road to WrestleMania 37. Join us as we bring you the live results from 1 February 2021 RAW episode.
Edge & Sheamus Confront Drew McIntyre
Drew McIntyre makes his entrance. He basically recaps the whole Royal Rumble PPV from last night, talking about highlights. He says how both he and Goldberg earned each others' respect. He was about to mention Edge when he walked out. Edge hits the ring and Drew goes all fanboy on him- talking about how he felt about his retirement in 2011 and then returning at last year's Royal Rumble and so on.
Edge asks what is wrong with Drew. He says he has won the Royal Rumble and is an immediete threat. Edge says he is the ultimate oppotunist, so Drew should not be treating him like this. Drew says he is not that kind of champion. Sheamus comes out and tells Edge that Drew was the one who carried the company in last one year when Edge was nursing an injury and he should respect him more.
Sheamus talks more trash until Drew stops him. Drew asks Edge who is he choosing for WrestleMania- Him or Roman. Edge says he will assess his options and will let everyone know in due time. Edge leaves the ring and Drew raises his title in the air. Sheamus was behind and runs him down with the Brogue kick. Sheamus stands on top of McIntyre for a while before leaving for the back.
After the back, Sheamus is stopped by Kayla Braxton. Sheamus says he is known as Drew McIntyre's friend. He is not Drew's friend anymore. He wants WWE Championship.
Bobby Lashley(c) vs Riddle – WWE United States Championship Match
The bell rings and Riddle attacks Lashley as he was still talking to MVP. Lashley takes him down but Riddle comes back with more kicks and forearms. Lashley catches his leg and takes him down again. Lashley hits a suplex. Riddle counters at the ropes and sends Lashley out with a headscissors. Riddle with a penalty kick and a moonsault from the apron. He sends Lashley back to the ring. Lashley catches him in the Hurt Lock when Riddle was at the apron. The referee asks him to release the hold, but Lashley wants to hurt Riddle more. Disqualification called.
Winner – Riddle(via DQ)
Lashley still has a Hurt lock on. He finally lets it go and Riddle drops to the floor outside. Lashley once again puts him in the Hurt Lock. MVP tries to calm Lashley down but he continues to beat Riddle some more.
We see a white Bugatti enter the arena backstage. Rapper Bad Bunny comes out of the car punching his hands. We go to commercial.
After the break, we see Riddle waking up at ringside. He seems to have blanked out and asks the officials who were surrounding him what has happened. They inform him that Lashley took him and he wants to go fight. Officials hold him back. Riddle asks what happened again. The commentary team says we should wait on a medical update on Riddle to come later.
Randy Orton rants on Edge on how he has made him look bad in front of all others since Orton told everyone that Edge is not coming back. He talks about how he beat up Edge, as a good friend sent him home to be with his family. But Edge won't listen and returned and won Royal Rumble. Orton now says that Edge will not main event WrestleMania though, because he is sending him back home. The commentators announced Edge vs Randy Orton for tonight!
Mustafa Ali(w/ RETRIBITION) vs Xavier Woods(w/ Kofi Kingston)
Xavier Woods and Kofi Kingston are backstage. Woods is glad Kofi is back. He says RETRIBUTION is up 2-1 but he's about to go take care of that. Kofi starts talking about how Mustafa Ali his lost his mind, but tonight isn't about Kofi, it's about Woods getting his payback. Kofi goes on about having Woods' back and they do their "New Day rocks!" chant.
The bell rings and they lock up, going to the corner. Ali with a back kick to get out of the corner. Ali gets dropped by a big shoulder. Woods clotheslines Ali over the top rope. Woods flies out but lands on his feet as Ali moves. Woods sends Ali into the barrier, then brings it back in. Slapjack and T-BAR taunt Kofi at ringside. Ali drops Woods with a neckbreaker in the ring now. 
Ali boots him in the corner now and follows with chops and strikes. Ali with another neckbreaker after a whip to the corner. He puts on a chinlock now. Kofi is ecourgaing Woods from the floor. Woods rallies up and unloads with chops and punches. He runs the ropes and ends up taking Ali down with a Russian leg sweep.
Ali hits a kick before Woods turns him inside out with a big lariat. Woods covers but T-Bar pulls Ali out from the pin. Kofi jumps off of T-Bar and takes down Slapjack. T-Bar tries to intimidate Kofi. In the ring, Woods rolls up Ali to get the win.
Winner- Xavier Woods
After the match, Kofi and Woods run to the ramp immediately. RETRIBUTION is shouting at them from the ring.
Bad Bunny is backstage with Damian Priest now. 
Miz TV with Bad Bunny
Miz and Morrison welcome Bad Bunny to the Miz TV. We get the replay from last night's events with Bunny turning down Miz's offer to collaborate, Miz breaking his music system, Bunny taking them down with a crossbody after their elimination in the Royal Rumble match.
Miz wants to let bygones be bygones. He apologizes from the deepest part of his heart. Bunny accepts the apology. Miz asks if he has anything he wants to say. He doesn't. Morrison asks if he wants to apologize for costing them their WrestleMania 37 spots. Miz says they could teach him to become a WWE Superstar but all they want in return is his help in recording an album.
Morrison even raps a bit to show off his skills(he does a terrible job). Bunny says he is not interested. Miz and Morrison gets agitated. Bunny says he came to show only because a good friend asked him to. Lights go out and Damian Preist's music hits. Damian Preist makes his entrance. Priest hugs Bunny before decking Miz with a big forearm. Miz rolls to the floor.
Damian Priest vs The Miz
Priest rocks Miz's chest and hits roundhouse kick to take down Miz. Miz goes to the floor to Morrison. Priest hits a moonsault plancha on both of them. Miz rakes Priest's eyes and sends him into the corner. Miz with a clothesline off the top as he continues to be in control. Miz hits a big kick to the back of the head. Bad Bunny talks trash with Miz.
Priest cuts off his kick and starts rallying with forearms and more big strikes. Morrison tries to distract Priest. Miz crawls for the Money in the Bank briefcase but Bad Bunny takes it away. Morrison gets in Bunny's face and takes the case. Bunny hits in the face with his microphone. Priest decks Miz from behind and hits the Reckoning for the win.
Winner- Damian Priest
Post-match, Priest and Bunny celebrate on the ramp for a while.
Cedric Alexander and Shelton Benjamin(c) vs Lucha House Party – RAW Tag Team Championship Match
Shelton levels Lince to start. Shelton tosses him across the ring and blocks his rollsup. Lince witha big boot and tags in Metalik. Metalik blocks the powerbomb and takes Benjamin down. Top rope move is blocked. Cedric tags in and and Metalik comes back with a dropkick.
LHP double team on Cedric and sent to the floor. Shelton runs in and decks Metalik. Lince saves Metalik from a powerbomb, kicking Shelton out. Lucha House Party double teams the champs and sends them back to the floor together. MVP looks on as we go back to commercial with the challengers standing tall in the ring.
Back from the break and Lince is unloading on Cedric. Lince charges but Cedric drives him into the mat out of nowhere for a close 2 count. Cedric holds Lince in the corner and in comes Shelton to take over. Shelton slams Lince and grounds him. Lince fights up and out as the crowd rallies. Lince with a jawbreaker to get free. Lince runs the ropes and nails a big Cutter for a 2 count.
Shelton powers up with Lince on his shoulders, then delivers a stiff Gutbuster for another close 2 count in the middle of the ring. Cedric tags in and delivers a snap suplex for a close 2 count. More back and forth between the two teams now. Metalik goes on and hits a reverse Slingblade to Cedric. Lince with a big top rope splash to Cedric. Metalik follows up with a big senton to Cedric for a close 2 count as Shelton makes the save just in time.
Shelton knocks Lince off the top to the floor with a leaping knee. Shelton cuts Metalik off and Cedric levels Metalik with a jumping knee. Shelton and Cedric get hyped up together now. Shelton tags himself in and delivers Paydirt to Metalik in the middle of the ring to retain.
Winners- The Hurt Business
After the match, the champs stand tall as MVP joins them with the titles. We go to replays. MVP, Shelton and Cedric continue their celebration.
Charlotte Flair and RAW Women's Champion Asuka are at Gorrila for their entrance. Sarah Schreiber asks them about Lacey Evans and Ric Flair interfering their match last night. Flair says Evans may turn her dad's head, but she's not getting to Flair and she's not fooling her. Asuka says she is not happy they lost, and says she was ready, and frustrated that they lost the title. Flair says her mind is only on getting the titles back and Asuka is on the same page.
Charlotte Flair and Asuka vs Lana and Naomi vs Dana Brooke and Mandy Rose – #1 Contender's Match
Flair drops Naomi with a shoulder. She dodges a shot but Naomi sends her flying with a head scissors. They come to a stalemat after a collision. Rose and Asuka tag in. They tangle as both go for dropkicks. Asuka rolls Rose up for a 2 count.
Brooke and Lana come in. Lana goes for a roll-up and gets 1-count. Brooke hits an aelbow after cartwheel. Asuka breaks up a pin on Lana and unloads on Rose. Rose and Brooke double team Asuka and knocks others from the arpon. They pose together in the middle of the ring as we go to commercial.
Brooke is in the corner with Flair as we return. Flair cuts off her move. Flair drives her head to the mat. Brooke tags in Rose. Flair with a roll-up for two-count. Rose moves away in the corner and hits a few kicks. Brooke tags in and drops on Flair. Flair is kept in the corner but she is trying hard to take control. Flair counters the doubleteam suplex and clotheslines both Rose and Brooke. Asuka runs in with quick moves. Asuka with shining wizard and missile dropkick on Brooke.
Rose tags Lana and Asuka tags Flair. Flair grounds Lana with a chinlock. Lana gets up but gets slammed back to the floor. Lana counters a powerbomb with a sunset flip. Naomi comes in hot with kicks and springboard moves. Lana with a knee to the back on Flair. Everyone starts getting involved with their big moves. Flair and Lana are in the ring now. Ric Flair's music hits and he comes out with Lacey Evans. Charlotte tags to Asuka and goes away. Asuka is confused. Naomi tags in and hits rear view on Asuka to get the win.
Winners- Naomi & Asuka
WWE Champion Drew McIntyre is backstage for an interview with Charly Caruso. She brings up Sheamus' heel turn and the earlier promo with Edge. Drew first says it would be an honor to face Edge at WrestleMania 37. Drew's words are not coming out of his mouth properly. For Sheamus, he says family fights all the time and they have fought before but this is different. If Sheamus is willing to throw away their 20 year friendship, the ups and downs, over the WWE Title, then he can get his match.
Carlito & Jeff Hardy vs Elias & Jaxson Ryker
Carlito is making his RAW return after a decade. He starts with Elias. Elias runs into a back elbow and is taken down by Carlito for a 2 count. Carlito works on Elias' arm. Hardy tags in for a double team on Elias. Elias decks Hardy and tags in Ryker. Hardy catches Ryder with the inverted Atomic Drop and the leg drop.
Ryker takes Hardy to his corner and tags in Elias. Hardy gets sent to the corner and Ryker grabs his towel for the distraction. This leads to Elias drop Hardy. Ryker and Elias keep control over Hardy for a while. Elias drops Carlito from the apron. Carlito comes in but the referee stops him.
Ryker misses the diving headbutt. Carlito gets the hot tag- high knee and dropkick on Ryker. Ryker slams his face. Elias tags back in but Carlito ducks him and drops Ryker from the apron. Carlito counters a belly-to-back suplex and hits Backstabber. Hardy hits the Swanton Bomb on Elias for the pin to win.
Winner – Jeff Hardy & Carlito
Edge cuts a promo at backstage. Edge says Randy Orton has always been over him like a black cloud. He talks about their history for a bit. He says he has to put Orton in his rear view tonight so he can march into WrestleMania 37 and take back what he never lost.
Back from the break and announced for RAW Talk is The New Day, WWE Hall of Famer Ric Flair, Lacey Evans, Lana and Naomi. WWE Hall of Famer Edge is walking backstage. He stops at Damian Priest, gives him props and they shake hands. Edge welcomes Priest aboard and then keeps walking.
Alexa Bliss vs Nikki Cross
Alexa Bliss comes out to the Firefly Fun House music. Bliss is acting like the child version of her character. Nikki Cross enters after the break. The bell rings and Bliss starts smiling at Cross. Cross gets angry as they lock up. Cross grounds Bliss but Bliss turns it into a head scissors. Bliss' mind games continue.
Cross takes her to the corner to unload before hitting with a crossbody. Cross says she was done with Bliss, Bliss could've just left her alone. Cross works Bliss over in the corner and the referee warns her. Bliss counters with a jawbreaker. Bliss with a big right hand and another to drop Cross. Fans cheer Bliss as she celebrates like a child and then covers for a 2 count.
Bliss does some hopscotch and kicks Cross in the ribs while Cross is down. Bliss laughs while she covers for another 2 count. Bliss keeps Cross grounded with a body scissors now. Cross fights up and out but Bliss grabs her for Sister Abigail. Cross counters and blocks an apparent Mandible Claw attempt. Cross mounts offense and stomps away in the corner now. The Bliss music briefly plays as she transforms into her normal self. Cross is stunned.
Bliss tells Cross let's do this. Bliss jumps around and is ready to wrestle. Cross says she's weird. Bliss says this is just her. Cross kicks her in the gut, then delivers a clothesline. Cross with a splash in the corner. The Firefly Fun House music starts up with Bliss down in the corner. She transforms back to her laughing self now. Cross shakes her head no. Bliss dusts herself off and laughs some more. Cross charges but Bliss drops her. Bliss blocks Cross again and delivers her own version of Sister Abigail in the middle of the ring for the pin to win.
Winner- Alexa Bliss
After the match, Bliss celebrates and jumps around as the Firefly Fun House music plays. We go to replays. Bliss makes her exit up the ramp but the music hits and out comes Randy Orton. Orton walks towards Bliss on the ramp while she stares at him. Orton stops but never makes eye contact. Orton keeps walking to the ring as Bliss keeps walking to the back.
Edge vs Randy Orton
Edge starts with a crossbody and a big boot. Edge gets a 2-count. A knee to the face before another 2-count. Edge goes for the anti-venom lock but Orton does not let him lock in. Orton slams him to the mat and boots him in the corner. Edge looks spent already. He counters with a punch.
Orton returns the favor with more punches and an uppercut. Edge hits a edgecution DDT but only gets a two-count. Edge gets ready for a spear but Orton counters with a powerslam. Edge is sent into the ringpost and to the floor. Orton whips into the steel steps as we go to the break.
Orton is relentlessly punching and kicking Edge as we return. Edge comes back with a big punch. Both men get to their feet but hit double clothesline. Edge gets to the top and Orton punches him to take control. Edge with punches to the ribs and knee. Orton drops but get back up. Edge with more punches and a headbutt to drop Orton. Edge hits a clothesline from the top. Edge is spent and could not cover Orton in time.
Edge counters RKO with the killswitch to get another two-count. Edge pushes Orton from the apron and into the barricade. Edge is down in the ring. He goes to the floor to bring Orton back. But Orton slips out from the other side. Edge goes after him and Orton rakes his eyes, and drop him on the announce table.
Orton sends Edge's neck into the ropes. A draping DDT is next. Orton gets ready for the RKO. But we hear Bliss' nursery rhyme type music. She is sitting on the top turnbuckle and suddenly blood starts coming out of her mouth. Edge runs Orton over with a spear. Bliss has disappeared. Edge covers Orton and gets the pin.
Winner- Edge
The show goes off the air as Edge rolls out to the floor.