NXT TakeOver: WarGames 2019- Live Results & Updates- Balor vs Riddle, First Women's War Games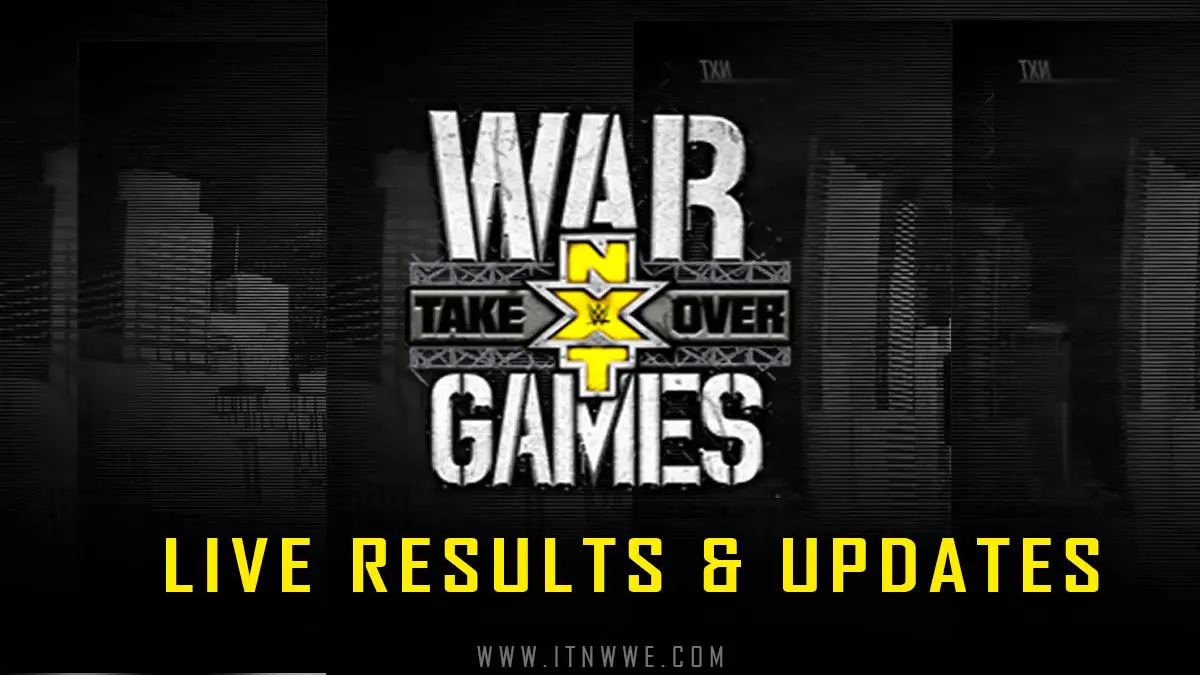 Welcome to ITN's Live Results and Updates blog for NXT TakeOver: WarGames 2019 from Chicago on 23 November 2019.
Date- 23 November 2019
Location- Allstate Arena, Rosemont, Chicago, Illinois, US
Start Time- 7 PM ET(24 November 2019- 12 AM GMT/5 AM IST)
Preshow Timing- 6:30 PM ET(11:30 PM GMT/24 November 2019- 5 AM IST)
NXT TakeOver- WarGames 2019 will NXT's first TakeOver PPV since its move to the USA Network. Both the WarGames matches have delivered in the past two years and the same is expected this year. This year's event will also be special since it will host the first-ever Women's WarGames match. And the kind of story NXT has been telling with their women's division in last year or so, the match can not fail to deliver.
Finn Balor has returned to NXT and will once again feature in the TakeOver event. There is high anticipation for that match also. Then, there is the match for the new number 1 contender for Adam Cole for Survivor Series 2019, where Pete Dunn, Damien Priest, and Killian Dain will battle it out. And recently added match between Angel Garza and Isaiah Scott at the pre-show/
Results & Updates from Pre-Show for NXT TakeOver WarGames 2019
Charly Caruso welcomes us to the kick-off show with Sam Roberts and Pat McAfee. Caruso informs us that Mia Yim is attacked backstage just minutes before the kick-off show. We see the footage of Mia Yim being attended by the medical team. Rhea Ripley is pissed off as it seems Mia Yim will not be cleared for action. Caruso tells us that the women's WarGames match will kick-off the TakeOver main show and Rhea Ripley will need to find the replacement quick.
They go to discuss the rest of the card. Balor vs Riddle, the no. #1 contender triple threat and the men's WarGames match. We are informed about some inside information that will be provided on pre-show regarding the mystery men that will join Tomasso Ciampa's team. But before that, the first-ever pre-show match between Angel Garza and Isaiah Scott.
Angel Garza vs Isaiah Scott
They start with trading counters and trade slaps. Scott sends Garza to the floor for a headscissor takedown. Scott brings it back in the ring for two-count. He comes back with a couple of big chops. Scott slams Garza face-first into the mat and keeps control for two-count. Scott mounts offense as a "Swerve!" chant starts. Scott goes to the top and flies but Garza rolls through and launches him into the turnbuckles. Garza rips off his pants for a pop from the crowd, then tosses them at Scott and hits a superkick off the distraction.
Garza with an inverted springboard suplex and another superkick but Scott keeps kicking out. He taunts Scott and keeps him down now. Garza gets rocked going into the corner. He turns it around and hits a big dropkick in the corner for a 2 count. Garza goes to the middle for a moonsault but misses and Scott levels him. Scott with a double underhook into another suplex for a 2 count. More back and forth now. They trade big shots in the middle of the ring. Garza ends up taking Scott down with a big sitdown powerbomb for a close 2 count. He beats on Scott and keeps him down. Garza goes to the top but Scott leaps up with him.
Garza jumps into a Fireman's Carry on the apron. Scott with a big Death Valley Driver on the apron. Garza falls to the floor and Scott follows up with a big stomp to the chest. Scott brings it back in and plays to the crowd. He goes to put Garza away in the middle of the ring but Garza kicks out. Scott gets pushed back into the referee. Scott blocks a low blow kick. Garza then catches a kick from Scott. This leads to Garza hitting the Wing Clipper in the middle of the ring for the pin to win.
Winner- Angel Garza
We get the package for Finn Balor vs Matt Riddle match and panel discusses the match for a while. We cut to backstage again and see Mia Yim being loaded to an ambulance. Rhea Ripley is trying to convince Dakota Kai to enter the match. She says she needs to prepare but Ripley tries to motivate her in her own way. Tegan Nox gives Kai some reassuring look as we cut back to the panel.
Results & Updates from NXT TakeOver WarGames 2019
The WarGames cage is descendant to the ring as the main show starts. The usual commentary team welcomes us and the announcer takes over from there. Rhea Ripley is first to come out for her team. Bianca Beliar comes out for the opposite team and gets inside the cage. Candice LeRae, WWE UK Women's Champion Kay Lee Ray, Tegan Nox, Io Shirai, Dakota Kia and Shayna Baszler enter at the stage in this order. Io Shirai and Candice LeRae will start the match for their respective teams.
Women's WarGames Match – Shayna Baszler, Io Shirai, Bianca Belair & Kay Lee Ray vs Rhea Ripley, Candice LeRae, Mia Yim & Dakota Kai
Io Shirai takes the first shot and Candice LeRae starts unloading on Shirai. Shirai was able to take down LeRae and slams her on the cage. Candice with some more punches but Shirai plants her face-first into the mat. LeRae looked for the suicide dive but Shirai decks her in the face. She follows it with a couple of 619s and hits a dropkick while LeRae was lingering against the ring post. LeRae tries to prevent being sent into the post but Shirai trips her into the steel apron in between the two rings. It is all Shirai until LeRae hits a headbutt. Shirai slams her face into the turnbuckle and hits a snap suplex. Candice LeRae gets some punches going just when Bianca Belair is unleashed.
Bianca Beliar starts strong. She hits a shooting star press and keeps control for a few seconds. LeRae whips her into the corner and unloads on both opponents. LeRae slams her into the cage and Shirai hits her with a running dropkick after building some insane momentum. Three minutes clock is done and Rhea Ripley enters the match. She throws in trash cans, steel chairs, and kendo sticks into the ring. Bianca Belair tries to charge her but Ripley slams the door in her face.
Ripley has turned it around and she slams Belair into a trash can. Ripley and LeRae were going for a double suplex on Belair when Io Shirai decks them to start a brawl. Kay Lee Ray enters the match and brings in some chairs. Chair shots to LeRae and Tornado DDT onto the chair on Ripley. She sets up Ripley on the chairs but Candice LeRae saves her. All 5 women get into the tower of doom and get slammed into the set of chairs, except Bianca Belair. Beliar hits a shooting star press on the carnage.
Dakota Kai is next to come into the match. But she has turned on her team here. She attacks the last remaining member of the team and her tag team partner Dakota Kai. Rhea Ripley is shell shocked. Kai slams Nox's leg into the prison cage multiple times. NXT General Manager William Regal comes out to get her under control. But Kai is on a tirade. Regal sends her back. Team Baszler gets firm control over the match as Shayna Baszler enters the cage now.
Candice LeRae grabs a trash can and starts throwing it around on opponents. Ripley unloads on Baszler now and Candice LeRae takes care of Lee and Shirai. LeRae eventually gets outnumbered. Ripley gets into the other ring and counters Lee with a suplex onto the cage. They try to double team but gets outnumbered. Candice counters a double suplex into a double DDT. Lerae helps Ripley from being handcuffed to the ropes.
Rhea and LeRae grabs some weapons and start unloading on the opponents. Bianca Beliar picks LeRae up for the military press and throws her onto Rhea Ripley. Shooting star press from Shirai on LeRae and she goes for the cover. Ripley breaks the pin by tackling Lee into the cover. LeRae and Shirai go at it. Shirai was climbing onto the top. LeRae follows her. Lee follows both of them. LeRae hits the Lee with an avalanche hurricanrana and Beliar had to make the save. Shirai hits the moonsault from the top of the cage on LeRae and Beliar.
All four women are down. Ripley fights out against Lee and Shayna. But Baszler locks Ripley in her finisher. Ripley handcuffs herself to Shayna and starts unloading with kicks. She hits the Riptide into a pair of chairs for the pin and the win. Ripley and LeRae have won the WarGames match despite the numbers disadvantage.
Winners- Team Rhea Ripley
Pete Dunne vs Damien Priest vs Killian Dain – #1 Contender for NXT Championship
All three men enter one by one and stare at each other. All three try to attack each other but miss their moves. Dunne grabs Dain's fingers and Dain slams him into Damian's boots. Priest and Dain fight until Dunne comes back in to hit Damian with an uppercut. The Bruiserweight stomps on the elbow of Dain before Priest lays him out with a forearm to the face. Dain hits a Michinoku driver with Dunne onto the face of Priest but he can't get the three count on either man.
Dain grabs Priest and powerslam him onto the floor. He also hits the powerslam on Dunne, slamming Dunne's head onto Priests. Dain gets Priest onto his shoulder when Dunne runs at him. He grabs Dunne also and hits the fallaway slam on both of them at the same time. Dunne manages to fight back and hits a flurry of quick moves to both opponents. The crowd loves Dunne.
Dunne tries to turns around things in the ring. He gets Dain into the corner and hits German suplexes onto Priest and Dain. Dunne stomps on Dain's hand and locks in Priest in the finger lock. Dain and Priest work together to powerbomb Dunne before they circle each other. Priest and Dunne go at it now. They trade strikes until Dunne comes back into the match and gets some shots going. All three of them are trading strikes now. Roundhouse kicks, punches, headbutts and every kind of strike you can imagine. All three are down in the middle of the ring now.
Dunne kicks at Dain's face but Priest jumps on both of them from the top. Priest throws Dain away and hits a chokeslam on Dunne to get a nearfall. He then slams Dunne onto the announce table. Dain has recovered meanwhile and hits a suicide dive on Priest. Dain hits a running tackle, taking Priest through the barricade. He takes Priest into the ring for a two-count.
Damian Priest shows his strength by hitting Dain with his finisher but Dunne breaks the pin at the last moment. Dunne stomps on his face now. Priest counters Dunne with a back elbow and hits a suicide dive on the outside on Dain. Pete Dunne hits a moonsault on both opponents on the outside. Pete and Damian start trading strikes. Dunne uses a beautiful counter to lock in an armbar but Dain is there to break up the hold. Killian slams Priest on his head for a close two count.
Dain is frustrated for not getting the pin and sets up both opponents in the corner to hit the cannonball. He hits Priest with a Vaderbomb but Dunne stops the pin with a moonsault. He plants Dain with the Bitter End but Priest breaks the pin now. Priest and Dunne end up on the top turnbuckle, and Priest hits the hurricanrana, slamming Dunne into Dain.
He hits Dunne with The Reckoning for yet another near fall. Dain sends Priest flying off the apron with a dropkick. Dunne cuts him off on the top turnbuckle and climbs up with him. Priest joins them but Dunne snaps his fingers to send him back down. The Bruiserweight drops Dain with a superplex before he hits Priest with The Bitter End. Dunne puts Dain in a sleeper. Killian drops him on top of Priest but it's Dunne who covers Damian to get the pin and the win.
Winner- Pete Dunne(will face Adam Cole for NXT Championship at Survivor Series)
Finn Balor vs Matt Riddle
We get the package for the match between Finn Balor and Matt Riddle now. Matt Riddle enters the ring and throws his crocs. The longest reigning NXT champion Finn Balor enters for NXT TakeOver after four years. We also get to know how he is the most successful man at NXT TakeOvers as he has won 8 out of 9 matches at NXT TakeOvers. His only loss came in the steel cage match against Samoa Joe.
They size each other up and Riddle grabs Balor's leg before they come to a break. They circle each other and Riddle catches Balor for a submission. Balor rolls him up for two-count. They do more chain wrestling until Balor gets Riddle into the side headlock. Riddle takes some effort to lock Balor's head in between his legs. Balor turns it to the headlock again. Riddle finally counters it into the gut-wrench position and hits a couple of suplexes.
Balor turns the third one into the cover. Riddle hits a knee strike before Balor takes him down with an armdrag. Balor with a headlock and slams his face onto the mat. Balor gets Riddle in the corner and gets his strikes going. He hits a running dropkick in the corner for two-count. Balor hits a few elbows on the head and puts on another headlock. Riddle gets up and is sent to the outside.
Balor hits the missile single-leg dropkick and gets two-count in the ring. Balor is keeping control and hitting a few kicks. Riddle finally turns things around and gets a flurry of strikes. Whipped to the corner, exploder suplex, penalty kick, and broton from Riddle back to back and gets two-count. Balor turns it around with an elbow strike. He runs in with the elbow but Riddle turns the swing blade into the ankle lock. Balor struggles but gets out of the lock.
Riddle was going for the German suplex but Balor keeps hold of the ropes to avoid it. Riddle continues to try for the German suplex but Balor nails him with a dropkick. Balor is selling his leg now. Riddle hits the German suplex finally and follows with a ripcord knee strike. Balor responds with a takedown and a double stomp. He brings Riddle down with a sling blade while still favoring his leg.
Balor was getting ready for some move when Riddle hits with a spear. And he follows it up with the jackhammer, showing Goldberg how it is done. He only gets a nearfall though. Balor hits a reverse DDT followed by the 1916 DDT for his own near fall. Balor stomps on Riddle until Riddle counters him for bro-to-sleep.
Riddle goes for the broton off the top, but Balor gets his knees up. Balor sets up for the Coupe de Grace bur Riddle avoids it. Riddle puts him in the Bromission and Finn had to make some effort to escape it. Balor hits a huge 1916 spike DDT out of nowhere for the pin and the win.
Winner- Finn Balor
Men's WarGames Match – The Undisputed ERA vs Team Tomasso Ciampa
Ciampa gives Strong the crutch but Roddy throws it out of the ring. Ciampa immediately takes control and starts throwing him around the ring. Strong avoids a kick and hits him with a backbreaker. Ciampa hits a flurry of mounted punches in the corner and a running knee to the face. Strong tries to do the same thing but Tommaso traps his head against the turnbuckle for a stiff kick. Roddy counters a DDT and they begin an exchange of chops. Strong hits a big gutbuster. The UE sends O'Reilly down next.
Kyle and Roddy start double-teaming Ciampa as soon as O'Reilly gets to the ring. O'Reilly holds Ciampa against the rope while Strong hits a string of running elbows. Team Ciampa sends down Dijakovic to join the fight. The powerhouse immediately takes control and starts throwing O'Reilly and Strong around like rag dolls. He helps Ciampa up so they can each battle one member of The Undisputed Era. Bobby Fish is the next man released from the smaller cages.
The UE gets the upper hand now that they have three men in the ring. Fish and O'Reilly use some of their classic tag team offense as the crowd chants for The Undisputed Era. They take Ciampa and Dijakovic apart and brag about their dominance while Lee looks on the from that stage. Lee finally gets released and comes in hot. The crowd pops as Lee leapfrogs over Fish and O'Reilly before laying them out with a crossbody. Ciampa gets back to his feet but The UE beats him down.
Adam Cole is the final man released for The Undisputed Era. He grabs a table from under the ring to get a huge pop from the crowd. Cole brings in several tables as his teammates keep their opponents down. Ciampa comes over to the door and ends up sending Cole into one of the tables at ringside. This allows Lee and Dijakovic to retake the upper hand. Tommaso brings Cole in and the door closes. Team Ciampa backs The UE up against the cage before a huge brawl ensues. The countdown begins and the final member of Team Ciampa is revealed to be Kevin Owens.
Owens comes in and lays waste to The Undisputed Era all by himself. He powerbombs Fish onto O'Reilly before he sets his sights on Cole. KO smiles and does the crotch chop before hitting a Stunner for a two count that is broken up by Fish and O'Reilly. Lee and Dijakovic throw Strong into the rest of his group. Team Ciampa is firmly in control right now. Tommaso spikes Kyle with a draping DDT while Dominik sets up a table.
The Undisputed Era and Dijakovic all get taken out by a flying Keith Lee. O'Reilly stomps on Lee's leg and applies a leglock. Dominik breaks it up with a springboard moonsault. Everyone starts hitting each other with big moves and Cole ends up as the last man standing. He climbs to the top rope and Lee hits a jumping headbutt. The big man climbs up and Strong brings him back down with an avalanche slam. Dijakovic barely manages to save Lee from a pin. Fish and O'Reilly hit a high and low combo on the powerhouse before KO sends them crashing into the cage wall.
Cole and Owens fight between the rings and he hits a Panama Sunrise onto the steel grate connecting the aprons. Fish and Strong set up a few tables while everyone else recovers. Ciampa hits a powerbomb backbreaker on O'Reilly and his head ends up hitting one of the table legs by accident. Ciampa goes on a rampage. Tommaso and Cole fight on the turnbuckle near the tables.
Cole climbs to the top of the cage and Ciampa joins him. Dijakovic chokeslams Strong through a table and O'Reilly on top of another one so KO can put him through it with a frog splash. Lee powerbombs Fish through another table. Ciampa picks up Cole and slams him through the two tables from the top of the cage for the pin and the win.
Winner- Team Tommaso Ciampa
Team Ciampa celebrated in the ramp after the match as the show came to close.