Why match between Rey Mysterio and Samoa Joe was so short?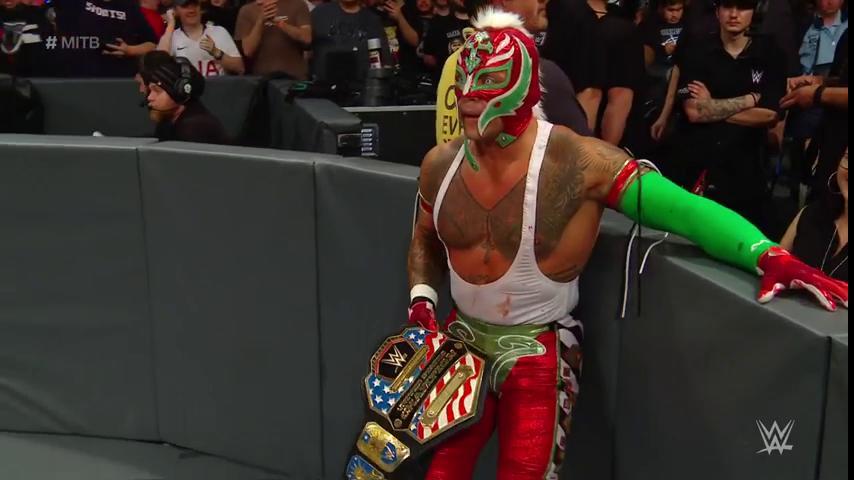 For the second PPV in a row, Rey Mysterio and Samoa Joe worked a short match. And unlike WrestleMania, this time Rey Mysterio won to gain his first United States Championship. However, just like at WrestleMania, the reason for another short match between the two might be an injury.
According to PWInsider, WWE made the decision to immediately call the match because of the blood coming from Joe's nose. Joe apparently suffered a broken nose during the beginning of the match after taking the senton from Mysterio. The match ended almost immediately after and Joe can be clearly seen with a significant amount of blood on his face.
The finish to the match was also controversial as Joe's shoulders were clearly up as the referee made the counts. Samoa Joe went backstage for a short period of time before coming back and going forward with the planned post-match angle that saw Joe beat Rey down while Rey's son Dominick watched.
Not only this, but Rey Mysterio may also have suffered a shoulder injury either during the match or during the post-match beatdown. PWInsider was the one again reporting that Rey was checked out after the match, but there's no official word yet on his status.
Before WrestleMania, Rey suffered an injury in his leg during a match with Baron Corbin on RAW. This led to WWE deciding for Samoa Joe to squash Mysterio. The match at Money in the Bank also lasted around one minute.