WWE Crown Jewel: Drew McIntyre Leaves Steel Cage with a Win Over Karrion Kross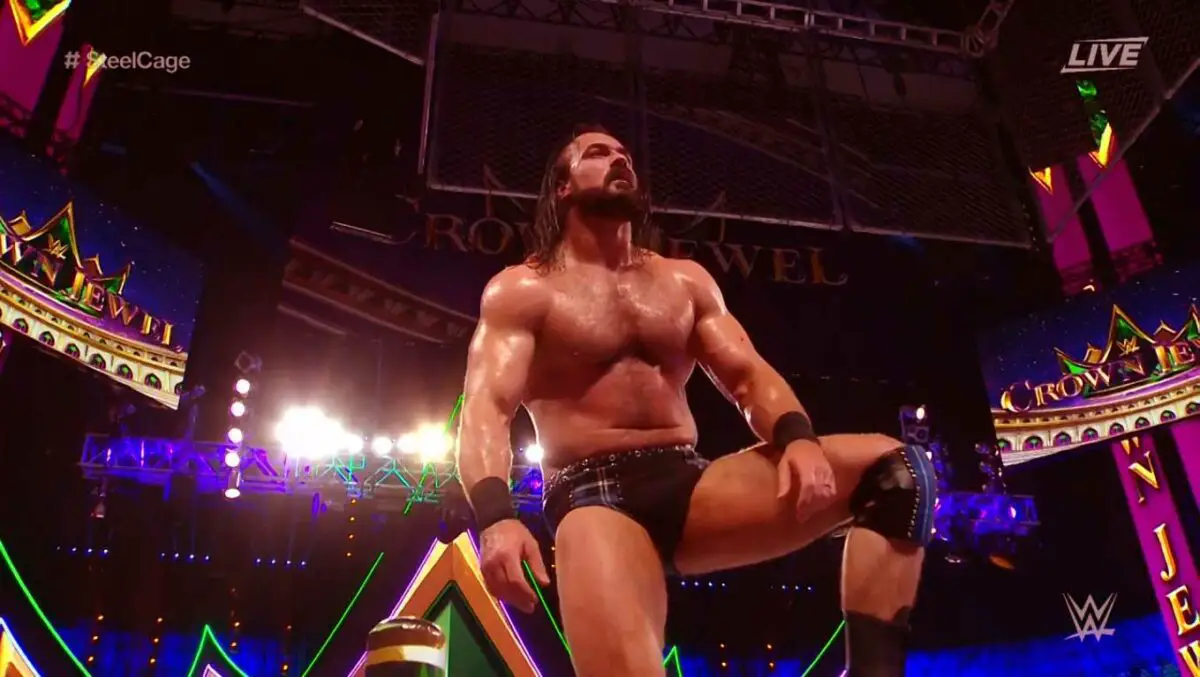 Drew McIntyre beats Karrion Kross in a race to leave the steel cage after a war at WWE Crown Jewel 2022.
Karrion Kross tried to launch the first attack as McIntyre ducked his swing and managed to hit a big right hand. Kross then tried to escape from the cage but then Drew tripped from the top rope. 
Kross skipped his plan to escape and then return to the ring in order to punish Drew McIntyre. Kross even drove McIntyre to the cage several times. 
Soon Drew managed to rebound and hit a devastating clothesline from a corner. He also hit a Michinoku driver to Kross, and then sent Kross across the ring from the top rope. 
Kross was about to end the match, but he was distracted by Scarlett, and then Kross put him in a Kross Jacket. Later Kross was trying to escape the cage again, but Drew stopped him and hit a superplex from the top of the cage. 
McIntyre tried to leave the cage from the door, but Scarlett used her pepper spray once again. Somehow, Drew managed to stop Kross from leaving the ring and hit him with Claymore.
Drew tried to leave the cage again but Scarlett locked the door. Drew started climbing the cage while Kross crawled for the door. However, it took some time for Scarlett to unlock the door again, and it gave Drew enough time to jump outside the cage to win the match. 
Karrion Kross has been a thorn to Drew McIntyre ever since he returned to WWE in August. Kross defeated McIntyre in a Strap Match at Extreme Rules after assistance from his wife Scarlett. 
However, the following week, McIntyre crashed Kross' car accident before SmackDown, and then attacked him further. After that, WWE forbid the pair to get into a brawl and announced that they would collide once again at WWE Crown Jewel and the showdown will take place inside the steel cage.