WWE Clash of Champions 2020 Preview & Predictions
Check our predictions for WWE Clash of Champions 2020 PPV as well as the preview for every match.
Drew McIntyre(c) vs Randy Orton – Ambulance Match for WWE Championship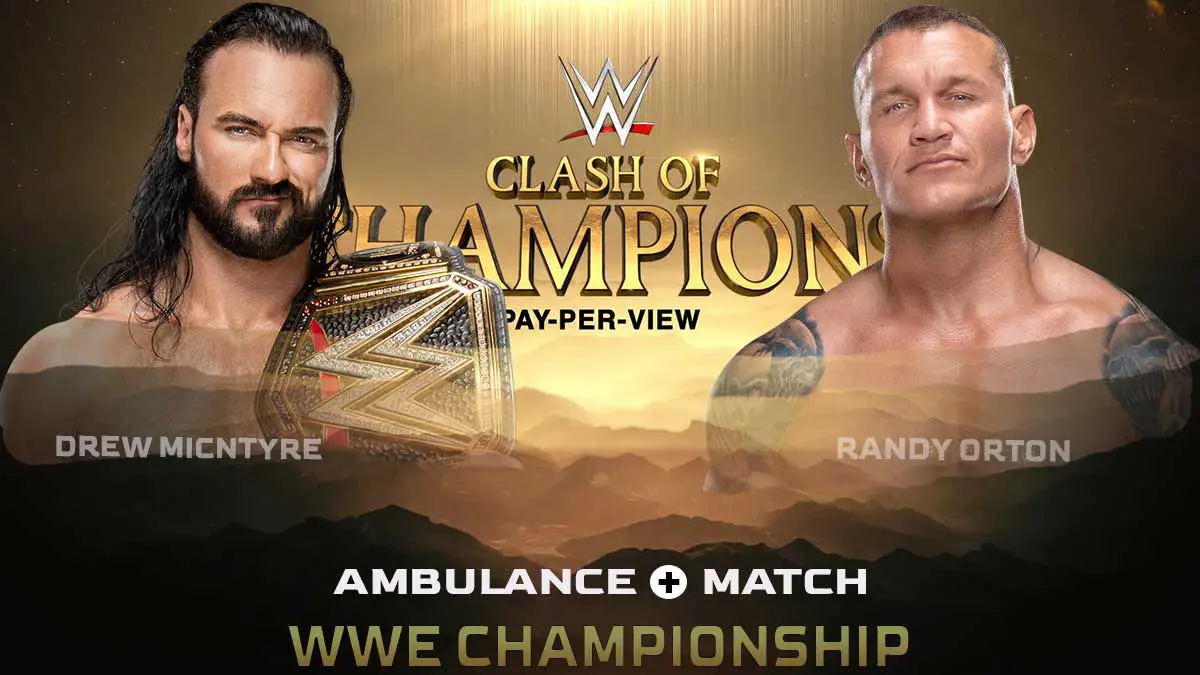 Drew McIntyre will finally main-event a PPV as a champion at Clash of Champions. And he is facing a formidable foe in the form of Randy Orton. McIntyre's best challenger so far in his title reign.
The storyline has developed well over the course of last month with both McIntyre and Orton getting their particular dominant RAW episodes against each other. Then there is an added angle of McIntyre's jaw injury which will be a big story point during the match.
Prediction- It is rumored that Randy Orton will get his 14 World title at Clash of Champions. The logic given is that the Ambulance match will protect McIntyre as he will need not be pinned in order to lose.
Roman Reigns(c) vs Jey Uso – WWE Universal Championship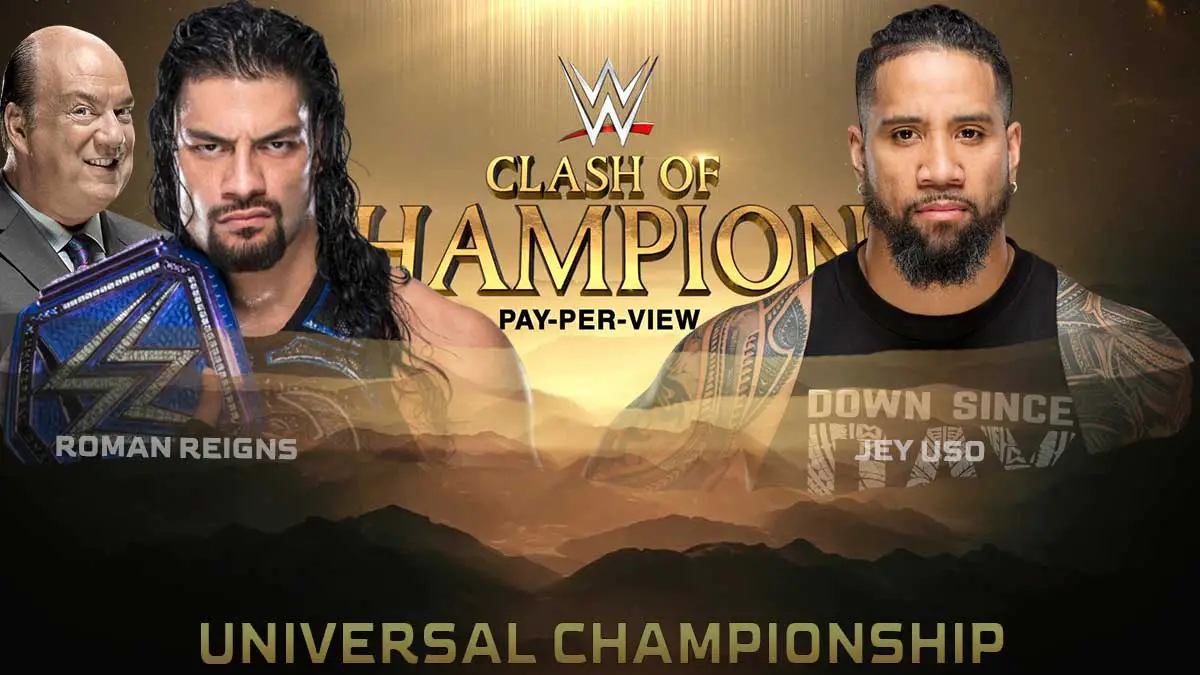 The cousins will fight for the Universal title at Clash of Champions. The storyline is slowly turning Roman Reigns into a complete heel. Currently, we are seeing some flashes of Reigns' heelish nature, but we are also seeing that he still retains some face traits as he is still seen with his opponent in Jey Uso.
Roman himself has admitted his character is not a complete heel yet. We are still to get the final SmackDown episode where Roman will address the relationship with Jey Uso. But we are not expecting him to be a total heel yet.
Prediction– The result was never in doubt. Roman Reigns will retain the Universal Championship.
Asuka(c) vs Zelina Vega – WWE RAW Women's Championship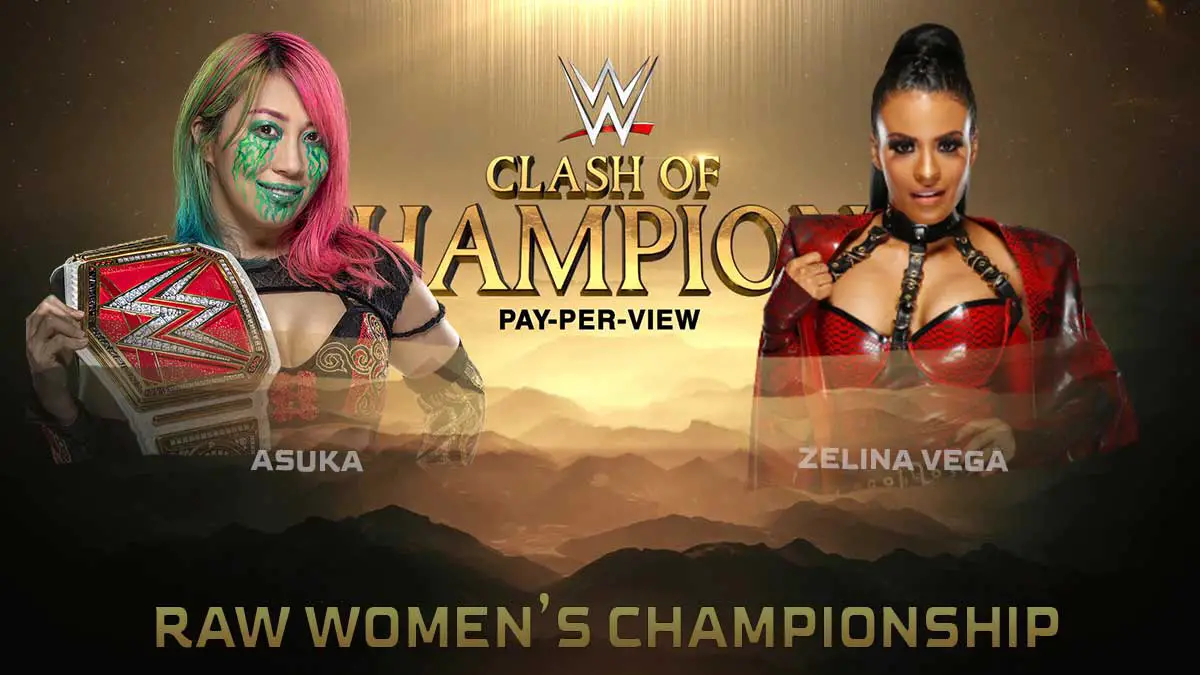 Asuka is getting a makeshift opponent in form of Zelina Vega at Clash of Champions. Makeshift because this will be Zelina Vega's only fourth singles match on WWE TV in last 2 years. Makeshift because WWE has not developed anyone yet to be a credible challenger for Asuka.
Prediction- Asuka is retaining the title at Clash of Champions. But expect a fun match between them.
Bayley(c) vs Nikki Cross – WWE SmackDown Women's Championship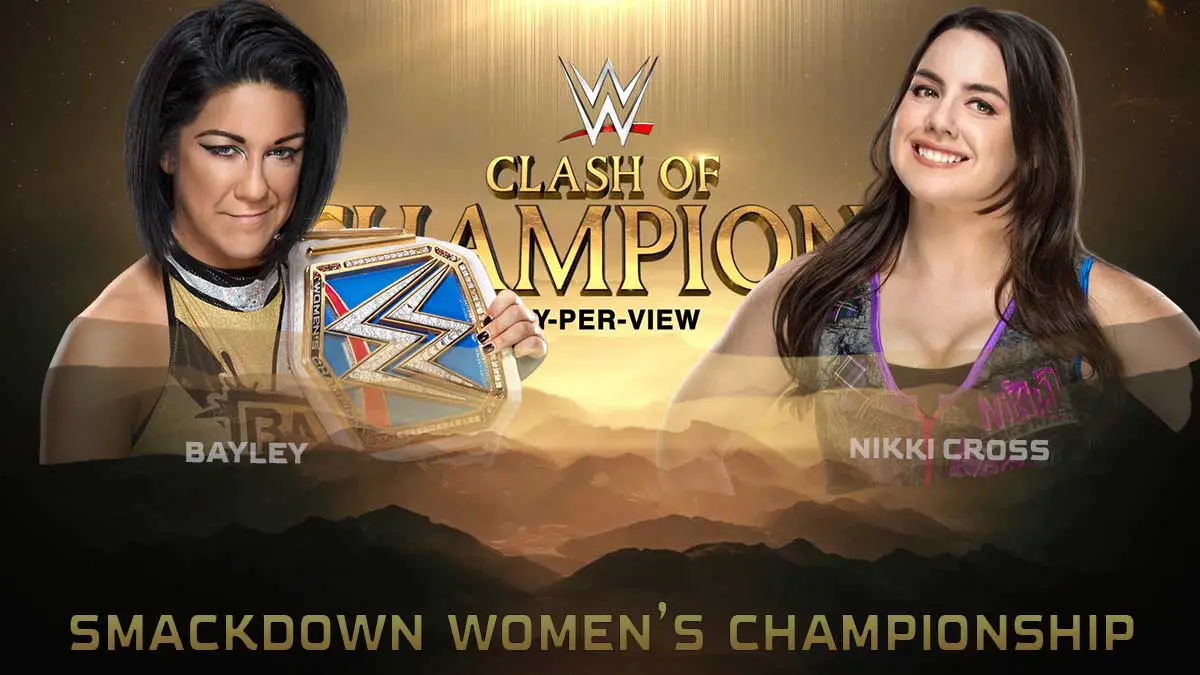 There are two storylines ongoing here- 1. Bayley vs Sasha Banks' future showdown. 2. Alexa Bliss turning into Fiend's lackey and & Nikki Cross trying to save her. It will be interesting to see if any one of those storylines will progress during the course of this match.
Prediction- Bayley to retain her title and later complete one year as the reigning SmackDown Champion.
Jeff Hardy(c) vs AJ Styles vs Sami Zayn – Ladder Match for WWE Intercontinental Championship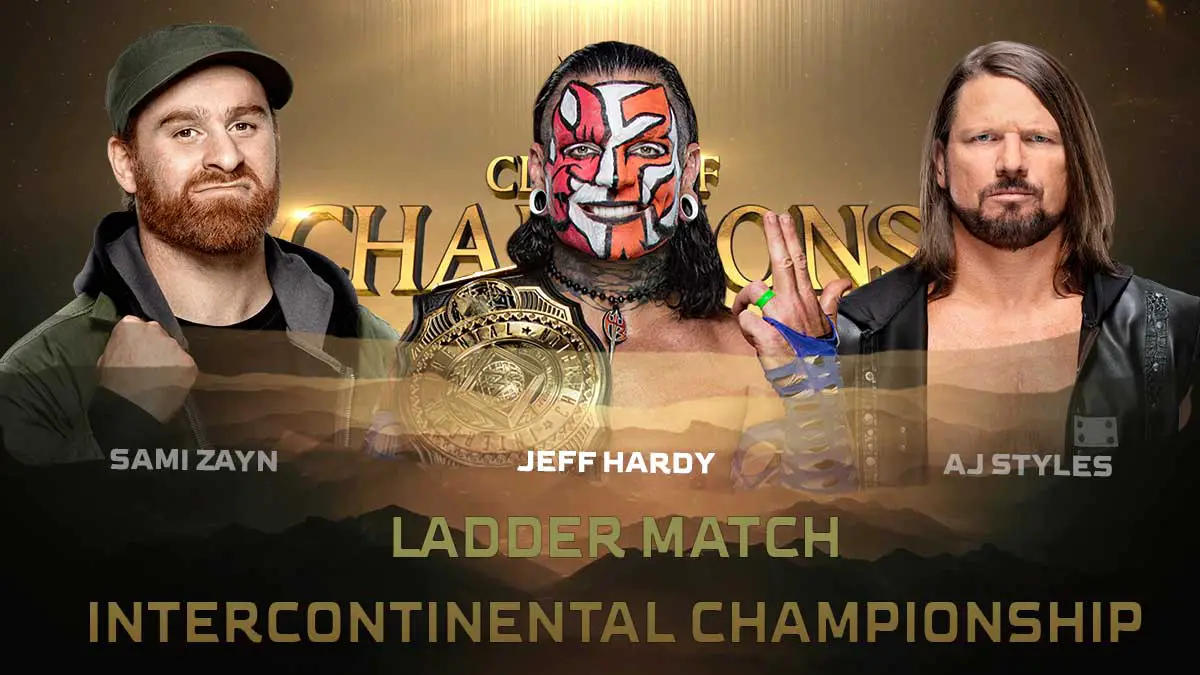 Who is the real Intercontinental Champion? This has been the question since Sami Zayn's return on SmackDown. With Sami Zayn and AJ Styles continuously ranting, Jeff Hardy found a way to end the argument but still retain the advantage to himself- a Ladder match! A format in which he holds an advantage.
The Ladder match stipulation also adds a bit of variety to the match card for the event. And it will also protect both Zayn and Styles from a pin while also keeping open the possible future matches between any two of them.
Prediction- Jeff Hardy is the king of Ladder matches and he will remain the Intercontinental Champion.
Bobby Lashley(c) vs Apollo Crews – WWE United States Championship
In a continuous and long-standing rivalry between Apollo Crews and the Hurt Business, Bobby Lashley will defend his title in a rematch from SummerSlam. Hurt Business has miffed RETRIBUTION recently. Will they also get involved in this match? Or will Apollo Crews end up joining RETRIBUTION?
Prediction- The Hurt Business need a title in the group and Apollo Crews' stock has not improved since losing the title. Bobby Lashley to retain the title.
The Street Profits(c) vs Angel Garza & Andrade – WWE RAW Tag Team Championship
These two teams have been fighting ever since the Street Profits became the RAW Tag Team Champions in February. But with the impending breakup of Angel Garza & Andrade in sight, this might be the last one.
Prediction- Street Profits to retain the title at Clash of Champions.
Nia Jax & Shayna Baszler(c) vs The Riott Squad – WWE Women's Tag Team Championship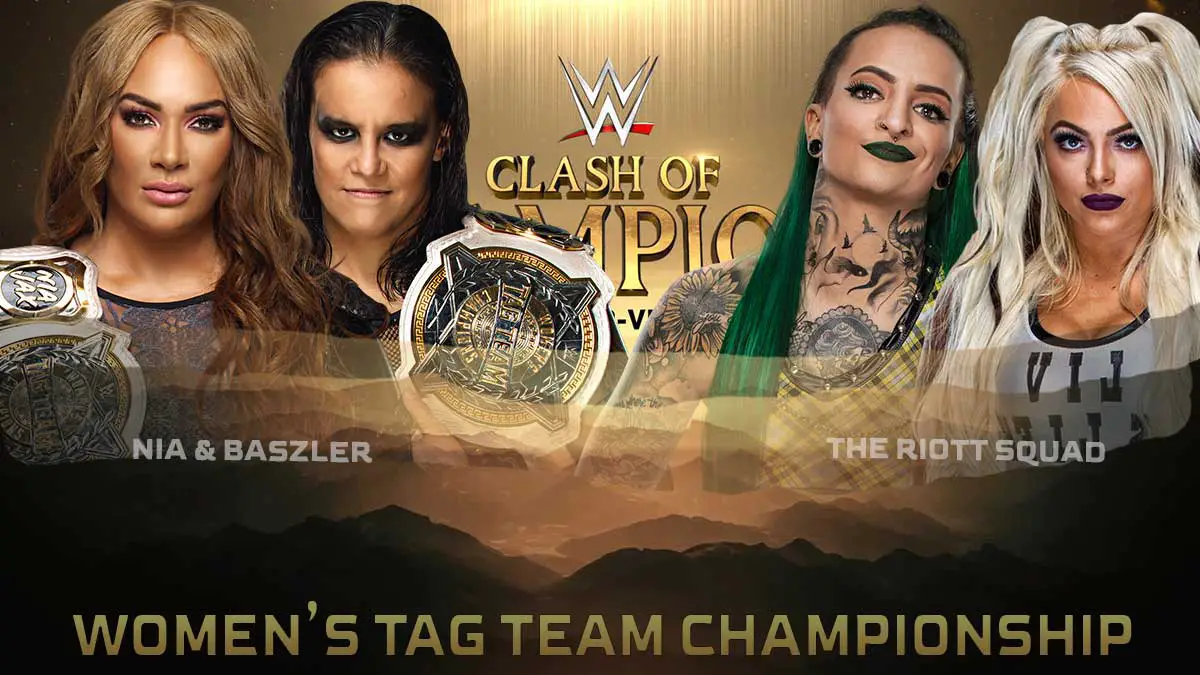 The story between the two teams is that of chemistry. While the Riott Squad claims to have an excellent understanding between them, Nia Jax and Shayna Baszler fight more between themselves than their opponents. But that does not diminish how dominant they are in the ring. Will that dominance continue?
Prediction- WWE currently does not have anything to do with Women's Tag titles and Baszler & Nia. So, They will retain the titles here.
Cesaro & Shinsuke Nakamura(c) vs Lucha House Party – WWE SmackDown Tag Team Championship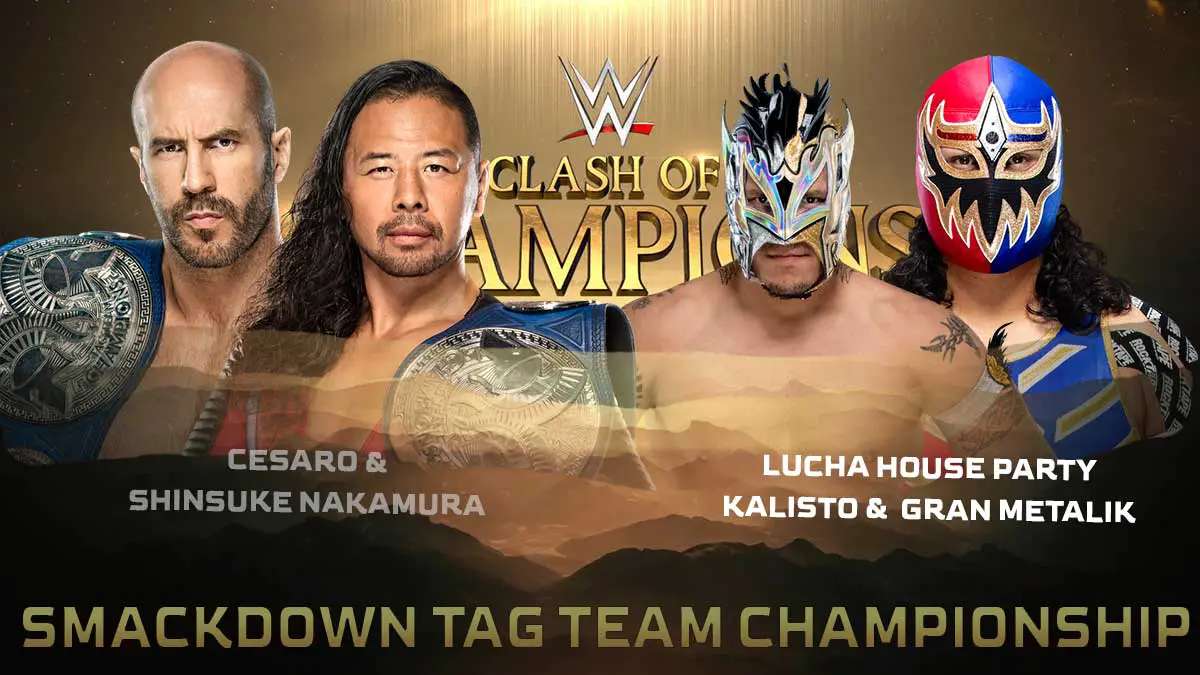 Lucha House Party won a non-title match against Cesaro and Nakamura after they were distracted by the Street Profits partying in their champions lounge. This has setup the title match at Clash of Champions.
On the other hand, there are divisions clearly seen in LHP with tensions between Lince Dorado and Kalisto running high.
Prediction- Cesaro & Nakamura to retain the title due to the sorry state of SmackDown's tag team division.