UFC 281 PPV Salaries & Total Payout(w/ Bonus & Sponsorship)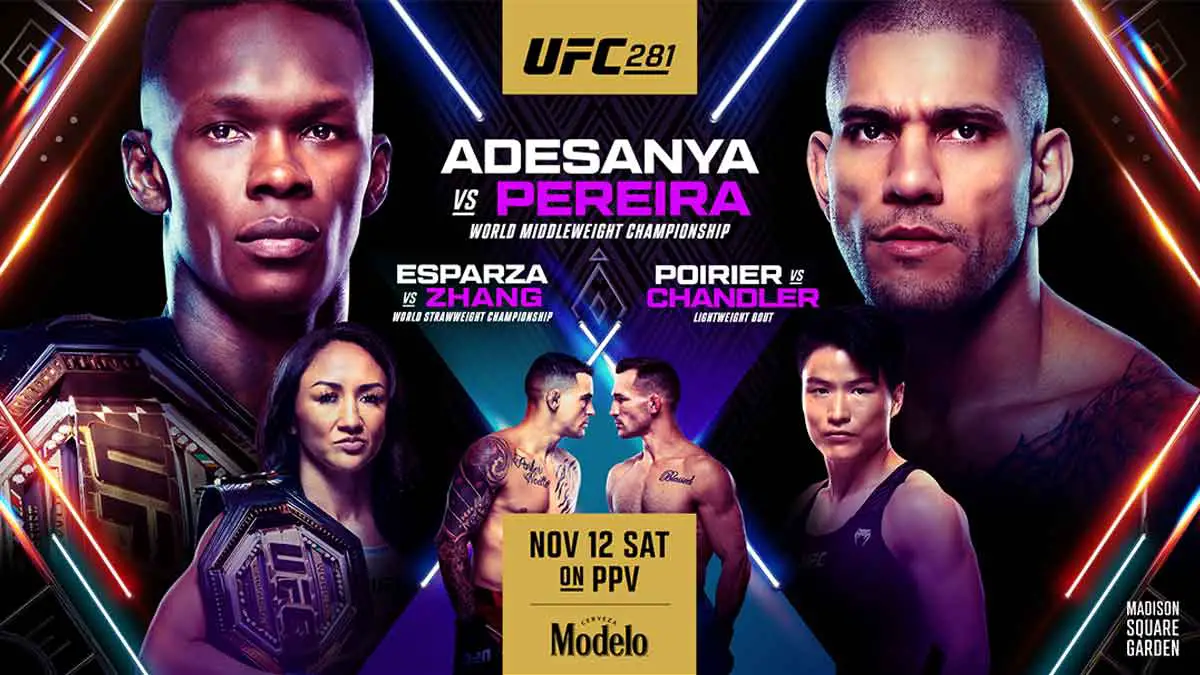 Israel Adesanya and Dustin Poirier will end up earning more than a million dollar from UFC 281 salaries and payouts.
As per unofficial payout data from MMA Salaries, Israel Adesanya will get a $2 million base salary from the event. Similarly, Dustin Poirier will get $1 million in base salary. New UFC Middleweight Champion Alex Pereira will end up earning $682000 with $300000 in base salary and win bonus. Carla Esparza and Michael Chandler are the only other two fighters to earn more than $500000.
We previously reported how the sponsorship payout for UFC 281 was highest in UFC-Venum partnership totaling $332,500. 4 performance bonuses were handed to Alex Periera, Zhang Weili, Dustin Poirier and Michael Chandler who won $50,000 each. As per early estimates, the event has sold 600000 PPVs, which will earn Adesanya, Poirier and Esparza an additional $600000 in PPV payouts. The total payout from UFC 281 with base salaries, win bonuses, performance bonuses, sponsorship and PPV payout.
1. Israel Adesanya – $2,642,000
Base Salary – $2,000,000
PPV Payout – $600,000
Sponsorship – $42,000
2. Dustin Poirier – $1,671,000
Base Salary – $1,000,000
PPV Payout – $600,000
Performance Bonus – $50,000
Sponsorship – $21,000
3. Carla Esparza – $892,000
Base Salary – $250,000
PPV Payout – $600,000
Sponsorship – $42,000
4. Alex Pereira- $682,000
Base Salary – $300,000
Win Bonus – $300,000
Performance Bonus – $50,000
Sponsorship – $32,000
5. Michael Chandler – $554,500
Base Salary – $500,000
Performance Bonus – $50,000
Sponsorship – $4,500
6. Zhang Weili – $482,000
Base Salary – $200,000
Win Bonus – $200,000
Performance Bonus – $50,000
Sponsorship – $32,000
7. Dan Hooker – $336,000
Base Salary – $160,000
Win Bonus – $160,000
Sponsorship – $16,000
8. Frankie Edgar – $271,000
Base Salary – $250,000
Sponsorship – $21,000
9. Ryan Spann – $135,600
Base Salary – $57,600
Win Bonus – $72,000
Sponsorship – $6,000
10. Renato Moicano – $131,000
Base Salary – $60,000
Win Bonus – $60,000
Sponsorship – $11,000
11. Karolina Kowalkiewicz – $131,000
Base Salary – $60,000
Win Bonus – $60,000
Sponsorship – $11,000
12. Chris Gutierrez – $126,000
Base Salary – $60,000
Win Bonus – $60,000
Sponsorship – $6,000
13. Dominick Reyes – $120,400
Base Salary – $100,000
Sponsorship – $6,000
Fine from Ryan Spann – $14,400
14. Matt Frevola – $106,000
Base Salary – $50,000
Win Bonus – $50,000
Sponsorship – $6,000
15. Michael Trizano – $86,000
Base Salary – $40,000
Win Bonus – $40,000
Sponsorship – $6,000
16. Brad Riddell – $78,000
Base Salary – $72,000
Sponsorship – $6,000
17. Carlos Ulberg – $76,500
Base Salary – $36,000
Win Bonus – $36,000
Sponsorship – $6,000
18. Molly McCann – $66,000
Base Salary – $60,000
Sponsorship – $6,000
19. Choi Seung-woo – $66,000
Base Salary – $60,000
Sponsorship – $6,000
20. Julio Arce – $66,000
Base Salary – $60,000
Sponsorship – $6,000
21. Erin Blanchfield – $64,000
Base Salary – $30,000
Win Bonus – $30,000
Sponsorship – $4,000
22. Andre Petroski – $64,000
Base Salary – $30,000
Win Bonus – $30,000
Sponsorship – $4,000
23. Claudio Puelles – $56,000
Base Salary – $50,000
Sponsorship – $6,000
24. Montel Jackson – $54,000
Base Salary – $24,000
Win Bonus – $24,000
Sponsorship – $6,000
25. Wellington Turman – $46,000
Base Salary – $40,000
Sponsorship – $6,000
26. Ottman Azaitar – $44,000
Base Salary – $40,000
Sponsorship – $4,000
27. Nicolae Negumereanu – $36,000
Base Salary – $30,000
Sponsorship – $6,000
28. Silvana Gómez Juárez – $34,500
Base Salary – $30,000
Sponsorship – $4,500