PFL 3 2023 Regular Season Results Live, Mercier vs Burgos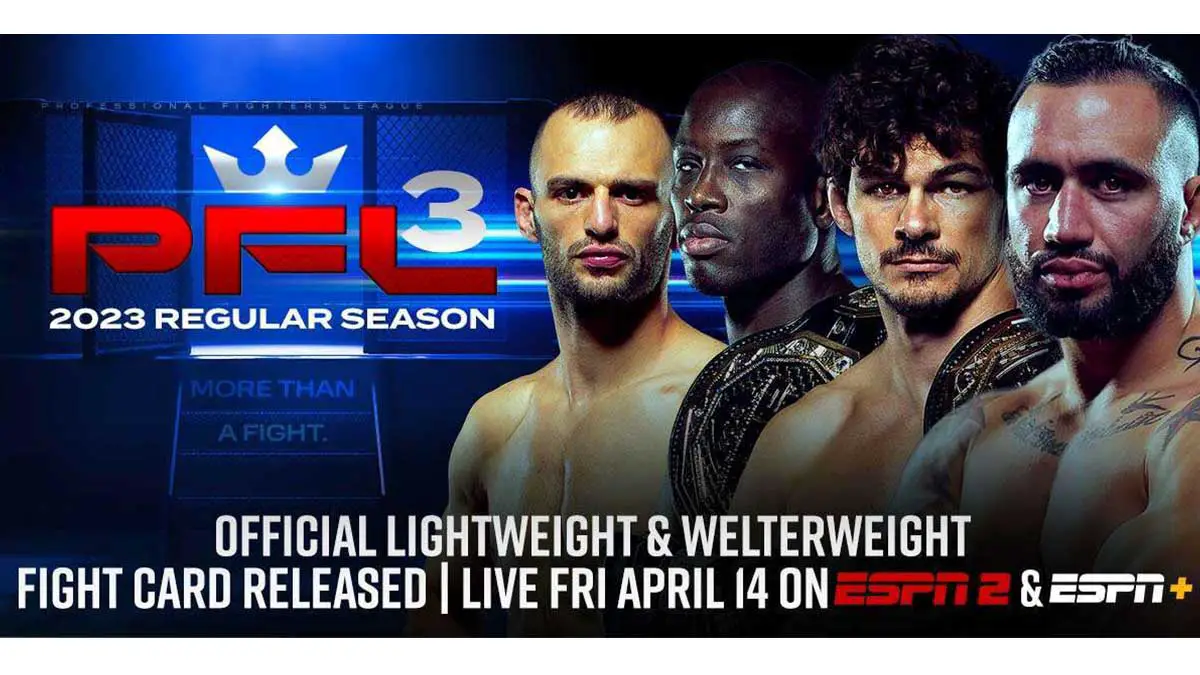 PFL 2023 Regular Season continued with PFL 3 event which featured lightweight and welterweight matches on April 14, 2023.
The event was headlined by a lightweight bout as Shane Burgos made his PFL debut against 2022 PFL Lightweight World Champion Olivier Aubin-Mercier. Burgos came into PLF with two wins in his last two bouts in UFC, but he made his lightweight debut with this bout.
Aubin-Mercier was undefeated in PFL in the last two years, which has led to him becoming the 2022 World Champion and a millionaire. However, just one of his 6 wins in PLF came via knockout which was against Stevie Rey in the final of the 2022 tournament.
Clay Collard started his second season in PFL against a debutant in Yamato Nishikawa. One heavyweight bout was also on the card between Denis Goltsov vs Cezar Ferreira. Check below as we post results from PFL 3 2023 Regular Season with a complete fight card and more details.
RESULTS
Main Card
Magomed Umalatov def. Dilano Taylor via KO at 1:31 of round 1 – Welterweight Bout (Watch Video)
Carlos Leal def. David Zawada via TKO at 2:25 of round 1 – Welterweight Bout (Watch Video)
Denis Goltsov def. Cezar Ferreira via KO at 2:07 of round 1 – Heavyweight Bout (Watch Video)
Co-Main Event: Clay Collard def. Yamato Nishikawa via unanimous decision(30-27, 30-27, 30-27) – Lightweight Bout
Main Event: Olivier Aubin-Mercier def. Shane Burgos via unanimous decision(30-27, 30-27, 30-27) – Lightweight Bout
Postlims Card
Natan Schulte def. Stevie Ray via unanimous decision(30-27, 30-27, 30-27) – Lightweight Bout
Zach Juusola def. Brandon Jenkins via unanimous decision(29-28, 29-28, 29-27) – Welterweight Bout
Bruno Miranda def. Ahmed Amir via unanimous decision(30-27, 30-27, 30-27) – Lightweight Bout
Nayib Lopez def. Shane Mitchell via unanimous decision(29-27, 29-27, 29-27) – Welterweight Bout
Raush Manfio def. Alex Martinez via unanimous decision (29-28, 29-28, 30-27) – Lightweight Bout
Magomed Magomedkerimov def. Ben Egli via TKO at 1:03 of round 1- Welterweight Bout
Sadibou Sy def. J. Al-Silawi via TKO at 1:14 of round 2- Welterweight Bout