Bellator 289 Results LIVE, Stots-Sabatello, Carmouche-Velazquez 2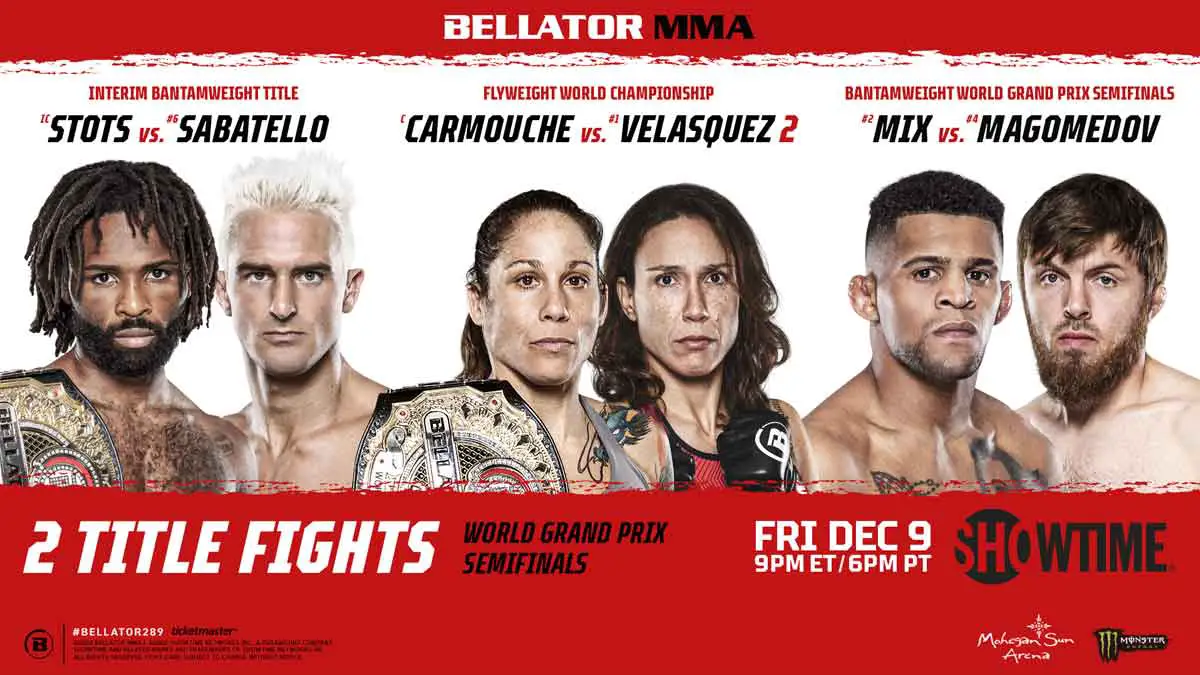 Bellator 289 event is going to be Bellator's last event of the year 2022. It will feature two semifinals bout for Bantamweight World Grand Prix on the main card.
Raufeon Stots will defend interim Bellator Bantamweight World title against Danny Sabatello in the main event. Both men will also fight to retain an undefeated status in the promotion.
Liz Carmouche and Juliana Velasquez will clash in a rematch over women's Flyweight Championship. Carmouche gave Velasquez her first career loss and also took away the title from her in April this year.
Patchy Mix and Magomed Magamedov will clash in the second semifinal bout in Bantamweight World Grand Prix after Dalton Rosta and Anthony Adams opens the main card.
Tune in below as we post complete results live from Bellator 289: Stots vs Sabatello event from both prelims and main card.
Results
Prelims
Cass Bell def. Jared Scoggins via split decision (29-28, 29-28, 28-29)- Bantamweight bout
Michael Lombardo def. Mark Lemminger via KO(punch) at 4:23 of round 1- Welterweight bout (Watch Video)
Kai Kamaka III def. Kevin Boehm via TKO(punches) at 2:23 of round 3- Featherweight bout (Watch Video)
Christian Echols def. Pat Downey via KO(punch) at 2:27 of round 1- Middleweight bout (Watch Video)
Cris Lencioni def. Cody Law via split decision (30-27, 30-27, 28-29)- Featherweight bout
Jaleel Willis def. Kyle Crutchmer via unanimous decision (30-27, 30-27, 30-27)- Welterweight bout
Ilara Joanne def. Denise Kielholtz via split decision (30-27, 30-27, 28-29)- Women's Flyweight bout
Main Card
Dalton Rosta def. Anthony Adams via unanimous decision (30-27, 30-27, 30-27)- Middleweight Bout
Patchy Mix def. Magomed Magomedov via submission(guillotine choke) at 2:39 of round 2- Bantamweight World Grand Prix Tournament Semi-Final bout (Watch Video)
Co-Main Event: Liz Carmouche(c) def. Juliana Velasquez via submission(armbar) at 4:24 of round 2- Women's Flyweight World Championship Bout (Watch Video)
Main Event: Raufeon Stots(ic) def. Danny Sabatello via split decision (48-47, 48-47, 45-50)- World Grand Prix Tournament Semi-Final bout for Interim Bantamweight World Championship Bout