Tyson Fury vs Dillian Whyte Confirmed after Frank Warren Wins Purse Bid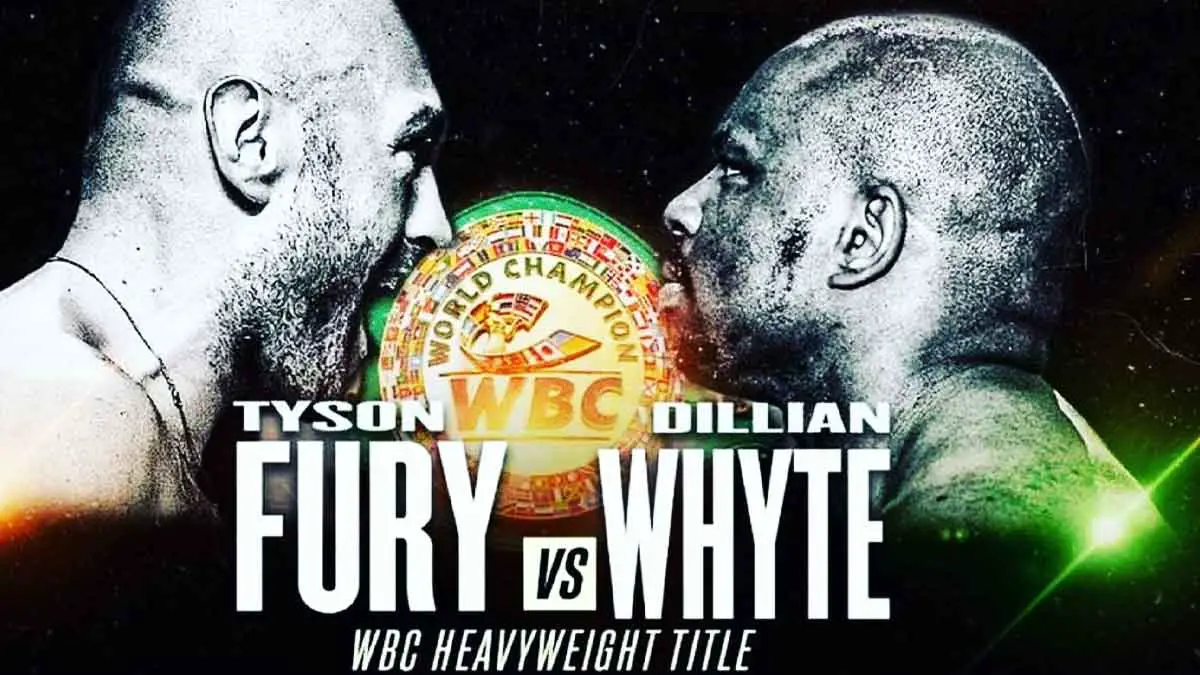 WBC Heavyweight Champion Tyson Fury is now confirmed to defend the title against #1 contender and interim champion Dillian Whyte.
Frank Warren's Queensberry Promotion won the purse bid on Friday after it was postponed several times in the last month. Warren, Fury's co-promoter, won the bid at $41,025,000 for Fury's next fight.
This is the biggest purse bid for any boxing bout ever in history. Fury, who also holds The Ring and Lineal Heavyweight titles, will earn $29,538,000 from the fight. Whyte will get $7,384,500 while WBC will keep aside a 10% amount of the bid, $4,102,500, as a bonus for the winner.
The fight will air on PPV in both US and UK. ESPN+ will serve as the PPV provider in US while BT Sports Box Office will air the fight in UK. April 23, 2022, is the expected date for the bout to take place in UK itself.
This will be Fury's first fight in UK since he defeated Francesco Pianeta in Belfast in 2018. Also, this will his first bout against anyone other than Deontay Wilder in almost three years. During their trilogy, Fury fought Wilder to a draw in the first bout before defeating him in the second bout to win the title, and successfully defended it in their third fight. Fury remains undefeated in 31 fights with a record of 30-0-1.
Whyte was first named the mandatory challenger for the title in July 2019 by beating Óscar Rivas for the interim WBC title. He later lost that title to Alexander Povetkin in August 2020, before winning it back from him in March 2021.
The negotiations for this fight have been tricky from the start itself. Whyte was asking for a minimum of $10 million to face Fury while Fury's management was holding out for $5 million. In purse bid also, Whyte argued he should get a 45% stake due to his status as the interim champion. WBC then asked for official figures both fighters made in the last three fights and ordered an 80-20 split in Fury's favor. Whyte went into arbitration against WBC over the ruling which saw the purse bid getting postponed at least three times.
Then, Fury and WBO, IBF & WBA Champion Oleksandr Usyk got the offer for the undisputed title fight in Saudi Arabia. The overall figure involved was said to be around $155 million. Whyte and Usyk's challenger Anthony Joshua reportedly agreed to a step aside deal in principle for $5 million and $15 million respectively. However, the deal fell apart when both parties tried to re-negotiate in the final hours.
Tyson Fury claimed that he lost $90 million dollar due to the collapse of that deal. However, if he retains the title against Whyte, he is expected to face the winner between Usky and Joshua for the unification fight in Saudi Arabia later this year.
Keep tuned in for more news and updates from the boxing world.