WWE SmackDown June 3, 2022 Results & Live Updates(w/ Preview)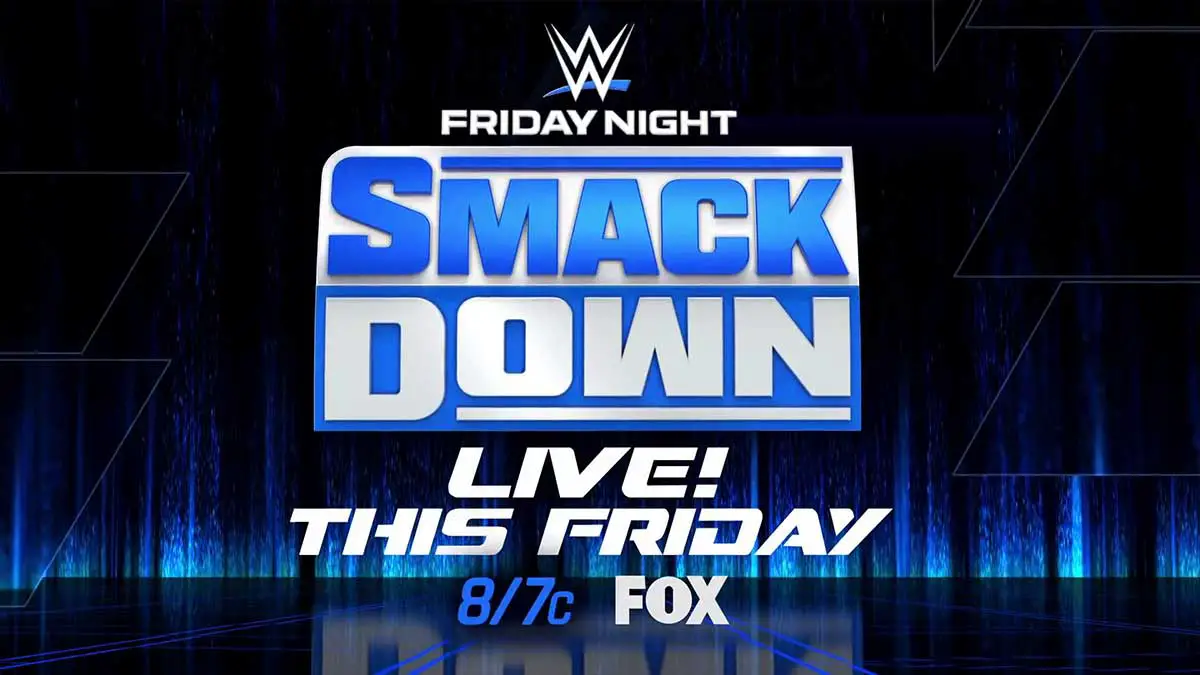 WWE SmackDown episode of June 3, 2022, will be the go-home edition for WWE Hell in a Cell 2022 event. It will feature the return of Madcap Moss who has revenge on his mind. The event will air live from the Schottenstein Center in Columbus, Ohio. 
The Usos will defend the unified tag team titles against Riddle & Shinsuke Nakamura. A six-pack challenge will see a new contender for SmackDown Women's Champion emerge.  
Keep scrolling to check WWE Friday Night SmackDown June 3, 2022 episode results & live updates with winners, match card preview, highlights and more.
Live Updates
Big D!
New Day's Xavier Woods & Kofi Kingston come out to open the show. We get a recap of Drew McIntyre's return to team up with them. Kofi and Woods mock The Brawling Brutes for their team name. They say they have got back to winning ways due to one man – Drew McIntyre. McIntyre comes out. McIntyre wants to give a shout out to Big E before anything else. Drew says he is going back and forth between UK and US. He makes it clear that he will challenge for Undisputed Universal Championship at Clash at the Castle, but before that New Day can call for him anytime.
New Day do some wordplay before they bring out trunks for Drew which has Big D written on it. Sheamus comes out to the stage. Butch is getting agitated as usual but Ridge Holland and Sheamus are holding him back. Sheamus claims that New Day and Drew's win last week was as tainted as any championship win for Ohio State University. He calls Drew little D. As Sheamus continues to talk, Butch runs into the ring to attack his rivals. Drew, Kofi and Woods deal with him easily and throw him out of the ring. We cut to a break.
Drew McIntyre, Kofi Kingston & Xavier Woods vs The Brawling Brutes(Sheamus, Butch & Ridge Holland)
Sheamus is unloading with big blows on the chest while keeping Woods on the apron. Butch comes for more shots. Woods hits a jawbreaker. Kofi tags in for double team attack with clothesline, dropkicks, knee drop and more. Kofi hits a running kick and Woods hits a senton. Butch hits a big boot and Holland tags in to hit Woods with a shoulder tackle. Another tackle from Woods follow.
Sheamus comes in and Woods ducks him to tag in Kofi. Kofi flies in with a forearm. He knocks off Butch and Holland from the apron. Kofi hits a clothesline, avoids Sheamus in the corner, hits a boom drop. Butch catches Kofi's leg and Drew hits him with a big forearm to send Butch into the ring post. Kofi sends Sheamus to the floor. Woods also knocks Holland to the floor and New Day hits suicide dive on their opponents to take them to a break.
Sheamus is in control against Kofi as we return. Butch comes in and unloads with his shots. He tries to get into McIntyre's face but Holland brings him back. Holland nails Kofi with rights and lefts. Sheamus hits a knee drop on Kofi to get a two-count. Sheamus takes a cheap shot at Drew. Kofi hits Sheamus with a Meteora and tags in Drew. Drew drops Holland with clothesline, knocks Butch off the apron with an uppercut, a spinebuster on Holland and runs over Butch on the floor.
Sheamus tries to interfere but is thrown out. Butch tags in and Drew hits him with a back body drop. Woods tags in and hits Butch with a torture rack slam. Kofi lands on Holland on the floor. Sheamus hits Drew with a Brogue kick on the floor. Butch ducks a shot from Woods. Sheamus distracts Woods and Butch hits him with the Bitter End to get the pin.
Winner – The Brawling Brutes
After the match, The Brawling Brutes celebrate while Drew recovers and stares them down from the ring.
---
Riddle and Shinsuke Nakamura are backstage and are asked about getting a title shot so soon. They give each other compliments before we cut to Riddle & Randy Orton losing the title unification match two weeks back. Riddle gets serious now and says he is more hurt than Randy after that loss. Riddle claims that he will win the titles for Randy.
---
Adam Pearce is backstage talking on his phone. Max Dupri comes into his office and Pearce ends the call. Dupri says he searched the entire roster for a star to represent Maximum Male Models and has found his first client. Pearce asks him who it is. Dupri says Pearce has to wait for it until next week just like everyone else.
---
A video package for the feud between Seth Rollins and Cody Rhodes.
Humberto vs Jinder Mahal
Humberto comes out with Angel for his match. Los Lotharios do their kiss cam segment. We cut to a break.
We get the replay from last week where Shanky and Mahal lost to Los Lotharios last week and how it was due to Shanky's dancing exploits. Mahal tells Shanky that he wants him to be serious tonight and not to dance. Mahal and Shanky enter and Shanky continues to dance behind Mahal's back.
Mahal is distracted but Shanky as the bell rings and Humberto hits him with a dropkick and controls him in the corner. Mahal comes back with a back body drop. A knee drop near the ropes from Mahal. Humberto drops him on the ropes and hits a kick from the apron. Mahal ducks his springboard move and nails a roundhouse kick. Mahal gets ready for Khallas but once again get distracted by Shanky's dancing. Humberto rolls up Mahal but the referee was busy with Shanky. Mahal then rolls up Humberto to get the pin.
Winner – Jinder Mahal
After the match, Shanky tries to get Mahal to dance with him but Mahal refuses and goes back. Shanky gets his eyes on the announcer, Samantha Ervin. Shanky starts dancing for her and Samantha joins him later.
Raquel Rodriguez vs Aliyah vs Shayna Baszler vs Natalya vs Shotzi vs Xia Li – Six Pack Challenge for #1 Contender for SmackDown Women's Championship
We see how Aliyah locked Shotzi in the locker room last week and how Raquel Rodriguez vs Ronda Rousey match was interrupted by Natalya and Shayna Baszler. Ronda comes out to watch this match. Raquel Rodriguez comes out for the match followed by Shotzi. Aliyah is announced but she is locked in the room by Shotzi. We cut to a break.
After the break, Baszler, Xia Li and Natalya enter. Shotzi asks the referee to start the match without Aliyah. Aliyah comes in and attacks Shotzi.
They go brawling to the floor as the bell rings. Natalya and Baszler send them into the barricade. Raquel is now surrounded by Xia, Natalya and Baszler and fights them off. The numbers game catch up though and she is sent out of the ring.
Natalya goes for a sharpshooter on Xia but Xia kicks her away. Xia sends Natalya to the corner and hits a tackle. She follows with a suplex and kick to the back. Aliyah slams her face to the mat. Shayna comes in and stops Aliyah to get a pin on Natalya. Shayna sends Aliyah to the floor. Shotzi and Xia Li get involved again.
Xia nails a kick on Shotzi . Natalya hits a discuss clothesline on Xia. Rachel comes in for some back and forth with Natalya before she knocks Natalya with a big boot. Shotzi comes in and Raquel drops her on Natalya. She drops on them form the second rope. Raquel goes for Gigoda bomb on Shotzi but Shayna Baszler comes in to attack her. Natalya sneaks in a pin on Shotzi.
Winner – Natalya
After the match, Ronda gets into the ring for a brief face-off with Natalya.
A New Moss Returns!
We are told about Madcapp Moss' tweet about his return to SmackDown tonight. We get a digital exclusive where Happy Corbin warned Moss not to return. We cut to backstage where Moss kicks open an ambulance's door. He is in new ring gear. Singlet is gone and he has new trunks.
Moss recalls how his neck was wrapped by a steel chair and had a 90 lbs trophy slammed. He says Corbin thought Moss is done. Moss says Corbin is right about it since the man that was with Corbin earlier is gone. He has buried that part of him. He use to think about punching Corbin in his face everytime he used to ask him to tell a joke. Moss says the fans would definitely like it and calls out Corbin to come out.
Corbin comes out and says the real reason he is calling him out is that Moss misses him. Corbin claims that Moss wants his structure back and his old job back. Moss tells him to come into the ring to get beaten up. Corbin says he is happy to teach him another lesson in humility, but Moss is angry right now. Adam Pearce comes out to the stage and announces a match between Moss and Corbin.
Madcapp Moss vs Happy Corbin
Corbin is refusing to get into the ring. He finally gets in but rolls to the floor as soon as the bell rings. Corbin gets in and takes a cheap shot from behind the referee. Moss nails him with a clothesline. Moss takes Corbin to the floor and sends him into the barricade and ring post. Moss throws Corbin back to the ring but Corbin gets out and gets his hands on a chair. Moss knocks the chair off his hands and nails him with the chair instead. The referee calls for a disqualification.
Winner – Happy Corbin
Moss slams Corbin with more chair shots in the ring. He brings in steel steps into the ring. Moss nails Corbin with more chair shots before wrapping the steel chair around his neck. Moss was looking to hit Corbin with the steps but WWE crew runs into the ring to stop him. Corbin is helped to the back while Moss is being calmed down. Corbin is announced as the winner.
The Usos are backstage for an interview. They are asked about Riddle dedicating this match to Randy Orton. The Usos mock Riddle and go on to dedicate this match to the Tribal Chief Roman Reigns.
---
Happy Corbin is backstage huffing and puffing. He asks Adam Pearce whether he is suspending Madcapp Moss or not. Pearce tells him that Moss is not getting suspended because he did worse to Moss three weeks back. Pearce then announces a No Holds Barred match between them at Hell in a Cell.
A match for Intercontinental Championship is announced for next week between Ricochet and Gunther. Ricochet says Gunther is always talking about respect. He is working day in day out for it. He talks about Gunther's motto of the mat being sacred.
Ludwig Kaiser is with Gunther and says Intercontinental Championship shows the highest of integrity and respect and there is no one better to hold the title than Gunther. Gunther claims that he will become the champion next week.
The entrances for the main event start as the commentators go through Hell in a Cell card. We cut to a break before the match could start.
The Usos(Jimmy Uso & Jey Uso)(c) vs Riddle & Shinsuke Nakamura – unified WWE Tag Team Championship Match
Nakamura drops Jey to start. He hits knee strikes and takes Jey to the corner. Riddle comes in and hits a fishermen's suplex. Jimmy takes a blind tag and comes in for a double team back body drop. Jimmy works on Riddle's back with some strikes. Riddle gets up after coming out of a chinlock. He nails a roundhouse kick to Jimmy and tags in Nakamura.
Nakamura nails Jey with sidekicks. He hits Jimmy with a thrust kick to send him out of the ring again. Nakamura hits a knee strike in the corner to get a two-count. Jey is sent to the corner and Nakamura hits him with a rollling German suplex. Riddle tags in and hits a senton to get a two-count. Jey knocks off Nakamura from the apron. Riddle kicks Jey away and goes to the top. Jimmy pulls him from the top while the referee was distracted. The Usos hit Riddle with double superkicks and Nakamura has to break the pin.
Nakamura takes Jey to the floor but he misses a running against the steel steps. The Usos double team to hurt his knee some more. The referee has called for medical attention for Nakamura. Nakamura is helped to the back. Riddle comes to check on him. Nakamura has probably told him to continue. Riddle nails Jey with a forearm as he comes out. Riddle fights Jimmy in the ring and clotheslines him to the floor to take us to a break.
The Usos are in control as we return from the break. They keep him under control for a while. Riddle nails Jey with a knee strike to drop him. Jey drags himself to tag to Jimmy. Riddle hits lefts and rights on Jimmy and then hits a neckbreaker. Jey is sent to the opposite corner and Riddle hits running forearms. Riddle follows with neckbreakers and sentons. He was going for a draping DDT on Jey on the apron but Jimmy pulls him down. Riddle hits a floating bro on them on the floor. He hits a powerslam on Jimmy as they return to the ring.
Riddle hits a draping DDT and gets ready for RKO. Jimmy stops the RKO. Riddle knocks off Jey from the apron before Jimmy hits him with a pop-up Samoan drop to get a near fall. Riddle meets him on the top just as Roman Reigns' music hits. Riddle hits super RKO on Jimmy but Jey has taken a blind tag. Jey hits the Usos Splash on Riddle to get the pin.
Winners – The Usos
We cut to back to see Sami Zayn was the one to start Roman's music. The Usos gets to the ramp with their titles quickly. Sami comes out to tell him what he did. Riddle recovers and attacks Sami on the stage. The Usos try to help out Sami before the crew stops the brawl from escalating. Riddle screams that this is not over as the show goes off the air.
---
Preview
Madcap Moss Return: After Madcapp Moss defeated Happy Corbin at WrestleMania Backlash, Corbin Corbin attacked him at the following SmackDown episode and left him with a cervical contusion. Now, Moss has recovered from his injury and is ready to return to SmackDown. How will he get some payback against Corbin?
What's Next for Bloodline: Both Shinsuke Nakamura and Riddle are determined to take vengeance against the Bloodline. It started by defeating in a non-title tag match this week on RAW. What will it lead to?
What's next for Drew McIntyre?: Drew McIntyre returned last week to assist New Day against The Brawling Brutes. What awaits him after that match? A feud with The Brawling Brutes?