WWE SmackDown 27 August 2021- Results, Preview, Card, Location, Start Time- Becky & Brock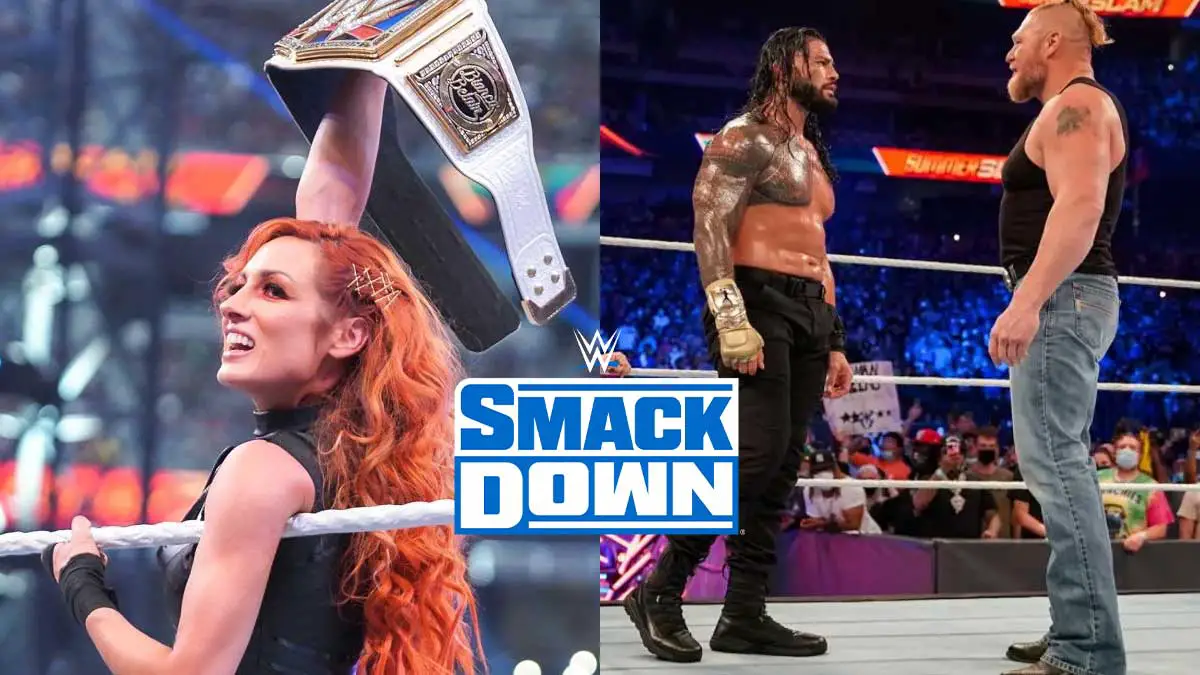 This is our blog for WWE SmackDown 27 August 2021 episode for results, live update, preview, match card, location, timing and where to watch.
Show – WWE Friday Night SmackDown
Date – 27 August 2021
Location –  Simmons Bank Arena, North Little Rock, AR, US
Time – 8 PM EST(28 August 2021 12 AM GMT/5:30 AM IST)
WWE SmackDown 27 August 2021 Results
Bianca Belair defeated Carmella, Liv Morgan & Zelina Vega in a Fatal 4-Way Elimination Match to become the new #1 contender for WWE SmackDown Women's Champion.
Cesaro defeated Chad Gable in a singles match via DQ.
Shinsuke Nakamura & Rick Boogs defeated Dolph Ziggler & Robert Roode in a tag team match via pinfall.
Dominik Mysterio vs Sami Zayn
Roman Reigns' Family Celebration
Live Updates
The Man is Back and So Are Challengers
Becky Lynch opens the show with a huge pop. She says giving up RAW Women's Title was the hardest thing she had to do, and was working every day to return better. She brings up how there is some controversy over how she won the title at SummerSlam, but she is not sorry. The crowd gives a huge pop.
Bianca Belair comes out. Bianca says she won't make excuses on what went down at SummerSlam. But she wants a rematch. Zelina Vega comes out with "You Suck" chants. Vega says no one wants to see Bianca getting thrashed again and tells Becky she should face her. Carmella comes out to the ramp and says they should clear the ring and Becky should be facing the most beautiful women in the world.
Liv Morgan is out now. Liv wonders why all these challengers who were getting thrashed every week should be getting title shot ahead of her. Vega and Carmella start to quarrel. Bianca once again asks Becky for a title match. Becky says "nah" and goes back. Bianca decks Vega to start a brawl between the other four women. We cut to a break.
Bianca Belair vs Carmella vs Liv Morgan vs Zelina Vega – Fatal 4-Way Elimination Match
Bianca catches Carmella and slams her to the mat. She bench presses Vega and slams her also. Liv is dropped off the apron. Carmella and Vega work together on Bianca and dumps her out of the ring. Liv dropkicks Vega but Carmella drops her. Liv counters a choke near the ropes and drops Carmella out to the floor.
Liv with a dropkick on Vega but Carmella returns to work on Liv. Carmella and Vega start to argue and Bianca comes in to hit KOD on Vega to eliminate her. Carmella sends Bianca into the barricade. Liv hits Carmella with her finisher to eliminate her.
During the break, Carmella tripped Liv and Bianca capitalizes. Liv is trying to fight back now but Bianca drops her. Bianca with shoulder tackle in the corner. Liv reverses a whip and hits a knee to the face. Morgan with a headscissor and stomp in the corner. She misses it the next time and Belair hits a spinebuster for a near fall.
Morgan counters a vertical suplex and hits her with double knees. "This is awesome" chants ring the arena. Bianca drops Liv into the corner. Liv tries to counter KOD and Belair had to drop her into the top turnbuckle. Bianca hits the KOD to get the win.
Winner – Bianca Belair(becomes #1 contender for SD Women's Title)
Whose side Paul Heyman is On?
Paul Heyman is backstage and gets frustrated when Kayla Braxton comes up. She asks where he stands in between Roman Reigns and Brock Lesnar. Paul says he stands where he always stands, right behind Roman Reigns. Paul says he has to get ready for Roman's family celebration. He goes to Roman's locker room, but he is locked out.
We get the replay of Roman defeating John Cena at SummerSlam and Brock Lesnar returning after that, including Lesnar thrashing Cena. We cut to backstage again where Heyman is still locked out. The Usos come out and lock the door again. They ask Heyman if he knew that Brock was going to be at SummerSlam. Heyman says why would he work to destroy everything he worked for. Usos needle him for a bit more before going back.
Cesaro vs Chad Gable
Chad Gable walks out with Otis. We get the replay of Cesaro defeating Chad Gable a few weeks back. We cut to the Break.
Cesaro starts with big uppercuts. Gable drops his hand on the ropes and goes to work on his hand. Cesaro swings but Gable rakes in his neck and hits a Northern Light suplex. A moonsault from Gable for a two-count. Cesaro counters on the top and hits him with frankestiener. Cesaro puts on the swing but Otis attacks him to cause a DQ.
Winner – Cesaro(via DQ)
Otis drops Cesaro after the match. Gable holds Cesaro as Otis hits a splash from the top.
Kayla Braxton is in the parking lot waiting for Roman Reigns. A car rolls up, but it is Baron Corbin who comes out of it. Corbin asks if she is not paying to his social media. His luck has turned and he is "Happy Corbin" now.
Happy Corbin
Baron Corbin comes out after the break. We get the replay of how he has won a ton of money in Las Vegas. Corbin addresses the crowd and talks about his revitalized life. Corbin calls out Big E and he comes out to the ring. Corbin offers to buy Money in the Bank briefcase and offers $20000. Big E says no.
Corbin increases the price and says he may lose while cashing in the briefcase. The crowd boos. Corbin offers $100,000. Big E thinks about it and says "Hell, No!" Big E offers other things Corbin can spend that money. Corbin says he will regret turning down the offer. Big E tells him to take a walk.
We get the replay for Edge vs Seth Rollins match. Edge is backstage and he says he had to go to a dark place to defeat Rollins. But now that the Albatros is not around his neck, he is ready to go for the Universal Championship again.
We cut to Seth Rollins who is now praising Edge and his Hall of Fame career and that he has respect for him now. Rollins says if he has to get back Universal Championship, he has to become like him.
Roman Reigns is walking in and see Paul Heyman standing outside his locker room. Roman asks his what he is doing outside and asks whether he has to open the door also now. Heyman apologizes to Roman and opens the door. Roman asks his whether he is getting in or now. Heyman follows him into the room.
Robert Roode & Dolph Ziggler vs Shinsuke Nakamura & Rick Boogs
Boogs starts by powering Ziggler. He hits gutwrench suplex a few times. Double team from Roode & Ziggler to take over control. We get an inset promo from Apollo Crews against Nakamura. Roode tags in for a double suplex on Boogs. Boogs decks Ziggler off the arpon and elbows Roode.
Nakamura tags in to hit a flurry of strikes. A big kick flattens Roode. A German suplex to Ziggler and then to Roode. Nakamura drops Roode from the apron. Ziggler hits him with Zigzag on the apron to send us to the break.
Ziggler hits a running knee as Roode holds Nakamura. Nakamura turns it around against Roode. Boogs runs hot against Ziggler – elbows, whips, and a running bulldog. Roode runs interference and Ziggler hits a superkick to Boogs. Nakamura breaks the pin. Nakamura and Roode are sent to the floor. Boogs hits a pumphandle body slam to get the pin.
Winners – Rick Boogs & Shinsuke Nakamura
Naomi is backstage with Sonya Deville and tells her that she is back on SmackDown. Sonya says she did not even know about it and wonders if she could measure up to SmackDown roster. 2-time SmackDown Women's Champion Naomi takes offense to it. Sonya asks for some time to figure out a match for her.
Dominik Mysterio vs Sami Zayn
We cut to the Gorilla Position where Rey Mysterio tells Dominik that it was time for him to take a step back. He has full confidence on Dominik to get a win tonight.
Sami Zayn is back on SmackDown after more than a month off. Zayn backs him in the corner early, collar and elbow, Sami in control at first but Mysterio hits multi-jump arm drag, dropkicks and more. A low bridge sends Dominik to the floor. Rey Mysterio comes down to ringside and we go to break.
Back from the break, Zayn is in control and choking Mysterio on the ropes. Rey cheers Dominik from the ringside. Dominik blocks a clothesline and hits a back suplex. They trade elbows. Zayn ducks an enzuigiri! Dominik hits an enziguiri and drops Sami for 619. Dominik goes to the top but Sami brings him down and hits a Helluva Kick to get the win.
Winner- Sami Zayn
Post-match, Rey tries to console Dominik but Dominik Mysterio is not listening and storms off.
Roman Reigns' Family Celebration
Roman & The Usos are at Gorilla. Heyman tries to hand the title to Roman. Roman is confused. Heyman says it is a Family celebration, so he would stay back. Roman tells him that he is family. Roman and Party make their entrance as we cut to the break.
After the break, Roman takes the mic before handing it to Paul Heyman. Heyman tells the crowd that it is time to acknowledge the Head of the Table and The Tribal Cheif after his triumph over John Cena. Roman instructs him to get The Usos acknowledged also. Heyman cuts a promo which is cut short by Finn Balor's entrance.
Balor says he was robbed of a title shot by Cena, and now Edge, Seth Rollins, and Brock Lesnar also want it. He is not waiting till Extreme Rules and wants Roman next week on SmackDown. Roman does not respond. Balor attacks Roman. The Usos overpower Balor. The Street Profits run out to brawl with the Usos.
Roman leaves as the Profits hit the ring. Balor remains the last man standing after taking out The Usos with Pele kicks. Roman watches from the ramp as the show goes off the air.