WWE RAW Results & Live Updates November 14, 2022- Rollins v Balor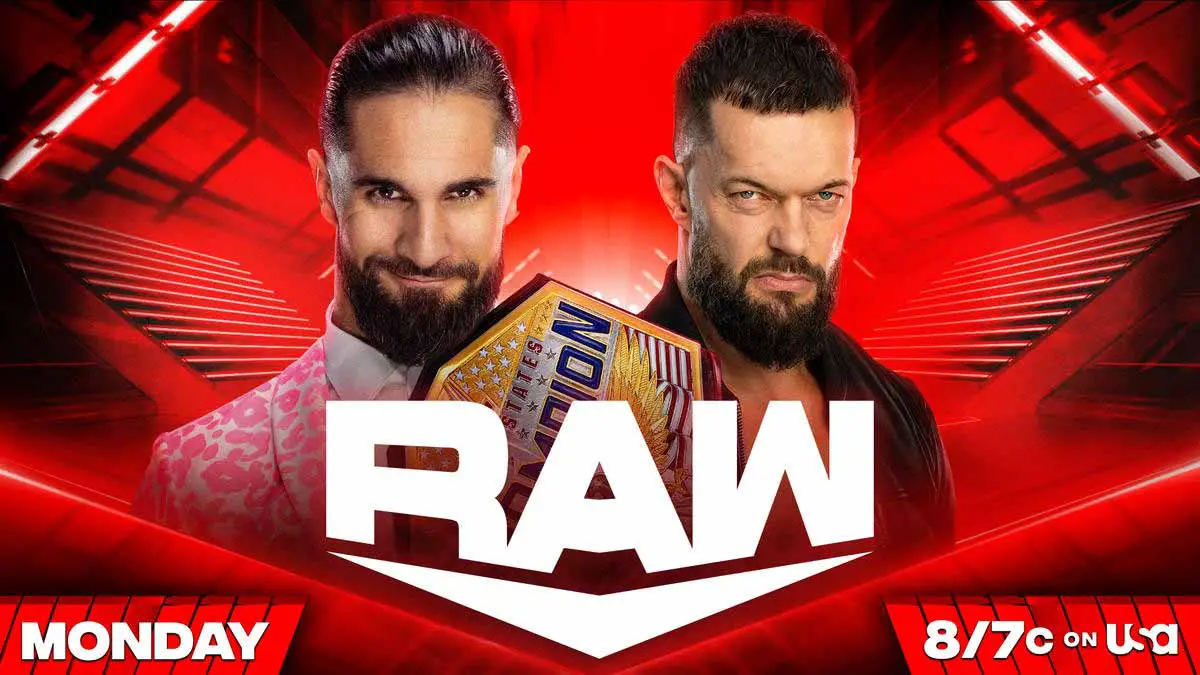 WWE RAW episode of November 14, 2022, will be bring a big match in Seth Rollins vs Finn Balor and we will be here with all the results and updates from the show.
Two former Universal Champions will collide as Seth Rollins defends WWE United States Championship against Finn Balor. Balor answered Rollins' open challenge last week, but he got interrupted by The OC. Will he be able to win the title this week?
Matt Riddle will take on Alpha Academy's Chad Gable. Last week, Otis defeated Elias in a singles match. The build-up for Survivor Series WarGames event will also continue with the likely reveal of more members for women's WarGames match. Additionally, The Miz will host a special Miz TV segment to apologize to the fans about Dexter Lumis and reveal more from his side of the story.
Tune in below as we post results from WWE Monday Night RAW November 14, 2022 episode with live updates, winners, highlights, videos, and complete action.
Results
Bobby Lashley defeated Mustafa Ali in a singles match via pinfall.
Mia Yim defeated Tamina in a singles match via pinfall.
Chad Gable defeated Matt Riddle in a singles match via pinfall.
Dominik Mysterio defeated Shelton Benjamin in a singles match via pinfall.
Iyo Sky defeated Dana Brooke in a singles match via pinfall.
Dolph Ziggler defeated Austin Theory in a singles match via disqualification.
Baron Corbin defeated Akira Tozawa in a singles match via disqualification.
Seth Rollins(c) defeated Finn Balor in a singles match via pinfall to retain WWE United States Championship.
Live Updates
Rollins, Lashley & Ali
Seth Rollins comes out to open the show. We see the recap from last week where he survived an MITB cash-in after Bobby Lashley's attack. Rollins welcomes us to the show and says he is still the US Champ. He points out how contenders were coming out of the wood for his open challenge, and even Austin Theory tried to cash in on him. The crowd chants, "That was stupid" for Theory. Rollins says that something is different for US title in recent time and it is him. He says the belt is the top prize on Monday Night, and he will add to its legacy when he goes one-on-one against Finn Balor.
Bobby Lashley comes out to interrupt him. Lashley says he turned selfie boy into a punchline last week. He tells Rollins that the beating Rollins got last week will continue until he wins the title. Rollins points out how Lashley decided to beat him up than go after the title. He says Lashley is not feeling ok after he lost to Brock Lesnar.
Mustafa Ali comes out and he has a referee with him as there is going to be a match between them. Lashley warns him to go away. Ali enters the ring and gets thrown out of the ring. Lashley turns his attention to Rollins and Ali jumps on him. Rollins leaves the ring as Lashley fights back and throws Ali to the floor again. Lashley says Ali is being stupid and he has no problem in facing him. We cut to a break.
Bobby Lashley vs Mustafa Ali
Ali tries to rush Lashley, but Lashley whips him hard to the corner. Ali lands on the floor. Ali counters to send Lashley into the post. He breaks the countdown before Lashley sends him flying into the timekeeper's area. Lashley then drives him into the ring post before throwing over the announce table. Lashley returns to the ring and the referee starts the countdown. Lashley hits Ali with Dominator after he beats the countdown. Lashley unloads in the corner. Ali tries to counter but Lashley counters a DDT with a spinebuster. He hits another spinebuster. Ali gets away from a corner tackle. He hits a tornado DDT. Lashley hits him with a spear and puts him in the Hurt Lock. The referee has to stop the match Ali fades.
Winner – Bobby Lashley
We are backstage with The OC and Mia Yim. Luke Gallows tries to take credit for bringing in Mia. AJ says they need to end this feud with Judgment Day who are after him since WrestleMania. AJ challenges Finn Balor for a singles match at Survivor Series.
Mia Yim vs Tamina
Rhea Ripley comes out before the match. Tamina runs over Mia after she gets distracted by Rhea. Tamina hits a hip attack in the corner and then hits a body slam. Mia tries to counter but Tamina continues to be in control. Mia hits Eat Defeat and gets the pin.
Winner – Mia Yim
Mia invites Rhea to the ring. Rhea teases coming in but goes back from the apron, saying she does not want to get in their with her as she is not worth her time.
---
Damage CTRL catches up with Mia Yim. Dakota says someone so good as Mia was forgotten for a long time, just like them. She asks them to join her in WarGames. Mia replies that she does not have any issues with Bianca Belair, Asuka or Alexa Bliss. Bayley tells her to think over it a bit. Iyo Sky warns her not to take too long.
Chad Gable vs Matt Riddle
Gable completes a takedown after they counter each other on the mat. Riddle goes for a keylock to counter. Gable jabs at his throat and hits an Olympic Slam. He follows up with a dragon screw. Riddle hits a flurry of kicks but Gable once again catches his leg for dragon screw. Riddle hits more kicks. Gable gets his knees us on broton. Riddle counters and gets to the top. Otis distracts Riddle and gives Gable a chance to hit an avalanche German Suplex. We cut to a break.
Riddle counters a suplex with a fisherman driver. They go blow for blow in the middle. Riddle hits a ripcord knee strike, running forearms in the corner, exploder suplex, broton, a quick powerbomd another knee strike in quick succession. Gable slips out of Bro-Derek and puts on an ankle lock. Riddle kicks him away. Gable goes for a powerbomb but Riddle tries to counter with an arm triangle. Gable hits a slam to the mat and could not believe that Riddle has kicked out of the pin. Riddle hits a draping DDT. He knocks off Otis from the apron and then hits a Penalty kick. Gable counters a charge from Riddle and puts on a crucifix pin. Otis hangs onto Gable's leg to help him get the pin.
Winner – Chad Gable
Baron Corbin and JBL are playing Poker backstage. Akira Tozawa comes in and sits beside them saying he wants to play poker. JBL asks him if has ever played poker before and if even knows the rules. Tozawa denies. JBL says they don't mind his money.
The Miz TV
The Miz is in the ring and says he will relinquish his role as the host tonight to Byron Saxton. Saxton asks him if he is sorry for paying Dexter Lumis to attack himself. Miz says he has prepared a statement and asks the crowd to maintain silence. Miz says he regrets paying Dexter Lumis, but all he wanted was some empathy. He has spent 18 years in this place, but has not received any cheers and not even a pat on his back. Miz says Dexter kept on taking and taking and he never Dexter's greed ending. Saxton asks then why he lied during the interview last week with the investigator. Miz says he was just selling a story.
Johnny Gargano comes out and says Miz is not depressed as he was on vacation this weekend and it is all over Instagram. Gargano says nobody cares about Miz because he always takes a shortcut. He says Miz took a short way out by stopping to pay Dexter rather than telling the truth. Miz snaps him to ask what is his angle in this story and says he is just doing this to get "Johnny Wrestling" chants. The back and forth continues before Gargano reveals that WWE has booked a match between Miz and Lumis two weeks later. If Lumis wins, Miz has to pay Lumis what he owes and he will also get a WWE contract. Miz tells Gargano to tell Lumis that he will put his lights out. Gargano replies that Miz should tell himself. Lumis was there in the ring as a cameraman. Miz runs away from the ring. Lumis follows him.
---
Shelton Benjamin is asked about his confrontation with Austin Theory and his failed cash-in. Dominik Mysterio and Damian Priest come in and Dominik mocks Shelton to be a failure. Shelton tells him to go away otherwise he will give him a smacking his dad should have given. Priest gets in between them and tries to intimidate Shelton. Dominik plays big behind Priest. Priest tells him to settle it in the ring. Shelton says he is ready to accept Dominik's challenge.
Shelton Benjamin vs Dominik Mysterio
They lock up and Shelton pushes Dominik to the corner. The referee calls for a break and Dominik slaps Shelton before running out of the ring. Rhea and Priest distract Shelton to allow Dominik to attack him from behind. Dominik unloads in the corner. Shelton slaps him and hits some quick moves. Dominik slips to the floor. He returns to the ring and Shelton counters his suplex. Dominik gets hit boot up in the corner and then hits a headbutt. He drops Shelton on the ropes before hitting a senton.
Dominik unloads on Shelton near the ropes. Shelton tries to fire back but Dominik hits him with headscissors takedown. Shelton hits a running knee and an exploder suplex. Dominik rolls to the floor. Shelton goes and pick him up. Rhea starts to argue with Shelton. Dominik rolls him up for a two-count. Shelton puts on an ankle lock. Rhea distracts the referee and Priest pulls Dominik to the ropes. Shelton goes to argue with Priest. Dominik slams Shelton into the turnbuckle and hits a DDT. He hits a splash from the top to get the pin.
Winner – Dominik Mysterio
Austin Theory is with Cathy Kelley backstage. Theory says nobody understands him. He exceeded expectations with all the chances given to him. He outgrew others. He explains how Universal Champion Roman Reigns has not looked vulnerable at all in the last two years, and whenever he does, The Bloodline is always there. So, he decided to do the next big thing possible with MITB briefcase. He has Seth Rollins on his back but then Bobby Lashley intervened and failed his cash-in. Dolph Ziggler comes in and mocks Theory. He says Theory's ego was too big for him during the cash-in and that's why he failed. Theory says he is tired to be called the next big thing, and youngest this and that, and will show what he really is. He challenges Ziggler for a singles match.
---
We get an introduction video package for WarGames match.
Dana Brooke vs Iyo Sky
Nikki Cross, Bayley and Dakota Kai are ringside with Iyo. Dana charges at Sky who rolls her up. Dana takes her down and unloads. Iyo breaks free of a waistlock and puts her on the ropes. Iyo hits a running boot to the face from the floor before more attack in the ring. Iyo hits back elbows in the corner. She hits a double knee drop against the turnbuckle. Dana blocks a whip and they start to trade punches. Dana hits a headscissors but Iyo counters and drops her to the mat. Dana hits a DDT to get a two-count. Dana goes for a handspring but Iyo catches her and hits a German suplex. Iyo hits meteora in the corner and hits Over the Moonsault to get the pin.
Winner – Iyo Sky
Mia Yim comes out to the stage and tells that she has picked a side for WarGames. Bianca Belair's music hits as she comes out with Alexa Bliss & Asuka to join Mia on the stage.
---
We see Akira Tozawa with Baron Corbin and JBL backstage in dishelved situation. Tozawa has apparently won 12 hands in a row. Corbin tries to cheat and says he has 3 Aces. Tozawa catches him. Tozawa then goes on to challenge him for a match.
Austin Theory vs Dolph Ziggler
A serious demeanour from Austin Theory as he comes out. No cell phone for selfies also. Ziggler tries for a takedown but Theory goes to the ropes. Theory hits a shoulder tackle. He scoops Ziggler but Ziggler slips out. Theory hits him with an elbow and stomps on his foot. Theory continues to be in control for a minute. He counters Ziggler with a back elbow when he tries to fight back. Theory puts on a chinlock. He changes it to some ground and pound when Ziggler tries to get out of it.
Ziggler hits a headbutt and a few punches in the corner. Ziggler lands on his feet on a suplex but Theory runs him over with a clothesline. Theory sends him into the ring post from inside the ring to take us to a break.
Ziggler is unloading in the corner as we return. Ziggler hits a DDT to get a two-count. Theory hits a catapult to counter. He hits spin out rack bomb to get a close two-count. He goes for ATL but Ziggler counters with a sleeper hold. Theory starts to go to sleep before he gets back to his feet. Theory tries to slam his back to turnbuckle but Ziggler refuses to let it go. Theory manages to break the lock after so much effort. Ziggler hits him with Fameouser but Theory kicks out of the pin. Theory kicks at him and sends Ziggler into the ring post again. He once again sends Ziggler into the ring post in another corner.
Ziggler turns it around when Theory goes for it again. Ziggler hits Zigzag to get another near fall. Ziggler gets ready for a superkick but Theory scoops him up to hit ATL. He does not go for a pin though. He picks up Ziggler again and hits another ATL. Theory then starts to unload with ground and pound. The referee separates him. Ziggler rolls to the floor. Theory sends him into the steel steps. He then throws the steps on Ziggler's arm. Theory then slams Ziggler's face into the announce table again and again until the referee calls for a disqualification.
Winner – Dolph Ziggler(via DQ)
Theory throws Ziggler into the timekeeper's area and continues to throw things at him. More referees come out followed by some security. But, Theory is seething in anger. The officials take him away and he walks to the back.
---
Rhea Ripley comes to Damage CTRL and tells them that they need to stop looking. If Mia Yim is in Bianca's corner, she will be with Damage CTRL. Damage CTRL are thrilled.
Akira Tozawa vs Baron Corbin
Corbin pushes Tozawa to the corner. Tozawa hits him with enzuigiri and gamengiri. Corbin hits him with a shoulder tackle. Tozawa counters with a DDT. Tozawa hits a missile dropkick next. He unloads with punches. Corbin whips him from corner to corner before Tozawa hits a big boot. Tozawa sends Corbin to the floor with a headscissors and hits a suicide dive. Corbin catches him in second dive and throws him into the barricade. Corbin throws Tozawa into the barricade before hitting knees and elbows. Tozawa hits a dropkick to the knee when they return to the ring. Tozawa hits a headscissors and hits a few more dropkicks. Tozawa goes for a crossbody from the top but Corbin catches him and hits End of Days to get the pin.
Winner – Baron Corbin
Cathy Kelley is backstage with Team Bianca. Bianca says Mia Yim can easily neutralize Rhea Ripley. Bianca is asked who will represent their team in entry advantage match next week. Bianca says they are not revealing their secrets here, but assures that everyone in her team are determined to take down Damage CTRL. Team Bianca leaves and Chad Gable and Otis come into the scene. Gable hypes how he has beaten Matt Riddle and Otis has defeated Elias. He wonders what happens in a tag team match between these teams. Seth Rollins is walking past them singing his theme. He mixes in "Shooosh" with his theme.
---
Finn Balor is asked about AJ Styles' challenge for Survivor Series. Balor says obivously he is accepting the challenge, but tonight is about Seth Rollins and United States Championship.
Seth Rollins(c) vs Finn Balor – WWE United States Championship
Balor goes for a waistlock but Rollins grabs him arm for arm wrench. Rollins comes out of the counter. Balor puts on a chinlock and keeps it on for a while. Rollins gets back up and hits a back elbow to cut off Balor's charge. Rollins throws Balor to the floor and hits a diving forearm to take us to a break.
Rollins is control as we return. He hits a forearm in the corner. Balor does a quick roll up and stomps on Rollins a few times. Rollins slips to the floor. Balor follows him. Rollins slams his face into the announce table. Balor drives his abdomen into the table's corner. Balor stomps on him as they return to the ring. Balor hits a knee strike to the abdomen. Balor hits a snapmare before putting a chinlock. Rollins hits a jawbreaker to break free. Balor puts on an abdominal stretch. Rollins picks up his leg to break free and hits a hip toss.
Rollins unloads with punches. A knee to the spine sends Balor to the floor and Rollins hits him with a suicide dive. Balor is sent to the ring to be hit by a jumping knee. Rollins hits a clothesline to get a two-count. Balor counters with a slingblade. Rollins hits a superkick and goes to the top. Rollins goes for a splash but Balor gets his knees up and tries for a quick pin attempt for a two-count. We cut to a break.
Balor hits knees to the abdomen as we return. Rollins slips off the apron and pulls out Balor. He goes for powerbomb on the barricade but Balor slips out and hits a shotgun dropkick. Back to the ring, they counter each other a bunch of times before Rollins manages to hit a sitout powerbomb. Rollins has to rolls over a moonsault as Balor side steps. Balor hits a shotgun dropkick and goes to the top. Rollins trips him on the top, jumps up, and hits a superplex. Balor counters falcon arrow with a 1916 DDT. Rollins kicks out of the pin.
Rollins goes for pedigree but Balor blocks it. Rollins manages to hit Falcon Arrow to get a two-count. Rollins gets ready for a stomp but Dominik and Damian Priest comes out. Rollins knocks off Dominik with a shot and Balor rolls him up for a two-count. Priest then comes to the apron and Balor hits a DDT on Rollins. The OC come out to counter Judgment Day. A brawl breaks down. Balor hits Rollins with a dropkick in the aftermath. Balor goes to the top now but AJ Styles pushes him off the top and into the ropes. Rollins hits a stomp to get the pin and the win.
Winner – Seth Rollins
Judgment Day vs The OC brawl goes into the crowd. Austin Theory attacks Rollins after the match. He beats up Rollins and then runs him over with the title belt. Theory poses on top of Rollins to close the show.