WWE RAW Results 23 August 2021- Live Updates, Highlights: RK-Bro Celebrates, Lashley!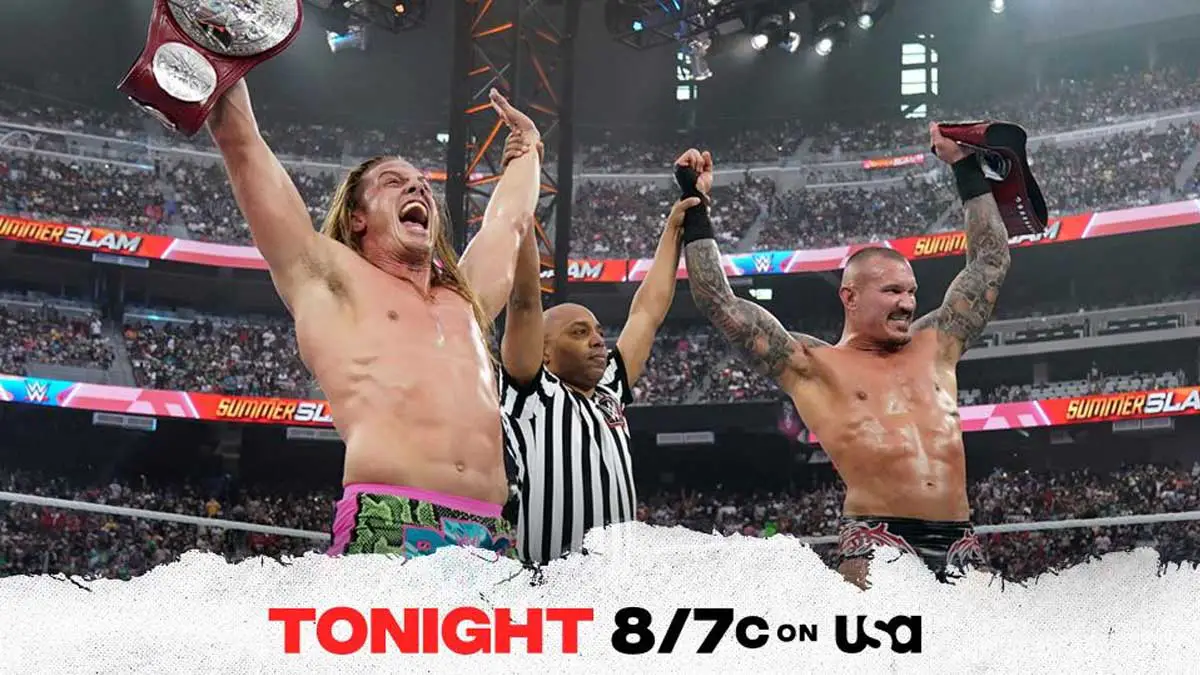 Welcome to the live blog for WWE RAW episode of 23 August 2021 which will see the fallout from Summerslam 2021.
RK-Bro will celebrate their title win from SummerSlam. Nikki ASH & Rhea Ripley will face Shayna Baszler & Nia Jax. Logan Paul will come to the Moist TV segment. The next challenger for WWE Champion Bobby Lashley might also appear. Check more on this in our preview.
Join us as we bring the results, live updates, winners and highlights from WWE RAW 23 August 2021 episode.
Show – WWE Monday Night RAW
Date – 23 August 2021
Location – Pechanga Arena, San Deigo, CA, US
Start Time – 8 PM EST/5 PM PST/12 AM GMT
WWE RAW 23 August 2021 Results
Damian Priest defeated Bobby Lashley via DQ.
Damian Priest & Drew McIntyre defeated Bobby Lashley & Sheamus in a tag team match via pinfall.
Karrion Kross defeated Ricochet via submission in a singles match.
Xavier Woods defeated The Miz in a singles match via pinfall.
Mansoor defeated Jinder Mahal in a singles match via DQ.
Nikki ASH & Rhea Ripley defeated Shayna Baszler & Nia Jax in a tag team match via pinfall.
Riddle defeated AJ Styles in a singles match via pinfall.
WWE RAW 23 August 2021 Live Updates
Lashley Explains Actions at SummerSlam
We get a recap of SummerSlam to open the show. Bobby Lashley and MVP come out. We get replay of the Lashley vs Goldberg match – how Goldberg got injured and how Lashley put Gage Goldberg in the hurt lock unknowingly. MVP takes the mic and takes a shot at Goldberg's recent win-loss record. He says Lashley already warned Goldberg to not come up against him and even warned Gage.
On the Hurt Lock to Gage, MVP says Lashley would have done that to anyone who would have attacked him from behind. He asks the crowd if Lashley should be a coward and not attack anyone who attacks him. He calls the San Deigo crowd a coward. MVP issues an open challenge to anyone who thinks Lashley should have been a coward.
Damian Preist's music hits and he comes out to the ring. Preist is taking offense at them calling Goldberg and the crowd cowards. Preist says he is not a coward and will not attack Lashley behind his back. He goes on to challenge Lashley for a match later tonight. Preist says Lashley would be called a coward if he refuses the challenge.
Lashley punches Priest to start a brawl. Priest fights back and hits a pump kick to send Lashley to the floor. MVP takes the mic and accepts Priest's challenge.
Bobby Lashley vs Damian Priest
As we return from the break, Lashley is entering again. This time, he is in his ring gear. Lashley takes Preist to the corner and hits shoulder blocks. Lashley drops Preist with a big shot and a big shoulder tackle. Preist hits a jump kick and more shots. Preist hits a clothesline and waits for Lashley to get up. Sheamus attacks Priest to cause a DQ.
Winner – Damian Preist
Sheamus continues to kick at Preist. He keeps his hands apart for Lashley to take clear punches. Drew McIntyre's music hits and he runs out to save Preist. Sheamus goes to the floor and eats a clothesline. McIntyre and Lashley brawl and Lashley is also clotheslined to the floor. McIntyre drops Lashley onto the announce table with a suplex. We cut to a break.
Damian Priest and Drew McIntyre vs Bobby Lashley & Sheamus
Drew McIntyre beats Sheamus around. Sheamus with some shots before Drew clotheslines him out of the corner. Drew with a snap suplex. Lashley tags in and unloads on Drew. Drew ends up dropping Lashley but Lashley rocks him in the throat. Sheamus tags in and goes at it with Drew. Drew kicks him and holds him for the quick double team as Priest comes in.
Priest with a flying back elbow and keeps Sheamus under control. Priest hits a Broken Arrow for a 2 count. Sheamus runs into an elbow in the corner. Lashley distracts Priest and Sheamus knocks him to the floor. Lashley sends Priest into the barrier. Lashley scoops Priest on his shoulders and runs him into the ring post. Lashley beats Priest on the floor as we cut to another break.
Lashley overpowers him to take him to the corner. Sheamus comes back and stomps. Priest stops a suplex but Sheamus hits a backbreaker. Sheamus takes more shots at Priest's back. Priest hits back elbows and a clothesline to take Sheamus down.
McIntyre with clotheslines and belly-to-belly suplexes to Lashley after the hot tag. McIntyre hits a future shock DDT, but Sheamus distracts him before Claymore. Lashley hits a spinebuster. He misses the spear and get crashed into the ring post. Sheamus tags in. A bit of back and forth. Sheamus hits the avalanche white noise but McIntyre kicks out of the pin.
Priest tags in and kicks at Sheamus. He boots Lashley from the apron after hits a spinning heel kick. Sheamus hits a pump knee but MVP and Lashley have decided to leave already. Sheamus is shocked. McIntyre tags in and catches Sheamus with Claymore kick to get the win.
Winner – Drew McIntyre & Damian Priest
Doudrop is interviewed backstage by Sarah Schreiber. She says she made a mistake associating herself with Eva Marie, and she didn't sign up to be treated like she was worthless. Eva thought she was putting her down calling her Doudrop, but she likes the name, and the next time she sees Eva Marie, she's gonna Doudrop her. Eva attacks and smashes her face into a production case. Eva says that is called Eva-lution.
Karrion Kross vs Ricochet
Kross makes his entrance and has new Gladiator Mask/face protector on. We cut to a break.
Kross takes shots at Ricochet to start. Ricochet hits a springboard move and kicks at Kross' legs to take him down. Kross explodes and takes some big shot at Ricochet before hitting the Saito Suplex. Kross puts Ricochet into the Kross-jacket and Ricochet fades out.
Winner – Karrion Kross
We see a video from Summerslam backstage. Sarah Schreiber leaves Baron Corbin in between to get an interview with Logan Paul. Paul shakes hands with Big E. Corbin comes over and asked why she was interviewing Paul and not him. Paul called Corbin an a—–e. We see Paul backstage with The Viking Raiders now. They have given him one of their t-shirts.
Moist TV with Logan Paul
Logan comes out for Moist TV with John Morrison. The crowd is booing him. Paul says crowd does not love him but he loves them. Miz interrupts the interview and complains that Morrison forgot to introduce him, Logan's favorite WWE superstar.s
Paul says New Day are his favorite and updates us all on the boxing careers of him and his brother. Miz asks Logan what round his brother is gonna get knocked out in. Paul says that his brother is actually gonna win, and if Miz keeps it up, Tyrone Woodley isn't the only one getting knocked out.
Logan and Miz go face to face, Morrison breaks it up and get into an argument with Miz. Paul leaves, Miz and Morrison keep yelling at each other. Miz complains that he should have been winning titles, not playing with water guns, John accuses him of faking the injury and they just generally scream at each other.
Xavier Woods vs The Miz
Back and forth action in the first minute. Woods hits a kick and gets sent to the apron. Miz trips him on the apron and beats him up on the floor. Miz has injured his knee as he jumped back in. Woods beats him up in the corner. Miz fakes the injury some more and tricks Woods into an attack. Woods hits a kick at the knee and a senton. Miz sends him into the barricade.
Morrison throws some water at the ringside to make it more slippery. Miz goes to slide Woods through it but Woods turns it around and sends Miz into the steel steps through the wet patch of the floor. Morrison says "damn" as we cut to the break.
More back and forth between Woods and Miz. Woods hits big right hands and chops. Woods hits a neck breaker from the second rope. Miz is sent to the floor and hit with a plancha. A crossbody from the top but Miz kicks out. Miz hits a DDT. Morrison distracts the referee but it costs Miz the pin. Woods rolls Miz into a cradle to get the pin.
Winner – Xavier Woods
After the match, Morrison runs into the ring but Woods rolls to the ramp. Morrison tries to make amends and brings in the drip sticks. Miz attacks Morrison from behind and beats him up. Morrison tries to fight back but Miz keeps him on the floor. Miz beats him around some more before hitting the Skull Crushing Finale. Miz leaves with Morrison down in the ring and the crowd booing him hard.
We get a recap of the Raw Women's Championship match at SummerSlam. Nikki ASH are backstage and tries to encourage Rhea Ripley. Nikki offers Rhea Ripley a tag match later and Ripley accepts as we go to break.
Reggie is somewhere in public and demonstrates his acrobatic skills to evade attempts at WWE 24/7 Championship. Instead of running away, he buys Akira Tozawa and R-Truth ice cream to keep his title safe. After this, he climbs up a tree and then atop the ice cream truck to get away.
We get a recap of RK-Bro winning the tag titles. Matt Riddle goes to Randy Orton and tries to hug him. Randy stops him and Riddle chatters excitedly about their title celebration. Randy says he is not big on surprises or celebrations and he just wants one favor— don't do anything stupid.
Jinder Mahal vs Mansoor
Jinder Mahal makes his entrance with Veer and Shanky to send us to break. Mansoor comes out with Mustafa Ali. Inset clip where Mansoor asks Ali not to use any nefarious means.
Mahal kicks in the midsection to start. Mansoor goes for the crossbody but Mahal catches him and hits a suplex. Ali tells Mansoor that he will not help him out no matter what. Mansoor rakes Mahal's face into the ropes and hits a splash into a pin attempt for two-count. Mahal comes back and hits a big kick. More back and forth and Mahal hits another big kick. Mahal stomps on Mansoor in the corner aggressively, which causes the referee to call for a DQ.
Winner – Mansoor(via DQ)
Three matches announced for RAW next week. Lashley vs Sheamus, Eva Marie vs Doudrop, & Miz vs John Morrison.
AJ Styles vs Riddle
AJ charges and Riddle steps away to roll him up for a two-count. Riddle slams AJ to the mat face first. A takedown from Riddle from a headlock. AJ takes him to the corner and hits a forearm. Riddle comes back with big sidekicks. Riddle hits a penalty kick. AJ catches him at the apron with a sidekick of his own. Riddle hits the trio of gutwrench suplex.
AJ throws him into the ropes takes control in the corner. A flying forearm from AJ in the other corner. Riddle with big right hands before AJ uses sunset flip and attempts Styles Clash. Riddle counters and takes both of them to the floor with headscissor takedown.
AJ in control as we return. Riddle hits a Pele kick and an overhead suplex. A broton and penalty kick follows to give Riddle a two-count. AJ comes back with a flurry of strikes. Riddle replies with chops and a German suplex into a bridge for a two-count. Orton cheers Riddle from the floor.
AJ slips out of Bro-Derek and kicks at his leg. AJ boots him from the corner and hits an inverted DDT. A pump handle gut buster gives AJ another two-count. AJ goes for the Phenomenal Forearm but Riddle picks him up. AJ rolls up Riddle into the calf crusher. Riddle crawls near the ropes and AJ readjusts it. Riddle turns it into bro-mission. AJ takes a bit of time to turn it into a pin attempt.
Riddle hits a ripcord knee. Riddle goes to the top but gets distracted by Omos and AJ takes out his knee. Orton attacks Omos but gets manhandled by him and is sent into the barricade. AJ hits Death Valley driver but Riddle kicks out at two. Orton uses the scooter gifted by Riddle to attack Omos. AJ gets distracted and Riddle hits him with a pump kick and Bro-Derek for the win as Orton gets hyped up on the apron.
Winner – Riddle
After the match, Orton comes in the ring to celebrate with Riddle. AJ tries to attack but Orton hits him with RKO. AJ rolls to the floor to Omos. Orton and Riddle pose in the ring.