WWE RAW 16 August 2021: Preview, Card, Orton vs Omos, Goldberg & Lashley Come Face to Face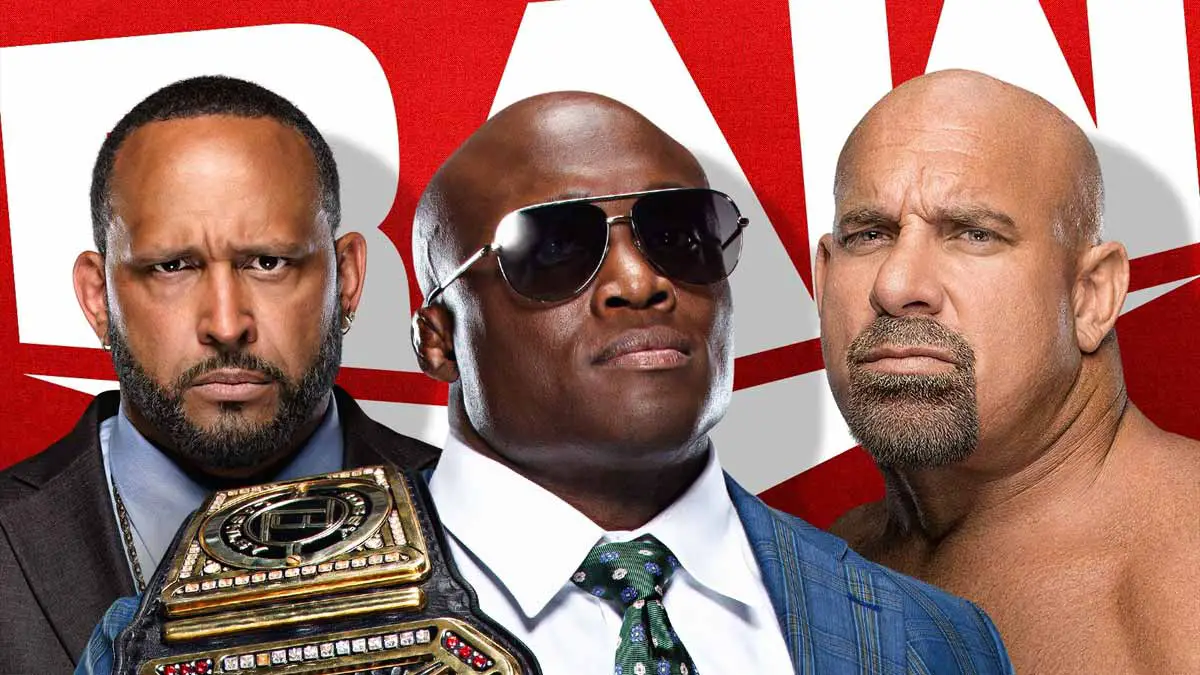 WWE RAW 16 August 2021 episode will be the go-home edition for SummerSlam 2021 PPV airing from AT&T Center, San Antonio, TX. WWE is advertising two matches and a segment between WWE Champion Bobby Lashley and Goldberg.
Let's check all the segments and matches announced in detail along with the start time for WWE RAW 16 August 2021 and how to watch the show.
Show – WWE Monday Night RAW
Date – 16 August 2021
Location – AT&T Center, San Antonia, TX, US
Time – 8 PM EST(17 June 2021 12 AM GMT/5:30 AM IST)
Matches & Segments Announced
Goldberg & Lashley Comes Face-to-Face
Goldberg and Bobby Lashley will come face to face once again this week on RAW to create the hype for their WWE Championship match at SummerSlam. A similar segment took place two weeks back. But at that time, the match has not become official.
On that day, Goldberg cut a promo for Lashley while he stood two feet away from him in the ring. After MVP and Lashley tried to warn Goldberg's son, he went on to hit a spear to MVP. Lashley, in anger, accepted Goldberg's challenge to setup their SummerSlam clash. Last week, MVP presented his side of the argument in the matter and warned Goldberg against
Now, with just 6 days left to SummerSlam, Goldberg and Lashley will once again be in the ring. Will either man throw away caution and get engage physically?
Randy Orton vs Omos
RK-Bro vs AJ Styles & Omos storyline has started a few weeks back even without Orton appearing on the show. Riddle faced and traded wins with AJ and Omos. Last week, Orton returned and denied to continue teaming up with Riddle, but ended up facing and defeating AJ.
The night ended with Orton hitting RKO to Riddle though. A post-show segment played out where John Cena played "Peacemaker" and patched things between Riddle and Orton. Whether that segment matter anything for the storyline on TV? How will Orton cope up with Omos' size?
Drew McIntyre vs Veer & Shanky – Handicapped Match
Drew McIntyre and Jinder Mahal have been feuding for over a month now. And we have seen various forms of Drew McIntyre vs one of the Indian trios match during this time. Just days before McIntyre vs Mahal match at Summerslam, McIntyre will take on both Veer and Shanky in a handicapped match. McIntyre has come on top in each of the matches so far. Will the result be any different this time around.
How To Watch & Start Time
United States: Start time in US is 8 PM EST, 7 PM CT and 5 PM PST. The show airs on USA Network on cable TV and online streaming USA network via other methods. Check here for more details on how to watch WWE RAW.
United Kingdom: The show will start at 1 AM BST on 17 August live as per UK timing and airs live on BT Sports.
India: RAW airs early morning on Tuesday at 5:30 AM. The show could be streamed live on Sony Live and watched on TV via Sony Ten 1.