WWE RAW Results 16 Aug 2021- Live Updates, Highlights – Lashley & Goldberg, Omos vs Orton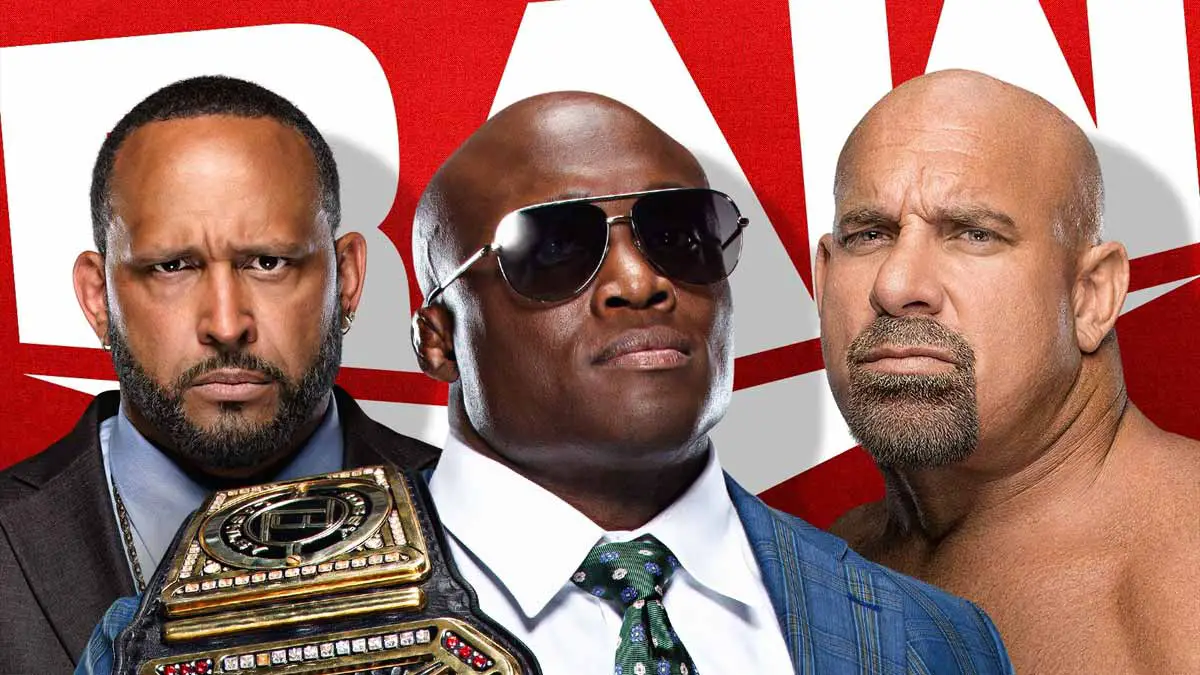 Welcome to the live blog for WWE RAW episode of 16 August 2021 – the go-home edition of RAW for SummerSlam 2021 PPV.
WWE has announced a segment between WWE Champion Bobby Lashley and Goldberg as they come face to face before their match on Sunday. Randy Orton will face Omos as his tussle with Riddle continues. Drew McIntyre will face Veer and Shanky in a handicapped match.
More action is expected for other matches of SummerSlam also. WWE RAW Women's Champion Nikki Cross and Rhea Ripley were blindsided by Charlotte Flair and would like to get back to her. Damian Preist and Sheamus might also engage in a war of words before their clash on Sunday. You can read more on this in our preview here.
Join us as we bring you the complete action, live results, updates, winners and highlights from WWE RAW 16 August 2021 episode.
Show – WWE Monday Night RAW
Date – 16 August 2021
Location – AT&T Center, San Antonia, TX, US
Time – 8 PM EST(17 June 2021 12 AM GMT/5:30 AM IST)
WWE RAW 16 August 2021 Results
AJ Styles defeated Riddle via pinfall in a singles match.
Rha Ripley defeated Nikki ASH via pinfall in a singles match.
Drew McIntyre defeated Veer & Shanky via pinfall in a Handicapped match.
Damian Preist defeated The Miz via pinfall in a singles match.
Mansoor defeated Mace via pinfall in a singles match.
Randy Orton defeated Omos via disqualification in a sigles match.
Karrion Kross defeated Jeff Hardy via submission in a singles match.
Charlotte Flair & Nia Jax defeated Rhea Ripley & Nikki Cross via pinfall in a tag team match.
Live Updates
Orton Doesn't Want a Partner
Recap of the storyline between Randy Orton & Riddle opens the show. Orton comes out now. He says people has sympathy for Riddle as he was just helping him out last week. But, he did not need the help from Riddle last week in defeating AJ Styles. He is a 14-time World Champion, the apex predator and RAW is his territory. Orton wonders how he will handle Omos tonight. He says he will hit him with the three most destructible letters – RK… Bro.
Riddle's music hits. Riddle accepts that Orton hit him with RKO last week to teach him a lesson and now that he has learned it, he proposes the tag team again. The crowd cheers for them. AJ Styles comes out with Omos and tries to debunk the theory that Orton did not need Riddle to win last week. Styles runs his mouth for a while. This leads to AJ vs Riddle match.
AJ Styles vs Riddle
As the bell rings, Orton leaves Riddle's corner and leaves. AJ takes advantage of Riddle getting distracted and clobbers Riddle in the early exchange. Riddle hits a roundhouse kick but misses a standing moonsault. Styles with a dragon screw and a knee drop. Riddle turns powerbomb into Frankestiener to send AJ to the floor. Riddle hits a moonsault to take us to a break.
AJ misses in the corner as we return. Riddle turns up the heat with quick moves. A bridging German Suplex gets Riddle a two-count. The crowd cheers this is awesome. AJ manages to put on calf crusher. Riddle reaches the ropes to break the pin. Riddle hits another roundhouse and exploder into the turnbuckle. Riddle is selling a leg injury. Riddle goes to the top but gets distracted by Omos. Styles trips him on the top turnbuckle and hits Styles Clash to get the win.
Winner – AJ Styles
Rhea Ripley vs Nikki ASH
Backstage: Nikki ASH is interviewed backstage about how confidence is proof that you can already win, and you just need a little courage to almost be a superhero. She makes her entrance and we go to break.
Backstage: Matt Riddle is interviewed by Sarah. He says he didn't give up on RK-BRO even while Orton was gone. But Orton leaving him by himself against Styles & Omos just made him sad.
Rhea comes out for the match to a good response from the crowd. They were about to start when Charlotte Flair comes out. Rhea starts strong and keeps overpowering Nikki. Nikki hits an Acid Drop and Rhea goes to floor. Nikki hits a crossbody on the floor and poses in front of Charlotte to take us to break.
Nikki rolls up Rhea for a two-count. More back and forth action. Ripley with a delayed vertical suplex for a near fall. Nobody is home as she charges to the corner. Nikki hits a tornado DDT for another two-count. Rhea bridges the Northern Light suplex for a two-count. Ripley with a big boot and Riptide for the pin and the win.
Winner – Rhea Ripley
Nikki snaps on Charlotte post-match and attacks her on the commentary table. The brawl gets to the ring and Charlotte gets the upper hand. Rhea clotheslines Charlotte to stand tall.
Drew McIntyre vs Veer & Shanky – Handicapped Match
We get a recap of Drew McIntyre beating Baron Corbin last week and then threatening Jinder Mahal, Veer and Shanky off with his sword. The Trio is backstage. Jinder says he's afforded them the opportunity by bringing them on RAW and tonight they should beat Drew and take away his sword. Drew McIntyre makes his entrance. We cut to a break.
Backstage: MVP is backstage and Kevin Patrick wants some comments. MVP says two most explosive faces are coming face to face and it is a combustible situation. Lashley does not take insults lightly. He will pay it back to Goldberg. It could be at SummerSlam and it could be tonight.
Jinder enters with Veer and Shanky. Drew starts against Veer. Veer with a sidekick. Drew hits a clothesline, a big punch and a neck breaker. Veer tags in Shanky. Drew decks Shanky and he replies with big blows in the corner. Drew comes back with jabs but Shanky runs him over with a big boot.
Veer is back in and puts on a headlock. Drew gets out of it with a Glasgow kiss, takes out Shanky on the apron. Drew with more a German suplex and a neckbreaker. Shanky comes in but misses in the corner. Drew hits the Michinoku Driver on a 7-foot tall man. Drew with Futureshock DDT and Claymore kick to get the win.
Winner – Drew McIntyre
After the match, Veer tries to grab McIntyre's sword but Drew cuts him off. Drew takes the mic and mocks Jinder. McIntyre says he will embarrass him, humiliate him and wants revenge for Jinder costing him Money in the Bank match.
Backstage: Charlotte Flair goes to complain to Adam Pearce and Sonya Deville about Nikki ASH attacking her out of nowhere. They offer a tag match and should find a tag team partner. She doesn't work well with others and storms off.
Vignette: Elias is standing beside the burning guitar that was put on fire last week.
Moist TV with Miz & Morrison
John Morrison welcomes us on the debut episode. He recalls how a miracle happened last week when The Miz got up on his feet and ran away. The brings out the Miz. The Miz enters and hugs Morrison. Morrison does not look much thrilled and wants to get to hard hitting journalistic question. Morrison asks whether Miz was pretending to be injured. Miz asks him whether he has ever lied to him or used him. Damian Priest cuts them off.
Priest says everyone knows Miz is lying. Miz blames his injury on Priest. He ends up admitting that he was been cleared for a couple weeks ago. Morrison is upset over the revealation. Morrison proposes a match – Priest vs The Miz! Miz begs off but Priest knocks him into a kiddie pool. We cut to a break.
Damian Priest vs The Miz
The Miz is begging the referee that he is not 100% and is in a suit and Guici shoes. Sheamus comes out to be on the commentary. Miz tries to get him on his side. Preist decks him and brings him back.
Miz fakes an injury but punches Priest. He hits double ax handle from the top. Priest cuts off the "It kicks". Priest with big blows and spinning heel kick. Morrison offers the drip stick but takes it away. Preist runs him over with a clothesline. He mocks Sheamus and hits Brogue kick to get the win.
Winner – Damian Priest
Sheamus is angry at Priest for disrespecting and says this will be his last moment in the spotlight. He adds that he may have a broken face, but Priest will not have a head after Summerslam.
We see the recap of Alexa defeating Doudrop last week. Backstage, Doudrop tries to apologize to Eva Marie and explain that it was due to Lilly. Eva tells her that Eva-lution is all about second chances, so she should deal with Lilly. Doudrop hesitates and Eva tells her to bring the doll to her. Alexa Bliss is at her playground and tells Lilly that someone's going to come play and she'd better be on her best behavior.
Alexa is playing with Lilly backstage after the break. Doudrop comes and snatches Lilly. Alexa warns her. Doudrop stares at Lilly in horor before handing it back to Alexa.
Mansoor vs Mace
We see the replay of Mustafa Ali defeating T-Bar last week after some help from Mansoor. Backstage, Ali tells him that he has his back in the match against Mace. T-Bar and Mace enter for the match.
Mansoor and Ali enter for the match. Mace starts with big blows. Mansoor tries to counter but Mace overpowers him. Mace puts on his version of the Camel Clutch. Mansoor gets run over with a big kick. Mace misses an elbow drop and Mansoor fights back with quick moves. Mansoor tries to use sunset flip, Mace hangs on the ropes. Ali hits a dropkick on Mace behind referee's back and Mansoor flips him over for the pin.
Winner – Mansoor
Omos vs Randy Orton
AJ Styles and Omos are interviewed backstage. Omos says he's going to kill Randy Orton's legend and become the new Legend Killer. AJ says he defeated Riddle, so he will be a Moron Killer. Orton enters for the match.
Omos enters for the match. The bell rings. Orton goes for RKO out of the block but fails. Omos catches his punch and overpowers him to hits a body slam. Mace with a vice grip on Orton. Orton tries to fight back but it does not have any effect. For some reason, the crowd is chatning "We want Reggie." Randy ends up on the floor. AJ takes a shot at Orton and the referee catches him in the act to call for DQ.
Winner – Randy Orton(by Disqualification)
AJ Styles and Omos beat up Orton after the match. Omos sends him over the barricade. Omos brings him back to the ring. AJ waits for Orton to get up but Riddle runs out and dropkicks Omos over the announce table. Riddle also sends Styles over the ropes. Omos comes to the apron but backs off after seeing Styles scrambling on the floor. Omos picks Styles and leaves to the ramp.
Orton recovers and takes the mic. Orton says after everything he did to him, Riddle did come back to help him and has earned his respect. RKBro is back. Riddle is elated and offers his hand. Orton shakes hands with Riddle and then hugs him. Riddle challenges AJ & Omos for Tag team title at SummerSlam.
Jeff Hardy vs Karrion Kross
Jeff Hardy is interviewed at Gorilla Position. He says Karrion Kross made a big mistake attacking him after the match. Kross attacks him from behind and leaves him lying there. Karrion Kross makes his entrance and we go to break.
Jeff Hardy hobbles his way to the ring. The bell rings and Hardy keeps up with the attack with double leg drops, dropkick and elbow drop. Kross blocks Twist of Fate and puts on the Krossjacket. Hardy submits.
Winner – Karrion Kross
Doudrop goes to Eva Marie who is angry at her for not bringing Lilly back. Eva says it's like she just slapped her in the face. Eva then slaps Doudrop in the face to show her what it feels like. Another slap before Eva storms off.
Charlotte Flair & Nia Jax vs Rhea Ripley & Nikki Cross
The Mystery tag team partner for Charlotte Flair is Nia Jax.
Nia throws around Nikki for a while. Nikki goes for the sleeper but Nia slams her in the corner and gives her some good hip rub. Flair gets the tag after Nia slams her again. Flair runs over Nikki as we go to a break.
Nikki elbows Charlotte as we return. Rhea comes in hot and headbutts Charlotte. She decks Nia from the apron and kicks at Charlotte. A two-count from bridging German suplex. Big boots from the corner but Rhea misses a splash. Shayna Baszler is watching the match from backstage as Nia hits Rhea with Samoan drop. Nia was going for the Vader bomb but Flair tags in to hit Natural Selection for the pin.
Winners – Charlotte Flair & Nia Jax
Charlotte is celebrating the win alone. Nia is staring at her from the ring.
AJ Styles says they have defeated every tag team on RAW and RKBro also does not stand a chance against them.
Goldberg & Lashley
Goldberg makes his entrance for the final segment. He gets on the mic after the break while the crowd chants his name. He says Lashley and MVP talked about fatherhood and brought his son into this again. So, he formally introduces his son Gage and says Gage is why he came out of retirement, because seeing who Goldberg was isn't good enough for Gage to experience who Goldberg IS.
MVP and Lashley come out. MVP says Goldberg is been talking a lot and he usually lets his actions do the talking. Why is he overcompensating then? He is doing this because he is outmatched. Lashley tells Goldberg he gave him opportunity to back down, but now he is gotta play by the house rules. Lashley is gonna give him a SummerSlam moment, leave him with just enough to go tell everyone that his career was ended by Lashley.
Goldber says it's bullshit. Lashley goes for the clothesline, which Goldberg ducks and spears Lashley. Goldberg gets fired up before taking Gage from ringside as he exits. Lashley fumes in the ring as the show goes off the air.