WWE Hell in a Cell 2022 Results- Rhodes vs Rollins Live Updates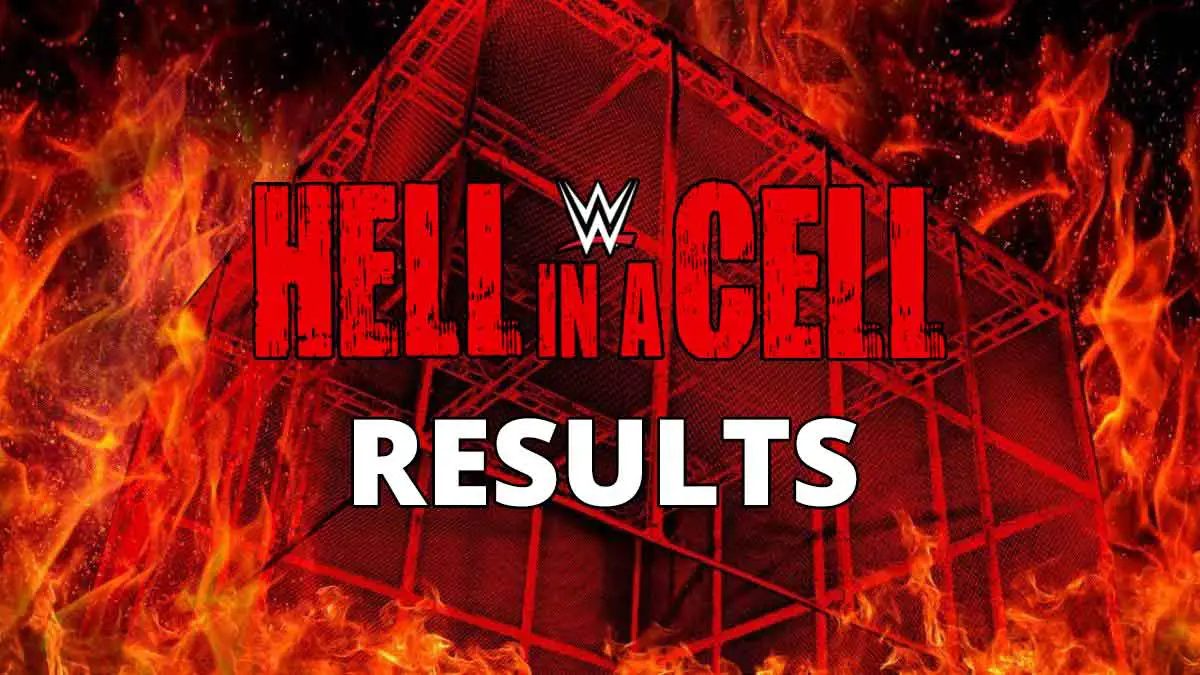 WWE Hell in a Cell 2022 event has come around and we are here with the live results and updates from Allstate Arena in Chicago, IL.
Only one Hell in a Cell match is announced for this year with Cody Rhodes and Seth Rollins taking on each other for the third successive PLE. The other marquee match on the card is a triple threat match for the RAW Women's Championship, which will see Bianca Beliar defending the title against Asuka and Becky Lynch.
A handicapped match will see Omos and MVP gang up on Bobby Lashley. Lashley leads the rivalry with 2-1 against Omos so far. Will MVP's direct involvement in the match make any difference to the outcome?
Mustafa Ali gets a fair shot at WWE United States title as he faces Austin Theory. Theory has used guest referees and other nefarious tactics to keep Ali away from the title shot. Kevin Owens has been convinced that Ezekiel and Elias are the same person. He would want to beat the truth out as he faces Ezekiel in a singles match.
The complete Judgment Day Trio will be in action as Edge, Damian Priest & Rhea Ripley would face AJ Styles, Finn Balor & Liv Morgan in a mixed trios match. Only one match is announced from SmackDown's side with Madcap Moss facing Happy Corbin in a No Holds Barred Match.
Tune in as we bring you the results from WWE Hell in a Cell 2022 with live updates, winners, highlights and complete action.
Hell in a Cell 2022 Results
Live Updates
Update before the show: Cody Rhodes was announced injured during last night's Saturday Night Main Event where he was supposed to face Rollins. Drew McIntyre replaced Cody and defeated Rollins. Do you expect the match to change at Hell in a Cell? Another point to note is that Cody ran out after the match to attack Rollins.
Update before the show 2: MVP and Omos have dropped a dis-track for Lashley on Youtube. You can check the rap song here.
The kick-off pre-show has started with Kayla Braxton, Booker T, Jerry Lawler, Kevin Patrick and Peter Rosenberg. Kayla Braxton reveals that the news related to Cody Rhodes' injury is true and Cody has indeed torn his tendon while weight training on Friday. The match will still go on though.
A special video package opens the main show.
Bianca Belair(c) vs Asuka vs Becky Lynch – WWE RAW Women's Championship Triple Threat Match
All three circle in the ring. Becky break the merry go-round as she tries to push Asuka into Bianca. Asuka takes her down after catching her leg. Asuka pushes Becky to the floor. Asuka puts on arm wringer on Bianca. Bianca comes out of it and no-sells a shoulder block. Asuka hits a clothesline to drop her. Becky pulls Asuka out to the floor and hits kicks on Bianca from the apron. Bianca tosses her to the mat from the top turnbuckle. Bianca hits a running kick. Becky hits back with a big boot and back heel kick.
Asuka nails Becky with a dropkick. She drops both women at the same time and then hits stiff thigh kicks. She sends both women to the corner. Bianca tries to counter with a KOD but Asuka puts her in an armbar. Bianca counters the arm triangle by hitting a buckle bomb. Asuka kicks her back and goes to the top. Becky pulls Asuka from the top and onto Bianca. Asuka is sent to the floor before Becky slams Bianca's face into the mat for a two-count.
Becky works on Bianca with clotheslines in the corner. She whips Bianca from corner to corner and hits her with more kicks. Bianca hits a back elbow and big boot. Bianca misses Becky and ends up knocking off Asuka from the apron. Becky decks Bianca and hits a leg drop from the second rope to get a close two-count. Becky hits big blows to Bianca's back. Bianca hits a jawbreaker. Becky goes for the armbar and this starts a back and forth. Becky hits a bexploder suplex on Bianca to send her to the floor. She hits a basement slide dropkick on Asuka. She takes Bianca back to the ring and hits a leg drop. Asuka breaks the pin.
Becky and Asuka trade shots in the middle of the ring. Asuka gets a two-count with a backslide. Asuka nails Becky with spinning forearms. She nails a hip attack to get a near fall. Becky reverses the Asuka lock with a pin attempt. Bianca goes for KOD but Becky lands on her feet. Bianca ends up hitting a suplex on Becky. She sends Asuka to the corner and unloads from the second rope. Becky charges and Bianca backflips to avoid her. Bianca unloads on both in the corner.
Becky tries to pull her with her braid but Bianca slams her to the mat. She slams Asuka on top of Becky. Bianca hits a springboard moonsault on both women to get a near fall. Bianca sets up for superplex on Becky but Asuka comes to attempt a powerbomb. Asuka ends up hitting double knees on both opponents. A double hip attack gets her two-count on both opponents. Asuka puts on an ankle lock on Becky. Bianca goes for a roundhouse kick on Asuka, only for Asuka to put her also in an ankle lock. Becky and Bianca roll her out to break the submission move.
Becky and Bianca continue to fight. Becky suddenly gets into a position for disarmher. Bianca works to avoid it. They tussle for a while until Bianca gets Becky on her shoulder. Bianca reverses Becky's crossbody and sends her into a dropkick from Asuka. Becky drops Bianca with a Manhandle slam but Asuka breaks the pin. Bianca rolls to the floor. Asuka and Becky fight in the middle of the ring. Asuka blocks the Manhandle Slam and nails her with a knee. Bianca comes for KOD on Becky and Becky counters to send her into Asuka. Bianca breaks another pin attempt from Becky.
Asuka hits a German suplex on Becky. Becky avoids a hip attack and puts on the disarmher on the ropes. Bianca goes for KOD on Becky and Asuka stops it. Becky and Asuka trade pin attempts before Asuka counters with Asuka Lock. Becky gets back to her feet and rolls over another pin attempt. Asuka puts on the Asuka lock again. Bianca comes in and Asuka nails her with a roundhouse kick and a hip attack. Bianca hits Asuka with glam slam. Becky hits Asuka with Manhandle slam. Bianca throws Becky out of the ring and gets the pin on Asuka.
Winner – Bianca Belair
Becky is in shock at the finish. Bianca celebrates her win as the segment ends.
We get a video package for the longest reigning Universal Champion Roman Reigns.
Cedric Alexander comes in as Omos and MVP were talking backstage. Cedric pitches in some ideas to hurt Lashley but MVP tells him that he has had enough opportunities. Omos tells Cedric that it is time for him to go. This is followed by MVP's diss-track.
Omos & MVP vs Bobby Lashley – 2-on-1 Handicapped Match
MVP starts the match against Lashley but he gets back to his corner quickly. MVP delays the proceedings before tagging in Omos. Lashley goes for the waistlock. Omos breaks it. Lashley goes for a clothesline, only for Omos to no-sell it. Omos shrugs off Lashley as he tries to get behind him. Omos invites Lashley for a show of strength now. Lashley thinks about it and takes advantage to nail Omos with punches. Omos sends him to the corner. MVP holds onto Lashley's leg in the corner and Omos tackles him.
Omos tosses Lashley to the mat. MVP tags in now. He stomps on Lashley for a while. Lashley ducks a punch and nails some of his own. MVP rakes Lashley's eyes. Omos tags in. Lashley knocks off MVP from the apron before hitting a running tackle on Omos. Lashley goes for a suplex but Omos drops him on his face. Omos drops him face first into the turnbuckle and hits a running boot. A corner splash follows. Another corner splash from Omos before MVP tags in. MVP hits a running boot to send Lashley to the floor.
Omos tags back and tackles Lashley through the barricade. Lashley beats the count at 9. MVP unloads on Lashley. He hits a knee drop on the mat. Lashley counters when MVP tries to drop his face to the mat. Lashley knocks off Omos from the apron and hits a spear on MVP. Omos breaks the pin. Omos goes for a chokeslam but Cedric Alexander intereferes. Omos throws Cedric out of the ring but turns to a spear from Lashley. Lashley puts MVP in the Hurt lock to get a stoppage.
Winner – Bobby Lashley
Lashley hits the corner to celebrate his win. He grabs a replica WWE Championship belt from a fan in the front row and screams that he will be a champion again.
Kevin Owens vs Ezekiel
Owens is running his mouth and calling Ezekiel a liar again. Ezekiel hits a jumping knee as Owens charges at him. He follows it quickly with an elbow drop to get a near fall. Owens rolls to the floor and they start to brawl. Ezekiel sends Owens to the announce table. He breaks the referee's count and returns to the floor to nail more punches. Owens reverses a whip to send Ezekiel into the ring post. Ezekiel breaks the referee's count. Owens hits a DDT to get a two-count.
Owens stomps on him before hitting a moonsault for another two-count. Owens stomps on him and screams at the crowd that this man is Elias. Owens puts on a chinlock with knees digged into his back. Ezekiel gets on his feet, only for Owens to drop him with a clothesline. Owens hits punches and chops. Ezekiel fires one back before reversing a whip to send Owens to the corner. Ezekiel throws in forearms and nails a back elbow as Owens charges. KO hits a tornado DDT from the second rope. Ezekiel gets his knees up as KO goes for a senton.
Ezekiel hypes up as he nails a punch, a kick to midsection and a knee to the face. Ezekiel unloads in the corner. He hits a mule kick when Owens tries to counter in the corner. Ezekiel hits a couple of corner splashes. He misses the third one but he quickly drops KO with a spinebuster for a close two-count. Ezekiel avoids a stunner but KO is able to hit a pop-up powerbomb for a close two-count.
Owens once again screams at Ezekiel to admit that he is Elias. Ezekiel nails him with a big punch. He avoids a pin attempt and nails a jumping knee. Owens trips on the top rope. KO hits superkicks and cannonball. Owens hits a stunner to get the pin.
Winner – Kevin Owens
Owens hits corner to celebrate his win. He screams at the crowd that he has in fact defeated Elias.
Judgement Day(Edge, Damian Priest & Rhea Ripley) vs AJ Styles, Finn Balor & Liv Morgan – Trios Mixed Tag Team Match
Rhea Ripley has a new ring gear. Liv and Rhea were looking to start but an argument leads to all six competitors starting to brawl. Edge and Priest are thrown outside. The referee sends AJ and Balor back to the corner. Liv hits a hurricanrana on Rhea with an assist from AJ. Liv hits corner clothesline. Rhea drops her with a headbutt. Rhea hits a suplex. She then hits a delayed vertical suplex to get a two-count. Rhea whips Liv to the corner and hits shoulder blocks until the referee warns her to back off. Liv hits a big boot and a dropkick.
Liv tags in AJ Styles. AJ asks Edge to get in but Priest is the one to enter. AJ nails forearms on him after stopping a takedown attempt. An enzuigiri and a Pele kick from AJ before he tags in Balor. Priest picks up Balor but Balor hits him with kick. He hits a basement dropkick as he attempt to take Priest down. Edge distracts Balor and Priest nails him with a big shot. Edge tags in as Balor is sent to the floor. Edge runs him over with ax handle before slamming his face into the announce table.
Back to the ring, Priest tags in and hits big punches in the corner. Edge chokes Balor until the referee was distracted. Priest hits a knee and a running boot. Edge tags in and hits more punches on Balor. Edge shows off and invites boos from the crowd. Edge hits a hard whip to send Balor crashing to the corner. Balor fights back with a boot on Edge and tries to knock off Priest. Balor tries to jump over for a tag but Edge catches him and drops him face first to the mat. Priest tags in to work on Balor. He puts on a chinlock. Balor hits a jawbreaker. Priest stops him from tagging out again and hits him with a backbreaker.
Priest hits body kicks. Balor fires back with a chop and a calf kick. Priest nails a bell clap before Balor hits him with a Pele kick. AJ gets a hot tag against Edge. AJ hits Edge with a flurry of strikes. He drops Priest to the mat. More kicks follows on Edge. AJ goes for the Styles Clash but gets distracted by Liv taking care of Rhea. AJ hits a sliding knee on Priest and then nails Edge with a Phenomenal Forearm. Priest pulls out AJ to stop the pin.
Liv and Morgan tag in. Morgan for a hurricanrana but Rhea stops it. Liv turns into a roll-up. Liv drops Rhea to get a two-count. She misses the Oblivion and Rhea drops her with a half and half suplex. Rhea hits an underhook deadlift suplex to get another two-count. Liv escapes the Riptide and tags in Balor. Liv hits Rhea with double knees. Balor unloads on Priest while AJ unloads on Edge. Judgement Day leave to the floor and Balor, AJ and Liv hit them with dives.
Balor takes Priest back to the ring and hits a gamengiri. Rhea trips him from the top as he goes for Coupe de Grace. Priest tags in Edge and hits Balor with chokeslam. AJ nails Priest with the Phenomenal Forearm. Edge throws AJ into the turnbuckle and sends him out. Balor counters Edge and hits him with a slingblade and shotgun dropkick. Balor gets to the top for Coupe de Grace but Rhea stands in between Balor and Edge to stop him. Liv jumps on Rhea's back and they end up on the floor. Edge avoids the Coupe de Grace and nails Balor with a spear to get the pin.
Winners – Judgement Day
Judgement Day trio celebrates in the ring while their opponents recover.
Lashley is backstage when he sees Cedric Alexander. He asks Cedric what he tried to pull out earlier during his match. Cedric tells him that he has had enough of trying to get in with MVP and Omos and wants to stand on his own. Lashley tells him that he is proud of him for this but warns him not to interfere in his matches again.
Madcap Moss vs Happy Corbin – No Holds Barred Match
Moss nails Corbin with punches as soon as the bell rings. They immediately go to the floor and up the ramp. Corbin sends Moss into the LED screen at the stage. Moss sends him into the barricade as they were returing to the ring. Moss clotheslines Corbin out to the floor again. He grabs a steel chair but Corbin takes it away. Corbin sends Moss over the announce table. Moss throws a chair at Corbin's face. He follows by sending Corbin into the steel steps. Corbin runs into the crowd to avoid more steel step.
Corbin clotheslines Moss as he tries to follow him. Corbin drops Moss on the barricade now. He hits knee to face and midsection. Some boos as Corbin looks to bring out something from underneath the ring. Corbin sends Moss back to the ring. Moss fires back with punches before Corbin hits him with a chokeslam. Corbin brings out a chair and nails Moss with it. He follows with more chair shots on the back and on the neck.
Corbin sets up the chair in the middle of the ring. Moss drops Corbin onto it with a drop toehold. Corbin comes back with a deep six to get a near fall. Corbin brings out another chair. He puts pressure on the neck using the chair. He sets up the chair in between the turnbuckles now. Moss counters a whip, ducks clotheslines and sends Corbin into the steel chair. Moss hits chair into the midsection before hitting big chair shots on the back.
Moss screams as he hypes up. He unloads in the corner before hitting a DDT on the chair to get a two-count. Moss hits a couple of shoulder tackles in the corner before tackling him to the floor. Corbin cuts off his charge with a chop block. Corbin sends Moss into the timekeepers area. Corbin brings him to the announce table and screams whether Moss thinks he is better than him. Corbin wraps the chair around his neck and sends him into the announce table.
Corbin sets up steel steps in the corner. He goes for the Razor's Edge but Moss slips out and sends Corbin into the steel steps with a fallaway slam. Moss hits Punch line. Moss puts a chair on Corbin's neck and slams it with a steel step to get the pin.
Winner – Madcap Moss
Austin Theory(c) vs Mustafa Ali – WWE United States Championship Match
They lock up and Theory puts on an arm wringer. Ali rolls over to turn it around and hits an armdrag. He hits a dropkick to force Theory to the floor. Theory gets back and puts on a side headlock. Theory hits a shoulder tackle. They run the ropes before Ali hits a hurricanrana and more armdrags. Theory gets frustrated by Ali's dominance so far. Ali once again forces him to the floor and hits him with a crossbody. Theory sends him into the ringpost.
Theory works on Ali in the ring now. Ali drops him into the turnbuckle. Theory trips him on the top rope, sending him to the floor. Back to the ring, Theory sends him into the corner and then hits a fallaway slam. Theory puts on a chinlock. Ali tries to break free but Theory stomps on him. Ali gets him into an inside cradle for a two-count. Ali nails a back heel kick. He ducks Theory and hits a dropkick. He hits a neckbreaker next.
Theory hits a kick to the face. Ali stops a DDT. They go to the top. Ali lands on the floor but he twitches his knee. He cuts off Theory's dive with superkick. Theory takes advantage of the injury now. He hits a modified Spanish Fly on Ali to bring him from the top. Some back and forth pin attempt.
Ali comes back with a tornado DDT. He goes to the top but Theory disturbs the ropes to trip him. Theory goes for ATL but Ali blocks it and ends up putting on STF crossface. Theory drags on and grags the ropes to break the submission. Ali hits a tilt-a-whirl DDT. Ali goes for the 450-splash but Theory gets away from it. Theory hits a chop block and then hits ATL to get the pin.
Winner – Austin Theory
Theory takes a selfie with fallen Ali after the match.
Cody Rhodes vs Seth Rollins – Hell in a Cell Match
Hell in a Cell cage comes down before we cut to the video package. Rollins makes his entrance and his gear has giant Yellow Polka Dots. This is apparently a throwback to one of Dusty Rhodes' ring gear from the past. Cody enters in his usual American Nightmare gear. His arm is all busted. Dark red patches on the bicep and side of the chest.
Cody takes the first shot as they circle. Rollins picks up the arm but Cody avoids any damage. Rollins trips him and Cody hits him with a kick to the face. Cody ends up hitting disaster kick. Cody hits left jabs. A bit of back and forth before Cody hits the Cody Cutter. Cody puts on the figure four. Rollins grabs the ropes but there are no rope breaks in this match. Rollins pulls out a toolbox and a kendo stick. Rollins nails Cody with a kendo stick to break free.
Rollins hits more kendo stick shots. He taps the stick into the injury. Cody gets up and hits more left jabs before Rollins sends him into the steel walls. The referee checks on Cody, and he agrees to continue. Rollins slams him into the steel wall again. He uses the stick on the injury again. Cody slams his face into the cage now. They get back to the ring and hits punches and kicks. He clotheslines Rollins to the floor.
Rollins runs Cody over with the steel steps. He wears Cody's jacket and picks up his belt now. Rollins slams Cody with his own belt. Cody kicks out of the pin with his left arm. Rollins brings in a table and sets it up in the middle. Cody tries to fight back but Rollins rakes his eyes. Rollins goes for a superplex but Cody slips out. Rollins blocks the powerbomb and nails Cody with a rolling elbow. Rollins misses a splash and goes through the table.
Cody picks up his belt but then throws it away. He brings out a bag and pulls out a bulldog bell. Cody puts it on one of his arm and offers the other side to Rollins. Rollins is confused for a bit before he decided to put it on. Cody pulls him in and hits a knee. He runs over Rollins with the bell. Rollins hits him with a kick and Cody nails a superkick in response. Cody nails him with the bell again to get a close two-count. Cody pulls Rollins to the floor. Rollins hit him with a boot. He pulls Cody into the ringpost a couple of times using the rope.
Rollins lets go of the ropes now and brings out another table. He sets it up in one corner. Rollins looks for a powerbomb through it but Cody counters and hits Crossrhodes to get a near fall. Cody gets up and hypes up. He was looking for the powerbomb himself but his arm gives up. He tries to send Rollins into the table but Rollins pulls his arm and nails him with a superkick. Rollins hits a powerbomb through the table but Cody still kicks out.
Rollins is in shock. He brings out a sledgehammer. Cody is up on his feet by the time he comes back. Cody kicks away the hammer from his hands. Rollins goes for the pedigree and Cody comes out to hit pedigree of his own. Rollins kicks out of the pin again. Cody picks up the hammer now. Rollins rolls to the floor. Cody follows him but Rollins returns to the ring to catch him with the stomp. Cody also kicks out of the pin again.
Cody avoids the second stomp and hits Crossrhodes. He follows up with another Crossrhodes but could move over for the pin. Cody picks up the sledgehammer but his arm gives out. Rollins picks up the hammer and Cody knocks it out of his hand. Cody hits back to back crossrhodes. Cody then hits a hammer shot on Rollins to get the pin.
Winner – Cody Rhodes
We go to the replay as both Cody and Rollins recover. Cody gets his hands raised after we return from the replays. Cody hits the corner and screams. Rollins is sitting outside of the cage now. Cody bows down in the middle of the ring and has tears in his eyes. He gets up and screams one more time before the show goes off the air.