WrestleMania Women's Championship Main Event Match Possibilities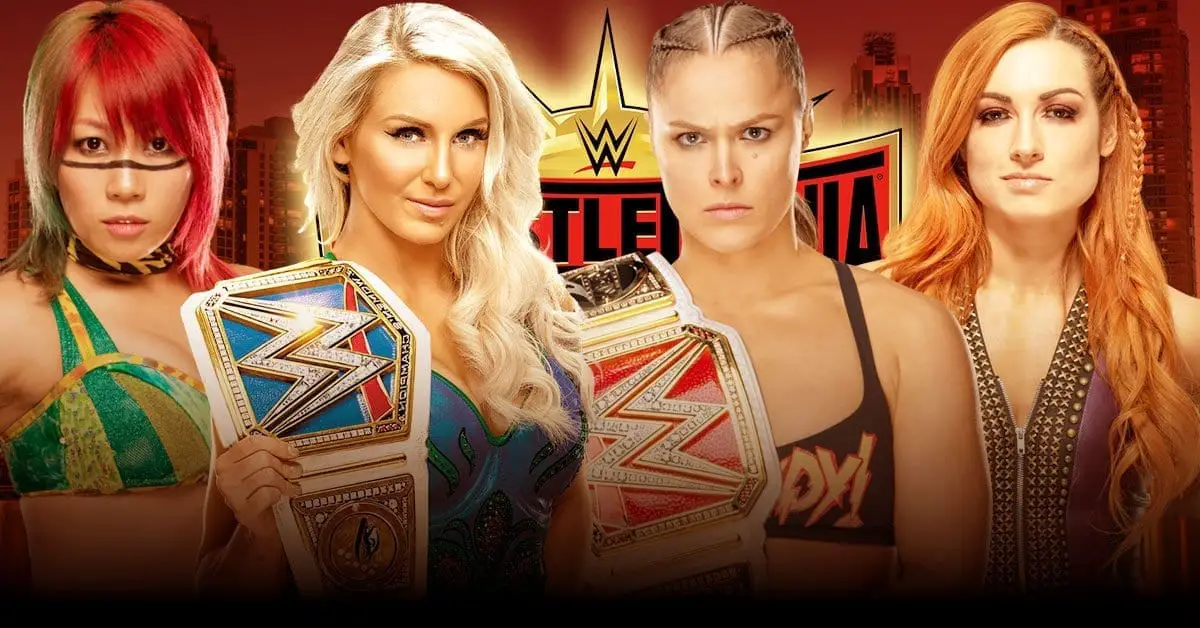 Not to say that the storyline for RAW Women's Championship match at WrestleMania was without illogical and absurd twists and turns to say the least, but this week at SmackDown, it took the most illogical turn of them all when Charlotte Flair beat Asuka for SmackDown Women's Championship match. Obviously, the match was decided on Tuesday or to say just a few hours before the show. Some reporters posted the hints over social media at around 4 pm ET, which is 3 hours before the show. WWE also took down the no. 1 contender's Fatal 4-Way match info from the episode preview only on Tuesday afternoon while also deleting a hype promo from Carmella for the said match.
The logic coming out of the WWE backstage for doing away with that match is that nobody would have cared about the SmackDown Women's Championship match between Asuka and any other women star, to which I disagree. First of all, if Vince was worried about nobody caring about Asuka, then he was the most to blame for it. Ever since she forced Becky Lynch to tapped out cleanly at Royal Rumble, she is being neglected like a jobber. While RAW Women's storyline was in full flow, Asuka was subsided and did not appear regularly on TV at all. Secondly, the Sonya-Mandy split was going somewhere and fans would have definitely liked Sonya getting out of Mandy's shadow. Sonya is considered a far better performer than Mandy and the Asuka-Sonya match could have garnered proper heat going into WrestleMania.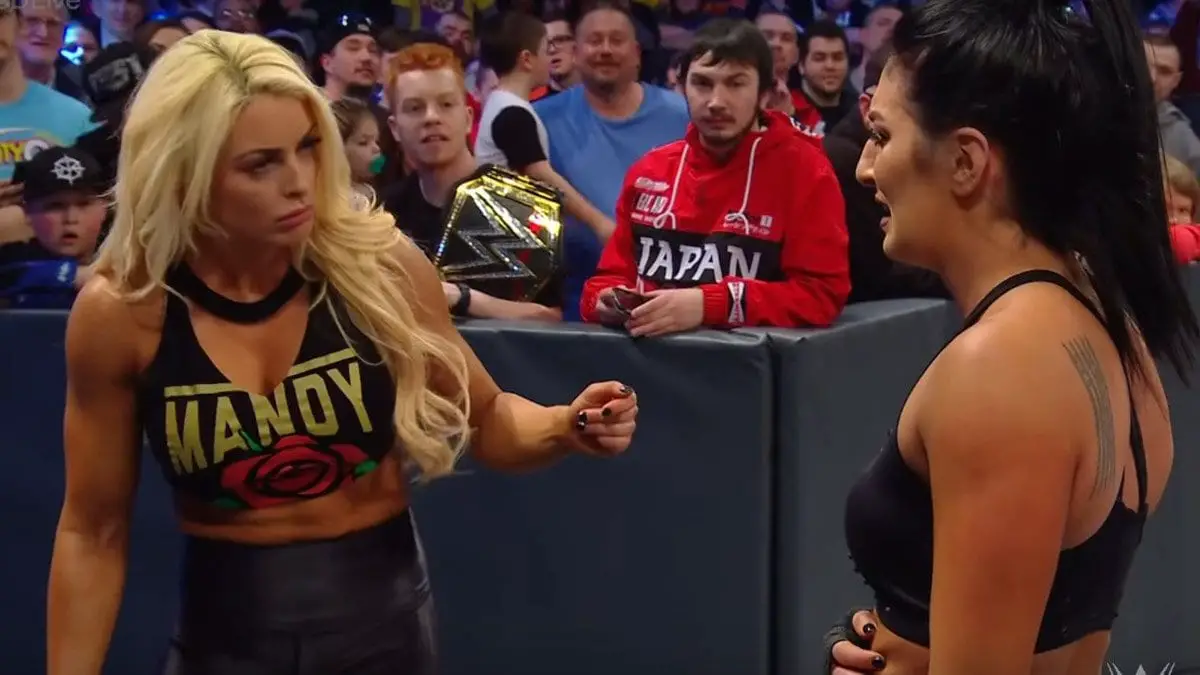 Leaving that aside, let's look at the possibilities for the Women's scene at WrestleMania after this big development.
#1 Title Unification and the triple threat match
Both RAW and SmackDown women's champions are in the match, so it would make perfect sense and opportunity to unify the title and crown the undisputed WWE Women's Champion at the Main Event of WrestleMania. Ever since both Becky and Charlotte got involved with Ronda, there definitely was no women star to stand face to face with Asuka in stature(with Sasha and Bayley having their own championship run). Unifying the title would avoid future bookings in line with Asuka vs Mandy Rose due to the limited number of top card women stars.
#2 Title Unification and 4-way elimination match with Asuka
Asuka might not be good at mic but she is the best women star in the main roster for me. Although she has joined the WWE Women's revolution a bit late, but in the last two years, she is part of it as much as anyone. To leave her aside from the first ever WrestleMania Women's main event would not be fair to her at all. Adding her to the match and making it a four-way elimination match would be one of the best booking decision that WWE could take at the moment.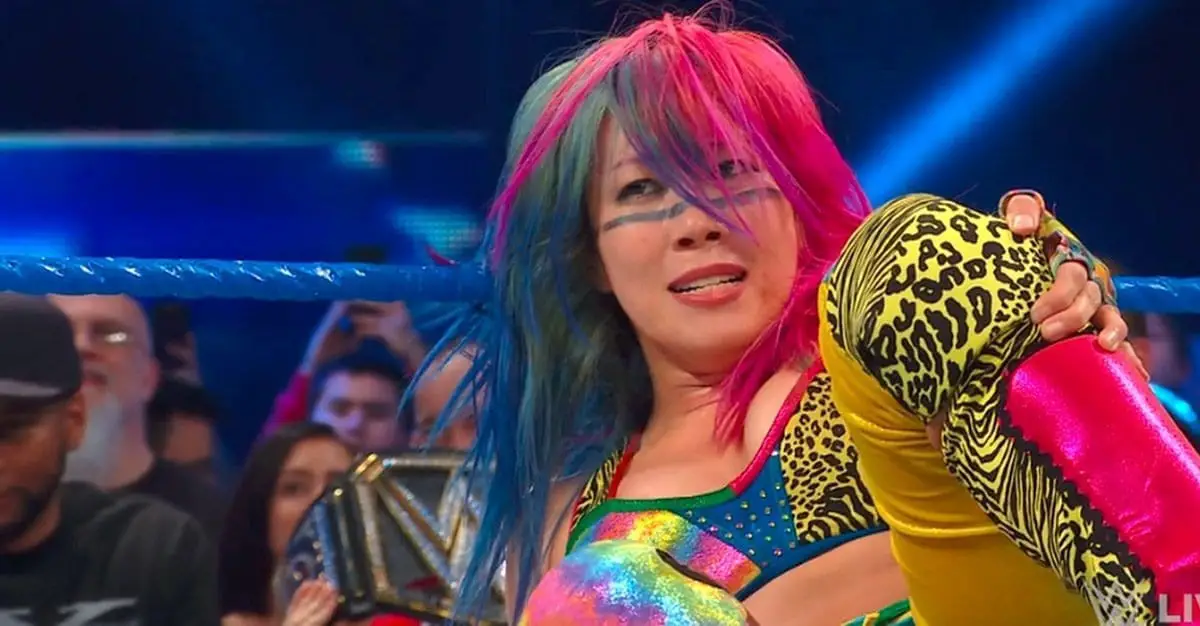 The possibility for this can already be sensed by the number of stars expressing their sadness for Asuka being stripped of the title over social media. Almost every woman from RAW and SmackDown roster has posted something regarding her including the women who took the title away from her, Charlotte Flair. This kind of mass revolt is not possible in WWE without the official permission. So, if not in a 4-way elimination match, but Asuka might be added to the Fatal 4-way match at Mania.
#3 Different match for RAW and SmackDown titles
This has the least possibility but it would be good if Charlotte is pulled out of the RAW Women's match and have to defend the SD title against Asuka in the last year's WrestleMania rematch. This will leave Ronda and Becky alone to go one on one which everyone is dreading to watch. This might also give the opportunity for each of the 4 horsewomen of WWE(Becky, Charlotte, Sasha and Bayley) to end the show with a championship. This horsewomen angle is recently speculated to close WrestleMania and if WWE want to go with it, having them fight it out in different matches would be better.
#4 Triple Threat match for only RAW Women's Championship
In this scenario also, the 4 horsewomen could end up with a title each but the whole angle will be destroyed once and for all. They should better avoid this scenario because this would be the most horrible booking might. They could do so much with the angle but instead choosing this will result in reverberating criticism in the future.
Even after the horrible tackling of the Ronda-Becky-Charlotte storyline, WWE might have got away with it. But by the latest turn of Charlotte becoming a champion, they have found themselves in dangerous waters. Even if they come up with the best possible booking and outcome, there will be some sort of criticism. But that does not mean that they should not try.
P.S.- What I want to happen at WrestleMania is for All four of them getting involved in Fatal 4-Way match for the unified title. Asuka eliminates Charlotte, Becky eliminates Ronda and lastly Becky force Asuka to tap out with the Cattle Mutilation(same move to which Becky taped out at Royal Rumble).