WWE SmackDown 22 January 2021 Results, Highlights, Winners, Grades
Welcome to ITN's Live blog for WWE Friday Night SmackDown episode of 22 January 2021(1/22/2021) as we bring you the Live Results, Updates and Grades from the show featuring the buildup towards Royal Rumble 2021 PPV.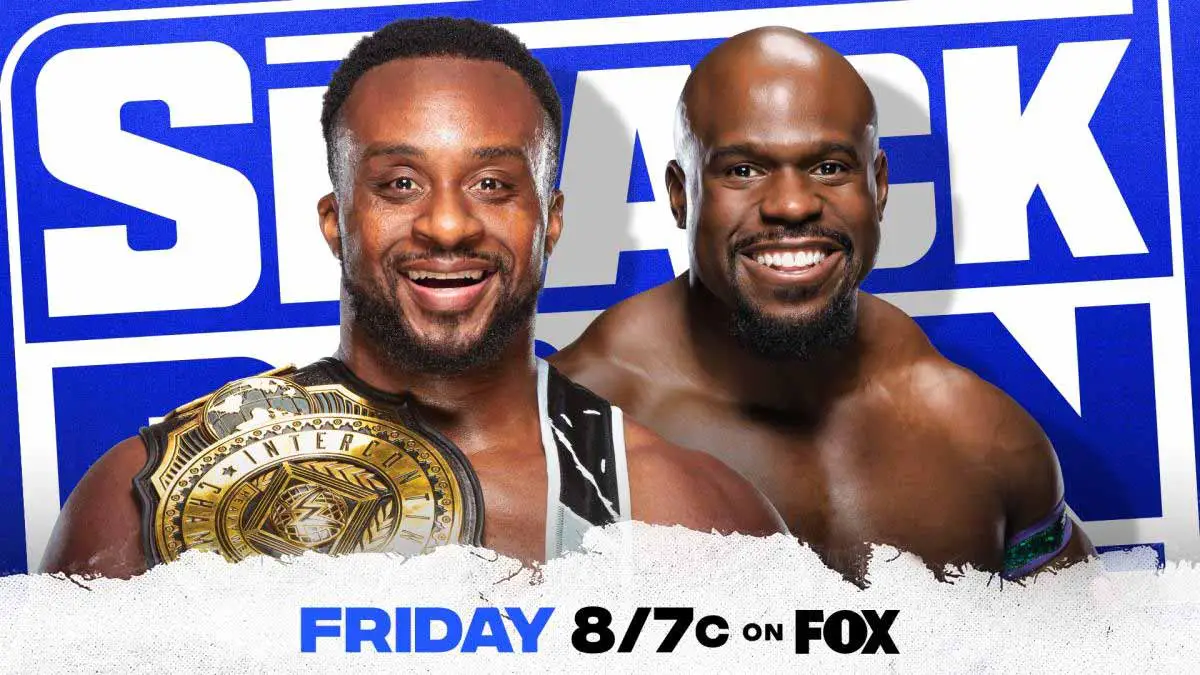 Big E vs Apollo Crews title match
Kevin Owens addresses Roman Reigns ahead of their match at Royal Rumble 2021
Obstacle Course Competition Between Bayley and Bianca Beliar
You can check the preview for the show here.
The show opens with the recap of Roman Reigns, Kevin Owens & Adam Pearce Storyline from the past two weeks. WWE Universal Champion Roman Reigns comes out with Paul Heyman.
Roman Address Royal Rumble Match
Roman asks Heyman if Kevin Owens said he is gonna deliver a message tonight. He says it will not happen since he said so. He takes a shot at WWE Official Adam Pearce for running from the match taking an excuse of an injury, saying he missed a match only due to save his health(at WrestleMania 36). Adam Pearce comes out and says this is all going out of control. Roman rebuffs saying Pearce favoring Kevin Owens is going out of control. He rants against Pearce for a while.
Pearce takes offense on Heyman laughing at him and says he is not gonna take anything from Heyman. Roman tells Heyman that Pearce disrespecting Heyman is like Roman himself getting disrespected. Heyman now rants at Pearce. Finally, a match between Adam Pearce & Paul Heyman is fixed for later tonight.
Grade- B+. Roman is in top form at the moment and is owning this character. Pearce played his part well while Heyman's rant at the end and the match getting fixed was unexpected.
Sami Zayn appears at the ramp with his documentary film crew. He is holding a sign with #JusticeForSami written on it. He chains himself to the barrier on the ramp and says he is not going anywhere. Back from a break, Sami rants about last week's loss and declares himself for the Royal Rumble Match. Sami is interrupted by Asuka's music.
Asuka & Charlotte Flair vs The Riott Squad(Ruby Riott & Liv Morgan)
Flair and Riott start. Charlotte takes Riott down and tags in Asuka. Flair gets back in and whips Riott to the corner. Billie Kay runs a distraction which gives Riott a chance to tag out. Morgan hits a driveby dropkick and Flair goes to grab Kay's hair.
Morgan and Riott keep control over Flair as we return from the break. Flair turns it around after sometime with a Fallaway Slam and a headbutt. Asuka tags in and hits a running knee. Riott breaks the pin. Morgan drops Flair and then hits an enziguiri on Asuka. Asuka goes for the Asuka lock but Riott tags in. Riott had Asuka in a pinning position but the referee was distracted by Kay. Asuka drops Riott and tags in Flair who hits Natural Selection for the win.
Winners- Asuka & Charlotte Flair
Grade- B. A good match that took the story of Billie Kay costing the Riott Squad matches forward. Morgan looked good against Flair & Asuka.
Daniel Bryan, Cesaro & Dolph Ziggler
Daniel Bryan comes out and walks past the handcuffed Sami Zayn. Zayn is now holding a sign with Stand With Moral Injustice(SAMI) written on it. Bryan talks about the uncertainity about entering the Royal Rumble and how that makes it interesting. Bryan notes that he did not win the Royal Rumble yet and want to achieve that.
Cesaro interrupts and comes down to the ring, walking past the handcuffed Sami Zayn. Cesaro cuts a promo. Daniel Bryan challenges him for a match. Cesaro tells him that he has already defeated him last week and does not need to prove himself again. He issues an open challenge for anyone who has not declared yet for Royal Rumble. Dolph Ziggler comes and says how he has been in the second-most number of Royal Rumble matches. He accepts Cesaro's challenge.
Cesaro vs Dolph Ziggler
They tussle on the mat for a bit. Cesaro tries to hit a gutwrench suplex but is blocked. Ziggler with a sleeper hold on Cesaro. Cesaro drops him in the corner turnbuckle before going his signature swing. Cesaro beat him up for a while. Ziggler counters with a fameasser. More back and forth before Cesaro hits the Neutralizer for the pin.
Winner- Cesaro
Grade- C. Both men are talented but the match was too short to be rated higher than this.
Sasha Banks vs Reginald
Reginald gives Sasha a Rose and asks her to kiss him on the cheek. Sasha decks him instead. Reginald is showing good athleticism to avoid arm drags. Both continue to counter each other in a fast paced action. Reginald goes to the apron and Banks charges but he jumps off with a back flip. Banks' baseball slide sends him into the barrier.
Back in the ring, Reginald continues to avoid attacks from Sasha until she hits a bulldog. More counters from both until Sasha counters a powerbomb with an arm drag. Reginald catches her from crossbody but gets sent to the floor with an arm drag. Banks hits a Meteora on the floor. She goes and knocks Carmella's champagne glass from her hand. Back in the ring, more counters before Sasha hits a Meteora. Banks drops Reginald into the Bank Statement and he taps out for the win.
Winner- Sasha Banks
Grade- C. Match was more of a counter fest than anything else. Not sure why this match was necessary. There are far better ways to take the storyline between Sasha and Carmella forward.
Roman Reigns and Paul Heyman are backstage. Reigns berates Heyman saying he handed Heyman the mic so he could rip into Pearce verbally, not challenge him to a match. Now, Heyman has fight Pearce because Reigns didn't hire a punk to represent him. Heyman is shocked at knowing that he has to go to the match against Pearce.
Big E vs Apollo Crews – WWE Intercontinental Championship Match
Big E tosses Crews with a big belly-to-belly suplex for a pop. Big E with the splash on the apron now. Crews counters with an elbow and big boot in the corner. An enziguiri gets him a two-count. Big E counters by planting him in the mat. Crews goes to the floor, Big E follows. Crews hits him with a moonsault near the announce table.
Crews goes to the top, E meets him there to tussle a bit on the top. Crews manages to drop Big E from the top. Sami Zayn has handcuffed himself now. Crews hits a dropkick from the top and is waiting for Big E to get up. Sami runs into the ring and hits the Helluva kick on Crews to cause a DQ. He hits another one on Big E.
Winner – Apollo Crews(by DQ, Big E retains title)
Sami yells down at Big E and Crews while they're laid out, saying he is what a champion looks like. Sami goes to his film crew and rants about how that is justice served, and he didn't ask for this.
Grade- B. We are robbed off a great match as Zayn cut the match short. The storyline continues but in which direction?
Cole and Graves reveal that Roman Reigns has left the arena. We get a pre-recorded video from Kevin Owens. He says he was not allowed to enter the building because Reigns pulled some strings. Owens says that's all fine but there will be no more strings to pull at the Royal Rumble as they will settle this once and for all.
The Street Profits are backstage walking with a fruit basket. They stop at Dolph Ziggler and Sonya Deville. Ziggler walks off after their chat. The Profits congratulate Deville on her new job as the second fiddle to Adam Pearce. Profits says it's been two weeks since they lost the SmackDown Tag Team Titles, and they're ready for the rematch. Deville says Montez Ford is still recovering from his knee injury and does not want him to agreavate the injury and get on the shelf. Deville asks them to continue to hype SmackDown and do their funny skits until they are 100%.
Bayley vs Bianca Beliar – The Ultimate Athlete Course Challenge
Michael Cole is on the stage to host Bayley's Ultimate Athlete Obstacle Course Challenge. Cole introduces Bianca Belair and Bayley as they come out. Bayley introduces us with the obstacle course. A 400 pound tire, hurdles, and military walls around ringside. Bayley reveals how she got some expert advice from Alpha Academy and they will have to carry Chad Gable in fireman's carry. And finally, they must prove basketball through the hoop which will stop the timer.
Bayley goes first. A referee oversees the progress. Bayley flips the tire, hops over the mini-hurdles, does not jump over military walls but runs around them instead. She then scoops Gable on her shoulders after some help from Gable, just for a few feet. Bayley then shoots the basketball to complete the obstacle course at 1:12.
Then, Bayley introduces much more harder course for Beliar. Beliar flips the tire easily and then runs through the military walls with ease. Gable then tells her that she has to carry someone else. Otis appears from under the ring. Belair scoops Otis from the steel steps and runs with ease. Bayley tries to stop Belair from putting Basketball through the hop but Belair still wins with 17 seconds to go. Bayley isn't happy and attacks her. She unloads on Beliar at ringside.
Grade- B-. The event showcased how good of an athlete Bianca Beliar is. She is definitely a star in making. But it was a predictable segment, with only surprise being Otis.
King Baron Corbin vs Dominik Mysterio
The bell rings and they lock up. Dominik ducks a big right hand in the corner. Dominik with a dropkick as Corbin charges. Dominik sends Corbin out to the floor with a takedown. Corbin levels him with a big clothesline on the floor. Corbin unloads with strikes back in the ring. Dominik counters End of Days and drops Corbin for the 619. Corbin catches Dominik and drops him. Corbin hits End of Days for the pin and the win.
Winner: King Baron Corbin
Grade- C. A nothing match really. Very short to be graded properly.
Paul Heyman vs Adam Pearce
Adam Pearce waits in the ring as Paul Heyman comes out, still wearing his suit. Heyman falls down at ringside(acts like she has suffered an injury, just like Pearce did last week). Heyman takes the mic and tells Pearce that card is subjected to change. The music hits and WWE Universal Champion Roman Reigns comes out.
Reigns enters the ring and immediately drops Pearce with a Superman Punch. Roman beats Pearce some more. Pearce punches him back and this angers Reigns. Reigns hits him with a low blow. Reigns sends Pearce face-first into the crowd LED boards now and beats him down some more.
Reigns grabs Pearce and throws him up another level into the crowd. A hooded man attacks Reigns from behind. It's Kevin Owens. They fights back to the ramp area and Owens is launched him into the barrier. They get into the ring and Owens superkicks Roman. Owens blocks a Superman Punch and hits the Stunner for a pop. Reigns is down as Owens yells at him and fans cheer him on.
Reigns rolls to the floor but Owens follows and sends him into the barrier again. Officials come out to break the brawl. Owens does not stop and attack Roman again. He nails him with another Stunner. Reigns is put through the announce table with a Pop-Up Powerbomb. Owens tries to hit him with steel steps but WWE crew stops him. Owens comes back to Reigns and stands over him. SmackDown goes off the air with Owens standing over Reigns, yelling at him.
Grade- B+. The beatdown of Roman Reigns after so long(outside of a match) was refreshing to see.