Cain Velasquez Makes WWE Debut After Kofi Loses WWE Title to Brock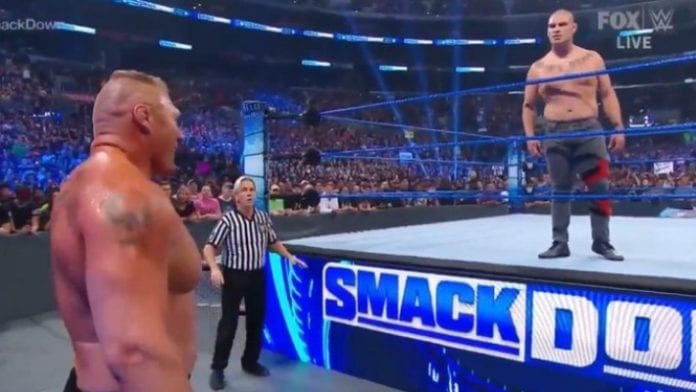 Cain Velasquez has made his WWE debut at SmackDown's Fox premiere episode on 4th October 2019. He came out to brawl with Brock Lesnar who just defeated Kofi Kingston to become the new WWE Champion.
Kofi Kingston won the WWE Championship title at WrestleMania this year and held the title since then. As SmackDown moved its home from the USA Network to Fox, he was challenged by Brock Lesnar for the WWE title match on the big night.
As these two men faced off at the main event of the 20th Anniversary episode of SmackDown, it just took one F5 from Brock to put down Kofi. Kofi was defeated in mere seconds. Lesnar became the WWE Champion for the fifth time and Kofi was unceremoniously stripped off the title. But that was not it for the night.
If you remember, Rey Mysterio and his son Dominic were assaulted by Brock Lesnar at the start of this week on RAW. After Lesnar's win last night, he came out, possibly looking for revenge on Lesnar. And he did not come alone. Accompanying Mysterio was the man who has earlier defeated Lesnar for the UFC Heavyweight title back in 2010- Cain Velasquez, who made his WWE debut.
Velasquez hit the ring and tackled an already shocked Lesnar to the ground. After being on the receiving end of rain of punches, Lesnar sneaked out of the ring. The night ended with Lesnar trying to impose his authority by showing off his newly won title belt and Velasquez & Mysterio staring him down from the ring.
Cain Velasquez made his pro-wrestling debut at AAA's annual Triplemania event in Mexico earlier in the summer. He was partnering with AEW Executive Vice President Cody Rhodes in a tag team match that night. There has been interest from both AEW and WWE to sign him, and it seems like WWE sneaked him. Dave Meltzer from Wrestling Observer Newsletter reported earlier that Brock and Mysterio's angle was written into RAW as the possibility of a deal between Velasquez and WWE was so close.
Earlier, Velasquez has been two times UFC Heavyweight Champion. One of those title reigns started when Velasquez defeated Brock Lesnar in a few seconds to take the title away from him. In total, Velasquez had 14 wins and 3 losses in his MMA career.