Bianca Belair on How She Met Montez Ford, Her Match at SummerSlam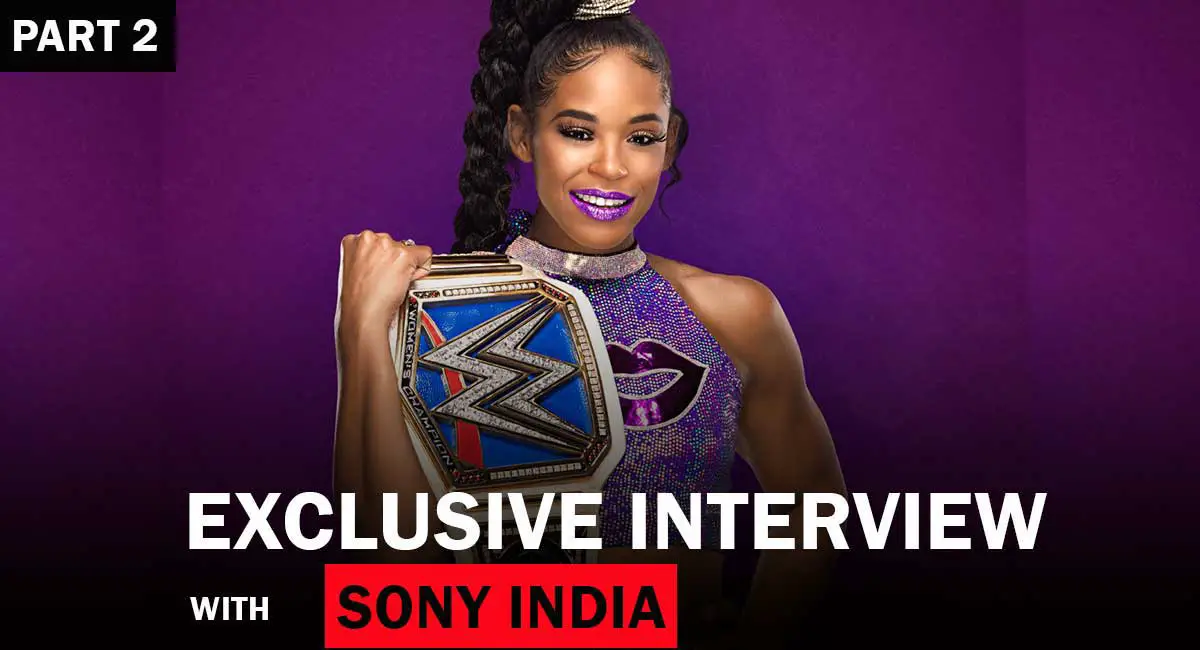 Bianca Belair joined Sony Sports India for a live chat where she discussed about the start of her NXT career, her relationship with Montez Ford and how they came together, her finisher, her toughest opponents and how she is looking forward to facing Sasha Banks at SummerSlam.
If you use any quotes from this article, please credit Sony Sports India with an h/t to this article.
Bianca was asked about the start of her career in NXT and who helped him the most during her early days. The EST named her Performance Center coach Sarah Amato and her husband Montez Ford as the pivotal duo who were behind her in those days.
Sarah Amato, who was my coach[at Performance Center]. She taught me everything. She taught me my first headlock, my first wrist lock, my first pretty much everything that I did. But she just didn't help inside the ring. She helped outside the ring. And then my husband… I met my husband when I got to NXT and got to the performance center and he watched wrestling growing up. So, he knows everything in history. So, he helped me with I was stuck with like – where do I start? Like where do I start watching stuff? How do I start learning? Who should I start watching? He would show me different wrestlers like watch this person, watch that person.
In the earlier part of this chat, we mentioned how Bianca talked about how she uses her braid in the match. During this part also, Bianca revealed that it was Montez Ford who told her to wear braids to stand out from the crowd.
And he[Montez Ford] helped me with the whole braid. I was trying to figure out how I wanted to wear my hair and I was like – all the other girls wear the hair- like down and pretty. And I want to wear my hair like that too. But he is like no, no… wear the braid because that makes you stand out. So, he really like encourages me to wear the braid to stand out. And then Sarah kind of helped me with using the braid. So, those two were like pivotal when I first got to WWE.
The discussion then moved towards how Bianca and Ford became a couple in NXT. Bianca revealed that she had an instant crush on Ford.
So, I got in NXT and I saw him a little bit. Then, he kind of, like he got injured a little bit, and he disappeared for a couple of months. But I had this instant crush on him. I used to tell one of my friends at the Performance Center – that is a beautiful man. You gotta keep him away from me. And then he went away for a few months.
Bianca then narrated the story of their first interaction and how she gave Ford the wrong number. But despite that, they got together and have never separated ever since.
Then, one of our coworkers just got dinner together and told all of us to come and hang out. And he[Montez] walked through the door and I was like oh, he's here. So, I kept trying to like talk to him and he really wasn't talking back to me. So then I was like I give up. And then finally, he just turned to me and he said I like your makeup. I'm like what? He said I always like your makeup. And I was like always, you've been watching me. So, now he tells me, he just got nervous and that's the first thing that came out of his mouth. That night we just hung out. I accidentally gave him the wrong number. The next day, I'm like- okay he must not like me. He's not texting me. He's thinking she's not texting me back. So, now the guy that I gave the wrong number to, I'm married to him now. So, it was just an instant click. And then like that night, we never really separated ever since. We moved in together a couple of months later. After we moved in together, we looked at each other – we're like, do we even talk about this? We still to this day don't know how it happened. It just like kind of happened. It's just like an instant click type of thing.
Bianca was then asked about her finisher KOD and how she developed that. She mentioned that she used it in one of her matches before her original finisher at the time, and felt KOD looked more devastating.
It was just trial and error. I was just trying different moves and I think at that time, I was using the spear and I was using the alley hoop and I actually did the KOD in one of the matches before the alley hoop, which was my finish. And when I did KOD the girl was just like flat. And I was like, I should just pin her off of this. And then when I watched it back, I was like that looks most devasting than anything. So, I was like – that needs to be my new finisher. And then the name for the KOD. I'm a huge J Cole fan too, who has a song called KOD. But I'm just trying to think of something that went with my theme of who I am. Because I always want to stick with my theme. So, I was like- oh, Kiss of Death, that makes perfect sense. It all just kind of came together naturally and through trail and error.
As the chat moved forward, Bianca named Miz & Maryse and Naomi & Jimmy Uso as her dream opponents for a mixed tag team match for herself and Montez Ford. She also agreed(although hesitated) to fight Alexa Bliss with Lilly by her side, before naming Bayley and Sasha Banks as her hardest opponents till date.
I would have to say Bayley because I faced her at the Hell in a cell. And Sasha at Wrestlemania. I literally gave her everything that I had at WrestleMania. I gave her press up the stairs. I gave her two 450s, the shooting star press, suplexes, my finisher. I gave her everything that I had in order to walk out as the SmackDown Women's Champion. So, it's going to be another tough battle come SummerSlam. But being that – I've already got in ring with her once and walked out better. So, I fell like I'm really really at a good position walking into Summerslam.
Bianca was finally asked about her WrestleMania match against Sasha Banks and how she is looking forward to facing Sasha again at SummerSlam.
I think that just with the history behind what's happening with us, coming off Wrestlemania where we main event, and now it's more personal. I always say Wrestlemania, in the moment, was so much bigger than me and bigger than Sasha, and bigger than just us. It was so much more on the line than just the Smackdown Women's Championship. We made history. We won an ESPY. I walked out as the SmackDown Women's Champion. But I feel like nobody really lost that night. So, I think now that we are down to Summerslam and the only thing on the line is the title. That's right there is raising the stakes even higher. I took something from Sasha that she loved and have for so long. I have it now. I have taste of what it feels like to have this and I'm not… I don't want to let this go. So, I feel like it's going to be just as good and better. But I feel like it's going to be a little bit more physical. I'm excited for it. Just as much as I think fans are excited for it.
If you use any quotes from this article, please credit Sony Sports India with an h/t to this article. Check here for part 1 of the chat.