AEW Rampage Results & Live Updates – November 4, 2022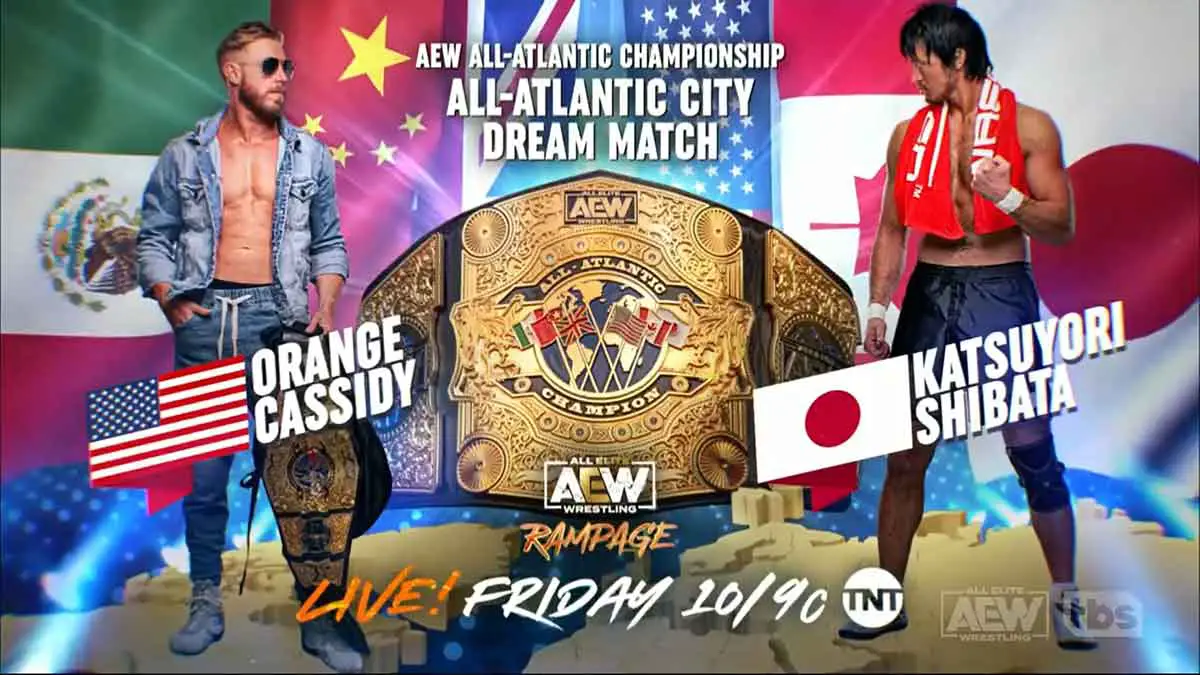 Welcome to the Live Results blog for AEW Rampage November 4, 2022 episode which will be airing live from Jim Whelan Boardwalk Hall in Atlantic City, NJ.
NJPW legend Katsuyari Shibata will challenge Orange Cassidy for AEW All Atlantic Championship. Britt Baker and Jamie Hayter wants tag team match and they will get Madison Rayne and Skye Blue as their opponents.
Boxing Legend Mike Tyson will be the special guest commentator on the show. We will hear from Ricky Starks as he returns to the show.
Tune in below as we post results from AEW Rampage November 4, 2022 episode with live updates, winners, highlights and complete action.
Results
Orange Cassidy(c) defeated Katsuyari Shibata in a singles match via pinfall to retain AEW All Atlantic Championship.
Britt Baker & Jamie Hayter defeated Madison Rayne & Skye Blue in a tag team match via pinfall.
WardJoe(Wardlow & Samoa Joe) defeated Gates of Agony(Bishop Kaun & Tao Liona) in a tag team match via pinfall.
Live Updates
Mike Tyson comes out to open the show and takes his place at the commentary table. We get a quick video package for Katsoyuri Shibata. Shibata and Cassidy make their entrance one by one.
Orange Cassidy(c) vs Katsuyari Shibata – AEW All Atlantic Championship
Shibata stares down Cassidy as the bell rings. Shibata puts on a side headlock. Cassidy has his hands in his pocket as Shibata takes him down to the mat. Cassidy counters with a leg sleeper. Cassidy avoids a penalty kick. Shibata charges but Cassidy ducks him to send him to the apron. Cassidy tackles him to the floor and hits a suicide dive. Shibata sends Cassidy into the barricade a few times. Shibata gets into the ring to break the countdown. Shibata gets to the floor again and Cassidy trades punches with him. They both had to get into the ring to break the countdown again. We cut to a break.
We return to see Shibata down in the corner. Cassidy hits a dropkick on him. He hits his lazy kicks. Shibata catches his leg and then drops him with STO. Shibata then goes on to hit lazy kicks. Cassidy gets mad as he is made fun of. Cassidy then sits down in Shibata's pose. They both ask to hit each other. Cassidy then hits lazy version of chops. Shibata hits him with real chops. Shibata sends him to the corner and hits a dropkick. A suplex follows. Shibata puts on a choke. Cassidy uses the ropes to get over him and hits a back drop suplex. Shibata also hits the same move and both men are down.
Cassidy hits a penalty kick but Shibata sits up quickly. Cassidy hits another penalty kick but Shibata no-sells it. Shibata hits the Orange Punch on Cassidy. Shibata hits more punches before putting on the Octopus stretch. Shibata puts on crucifix body stretch. Cassidy counters a suplex with stundog millionaire. Cassidy hits kicks to his face. Shibata hits Death Valley Driver. He goes for another DVD but Cassidy avoids it. More back and forth before Cassidy hits with Beach Break. He hits Orange punch but Shibata does not go down. Shibata puts on the sleeper but Cassidy falls down. Shibata charges and Cassidy nails him with Orange punch to get the pin.
Winner – Orange Cassidy
Shibata shakes hands with Cassidy after the match. Cassidy puts his goggles on Shibata and they pose in the ring.
---
Interim AEW Women's Champion Toni Storm is backstage for an interview. Storm is wondering how has Jamie Hayter become this evil. Storm says Hayter now assaults her at will, but she will have to take responsibility for her action at Full Gear.
---
Bryan Danielson, Claudio Castagnoli and William Regal are interviewed backstage. Castagnoli makes his case for an ROH World title rematch against Chris Jericho. Danielson does the same. Regal asks Jericho to choose his opponent from them.
Madison Rayne & Skye Blue vs Britt Baker & Jamie Hayter
Hayter switches a waistlock. Rayne twists her arm and tags in Blue. Blue goes for an arm wringer herself. Hayter sends her to the corner but misses a back elbow. Blue hits a crossbody from the top to get a two-count. Hayter hits big blows to her back. Hayter drops her to the ropes. Hayter knocks off Rayne from the apron. We cut to a break.
We return to see Hayter keeping Blue in a sleeper choke. Blue breaks it and unloads with punches. Blue hits a superkick but Hayter tags in Baker quickly. Baker stops a tag but Blue kicks her away and tags in Rayne. Rayne unloads with quick strikes on Baker. Rayne hits a cutter on Baker. Hayter gets in and hits a backbreaker. This starts a series as everyone start to get involved with quick moves. Baker and Hayter hit stereo superkicks to Blue and Rayne. Blue is thrown to the floor. Hayter hits a ripcord lariat to get the pin.
Winner – Britt Baker & Jamie Hayter
Baker cuts a promo after the match saying that Storm will know what a bully is at Full Gear. They continue to beat down Blue and Rayne. Toni Storm runs out and drops Rebel and Baker on the ramp. She gets into the ring for a brawl with Hayter. Baker returns to outnumber Storm. Baker picks up the title and hands it to Hayter to pose with it.
---
Chris Jericho and Sammy Guevara are backstage with Tony Schiavone. Schiavone asks Jericho to stop attacking commentators. Jericho agrees but he says he can't gaurantee about backstage interviewers. Jericho then answers who will be his next opponent from Blackpool Combat Club. Jericho says BCC guys do not like each other, being breathing the same air, being in the same ring. But, then he will be at disadvantage. So, he will bring in one of his own man. He proposes a fatal 4-way match against Danielson, Claudio and Sammy Guevara.
---
Ricky Starks comes out and gives props to the crowd to support him. He says he never asked for the support but still gets it because he is good. He says the fans like him and he likes them back. He talks about World Title Eliminator tournament and he is entering the tournament. Starks says some people are proud to be AEW pillars, but things are crumbling around here. He is going to carry the brand on his back. Things will start changing from Full Gear when he becomes the #1 contender for world title. Starks says there are two possibilities for him after that. He either faces Jon Moxley who has poured out blood this company 10 times over, but what will happen when that blood dries up. the other possibility is that he faces MJF. Starks asks what happens when a generational talent meets an absolute one. Starks ends up the segment by posing in the corner.
---
Sammy Guevara is interviewed alone now by Tony Schiavone. He says ROH World Championship will remain with Jericho Appreciation Society in the fatal 4-way. He then challenges Bryan Danielson for 2 out of 3 falls match. He
WardJoe(Wardlow & Samoa Joe) vs Gates of Agony(Bishop Kaun & Tao Liona)
A bit of back and forth to start. Kaun hits a tackle in the corner. Wardlow explodes out of corner with a tackle. Wardlow unloads with rights. Joe and Liona get the tags. Liona backs up Joe to the corner. Joe hits chops and jabs to back Liona to the other corner. Liona hits knee strikes to Joe's ribs. Joe hits back with a Pele kick in the corner. Liona bits his ear. Kaun takes a cheap shot at Joe behind the referee's back. We cut to a break with Gates of Agony in control.
Kaun has Joe locked in. Joe fights back to his feet. Kaun hits a dropkick. Joe hits an Urinage from the corner. Wardlow gets the tag and knocks off Liona off the apron. He hits German suplexes on Kaun. Liona comes in and gets hit with a German suplex also. Wardlow hits a spinebuster on Kaun. Liona breaks the pin. Joe pulls out Liona to the floor and puts him in a Coquina Clutch. Wardlow hits a big lariat.
Prince Nana gets to the apron to distract Wardlow. Wardlow nails him with a punch to drop him. Kaun rolls up Wardlow for a two-count. He hits a knee strike. Wardlow counters and starts Powerbomb Symphony. Joe has Liona locked in Coquina clutch on the floor while Wardlow gets the pin easily.
Winner – WardJoe
After the match, Powerhouse Hobbs comes out to the stage. He signals for the title. Wardlow is screaming at him to get into the ring. Hobbs stays at the stage to close the show.