AEW Full Gear 2019 Live Results & Updates- 9 November 2019
Welcome to ITN's Live Results & Updates blog for AEW Full Gear 2019 PPV show.
Date- 9 November 2019
Pre-Show Start Time- 7 PM EST(9 November 2019 12 AM GMT/5:30 AM IST)
Main Show Start Time- 8 PM EST(9 November 2019 1 AM GMT/6:30 AM IST)
Location- Royal Farms Arena, Baltimore, MD, US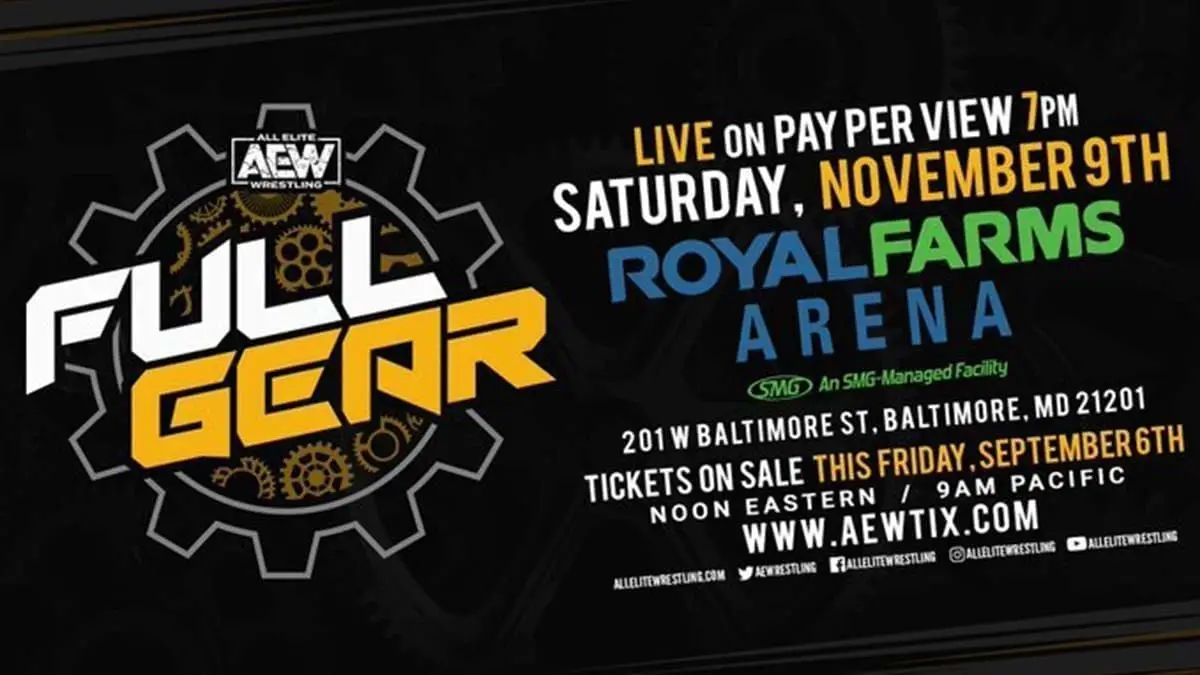 AEW Full Gear 2019 Pre-Show Results & Updates
The Buy-In pre-show before AEW Full Gear 2019 is live on the above Youtube video. For some reason, AEW has pulled down the pre-show from YouTube. We will update the video here if they upload it again.
Excalibur, Golden Boy, and Tazz welcome us from Royal Farms Arena in Baltimore for the show. They go right into the buy-in match between Bea Priestly and Britt Baker. We are getting the hype video for their match(same which was aired at AEW Dark earlier this week).
Bea Priestley vs Britt Baker
Britt Baker starts with some forearms and Priestley moves out. As Baker chases, Priestley gets back in the ring and pounds Baker on her way back. Baker with a Lou Thesz Press and strikes a few more punches. She then attempts to transition into the lockjaw, but Priestley boots her in the head. Priestley with a diving elbow to the back for two-count. Baker tries for a body slam but her back gives out.
Priestley has started concentrating on Baker's back. Double clothesline sends both wrestlers to the mat. Baker drops Priestley and follows with a running knee, sling blade and swinging neck breaker, and gets two-count for her effort. Both are on the second rope now. Baker manages to hit from there. She goes for another but she is now selling her back. A cutter gets her two-count. Priestley hits a German suplex and bridges the second one for the pin attempt. Priestley puts Baker in a stretch.
Baker then ends up on the apron and Priestley hits a double stomp to Baker's back. Baker recovers and hits a Canadian destroyer for a near fall. Baker lands a superkick, swinging neck breaker, goes for lockjaw, Priestley leans back with a hair pull, cover, two. Baker gets in lockjaw again and then the mandible claw, Priestley taps out.
Winner- Britt Baker
Post-match, Bea Priestley was in the ring when Awesome Kong and Brandi Rhodes come out. Kong hands a knife to Brandi and then hits the Double Underhook slam on Bea. Brandi grabs a big chunk of Bea's hair and Kong cuts some hair. Kong keeps the lock of hair as they both make their way to the back.