AEW Dynamite 16 October- Live Results: Titles on the Line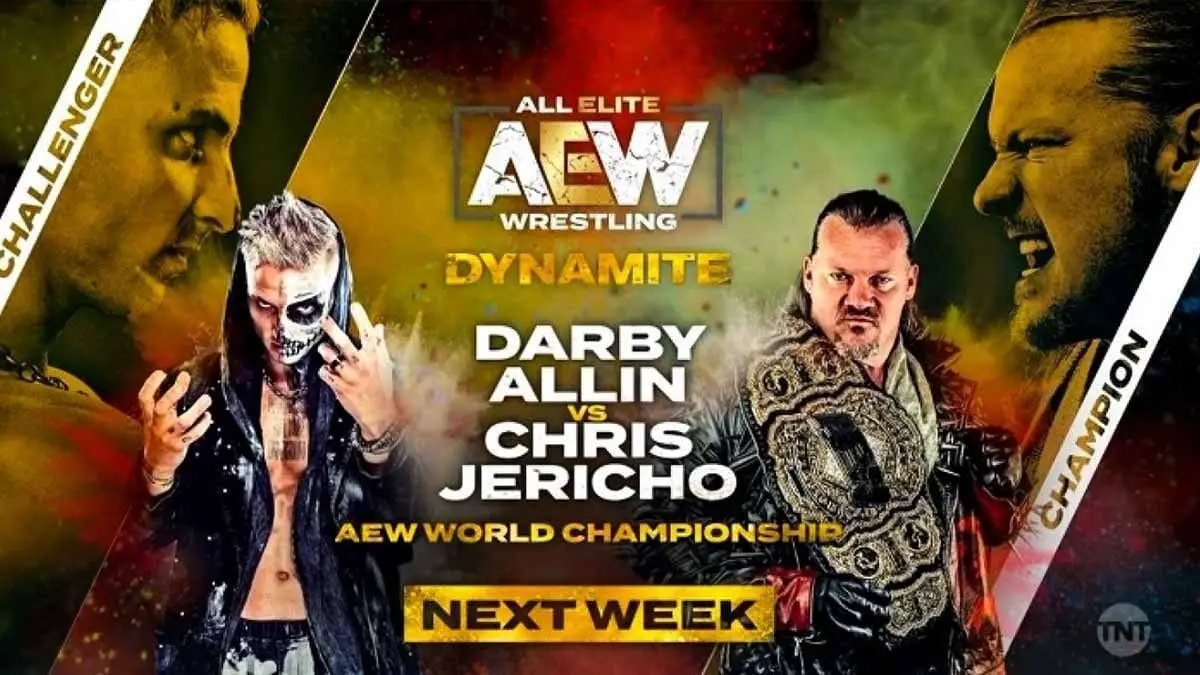 Welcome to the Live Results and Updates blog for the AEW Dynamite episode of 16 October 2019.
Date- 16 October 2019
Location- Liacouras Center, Philadelphia
Start Time- 8 PM EST(17 October 2019 12 AM GMT/5:30 AM IST)
The third episode of AEW Dynamite will air from Liacouras Center in Philadelphia. Both men's and women's title matches are advertised for the show. Two matches of the AEW World Tag Team Championship Tournament will also take place in the episode. Two members of the Elites will take on a lunatic and a bastard while the Elites' fight with the Inner Circle continues.
The show opens with JR and Tim Schavione welcoming us. Christopher Daniels and Frankie Kazarian enter for their match against the Best Friends but are attacked by the Lucha Bros. They threw SCU members into the barricade and ring post before Daniels eats a driver onto the ramp. Scorpio Sky runs in and helps his team to fend off Luchas. But Daniels is injured and is stretchered out. Scorpio Sky will replace him in the match.
SCU (Frankie Kazarian & Scorpio Sky) vs Best Friends (Chuck Taylor & Trent Baretta)
Kazarian backs Taylor to the corner for a few punches. Chuck whips him into the corner before bringing in Trent for a double team to get a two-count. Sky saves his partner from being pinned but Best Friends are keeping control over the match. Sky's shoes comes off and Taylor bites his foot. Taylor hits a double stomp on Sky while Trent hits a spear on Kazarian ringside.
Barreta and Taylor take out both men at ringside with some teamwork. Taylor helps Trent to hit a superplex on Kazarian. Kazarian kicks and Sky gets the hot tag. He sends both men out of the ring. The crowd throws the back in the ring. Sky gets cut off by Taylor. Taylor takes out Trent with a senton by mistake. Kazarian hits hurricanrana on Taylor to send him to the floor. Sky takes out both opponents.
Kazarian tags back in and Best Friends use a blind tag to take him out with a double team move. Scorpio comes in and interrupts a hug but ends up getting taken out with two knees to the face. They go for a hug and Sky breaks it up, crowd boos. Best Friends take out Sky and then hug each other. Taylor puts Kazarian on his shoulders and Trent hits a knee from the top rope. Bareta goes for a piledriver on the apron but Sky stops it. Sky sends Taylor into the railings and takes down Bareta. Back in the ring, Sky botches the dropkick but they get the pin regardless.
Winners- SCU (Frankie Kazarian & Scorpio Sky) – Advances to Tournament Semifinals
Ortiz and Santana vs Enhancement Talents
Santana starts with an enziguri and an elbow in the corner. Ortiz comes in to hit a powerbomb/kick combo. Santana takes out Reynolds on the floor and Santana hits avalanche street sweeper on Silver to get the pin.
Winners- Ortiz and Santana
Chris Jericho appears on the ring and praises Ortiz and Santana saying they are unstoppable. He goes on to challenge the Young Bucks for a match against Ortiz and Santana at Full Gear 2019.
We get a hype video for Cody as he prepares for his AEW World Championship match against Chris Jericho at AEW Full Gear 2019. We get to hear Brandi, DDP, JR, MJF, and others as they tell us how passionate Cody is towards winning the championship.
Riho vs Britt Baker – AEW Women's Championship Match
They lock up and come to a stalemate when they reach the ropes. Baker with a couple of armdrag takedowns. Riho counters a couple of times and botches an armdrag. They lock up again and Baker locks in the lockjaw. Riho quickly reaches the ropes. Riho is on the apron and eats a forearm. Both women end up on the top and fight there for a bit. Riho wins that exchange and hits a crossbody. After she gets two, she hits a dropkick and follows it up with a double foot a bit later.
Baker is thrown in the corner and Riho hits a suplex. Riho misses a double stomp from the top and Baker hits the swing blade. After a tussle, Baker hits a single-leg dropkick and gets two-count. Baker charges and Riho rolls her up for two counts. One more roll up from Riho but once again only for 2-count.
Baker with the neckbreaker suplex and a superkick, but could only get two. Baker goes for ripcord but Riho hits a northern lights suplex before locking in the single-leg Boston crab. As soon as Baker reaches the ropes, Riho hits a double leg stomp from the top to get a near fall. Riho hits a running knee but misses the second one. Baker hits the swinging neckbreaker and tries to go for lockjaw. Riho rolls her up and gets the pin.
Winner- Riho, retains the AEW Women's Championship
Lucha Bros vs Jurassic Express(Jungle Boy & Marko Stunt) – AEW Tag Team Tournament Match
Pentagon and Stunt start the match. Pentagon shoves Marko into the ropes. Marko then shoves him back and mocks him with a bit of dancing. Pentagon takes his glove off and Stunt goes to bite his finger. JB comes in for an assist but Fenix superkicks him in the face. Stunt gets thrown around before he hits a DDT. Jungle Boy hits a DDT on Pentagon. Stunt takes out Fenix with a suicide dive while Jungle Boy hits a moonsault on Pentagon. Jungle Boy hits a German suplex for two.
Pentagon nails both men with superkicks to stop their momentum. Fenix uses his agility to take out both opponents with a flurry of quick moves. Stunt kicks out of the pin after a pumphandle driver. Pentagon dominating the match. Marko hits a series of kicks to take him down. Both men make the tag and Jungle Boy takes it to Fenix. Stuns hits a 450 and JB follows with a shooting star press for a close two count. Pentagon whips Marko around a few times by his hair before he snaps his arm. The Lucha Bros finish him off with package piledriver/double stomp combo to get the pin and the win.
Winners- Lucha Bros – Advances to Tag Team Tournament Semi Final
Kenny Omega & Adam Page vs Jon Moxley & PAC – Tag Team Match
PAC comes out first. Moxley enters as we cut to a recorded promo to hype his match against Kenny Omega at AEW Full Gear 2019. We go to break.
PAC and Moxley were discussing something when Kenny and Page catch them off guard. Omega and Moxley are going at it in the ring while PAC and Page are battling outside the ring. Moxley counters a whip and takes down Omega. Page decks Mox from behind but PAC takes the blind tag and deals with him. PAC hits a bulldog on Omega and is controlling the match. Moxley gets the tag and continues the attack on Omega. He keeps him down for a bit.
Omega hits a couple of chops but Mox sweeps his leg. Omega hits a suplex and tags in Page. Page uses quick moves to take down both the opponents. He hits a springboard single leg dropkick on PAC and sends Moxley out of the ring. He hits a clothesline from the top rope for a two count. Page goes to the apron as Mox moves to the outside. PAC distracts him and Moxley crashes him to the floor. We go to the break and PAC can be seen destroying both Page and Omega in the corner of the screen.
Moxley hits a clothesline on Page and uses a leg lock. Omega comes in and PAC takes care of him. Page goes for the buckshot lariat and hits it after a few counters. Omega and PAC get the tag. Omega wins the exchanged and hits a neckbreaker. Moxley gets in the ring and eats an under-hook suplex. Omega hits a suicide dive on PAC. Mox hits a suicide dive on Omega. Page hits a moonsault off the top on PAC and Mox.
Back in the ring, Omega and Page double team on PAC. Omega hits a powerbomb and Page follows it up with a dropkick. Mox breaks the pin and Omega hits a big knee on Moxley. PAC gets the upper hand, sends Page out of the ring to hit a suicide dive. Mox and Omega face-off in the ring. They trade strikes before Omega hits a knee to the face. Moxley replies with a clothesline and both men are down. Both go out of the ring and each brings a barbed wire weapon- broomstick and baseball bat.
Kenny and Moxley come back to the ring and swings their weapons. PAC comes into the ring to snatch the weapons from both of them and throws them out to prevent the DQ. Moxley gets mad at him and hits the Death Rider on his own partner. Mox ditches the match and goes back. Page hits the buckshot lariat on PAC. Kenny follows it with the running knee and Page finishes off with the dead eye to get the pin.
Winners- Kenny Omega & Adam Page
Chris Jericho vs Darby Allin – Philadelphia Street Fight, AEW World Championship
Darby Allin comes out to a huge cheer. Chris Jericho is out as "the painmaker." Allin starts with a dropkick and unloads on Jericho. He whips Jericho to the rope and sends Jericho out of the ring with a clothesline. Jericho tries to sweep his leg but Allin is too quick. Allin hits a suicide dive but eats a kick when they return to the ring.
Jericho corners him and whips him to the other corner and hits him at the back. Allin counters a back suplex attempt and gets a couple of punches going. Allin hits a sunset flip for a two count. Jericho turns him inside out with a clothesline. Jericho throws him through the ropes into the ring post and Allin immediately grabs his knee.
Jericho has a kendo stick as we return from the break. Allin uses his speed and gets some strikes going. He goes for the crucifix pin to get two. Allin uses the kendo stick and hits a scissor takedown. He locks in the Fujiwara armbar but Jericho counters him and locks in the Boston Crab. Darby gets to the ropes quickly and Jericho argues with the referee for a bit. Allin hits a crossbody. Jericho counters but Allin grabs the ropes to prevent the pin.
Jericho brings a chair into the ring and sets it up in between the turnbuckles. He tries to throw Allin into the chair but Allin counters and rolls him up for two-count. Jericho locks in the Boston Crab and once again Allin grabs the ropes. Jericho brings a tape and tapes Allin's hands in the backsides. Jericho tosses him around the ring and hits some unprotected punches. Allin counters after a whip and hits a dropkick while his arms are taped. He hits a suicide dive and then a moonsault off the top. All of this with his hands already tapped.
Jericho kicks out of the pin and takes Allin down with a clothesline. Jericho hits some chair shots to get a nearfall. He swings the chair once again but Allin hits a dropkick. He goes for the moonsault off the top with his hands still tied on the back. Jericho distracts the referee and Jack Hagger runs out to punch Allin in the face when he was on the top. Jericho locks in the Boston Crab and the referee calls the match in Jericho's favor.
Winner- Chris Jerico, retains the AEW World Championship
Post-match, the other members of the Inner Circle comes out with some bubbly to celebrate in the ring.