AEW Dynamite May 17, 2023 Live Results, Updates, Winners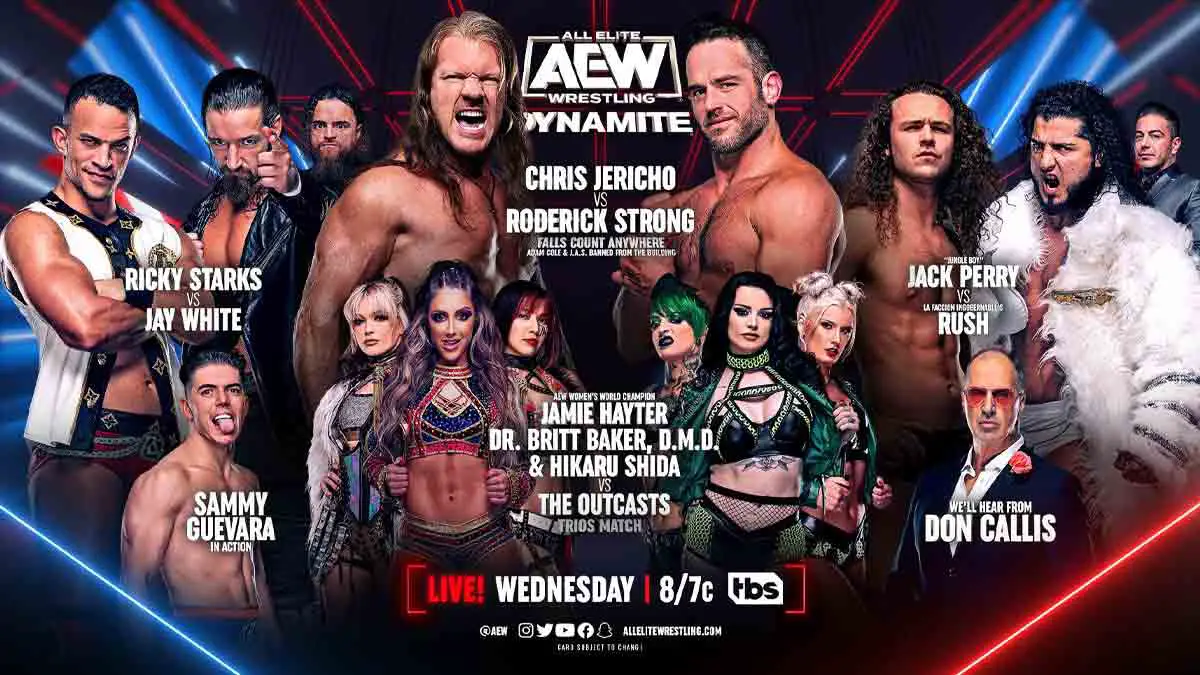 Welcome to the live results blog for AEW Dynamite May 17, 2023 episode which featured a big announcement from Tony Khan on the future of AEW.
Two of the AEW World title challengers at Double or Nothing 2023 were in action in singles matches. Jungle Boy Jack Perry took on Rush while Sammy Guevara's opponent was not known in advance. We also heard from Don Callis after he turned on Kenny Omega last week.
Jay White was in action against Ricky Starks as their rivalry continued. There was also a Falls Count Anywhere match between Chris Jericho and Roderick Strong. Britt Baker and Hikaru Shida took on The Outcasts' Toni Storm and Ruby Soho in a tag team match.
TNT Champion Wardlow opened the show. Check below for results from AEW Dynamite May 17, 2023, with live updates, winners, highlights and complete action.
RESULTS
Orange Cassidy & Darby Allin defeated Big Bill & Lee Moriarty in a tag team match via pinfall.
Sammy Guevara defeated Exodus Prime in a singles match via pinfall.
The Outcasts(Toni Storm and Ruby Soho) defeated Britt Baker & Hikaru Shida in a tag team match via pinfall.
Roderick Strong defeated Chris Jericho in a Falls Count Anywhere match via pinfall.
Jungle Boy Jack Perry defeated Rush in a singles match via pinfall.
Jay White defeated Ricky Starks in a singles match via disqualification.
LIVE UPDATES
TNT Championship!
TNT Champion Wardlow comes out to the ring. He says Christian Cage has so much to say last week when he was not here. So, he asks Christian to come spit in his face. Christian and Luchasaurus come out. Christian and Wardlow argue off the mic while Luchasaurus stands on one side. Wardlow ultimately gets his hands on Christian but Luchasaurus blocks him and starts to brawl. Wardlow clotheslines Christian when he tries to get involved. Christian hits Wardlow with a low blow and Luchasaurus puts him down with a big shot.
Christian beats up Wardlow before Luchasaurus brings out a ladder and Christian hits Wardlow with it. The ladder is set up in the corner and Luchasaurus sends Wardlow through it with a chokeslam. Christian hits a killswitch on the ladder. Christian poses with the TNT title as the segment comes to a close.
Orange Cassidy & Darby Allin vs Big Bill & Lee Moriarty
Moriarty and Cassidy start the match. Moriarty takes a big shot at Cassidy's back before Cassidy counters with a sunset flip. They gets multiple pin attempts on each other in quick succession. Cassidy hits him with a back body drop before hitting a dropkick. Bill and Darby get into the ring now. Bill throws Darby away. Darby uses a low bridge to send Bill to the floor. Moriarty is also sent to the floor. Darby hits a suicide dive and then Cassidy follows up with the same. We cut to a break.
Bill is in control against Cassidy as we return. Cassidy hits knees to block to stall a suplex. Darby takes a blind tag but the referee stops him from coming in as he did not see it. Bill hits a delayed vertical suplex. Cassidy avoids a corner splash before avoiding Lee. Bill pulls Cassidy into the corner again. Cassidy sidesteps from a corner splash and fights off Moriarty to tag in Darby. Darby sends opponents to the opposite corners and runs at them in quick succession. Darby unloads on Moriarty on the top ropes. Bill pulls Darby down and hits a big boss man slam.
Darby kicks Moriarty away and tags in Cassidy. Darby trips Bill into the corner before Cassidy hits a DDT. Moriarty is the legal man and he gets Cassidy in a pin attempt. Cassidy counters with a backslide. Darby tags in and they hit Moriarty with a double superplex. Bill runs over Darby and Cassidy with a double clothesline. Bill blocks stundog millionaire but Darby hits him with Code Red. Moriarty comes in and Cassidy hits him with Beach Break. Cassidy sends Bill off the apron with Orange punch. Darby hits Coffin drop on Moriarty. Darby then gets Moriarty down with a side headlock takedown to get the pinfall.
Winners – Darby Allin & Orange Cassidy
The Young Bucks are in the parking lot when Blackpool Combat Club surround them and attack them. Bucks throw their suitcases at them but the numbers game led to BCC throwing Bucks on top of a car.
---
Wardlow is in medical room. Arn Anderson comes in angry but Wardlow says he asked Arn to stay back for the very reason what went down in the ring. He then went on to call out Christian Cage for a Ladder match at Double or Nothing.
Sammy Guevara vs Exodus Prime
Guevara ducks a lariat and nails a big knee strike on Prime. He quickly follows up with GTH to get the pinfall.
Winner – Sammy Guevara
Sammy says that he has always listened to his heart and it says he will become the AEW World Champion at Double or Nothing.
---
Tony Schiavone is in the ring and he asks Jay Lethal and Jeff Jarrett to come out to the ring for an interview. Sonjay Dutt and Satnam Singh follow them out to the stage. Sonjay has two guitars with Dax and Cash's names on them. FTR push Satnam off the stage and to the floor before attacking Jarrett and Lethal. After a brief brawl, FTR throws them both over the timekeeper's table. FTR get Jarrett into the ring and wait for him to get up for the Shatter Machine. Jarrett's wife Karen comes to the ring and hits Cash with a low blow. Jarrett hits Dax with a strobe. Satnam comes in and hits a double chokeslam on FTR. Lethal and Jarrett breaks the guitar on FTR's back to close the segment.
---
Darby Allin is backstage and says the side headlock takeover was definitely a message for MJF and that he will be the one to become World Champion. Sammy Guevara comes in and ensures Darby that he is not laying down for MJF and any one of the three between them and Jungle Boy needs to dethrone MJF at Double or Nothing.
The Outcasts(Toni Storm & Ruby Soho) vs Britt Baker & Hikaru Shida
A quick brawl starts the match with AEW Originals taking the upper hand. Shida gets Ruby in the corner and unloads with punches. She hits a missile dropkick on Ruby. Ruby hits back with a knee to midsection. Toni tags in and Shida counters her to tag in Baker. Baker hits a twisting neckbreaker but Toni kicks out of the pin. Some distraction from Saraya on the floor allows Toni to send Baker off the apron with a hip attack. Saraya takes some shots at Baker while the referee is distracted. We cut to a break.
Baker hits a back body drop on Toni as we return. Tags to Shida and Ruby. Shida lays in with big forearms. She hits more than 15 shots before hitting a sliding forearm. She nails Toni with it and throws all of them on the floor to hit them with a suicide dive. Shida hits a jumping knee on Ruby back in the ring. Shida ducks Toni and nails a kick on her. Baker tags in and hits Air Raid Crash on Toni. Shida hits Meteora from the top rope but Ruby breaks the pin.
More back and forth leads to Ruby hitting No Future kick on Baker. Toni tags in and Baker counters her with Air Raid Crash. She hits the curbstomp but Saraya distracts the referee before he can count the pin. Toni is handed a spray can which she sprays in Baker's face. Toni hits Storm Zero on Baker to get the pinfall.
Winners – The Outcasts
Orange Cassidy is backstage and Renee Paquette tells him that 20 men went to Tony Khan to get a title shot against him. Cassidy says he will then defend AEW International title at Double or Nothing in 21-man Black Jack Battle Royal. He offers Renee a spot in the match but Renee says she is good.
---
Tony Khan is backstage and repeats the announcement of AEW Collision. He announces the line-up for arenas for Collision shows in June and July. The premiere show location will be announced next week.
Chris Jericho vs Roderick Strong – Falls Count Anywhere
Strong attacks Jericho from behind even before he can remove his jacket and follows up with quick shots. Jericho removes his jacket and starts to trade chops. Strong hits a knee before hitting a suplex. They start to trade more chops. Jericho hits a kick and a clothesline to send Strong to the floor. Strong nails him with an elbow on the apron before dropping him on the apron. Strong is in control on the floor.
Jericho hits back with stiff elbow shots and sends Strong's face into the timekeeper's table. Jericho takes Strong back to the ring. Strong blocks Codebreaker before Jericho also blocks double knees. Jericho puts Strong in Codebreaker. Strong gets to the ropes to break it. We cut to a break.
They are in the crowd as we return. Strong drops Jericho on the guard rails but Jericho kicks out of the pin. They get into the concourse area now. Jericho hits a suplex to put Strong through a table to get a near fall. Strong hits back with a bottle before dropping Jericho on a counter slab. Jericho hits back with a barricade. Strong takes him to the platform beside the stairwell. Jericho tackles Strong to get a two-count. Strong hits back with punches as they come back to concourse area.
Strong puts some softy on Jericho's face. A big righ staggers Strong before he throws a dustbin at Strong. Jericho keeps control as he takes Strong outside the building. Cole is outside and attacks Jericho. Cole unloads wth punches before hitting the Boom. Strong hits jumping knee to get the pinfall.
Winner – Roderick Strong
Rush vs Jungle Boy Jack Perry
Perry starts with quick shots to send Rush to the floor. Rush counters a suicide dive and throws Perry into the barricade. Rush keeps beating up Perry around the ring and sending him into the barricade and steps around the ring. He breaks the countdown from the referee before throwing Perry over the barricade and into the crowd. We cut to a break.
Perry tries to fight back as we return. He hits a clothesline before Rush counters and gets him on his knees once again. Perry blocks another knee before hitting a dropkick. Rush hits a superkick before Perry sets up Rush on top rope. They trade chops and headbutts before Perry hits a hurricanrana to bring down Rush. Jose The Assistant tries to divert the attention but Jungle Boy puts Rush in the snear trap. Rush has to work hard to get to the ropes.
They are on the apron now. They trade shots at the chest. Perry charges and Rush hits him with belly to belly suplex to throw him off the apron. Back to the ring, Rush boots Perry in the corner. The referee tries to get Rush away from the corner. Rush gets into an argument with the referee. Perry rolls him up and uses his trunks to get the pinfall.
Winner – Jungle Boy Jack Perry
LFI attacks Perry after the match. Darby runs out but LFI get him down. Sammy comes out and meets Rush with a knee strike on the ramp. Darby and Sammy fight Perro Peligrasso and Jose in the ring to make the save.
---
Renee Paquette tries to talk to MJF but he slaps the mic away.
---
Toni Storm is backstage with Renee and brings up 4 wins in AEW in last 5 days. She calls out AEW Women's Champion Jamie Hayter for a title match at Double or Nothing.
Jay White vs Ricky Starks
White frustrates Starks by getting out of the ring again and again. White catches Starks with an attack when he follows him back in. Starks is able to counter and drive White into the barricade. White once again catches Starks with a kick on his way back into the ring. White drops Starks on the ropes with a back body drop. White nails some big chops. Starks hits a back body drop and White rolls to the outside once again. White catches Starks with a chop as he goes outside. White drives Starks into the apron and barricade before Starks hits back with chops. Juice Robinson runs a distraction that allows White to hit a knee to midsection to take us to a break.
Starks is fighting back as we return. White kicks at his knee before Starks hits a clothesline. Starks hits an inverted atomic drop and a running back elbow. White blocks a DDT. Starks hits a back body drop and then hits a DDT to get a two-count. White hits a kick to midsection and hits a DDT himself to get a two-count. White hits a running uppercut and then drops Starks on the ropes. Starks blocks a German suplex before White hits an Urinage to get a close two-count. Starks blocks Blade Runner with back elbows.
White sends him over the ropes and to the floor. White brings him back after a while but Starks rolls him in an inside cradle for a two-count. Starks gets a near fall with some innovative cover. Starks runs the ropes for the spear but Robinson picks his leg. Starks blocks Blade Runner and runs the ropes to hit a spear. He goes for Roshambo but White rakes his eyes. The referee gets into an argument with White. Robinson brings in a steel chair but Starks snatches it away and hits Robinson with it. He then hits White with the chair despite a warning from the referee, leading to a disqualification.
Winner – Jay White(via disqualification)
The Elite Reunited!
Tony Schiavone brings out Don Callis to ask why he betrayed Kenny Omega. Security is there around the ring for his protection. Callis says he is actually the victim in this situation. Callis lists Omega's biggest moments and says they were all because of him. Omega comes out and has to attack the security. Blackpool Combat Club come out and attack Omega. Moxley hits Deathrider on Omega on the stage.
BCC get in the ring while Omega recovers on the stage. Moxley tells Omega to stay down and that they have already won this battle. The Young Bucks come with some weapons. Hangman Adam Page also comes out with an eye patch on one eye. Omega hands him the wired broom. The Elite attack BCC and brawl. They get the upper hand and surround Wheeler Yuta. Omega and The Bucks hit Yuta with 3-way BTE Trigger. Hangman hits Buckshot Lariat on Yuta.
Hangman takes the mic and says they are heart and soul of AEW… they are the Elite. He then announced BCC vs The Elite Anarchy in the Arena match.