UFC 279: Fight Card, Date, Time, Location, Tickets
UFC 279 PPV is tentatively scheduled for September 10, 2022, from Atlanta, GA or Boston, MA.
The main event is not announced for this show yet.
Check below for the complete details on UFC 279 PPV.
Event Info
Event: UFC 279
Date: September 10, 2022 (tentative)
Prelims Start Time: 8 PM EST
Main Card Start Time: 10 PM EST
Location: Atlanta, GA or Boston, MA (expected)
People also search for
Tickets
The tickets for UFC 279 are not on sale right now. We will update this section when the tickets become available.
Fight Card
In-Work
Aljamain Sterling vs. T.J. Dillashaw (bantamweight title fight)[1]
Shamil Abdurakhimov vs Jailton Almeida (Heavyweight bout)[2]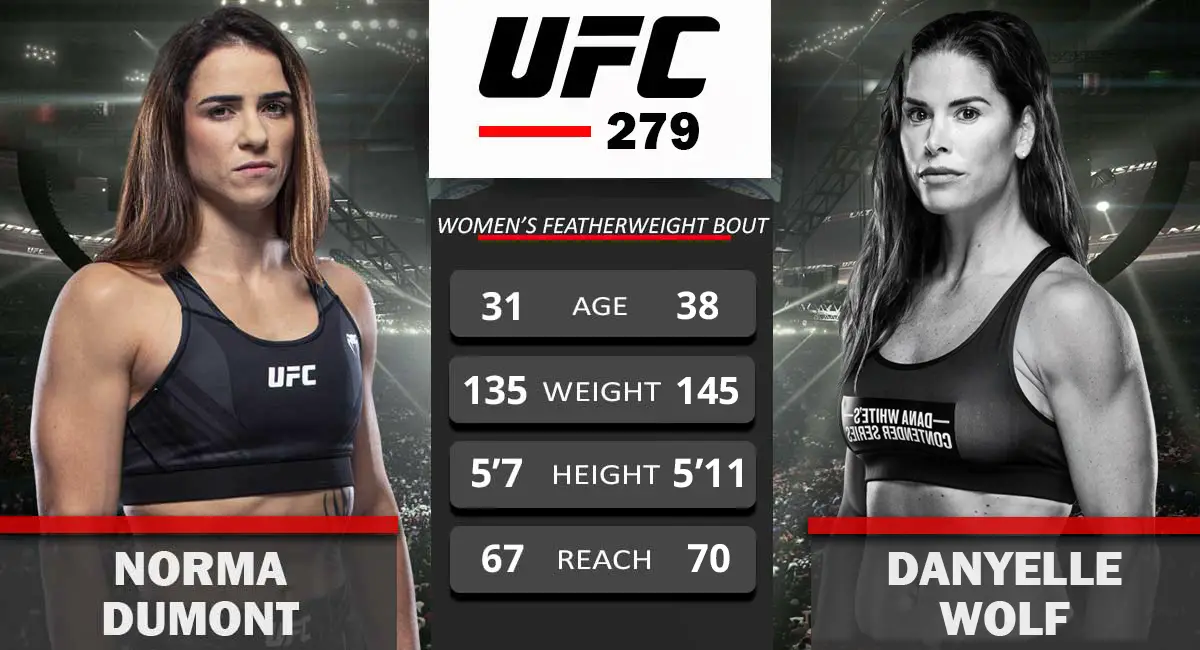 Norma Dumont vs Danyelle Wolf (Women's Featherweight Bout)[3]
Hannah Cifers vs Melissa Martinez (Women's Strawweight Bout)[4]
Macy Chiasson vs Irene Aldana (Women's Bantamweight Bout)[4]
Canceled or moved bout
News & Updates
June 23, 2022: ESPN's Carlos Legaspi revealed that Irene Aldana will be facing Macy Chaisson at this event.
June 19, 2022: Hannah Cifers withdrew from her match against Melissa Martinez due to undisclosed reasons, as per MMA Junkie.
June 15, 2022: MMA Junkie reported that a bantamweight champion Aljamain Sterling will fight against T.J. Dillashaw. more details
June 10, 2022: MMA Junkie reported Nikolas Motta vs. Cameron VanCamp and Trey Ogden vs. Daniel Zellhuber bout were moved from UFC event on September 10 to September 17.
June 3, 2022 IridiumSportsAgency reported that Dana White's Contender Series winner Louis Cosce will make his return after two years to face Trevin Giles for this event. June 10, 2022: MMA Junkie reported this bout was moved to September 17.
June 1, 2022: Reporter Lichald Scott reported that Mellisa Martinez will make her UFC debut on September 10 against Hannah Ciffers.
June 1, 2022: Jailton Almeida announced via his Instagram that he has signed a new contract with UFC and will face Shamil Abdurakhimov on Sept 10 event.
May 27, 2022: Ag.Fight reported that Danyelle Wolf is expected to make her UFC debut against Norma Dumont on UFC's September 10 event. more details