UFC 278: Kamaru Usman vs Leon Edwards 2 Live Blog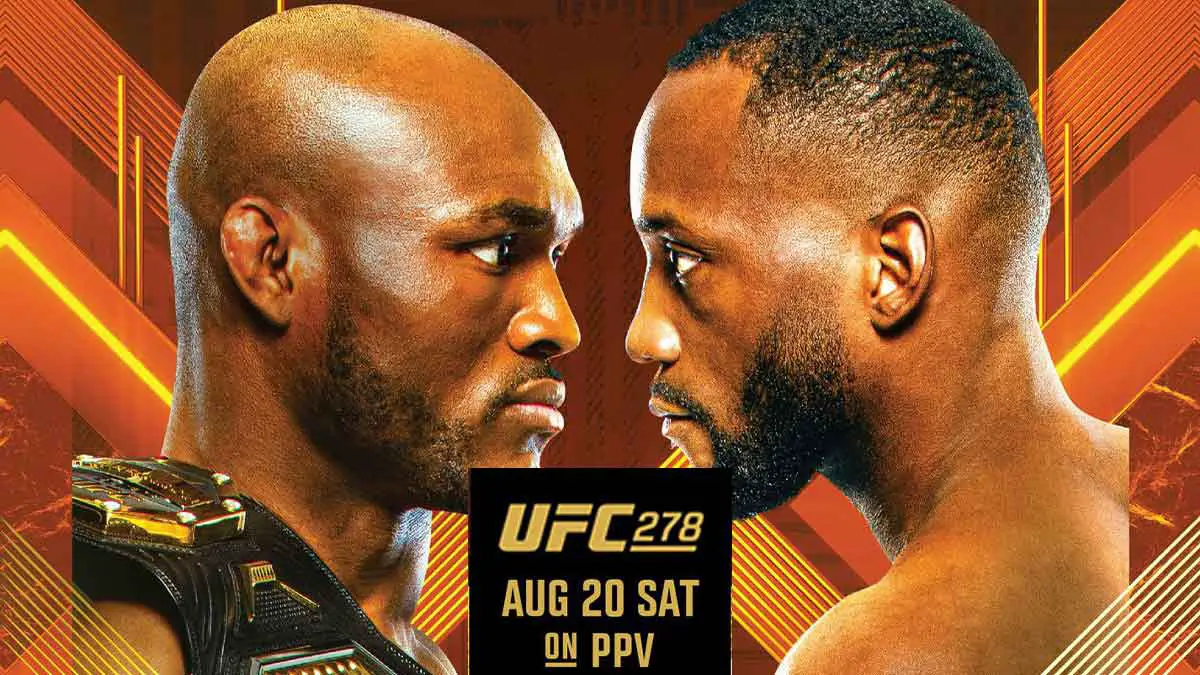 Kamaru Usman is getting ready to defend the UFC Welterweight Championship for the sixth time as he faces Leon Edwards at UFC 278.
This is the second time these two fighters are going head to head. Usman earlier fought Edwards in his second UFC bout after winning the Ultimate Fighter Finale in 2015 and managed to beat Edwards via unanimous decision.
Usman has been unstoppable since winning coming to UFC and has 15 wins in a row. He has successfully defended the title against all the top contenders in the last three years, and even defended it twice against Colby Covington and Jorge Masvidal. On the other hand, Edwards has also not tasted defeat ever since Usman defeated him in 2015. His victims includes the likes of Rafael Dos Anjos, Donald Cerrone, Vincente Luque, among others.
Will Edwards be able to prove to be a threat to Usman's title reign? We will be here with play-by-play and round-by-round updates from Kamaru Usman vs Leon Edwards 2 fight from UFC 278 PPV.
Kamaru Usman vs Leon Edwards 2 Live Updates
The main event is about to start. Leon Edwards is making his entrance after the pre-fight video package. Usman makes his grand entrance next.
Round 1: Usman catches Edwards' leg as he goes for a kick. First minute goes by without any action. Edwards attempts inside kicks. Usman defends his kicks and goes for a takedown. Edwards defends it by going to the cage. He tries to go for a takedown himself but Usman gets him to the mat. Usman jumps on his back and hits knee to his legs when he goes to the cage again. Usman keeps Edwards against the cage for a minute. Edwards trips Usman with leg sweep and and is on top of Usman now. He goes for a rear naked choke after hitting some punches. Usman is trying his best to not get caught in rear naked choke as the final minute starts. Edwards is in control though with his legs wrapped around Usman's body. Edwards starts hitting some punches in the final 10 seconds.
Round 2: Edwards starts with punches. They exchange punches now. Usman gets a bit aggressive and they get in a clinch after some punches from Usman. Usman hits high kicks and follows up with body shots. Usman is putting pressure but Edwards is calm. An accidental eye poke forces a timeout.
Usman hits a calf kick. Edwards hits his own low kick. A knee strike from Edwards before they exchange body shots. Edwards catches Usman with another knee. Edwards nails him with a punch when he was going for a calf kick. Usman pushes Edwards to the cage with some aggression. They get in a clinch. Edwards goes for a takedown. Usman controls him. Edwards almost manages a takedown but Usman is back to his feet and nails him with big body shots. Usman manages a takedown now but they are near the cage which forces his options. Usman lands some punches to end the round.
Round 3: Edwards hits a high kick as the first action of the round with 30 seconds in. They exchange shots before Usman goes for a takedown and completes it. Usman nails an elbow shot. Edwards is back to his feet and is pinned against the cage. Usman hits knees to the back of his leg. Edwards turns around and hits his knee to force a break. They trade more shots before Usman pushes Edwards back with punches and completes another takedown. Usman is keeping Edwards under control on the mat. Edwards tries to get up but Usman puts him in a front headlock, attempting a guillotine. Usman nails some punches as Edwards continues to defend. They get back to their feet in the final few seconds.
Round 4: Usman ducks a big shot 30 seconds into the round. Edwards hits a body kick. Usman fires in a calf kick. Edwards goes for a takedown but could only get a waist lock. Edwards is in control as he has Usman pinned against the cage. Usman comes out of it and completes his takedown. Usman nails some quick shots. He is unable to get on the guard though. Usman continues to be on the top. Edwards slowly makes it to his feet, but Usman is keeping him pinned against the cage. Usman hits more knees to his back. Edwards keeps working to stop Usman getting a strong grip. Usman goes for another takedown. Edwards tries to counter but fails. Edwards catches the cage and the referee calls for a timeout. He gives Usman a waistlock position as the advantage. Edwards comes out of it. Usman nails him with punches to end the round.
Round 5: Usman hits some punches. Edwards also attempts some jabs. Usman goes for a takedown but Edwards defends it. He is pinned to the cage. Not much action as Edwards is kept to the cage. They return to the middle and exchange short punches. Edwards' kick catches Usman low to force a timeout. Edwards hits a body kick as the action resumes. He is looking for his moment to land a kick. And he lands a big body kick to drop Usman for good. Edwards wins it with just a minute to go. The kick landed on Usman's face. He feints a right kick and then landed a left kick right to Usman's face. Beautiful from Edwards!
Official Decision: Leon Edwards wins via KO(kicks) at 4:04 in round 5 to win UFC Welterweight Championship.