UFC 278: José Aldo vs Merab Dvalishvili Live Blog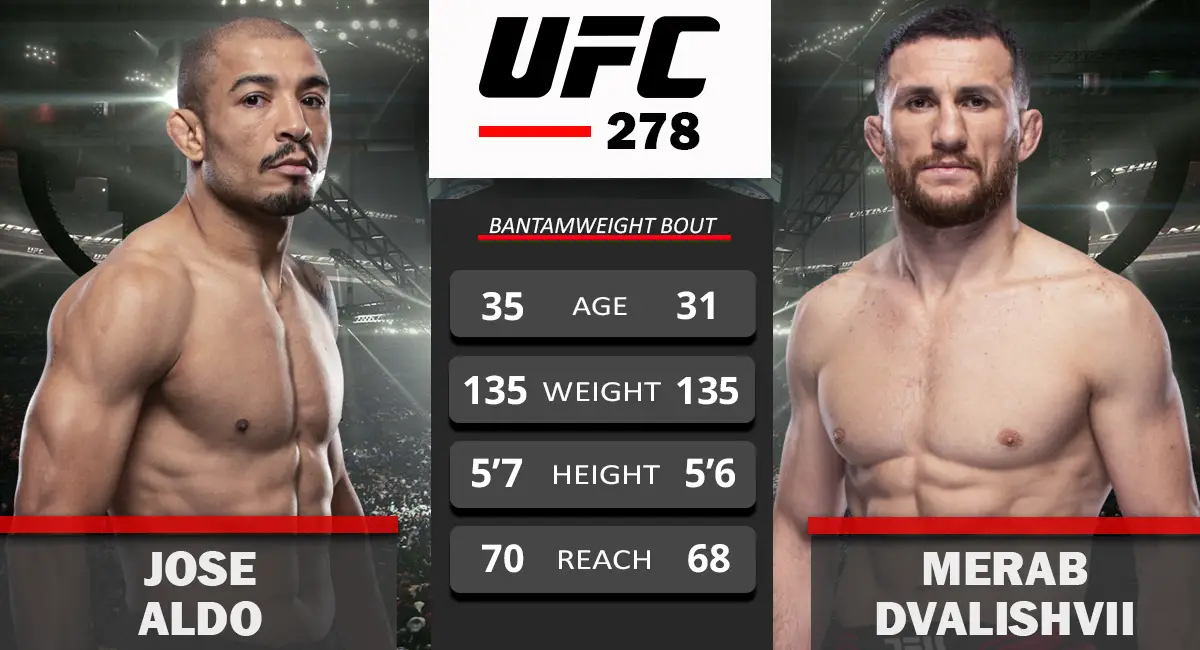 José Aldo will be facing Merab Dvalishvili as both fighters enter the cage for the first time this year at UFC 278 main card in a bantamweight bout.
Both fighters are on impressive winning streaks in different stages of their career. Dvalishvili has won 7 fights in a row in UFC after his first two bouts in the promotion resulted in losses. Aldo has made a late resurgence in his career with a move to bantamweight and has won his last three fights against solid opponents.
Aldo thinks that he should be next in line for a title shot if manages to defeat Dvalishvili. On the other hand, Dvalishvili could also make the same claim as he currently sits at #6 at UFC Bantamweight ranking. Who will emerge victorious in this top-ranked bantamweight clash?
Tune in as we will post round-by-round and play-by-play live updates from José Aldo vs Merab Dvalishvili bantamweight fight from UFC 278 PPV.
José Aldo vs Merab Dvalishvili Live Updates
The bout is about to start now. We are currently in the pre-fight video packages.
Round 1: Merab starts with a roundhouse kick and Aldo defends it. Nothing much in the first minute as both men are keeping their distance. Merab is starting to push forward now attempting some punch and kicks. He goes for a double leg but Aldo defends it by going against the cage. Aldo hits a jab at the body now. He nails a calf kick next. Merab gets in a couple of kicks going. Aldo fients more kicks as the fourth minute starts. Merab tries for a takedown again and Aldo defends it against the cage. He nails Aldo with a left hook on the break. Aldo hits a left and right combo. Dvalishvili pins some calf kicks in the final 30 seconds. Aldo nails a knee and a couple of punches in the final seconds.
Round 2: Both men are feeling out each other to start this round. A jab from Merab before he goes for a takedown attempt. Aldo gets his back on the cage as he defends it again. Dvalishvili starts hitting Aldo's knee with knee strikes as Aldo is pinned against the cage. Aldo is hitting punches on the back of his head. This continues for more than a minute before they break. Aldo hits a combo on body before attempting a high kick. Dvalishvili goes for a takedown again. Aldo defends it against the cage again. They trade shots while in a clinch. Merab hits a shoulder strike. They return to the middle breifly before Merab goes for a takedown again to pin Aldo against the cage. They break after 20 seconds. They trade strikes in the middle as the final minute starts. Aldo htis a calf kick. Merab attempts another takedown. Aldo hits a knee strike in his ribs. Merab hits a spinning back fist. They end the round in a clinch.
Round 3:Dvalishvili goes for a single leg again but fails once again. He hits a knee when Aldo was against the cage. Merab is looking as the agressor in the first minute, but could not get any significant strike for a while. Aldo attempts a few jab before he lands a left. Merab hits a body shot when they get in a clinch almost. Merab counters a knee with a combo. He lands another combo. Aldo is backtracking almost throughout this round so far. Aldo tries to reach out with punches. Dvalishvili attempts another single leg but it results only in a clinch. He hits knee to knee. Aldo manages to defend his attempts to throw him down. Merab continues to hit knee strikes to leg as the final minute starts. He hits more shots and knees on his body. Aldo breaks his grip just as the round ends. Dvalishvili is already on the top of the cage as might have just won this fight.
Official Decision: Merab Dvalishvili won via unanimous decision(29-28, 29-28, 30-27).