Bellator 286 Results LIVE, Patricio Freire vs Adam Borics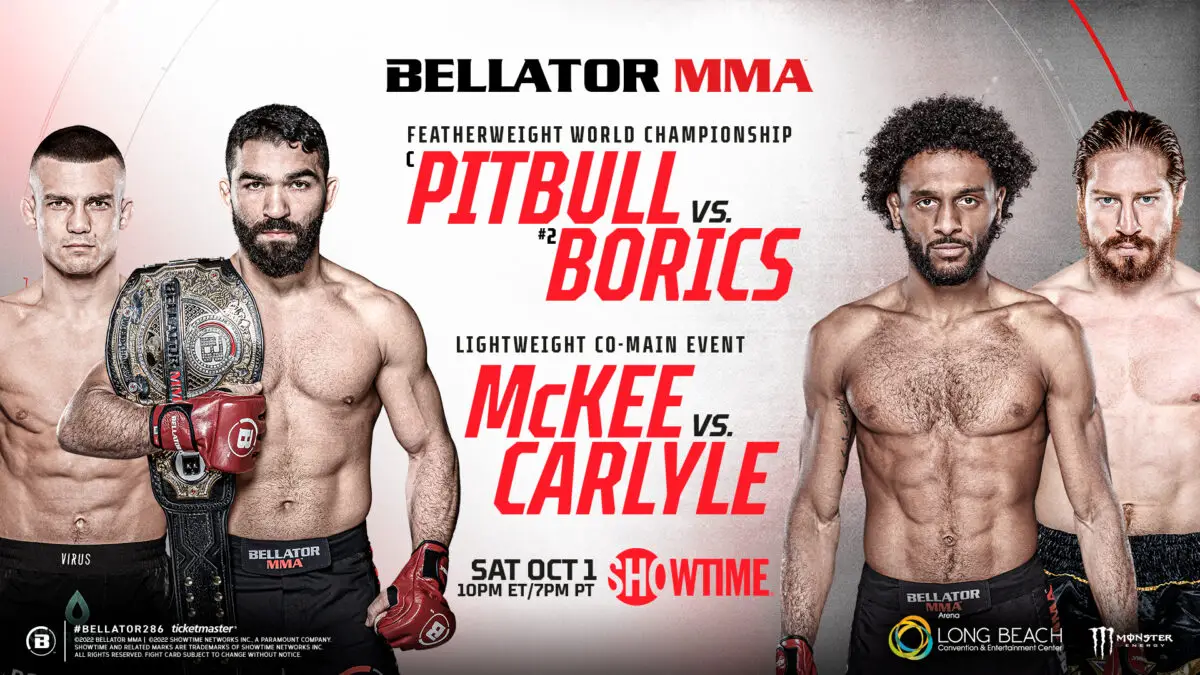 Bellator 286: Pitbull vs Borics arrives to Long Beach in California with two big fights in the main event and co-main event.
In the headliner, Bellator Featherweight Champion Patricio Pitbull will defend the title for the first time in his third title reign against the #2 ranked Adam Borics. Pitbull won the title back from AJ McKee at earlier this year at Bellator 277. Borics is coming off 4 wins in a row and has won 9 out of his 10 bouts in total in Bellator.
The co-main event bout will see AJ McKee jump to the Lightweight division as he looks to bounce back from his first career and title loss to Patricio Pitbull in April. He will face Spike Carlyle who will be taking part in just his second bout in Bellator. Carlyle was in action for Rizin most recently and defeated Koji Takeda via submission.
Aaron Pico vs Jeremy Kennedy from the featherweight division and Juan Archuleta vs Enrique Barzola from the bantamweight division are the other two bouts on the main card. Tune in as we post results from Bellator 286: Pitbull vs Borics event below with a complete card and more details.
Results
Prelims Card
No.
Match
Weightclass
Winner
1
Cee Jay Hamilton vs Richard Palencia
(Watch Video)
Bantamweight bout
Cee Jay Hamilton won via TKO at 0:12 of round 2
2
Dominic Clark vs Lance Gibson
(Watch Video)
Lightweight Bout
Lance Gibson won via submission at 1:49 of round 1
3
Weber Almeida vs Ryan Lilley
Featherweight Bout
Weber Almeida won via split decision (28-29, 29-28, 29-28)
4
Sumiko Inaba vs Nadine Mandiau
Women's Flyweight Bout
Sumiko Inaba won via unanimous decision (29-28, 30-27, 30-27)
5
Khadzhimurat Bestaev vs Khalid Murtazaliev
(Watch Video)
Middleweight Bout
Khalid Murtazaliev won via TKO(punches) at 3:02 of round 2
6
Vladimir Tokov vs Jay Jay Wilson
Lightweight bout
Jay-Jay Wilson won via Split Decision (29-28, 28-29, 29-28)
7
Nick Browne vs Islam Mamedov
Lightweight Bout
Islam Mamedov won via Unanimous Decision (30-27, 30-27, 30-27)
8
Miguel Peimbert vs Bobby Seronio III
Bantamweight bout
Bobby Seronio III won via Unanimous Decision (30-27, 30-27, 30-27)
Main Card
No.
Match
Weightclass
Winner
1
Juan Archuleta vs Enrique Barzola
141 lbs Catchweight Bout
Juan Archuleta won via unanimous decision (30-27, 30-27, 30-27)
2
Jeremy Kennedy vs Aaron Pico
Featherweight Bout
Jeremy Kennedy won via TKO (Shoulder Injury) at 5:00 of round 1
3
Co-main Event
Spike Carlyle vs A.J. McKee
Lightweight Bout
A.J. McKee won via Unanimous Decision (29-26, 30-26, 30-27)
4
Main Event
Patricio Freire vs Adam Borics
Featherweight Championship Bout
Patricio Freire won via Unanimous Decision (48-47, 49-46, 50-45)