Devin Haney vs Vasiliy Lomachenko Results from Prelims, Main Card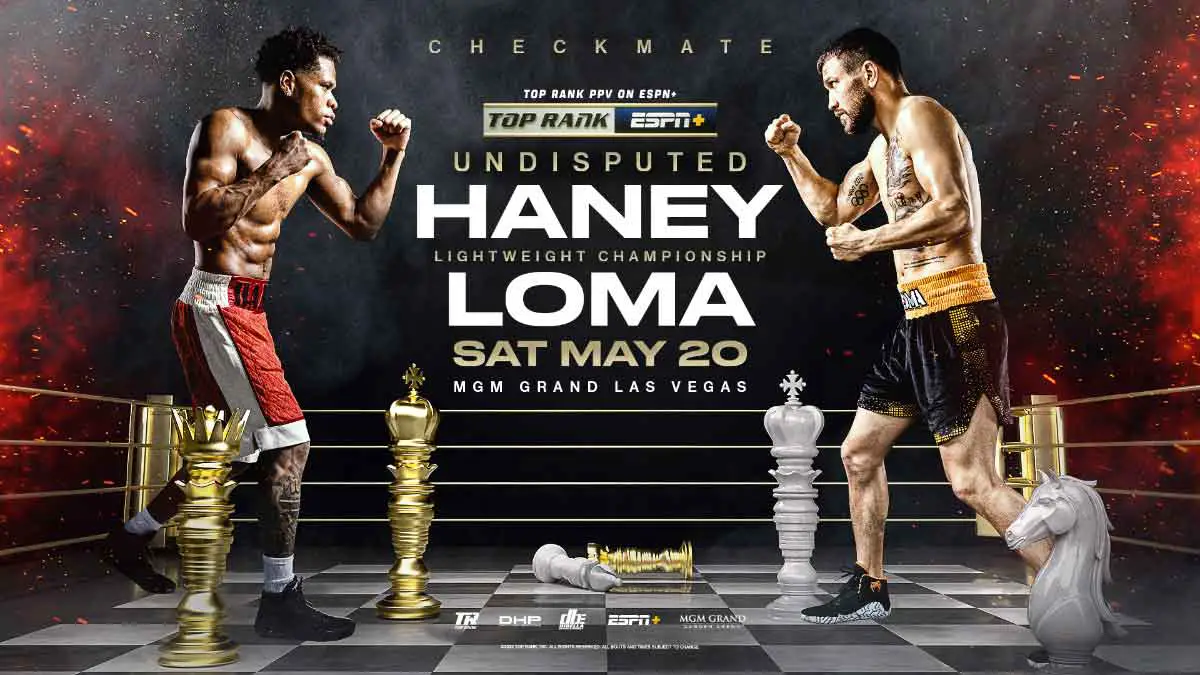 Welcome to the live results page for Devin Haney vs Vasiliy Lomachenko PPV event for prelims, main card and ppv card.
Devin Haney defended undisputed lightweight title for the second time. He faced a challenger who he wanted to face 4 years ago as the challenger himself in Vasiliy Lomachenko. Lomachenko was WBC Champion when Haney was the interim champion. Instead of facing Haney at the time, Lomachenko decided to get the tag of being a franchise champion moved to bigger fights.
Haney was promoted as the WBC Lightweight champion and defended the title 3 times. Lomachenko was set to face Kambosos for the other 3 world lightweight titles but he got called in to defend Ukraine. Haney then snatched those 3 titles from Kambosos to become the first undisputed champion in the lightweight division despite many believing there are atleast a couple of fighters better than him in the division.
Lomachenko can be considered one of the best in the division and would make top 5 current lightweights of any fan or pundit. But, would it be easy for him to beat Haney as the undisputed champion? Tune in below to find out as we post results from prelims, main card and PPV card.
PPV card had Oscar Valdez vs Adam Lopez rematch along with a clash between Raymond Muratalla and Jeremiah Nakathila, Nico Ali Walsh and Junto Nakatani vs Andrew Moloney bouts were on the main card. Emiliano Vargas, Floyd Diaz and Abdullah Mason grace the prelims card.
RESULTS
Prelims Card
Amari Jones def. Pachino Hill via TKO at 1:16 of round 6 – 6 rounds Middleweight bout (Watch Video)
Abdullah Mason def. Desmond Lyons via TKO in round 6 – 6 rounds Lightweight bout (Watch Video)
Floyd Diaz def. Luis Fernando Saavedra via unanimous decision(80-72, 80-72, 79-73) – 8 rounds Super Bantamweight bout
Emiliano Vargas def. Rafael Jasso via TKO at 1:41 of round 2 – 4 rounds Lightweight bout (Watch Video)
Main Card
Nico Ali Walsh vs Danny Rosenberger ended in split draw (77-75, 75-77, 76-76) – 8 rounds Welterweight bout
Junto Nakatani def. Andrew Moloney via KO at 2:42 in round 12 – 12 rounds bout for vacant WBO Super Flyweight Championship (Watch Video)
PPV Main Card
Raymond Muratalla def. Jeremiah Nakathila via TKO at 2:48 in round 2- 10 rounds Lightweight bout
Oscar Valdez def. Adam Lopez via unanimous decision(98-92, 98-91, 97-93) – 10 rounds Super Featherweight bout
Devin Haney(c) def. Vasiliy Lomachenko via unanimous decision(115-113, 115-113, 116-112) – 12 rounds bout for Undisputed Lightweight Championship(WBA Super, WBO, WBC & IBF)