Terence Crawford vs Shawn Porter- Live Results Blog, Play by Play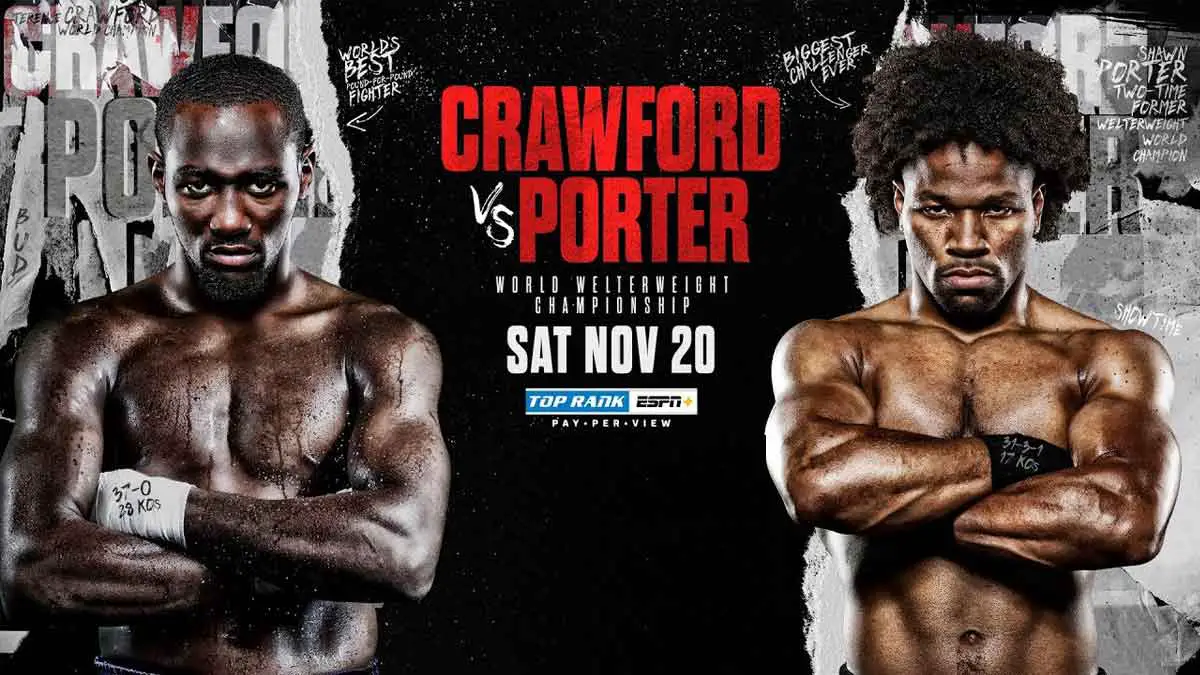 Welcome to the live results blog for Terence Crawford vs Shawn Porter WBO Welterweight title fight which will main event ESPN+ PPV on November 20, 2021.
Crawford(37-0) will defend the title for the fifth time and first time in over a year. He will be facing his toughest test till date in Shawn Porter(31-3-1), who is himself a multiple times Welterweight Champion. Both men would be hoping to set themselves for bigger and better things with a win here.
The main event is expected to start around 11 PM ET, and you can join us as we bring you play-by-play and round-by-round updates from Terrance Crawford vs Shawn Porter bout and the results from the main card.
Results
Terrance Crawford def. Shawn Porter via TKO (corner stoppage) in 10th-round – WBO Welterweight Championship Bout – Main Event
Ezquiva Falcao def. Patrice Volny split dec. (58-57, 56-58, 58-56) – IBF Middleweight Eliminator Bout – Co-main Event
Janibek Alimkhanuly defeated Hassan N'Dam via TKO in eighth-Round – Middleweight Bout
Raymond Muratalla defeated Elias Araujo via TKO in fifth-Round – Lightweight Bout
Live Updates
Round 1: Porter starts on the front foot as Crawford takes his time to analyze his opponent. Porter tries to force him on the ropes but eats right hands from Crawford. Porter's offense is cut off. Crawford jabs at Porter who swings back. Porter jabs the body. A pretty even round ends here.
Round 2: Sharp jabs from Crawford to start. Porter also remains busy. Crawford lands a hook before Porter recovers to land overhead right of his own. Some quick exchanges in the middle of the round. Crawford once again lands a hook. Porter gets better of their exchanges as the round nears end.
Round 3: Porter charges forward but some good movement from Crawford limits the damage. Crawford takes body shots as they start slugging. Porter gets cut over his right eye.
Round 4: Early exchanges between them. Crawford comes out with solid combo to knocks Porter back. Porter lands good 1-2 halfway through the round. Crawford counters left hands. He forces Porter in the corner. Porter charges back and lands an uppercut.
Round 5: Porter comes out with solid right hands to start this round. Crawford lands a left to counter. Porter is doing most of the damage in this round and mauls in the clinch. Crawford is being patient as he just lets Porter wail on him. He lands some body shots as the round comes to an end.
Round 6: Crawford lands some nice shots to start. Porter gets in close in the clinch and fires away his shots. Porter goes 2-1 but eats a clean left hand. Some good exchanges before Porter gets cut open in an accidental headbutt.
Round 7: Crawford is right on the money to start this one. He lands his jabs, hook, 1-3 combinations. Porter ties him up and hits from his other hand. They get into a clinch in the corner after Porter lands a solid right. Jabs from Crawford recieves some counter lefts.
Round 8: Crawford comes out strong with good counters. Porter lands his shots but Crawford is far more effective now. Porter with overhand right to start another clinch. Crawford lands a big body shot.
Round 9: Crawford is getting hold of Porter's movements now. He is able to counter far more effectively. Porter with some body shots as they get into clinch. Some good exchanges follow. Crawford counters with left hands as the round closes.
Round 10: Crawford lands yet another counter left and Porter gets dropped. Porter gets back up and another combo drops Porter. Porter's trainer and father Kenny Porter throws in the towel.
Official Decision: Terrance Crawford defeated Shawn Porter by TKO(corner stoppage)