Terence Crawford vs Shawn Porter: Card, Tickets, How To Watch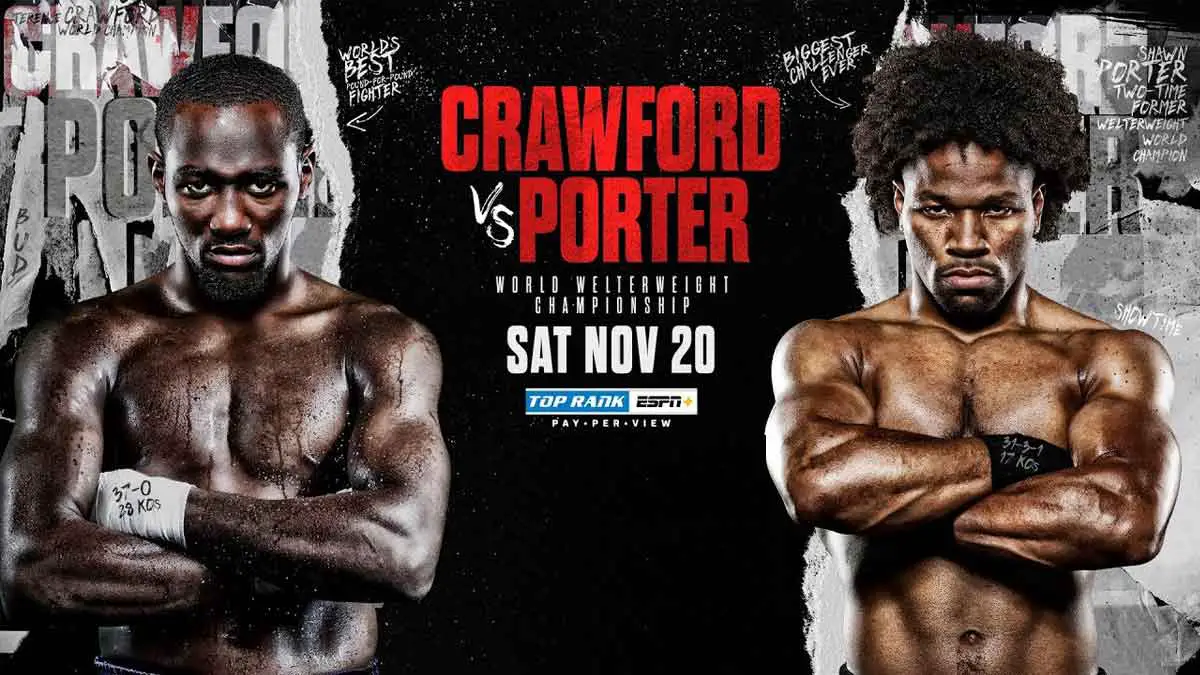 Terence Crawford is set to defend his WBO Welterweight title against #2 ranked and former IBF and WBC Welterweight Champion Shawn Porter on November 20, 2021, in Las Vegas. Top Rank Boxing will promote the event in conjunction with Premier Boxing Champions.
Read on to find the complete details for Terence Crawford vs Shawn Porter Boxing PPV with date, location, tickets, how to watch or live stream the event, tale of the tape, news and updates and more information.
Preview
WBO ordered Crawford to defend the WBO Welterweight Title against Shawn Porter, who is the #2 ranked title contender for the division. The purse bid was finalized on September 14, 2021 and the fight was announced for November 20, 2021 at Michelob Ultra Arena in Las Vegas.
Porter is considered the most challenging opponent for Crawford until now in his undefeated pro-boxing career. Porter is a two-time Welterweight Champion, having held the IBF title in 2013-14 and WBC title in 2018-19. He also holds a win over current WBA Welterweight Champion Yordenis Ugas.
Crawford has been undefeated in his career thus far and has held the WBO Welterweight title for more than 3 years now. Before that, he has also held titles in the light welterweight division and lightweight division.
How To Watch/Live Stream Online
Crawford vs Porter is picked up by ESPN+ as a PPV event. The price of the event is going to be $69.99. You can buy the PPV from ESPN+ from the below link.
In UK, the event can be brought via Sky Sports Box Office.
Tickets
Crawford vs Porter will take place at Michelob Ultra Arena on the Las Vegas Strip in Paradise, Nevada. The tickets are available to buy at the below link. The upper deck tickets are priced from $76 to $200. The lower deck has tickets priced from $180 to $850 and the floor tickets are available for $800 to $3000.
Tale of the Tape
| | | |
| --- | --- | --- |
| Boxer Name | Terence Crawford | Shawn Porter |
| NickName | Bud | Showtime |
| Role | Champion(WBO Welterweight title) | Challenger |
| Age | 34 | 33 |
| Height | 5′ 8″ (173 cm) | 5′ 7″ (185 cm) |
| Country | United States | United States |
| Reach | 74 (188 cm) | 691/2″ (177 cm) |
| Stance | Southpaw | Orthodox |
| Record | 37-0-0 | 31-3-1 |
| KOs | 28 | 17 |
Check: Terence Crawford vs Shawn Porter- Live Results Blog
Undercard (Fight Card)
Terrance Crawford(c) defeated Shawn Porter via TKO (corner stoppage) in round 10 – WBO Welterweight Championship Bout – Main Event
Ezquiva Falcao defeated Patrice Volny via split decision (58-57, 56-58, 58-56) – IBF Middleweight Eliminator Bout – Co-main Event
Janibek Alimkhanuly defeated Hassan N'Dam via TKO in Round 8 – Middleweight Bout
Raymond Muratalla defeated Elias Damian Araujo via TKO in Round 5 – Lightweight Bout
Crawford vs Porter Fight Purse
The purse bid for Crawford vs Porter came at $10 million. the purse will be split in 60-40 ratio with Crawford $6 million as the base salary. Porter will get $4 million in base salary.
News & Updates
November 17, 2021: Crawford believes that PBC has put Porter against him to compare his performance with Errol Spence. "I feel like he got caught up in the media, everyone saying, 'Oh, you should fight Terence.' I feel like they (PBC) were using him as a steppingstone to see how me and Shawn fight go, comparing me and Errol [Spence's] performances against him."
November 16, 2021: Crawford believes he will have a bigger market after beating Porter. He told Sky Sports, "I can solidify my greatness on my own just by fighting the people that I am able to fight, like Porter. After this is over I will look for other fighters just like him. I feel like, after Porter, the market will be bigger for me to fight a bigger name. Everything will work out to the best of my ability."
November 15, 2021: Crawford said that he is not thinking about future fights during his appearance in The Last Stand podcast with Brian Custer. He said, "My main focus is on Shawn Porter at the end of the day. I'm not overlooking Shawn Porter in any way, shape, form or fashion. Any fight down the line ain't even on my mind right now."
November 14, 2021: While responding to Porter's comments that Benavidez gave Crawford the most difficult fight of his career, Crawford said, "Let's not say when they[Denavidez and Porter] sparred what happened. So, he personally know how good Jose Benavidez is because he shared the ring with him as well, so."
November 10, 2021: "Terence Crawford knows that if he beats me, there's nobody else in the world that can beat him. I think he knows that I am the only one in the world that can beat him," said Shawn Porter.
November 9, 2021: Crawford told ESPN that PBC is trying to avoid Errol Spence Jr., Keith Thurman, and Yordenis Ugas in front of him and using Porter as a pawn. "They[PBC] is trying to use Shawn as a pawn because they know Shawn is going to fight anyone. If I do too good, they [Thurman and Spence] might back up even more."
November 9, 2021: The undercard is revealed for this bout. The complete card is available above in this page here.
November 9, 2021: The price for the PPV is revealed. Fans in United States can buy the event for $69.99.
November 1, 2021: Shane Porter revealed that he plans on getting a knockout against Crawford,. He told Fighthype, "I'm prepared to throw all the heat necessary to get this guy out of there. The mechanics can make the difference in certain situations. I'm flat out trying to knock this dude out."
October 28, 2021: Crawford stated that he believes Keith Thurman is a bigger fighter. He told Fighthype, "I believe Keith Thurman is the bigger fight [than Porter] in my eyes, but Keith Thurman is doing whatever he's doing. And I feel Keith Thurman was considered the #1 fighter in the division. Whether anybody likes it or not, Keith Thurman WAS considered the #1 guy in the division. Pacquiao beat him, but nobody else beat him."
October 26, 2021: Crawford told ESPN's Mark Kriegel "On paper, it is my toughest test. Shawn Porter has been in the ring with all the champions In the welterweight division except Manny Pacquiao."
October 25, 2021: Crawford said that he is no more friends with Porter after their fight was fixed. Crawford Fight Hub TV, "Earlier this year, it was cool. Me and Shawn have always been cool. We ain't never had a problem. Once it's confirmed that we're fighting, all that other stuff goes out the window. We ain't friends no more in my eyes.
October 22, 2021: Shane Porter believes that his legacy is on the line in the fight against Crawford. "I'm sure I'm on the brink of getting into the Hall of Fame. For me, it's not only- win or go home. It's win, or nothing else. My life right now it's all about beating and dominating Crawford. My legacy will depend on beating Terence Crawford."
October 14, 2021: Porter said on Get Up! on ESPN, "I have looked at his resume. I've dissected everybody he's been in the ring with, and I just think that I have a combination of things that no one he's been in the ring with to this point has had."
October 2, 2021: Crawford believes that he could become #1 pound-for-pound fighter if he beats Porter. "They will be saying that's the reason why he is pound-for-pound the number-one fighter in the world. I guarantee you that," Crawford said on Get Up! on ESPN.
September 14, 2021: Purse bid completes and the fight is announced for November 20 as an ESPN+ PPV.
July 31, 2021: WBO ordered Crawford to face #2 ranked contender Shawn Porter.