Welcome to ITN's Live Results & Updates blog for the WWE Friday Night SmackDown episode of 8 November 2019 (11/8/2019).
Date- 8 November 2019
Location- Manchester Arena, Manchester, UK
Telecast Timing- 8 PM EST(9 November 2019 1 AM GMT/6:30 AM IST)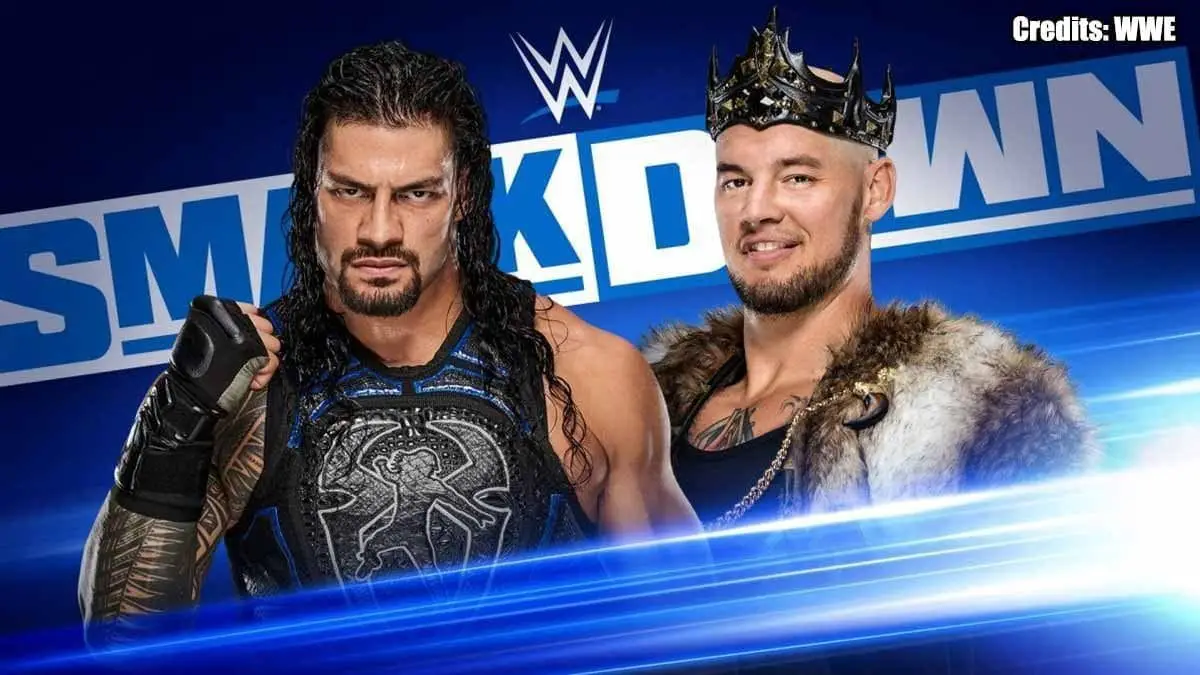 The show opens with the highlights from the NXT invasion last week. We go to the SmackDown theme song before the Pyro opens the show. Michael Cole and Corey Graves welcome us.
King Corbin
Baron Corbin comes out to open the show and the crowd is booing him. He starts by talking about how Survivor Series is going to be Smackdown vs RAW vs NXT. The crowd starts chanting NXT and Corbin tells us that the blame for audience siding with NXT goes to the locker room leader Roman Reigns. Corbin lists all Roman's achievements and the crowd starts clapping. The new King shits on the crowd and then on Roman, saying his testicles have shrunk, his Shield buddies have abandoned him and he now takes more time in meeting with the kids and with her family. As per Corbin, Roman does not consider WWE Universe his family now. Corbin says Reigns isn't man enough to come and face him in the ring. He promises to beat him in the main event tonight.
Big E and Kofi are running around backstage. Kayla Braxton catches them and asks about their title match against The Revival and whether they have any advice for Xavier Woods at home. Big E advises Woods to take his dumps in time and Kofi tells him that he is not in prison. Kofi puts over The Revival but assures that they will win the title for Woods. Big E then jokes that if they won't win the title tonight, how will they be able to match Charlotte Flair's record.
The Revival vs The New Day – WWE SmackDown Tag Team Championship Match
Kofi starts with some roll-ups before Wilder decks him. The Revival takes Kofi to the corner but he fights back and tags in Big E. The New Day with a quick double team moves to get a near fall. Dash counters a few moves and comes down hard on his knee. We go to a break as the referee checks on him.
It turns out that Wilder was faking the injury. He now has control over Big E. Big E turns things around and hits a belly to belly suplex. Dawson and Kingston get the tag and Kofi goes wild. He sends both members of The Revival out of the ring and takes them out with a dive. Kofi hits a crossbody from the top rope. He misses Trouble in Paradise when Wilder helps Dawson avoid it.
The Revival hits a superplex and splash combo but Big E breaks up the pin. Kofi hits the SOS to Wilder for two. Big E gets the tag but Dawson and Wilder double team to hit him with a Tornado DDT. They hit a German suplex and uppercut combo for a near fall. Kofi gets the bling tag and Big E holds Wilder so Kofi can hit Trouble in Paradise on him. Kofi with the lateral press gets the win and the New Day are once again the Tag Team Champions.
Winner- The New Day(New SmackDown Tag Team Champions)
We see Roman Reigns arriving to the building. Shorty G stops him and warns him about what Baron Corbin said earlier.
Backstage, Sami Zayn stops Daniel Bryan and says Bryan would've defeated WWE NXT Champion Adam Cole last Friday if he would have joined him and Shinsuke Nakamura. Sami goes on about how he can help Bryan, his career, and his family and if Bryan does not believe him, just ask Cesaro and Nakamura what he's done for them. Sami says Cesaro and Nakamura will be in tag team action tonight. He invites Bryan to join him at ringside to watch the match.