WWE SmackDown Results October 28, 2022- Bloodline vs Brutes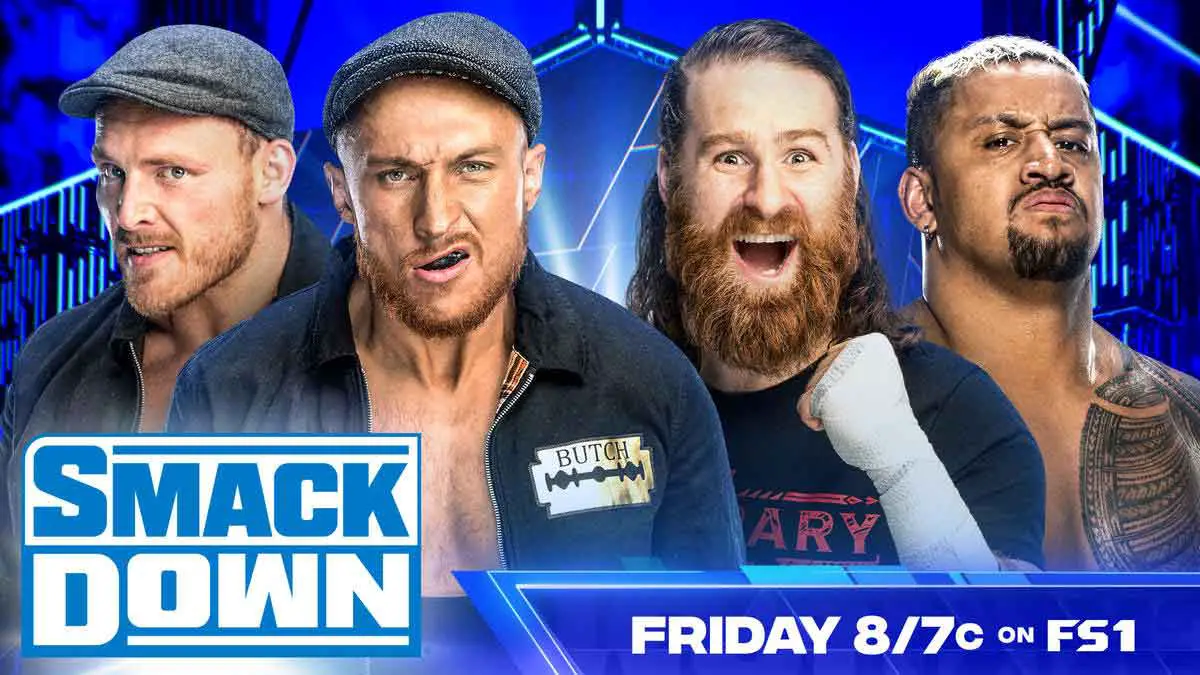 WWE SmackDown will be airing live on October 28, 2022 from Enterprise Center in St. Loius, MO, as we move towards the final phase of build-up for Crown Jewel 2022 event.
Roman Reigns appears on the show as he might be having headaches due to divisions in The Bloodline and how easily Jey Uso was dropped by Logan Paul last week. The Bloodline's Solo Sikoa and Sami Zayn will take on the Brawling Brutes' Butch and Ridge Holland.
Ronda Rousey has issued an open challenge for her SmackDown Women's Championship. Hit-Row will bring in a mystery partner to face The Brawling Brutes. How will Karrion Kross respond to Drew McIntyre's car crash from two weeks back?
Tune in below to find out as we post live results from WWE SmackDown October 28, 2022 episode with complete updates, highlights and winners.
Results
The Brawling Brutes(Butch & Ridge Holland) defeated The Bloodline(Solo Sikoa & Sami Zayn) in a tag team match via pinfall.
New Day(Xavier Woods & Kofi Kingston) defeated Maximum Male Models(Mansoor & Mace) in a tag team match via pinfall.
Ronda Rousey(c) defeated Emma in an open challenge via submission to retain WWE SmackDown Women's Championship.
Hit-Row(Top Dolla & Ashante "Thee" Adonis) & Shinsuke Nakamura defeated Legado Del Fantasma(Santos Escobar, Cruz Del Toro & Joaquin Wilde) in a tag team match via pinfall.
Karrion Kross defeated Madcap Moss in a singles match via pinfall.
Live Updates
Butch & Ridge Holland make their entrance to open the show. We get a quick recap of how The Bloodline beat up Sheamus last week and how Logan Paul dropped Jey Uso with one punch. We cut to Gorilla Position where Sami Zayn tells Jey Uso that they need give a win to Roman Reigns and all hands are on deck. The Bloodline make their entrance.
The Bloodline(Solo Sikoa & Sami Zayn) vs The Brawling Brutes(Butch & Ridge Holland)
Butch and Sami start the match. Butch hits a kick before they run the ropes. Butch hits a dropkick and tags in Holland who hits a body slam. Butch comes back and joins Holland in hitting 10 beats of Beltran. Solo gets a blind tag and runs over Butch with a big clothesline. Jimmy takes a cheap shot on Butch from the floor. Sami tags back in and hits a kick to Butch's midsection. Solo tags in but Butch catches him with a knee to knock him off the apron. Butch sends Sami to the floor with a low bridge and hits him with a knee dive. Butch argues with The Usos and Solo hits him with a clothesline from behind. Solo drops Butch on the apron to take us to a break.
Butch avoids a corner splash from Solo as we return. Solo hits a spinebuster and tags in Sami. Butch kicks Sami away and tags in Holland who hits a couple of flying tackles. He hits a series of corner clothesline before Sami hits a big boot. Holland hits a spinning side slam. Solo takes a tag and hits a superkick and a Samoan drop to get a near fall. Solo talks trash to Holland. Holland puts him in a grip and they trade headbutts. Holland hits a clothesline and both men are down. Butch and Sami get the tag. Sami hits a right hand and a boot.
Butch goes for a cloverleaf but Jimmy gets to the apron to eat an enzuigiri from Butch. Sami hits exploder suplex on Butch but Butch avoids Helluva kick. Butch hits a big boot and goes to the top. Jey pulls out Sami as Butch was going for a moonsault. Sami starts arguing with Jey that he had Butch. Solo trips Butch and tries to bring peace between Jey and Sami. Holland runs over them with a running tackle. Sami gets back to the ring and Butch gets him in an inside cradle to get the pin.
Winner- The Brawling Brutes
Does Roman has a Solution?
Butch and Holland run back quickly. The Bloodline start to argue within them in the ring. Jey is alone on one side. Even Jimmy gets in Jey's face as the arguments continue. Roman Reigns' music hits and he comes out with Paul Heyman. We cut to a break.
"Roman" chants from the crowd as we return. Roman asks the crowd to acknowledge him before moving on quickly. Roman says he will treat Jey and Sami like kids. He wants them to lay it all out on the table because he wants this problem fixed. Sami says there is a communication breakdown with Jey specifically. He says he does not understand what's going on but he does not seems to like him since he started hanging out with Bloodline. He is just sorry for whatever he did to offend him and asks Jey to bury the hatchet once and for all. He offers a handshake. But Jey just broods.
Jey takes the mic and tells Sami to get his hand away from him. He tells Sami that he does not like him, his hair, his face, his shirt and he does not like that Sami is around his family. Jey asks how can Sami be in Bloodline when he is not blood. Jey calls Sami a fake. Sami asks him why is he yelling at him when he just doing what Tribal Chief wants. Jey yells he does not give a damn about what The Tribal Chief wants. Roman suddenly sparks to life hearing that line.
Roman starts walking towards Jey but Sami tells him that Jey is not himself and he is not feeling Ucey lately. Roman and Jey both crack up at that line, suddenly the environment has changed. Roman asks Jey is that is the case that he is not feeling Ucey. He tells Jey that they will change Sami's name to make his part of the family. Sami will now be called Sami Uso. Jey is shocked. The crowd roars. Sami is exhilarated. Paul Heyman takes the mic and ends the segment by plugging in Roman's match against Logan Paul at Crown Jewel.
---
We get another vignette from The Viking Raiders and Sarah Logan as they pray to their Gods.
Maximum Male Models(Mansoor & Mace) vs New Day(Xavier Woods & Kofi Kingston)
Woods and Mansoor start. Mansoor breaks an arm wrench and poses. He puts on an arm wrench himself but Woods counters quickly and brings him down to hit a senton. Kofi tags in and hits a suplex/crossbody combo. Woods tags in again and hits a double ax handle on Mansoor's arm as Kofi holds it. Maxxine runs a distraction for the referee and Mace slams Woods' face to the mat. Mace tags in and hits a double tackle with Mansoor. Woods avoids Mansoor when he is whipped to the corner. Kofi gets a hot tag and hits dropkicks on Mansoor after a few tackles. He knocks off Mace before hitting boom drop on Mansoor. Mace runs another distraction and Mansoor hits a corner splash. Woods hits a dropkick on Mace on the floor. Kingston counters against Mansoor and tags in Woods to hit Midnight Hour to get the pin.
Winner- New Day
Kayla Braxton is backstage with Sonya Deville. Kayla asks her if she would answer Ronda's open challenge. Sonya says she would not reveal the element of surprise, but can definitely say that Liv Morgan won't answer the open challenge. Sonya once again says Liv did not deserve the championship when she won. Liv attacks Sonya and unloads on her until the security takes her under control.
---
Braun Strowman cuts a promo backstage. He says there is always someone bigger and stronger than you. He says Omos is bigger than him but not stronger. Strowman talks about him flipping cars, trucks, etc. He says Omos will find that no giant is too big for Monster of All Monsters.
Ronda Rousey(c) vs Emma – WWE SmackDown Women's Championship
Ronda makes her entrance and says she is not fretting over the fans not acknowledging how active their champion is as only great recognizes great. She does not want to waste much time and asks for her challenger to come out. Emma makes her return to answer the challenge. We cut to a break.
They lock up and Ronda pushes Emma to the corner. Ronda trips Emma a couple of times. She goes for Piper's Pit but Emma slides out and gets a two-count with a roll up. Ronda kicks her to the floor. She throws Emma into the steel steps. She charges at Ronda but misses her and hurts her knee in the steel steps. Back to the ring, Emma puts Ronda in tarantula using the ropes. Emma hits a crossbody for a two-count. Ronda slips to the floor and traps Emma in Rondaconda using the bottom ropes. Ronda toys with Emma before hitting a knee right to Emma's face. Ronda puts her in a choke using her leg.
Emma hypes up, breaks up the choke and unloads with punches. Ronda hits her with a kick but Emma drops her with a clothesline. Ronda picks her up and Emma unloads with more punches. She hits a side Russian Leg Sweep to get a two-count. Ronda avoids a charge and puts Emma into an ankle lock. Emma struggles but holds on. Ronda breaks the lock. Ronda misses a roundhouse kick and Emma hits a deadlift suplex. Emma hits a crossbody in the corner to get a near fall. Ronda counters double underhook and pushes her into the referee. Ronda rakes Emma's eyes and hits Piper Pit before getting a submission via armbar.
Winner- Ronda Rousey
Jey Uso is backstage with Paul Heyman talking and ranting on Roman about Sami Uso. Heyman says sometimes Roman has to see things from his own perspective and he will talk to him about it.
---
Shayna Baszler hugs Ronda Rousey and congratulates her on winning her match tonight. Natalya comes in and tells Ronda that she is lucky Natalya could not answer her challenge. Baszler nails Natalya with a big shot from behind and chokes her.
Hit-Row(Top Dolla & Ashante "Thee" Adonis) & Shinsuke Nakamura vs Legado Del Fantasma(Santos Escobar, Cruz Del Toro & Joaquin Wilde)
B-Fab reveals that Shinsuke Nakamura is their mystery partner. Hit-Row get into the ring and Legado attack them immediately. Hit-Row take control though and first send Wilde flying with a monkey flip by Adonis. Top Dolla hits a crossbody in the corner. Nakamura boots Escobar in the corner. Zelina tries to get Escobar going but B-Fab hits her with a pump kick. We cut to a break.
Toro has Adonis under control as we return to the match underway. Toro hits corner clothesline before other two member tag in to do the same. The quick tags continue. Escobar hits double knees before hitting a double team suplex. Toro hits a dive from the top. Nakamura gets the tag and takes on all three opponents one by one. He hits a flurry on strikes on Escobar before dropping him with a sidekick. A sliding German suplex is followed by a kick on Toro. Top Dolla gets a tag and hits Toro and Wilde with World's Strongest Slam. Escobar hits a dropkick but Top Dolla counters and hits him with Top Down three. Nakamura hits kinshasa on Toro to get the pin.
Winner- Hit-Row & Shinsuke Nakamura
Paul Heyman is trying to talk to Roman Reigns. He shows Roman a footage of Logan Paul boxing. Roman asks Heyman why are they watching it. Heyman says it just takes one lucky punch. Heyman says he knows a doctor that knows Logan Paul's doctor and came to know that Logan has steel pins in his arm after he broke his arm once. Heyman tries to continue to make Roman series about his title defense.
---
LA Knight gets interviewed by Kayla Braxton backstage and gets mad at announcer not getting his hometown right and asking how hard it can be. Ricochet comes in and tells him to not act like he is god's gift to SmackDown. LA Knight says he is in fact God's Gift to SmackDown. They continue to argue for a while.
Karrion Kross vs Madcap Moss
They lock up and Moss gets on Kross' waist. Moss hits an atomic drop and a knee. Moss hits chops in the corner. Kross fires back with big rights before dropping Moss with a boot. Kross whips him across the ring before Moss hits a knee and clotheslines him to the floor.
Kross hits a Saito suplex as we return. He continues to unload in the corner. Kross hits a clothesline before an elbow to midsection and a boot to the face to get a two-count. Kross nails him with another elbow. Moss hits back with punches but runs into a back elbow to get a two-count. Kross whips him hard to the corner before hitting a suplex to get a two-count. Kross puts on an armbar but Moss gets to the ropes quickly. Moss hits some elbows to his neck before some punches.
Moss hits a couple of clothesline and a running tackle. Kross nails him with a big elbow. Moss hits a spinebuster to get a two-count. Moss hits a fallaway slam and corner tackles. Scarlett distracts Moss. Kross hits a big boot on Moss before hitting a back suplex. Kross hits a clubbing blow to the back of Moss' head and gets the pin.
Winner- Karrion Kross
After the match, Kross puts Moss in Kross jacket. Scarlett hands him a mic and Kross says Moss put up better fight than McIntyre as McIntyre is a coward and that history will repeat itself in Steel Cage match. Kross continues to choke Moss until the officials get him break the hold.
---
Rey Mysterio is getting interviewed backstage to hype his Intercontinental title shot next week. Imperium attacks him suddenly and Gunther drops him with a big chop.
Uncle Howdy!
Bray Wyatt makes his entrance through a door set up on the stage. Bray takes the mic once he gets into the ring. He says this is all pretty new for him and but is excited and has adrealine flowing through. He wants us to know that it is just him and us and there is no mask or smoke he is hiding behind. This is just Bray Wyatt and he is proud to be here today and he will do some spectacular things. He talks about feeling range of emotions something and not feeling anything at all other times.
The screen starts flickering and we see a man on the big screen. He asks, "Who am I? I am just a ghost of the man who sew the world itself." This man continues to talk on the screen and reveals that he is Uncle Howdy.