WWE SmackDown Live Results October 14, 2022- Wyatt, Sami v Kofi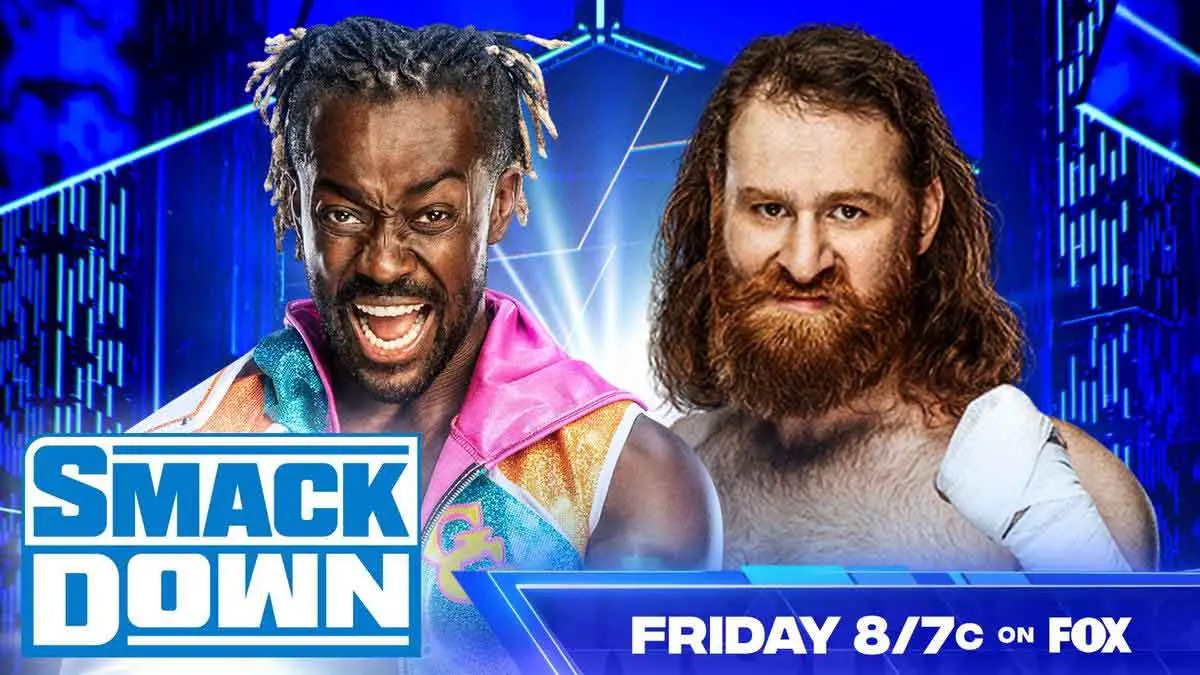 Welcome to the live results blog for WWE SmackDown October 14, 2022 episode as the show takes the storylines forward towards Crown Jewel 2022 event.
Brat Wyatt will make his first appearance on SmackDown in 2 years where we might come to know more about his latest White Rabbit character and whether he has a stable with him or not this time around.
Two matches are announced at this point. Sami Zayn tries to redeem himself as he faces Kofi Kingston in a singles match. LA Knight's first appearance on SmackDown will see him face Man.Soor in another singles match. Roxanne Perez will arrive to SmackDown to pick an opponent for Cora Jade for next week's NXT episode.
We might also know what will happen with Drew McIntyre and Karrion Kross, WWE Smackdown Women's Champion Ronda Rousey and Liv Morgan, and Brawling Brutes and Imperium in the fallout of Extreme Rules.
Tune in below as we post live results from WWE SmackDown October 14, 2022 episode with live updates, winners, highlights, complete action and videos.
Live Updates
The show starts with camera in the parking lot. Karrion Kross and Scarlett have been involved in an accident. Officials are checking on them as they look hurt. Drew McIntyre runs in and attacks Kross. He slams Kross against a car. Security takes Drew away. Drew keeps screaming, "This is just the beginning!"
We cut to the commentary after the opening song and some pyro. Michael Cole and Wade Barrett recap Kross vs Drew from Extreme Rules and how Scarlett cost Drew the match by using pepper spray. Kross is supposed to be in the #1 contender match for Intercontinental Championship later tonight against Sheamus, Ricochet and Solo Sikoa.
---
Kofi Kingston and Xavier Woods make their entrance. They remind us how they have been the longest reigning tag team champions on 483 days, and they want to defend that record. We cut to backstage where Sami Zayn is talking to Solo Sikoa. Jey Uso comes in and tells us Jimmy is not here tonight. Sami tells Solo to stay back as he has a match later. Sami tells Jey he will in Sami's corner. Jey and Sami argue over how Jey did not help Sami on Monday in match against Matt Riddle. Roman Reigns calls Sami and also talks to Jey, telling him to ensure Sami's win. Sami enters with Jey for the match.
Sami Zayn vs Kofi Kingston
Kofi starts with a waistlock. Sami whips him to the corner. Kofi hits a dropkick and Sami goes to the floor. Kofi feints a suicide dive as we cut to a break.
Sami hits an elbow shot from the second rope as we return. Sami chokes Kofi against the ropes until the referee reaches 5 count. Sami hits a suplex next. He goes for hip attack in the corner, but also hurts his own butt. He hits an elbow drop on Kofi's back. Kofi tries to fight back by Sami drops him with a clothesline. Sami hits a body slam. Kofi catches him midair with a dropkick as Sami jumps from the top.
Kofi drops Sami with ax handles and dropkicks. Sami counters by slamming him to the mat for a quick two-count. Kofi hits a jumping knee to get a two-count. Kofi goes to the top now. Sami tries to push him, but Kofi drops him back with a headbutt. Sami pushes Kofi to the floor in the second attempt. We cut to a break.
Kofi hits SOS as we return to get a two-count. Sami goes for exploder in corner. Kofi blocks it with elbows. Kofi goes to the top again. Sami rolls to the floor to avoid a move. Kofi hits him with a suicide dive instead. Kofi takes Sami back in quickly. Jey hits Woods with a superkick on the floor. Sami drops Kofi with Blue Thunderbomb as Kofi gets distracted by this. Kofi hits a Gamengiri to counter Helluva kick. Kofi hits a flying clothesline from the top rope. Sami rolls up Kofi after Jey distracts him. Kofi rolls up Sami now. Jey kicks him to assists Sami into a roll-up to get a three-count.
Winner – Sami Zayn
Triple H is backstage talking to Police. Rey Mysterio comes in and wants to talk to Triple H. Rey says with everything going on RAW with Dominik, he can't fight his son. Rey gets emotional talking about Dominik. Rey then says he can't do this anymore and he quits. Triple H tells him that he understands what he is going through, and wants him to talk to him for a while. They go into Hunter's room. We cut to a break.
---
Roxanne Perez is backstage with Shotzi Blackheart. Raquel Rodriguez comes in. Raquel says Roxanne should be careful of her former tag team partner Cora Jade. Roxanne asks Raquel to be Cora's opponent for NXT next week. Bayley and Damage CTRL come in and Bayley takes offense on being overlooked. Roxanne says Bayley is not on a winning streak. Bayley replies that they will embrass all three of them tonight.
Braun Strowman James Maverick & Brian Thomas – Handicapp Match
Braun drives Thomas to the corner and nails an elbow to Maverick. He tackles both of them. He hits a corner splash on Maverick before throwing him across the ring. Omos is walking down the stairs from the crowd. Strowman stares at him. Thomas tries to attack from behind. Strowman tackles him again. He hits a running power slam on Maverick. Strowman picks up Thomas as he stares down Omos and MVP. Strowman hits a powerbomb on Thomas as he drops him on Maverick. Strowman puts his legs on Thomas to get the pin.
Winner – Braun Strowman
MVP cuts a promo from the front row. He says Strowman is not a monster in front of Omos, but he looks normal against Omos. He tells Strowman that some monsters are meant to stay in the shadows always.
---
Sami Zayn is hyping up Solo Sikoa. Jey Uso tells him to thank him for his assist. Sami says he won the match on his own. Solo also agrees. Sami hypes Solo to go through other 3 to become the #1 contender for IC title.
LA Knight vs Mansoor
Maxxine Dupri comes out to the stage. He introduces Mace, the hieght of fashion, and Mansoor, the swab of something. All three pose on the stage before moving to the ring. We see how Max Dupri proclaimed that he is LA Knight last week. LA Knight makes his entrance. Wade Barrett is hyped for Knight's entrance.
Mansoor tries to attack Knight from behind as Mace was distracting him. Knight ducks him and unloads in the corner. He hits a clothesline to send Mansoor to the floor. Maxxine gets in Knight's face. Mansoor attacks Knight from behind Maxxine. Mansoor continues with the attack after they return to the ring. He hits a DDT next. Knight lands on his feet to counter a suplex. Knight hits a neckbreaker and driving knee from the apron before hitting a torpedo. Knight hits another clothesline. Mace gets hit with low dropkick to be dropped off the apron. Knight hits BFT to get the pin.
Winner – LA Knight
Knight takes the mic and puts the whole locker room on notice.
---
We get a recap of Bray Wyatt's return at Extreme Rules.
Damage CTRL(Bayley, Dakota Kai & Iyo Sky) vs Roxanne Perez, Shotzi Blackheart & Raquel Rodriguez
Roxanne starts against Dakota. She ducks a clothesline and hits a couple of armdrags before a headscissor takedown. Iyo comes in to hit a side headlock takedown. Roxanne trips her. Iyo lands on her feet off a hurricanrana. Iyo unloads and takes Roxanne to the corner. Roxanne fights them off as Bayley tags in. Bayley is hit with a suicide dive on the floor. She hits Russian Leg Sweep on Bayley. Bayley distracts the referee and Dakota takes a cheap shot at Roxanne.
Dakota tags in. Roxanne skips past her to tag in Shotzi. Shotzi goes back and forth with Dakota until she gets the control. She knocks Dakota to the floor. Sky helps Dakota to take control. Shotzi knocks off Iyo and Bayley from the corner. Dakota gets the hot tag.
Raquel hits an elbow and a clothesline on Bayley before hitting a fallaway slam. Dakota saves Bayley from a corner splash. Bayley stops a double-team move. Raquel tries to fight off Iyo and Dakota but they work together to take Raquel down. Shotzi hits a suicide dive on Sky and Kai. In the ring, Roxanne rolls up Bayley for a two-count. Bayley hits her with Bayley to Belly for a near fall. Bayley goes to the top and Roxanne hits her with a hurricanrana from the top for a two-count. Roxanne blocks Roseplant but Bayley puts her in a crucifix to get the pin.
Winner – Damage CTRL
Hit-Row(Top Dolla & Ashante "Thee" Adonis) vs Legado Del Fantasma(Cruz Del Toro & Joaquin Wilde)
We get a recap of Legado Del Fantasma's debut last week and how they attack Hit-Row. Hit-Row make their entrance to take us to a break.
All four of Legado Del Fantasma come out, but only Del Toro and Wilde come down the ramp. Top Dolla and Adonis attack them on the ramp and send them into the barricade. They continue to beat Legado up for a while. Wilde is taken into the ring and the referee stops Hit-Row from more attack. He checks on Wilde if he wants to continue. The bell rings and Top Dolla beat up Wilde some more. He hits an elbow drop. Santos Escobar comes in and trips Adonis off the apron and into the steel steps. B-Fab is attacked by Zelina Vega. Wilde nails Top Dolla with a superkick in the ring. Del Toro tags in for their double team finisher to get the pin.
Winner – Legado Del Fantasama
Sonya Deville gets interviewed backstage and she mocks Liv Morgan for being handed opportunity after opportunity and how she lost the title to Ronda Rousey. Liv attacks Sonya and drops her on a production rack. Liv continues to beat her up and sets her up on a table. Morgan climbs a scafolding and hits Sonya with a senton through the table.
Solo Sikoa vs Sheamus vs Rey Mysterio vs Ricochet – #1 contender match for Intercontinental Championship
Rey Mysterio has replaced Karrion Kross in the match. Solo picks up Ricochet, but Ricochet sends him to the floor with dropkick. Rey hits Ricochet with a hurricanrana to send him to the floor. Sheamus is sent to the floor with a low bridge. Mysterio hits a suicide dive to take them all down.
Ricochet is unloading on Sheamus as we return. Sheamus drops him with a clothesline. A backbreaker is hit on Mysterio. Sheamus hits a powerslam on Ricochet. Sheamus was getting ready for Brogue kick but Solo Sikoa cuts him to drop Ricochet with a clothesline. Solo and Sheamus face off in the middle before starting to trade blows. Sheamus hits him with a tackle to send him to the floor. Solo hits Sheamus with a Samoan Drop on the floor. Ricochet hits a dive on Solo while Mysterio hits a basement slide on Sheamus.
Back to the ring, Mysterio hits a dropkick after a single leg takedown. Mysterio goes for a sunset flip for a two-count. Ricochet hits a suplex to get a two-count. Ricochet has to roll through from a 450-splash. Solo hits Ricochet with a backsplash before slamming Mysterio to the corner. Sheamus is hit with a spinning heel kick from Solo to take us to another break.
Solo is in control as we return. He headbutts Mysterio. Sheamus hits a big punch to his midsection. Solo and Sheamus trade shots. Sheamus hits a boot from the corner to send him to the floor. Sheamus goes to the top. Ricochet jumps up, but Sheamus fights him off until Mysterio joins Ricochet in attacking Sheamus. Solo throws Mysterio and Ricochet from Tower of Doom. Sheamus hits a clothesline from the top rope on Solo. Sheamus hits 10 Beats of Beltran on Solo, but actually goes to hit 26 beats.
Solo blocks White Noise but Sheamus hits him with a backbreaker. Sheamus puts on cloverleaf. Jey Uso and Sami Zayn get involved and Sheamus sends them back to the floor. Jey and Sami unloads on Sheamus on the floor. Butch and Ridge Holland come down to save Sheamus. The Brawling Brutes and The Bloodline brawl on the floor. Ricochet blocks 619 in the ring. Rey hits him with a hurricanrana and sets up 619. Rey hits 619 and frog splash to get the pin.
Winner – Rey Mysterio
Bray Wyatt Returns!
The arena goes dark. The door appears once again on the stage from which Bray Wyatt came out at Extreme Rules. The lantern appears again and Bray Wyatt comes out holding it. He swings the lantern around as he gets into the ring. Wyatt puts out the lantern and a spotlight is on him now.
Bray Wyatt gets emotional as he gets on the mic. Bray says this is just genuinely him, a version of him that he never got to introduce to the fans. He says he lost so much in last year- his way, his career, his two close friends. He thought he does not matter to anyone, but he was wrong. But when he went outside, people would say thank you and ask him when is he coming home. He reveals how he met so many fans who told him that he saved their lives. Wyatt says he can sit today and tell us that we were there for him when he was down.
Suddenly, the big screen starts flickering and the White Rabbit appears. He gives his message,
Oh little one, my little little one. Come with me. Your life is done. Forget the future. Forget the past. Life is over. Breathe your last. You have got no idea who your are dealing with. Do You? Oh, but you will. Ha ha ha. You will.

White Rabbit on SmackDown October 14, 2022 episode
The screen fades to black before the firefly logo appears for a second to close the show.