WWE SmackDown Jan 14, 2022: Results, Preview, Match Card, Tickets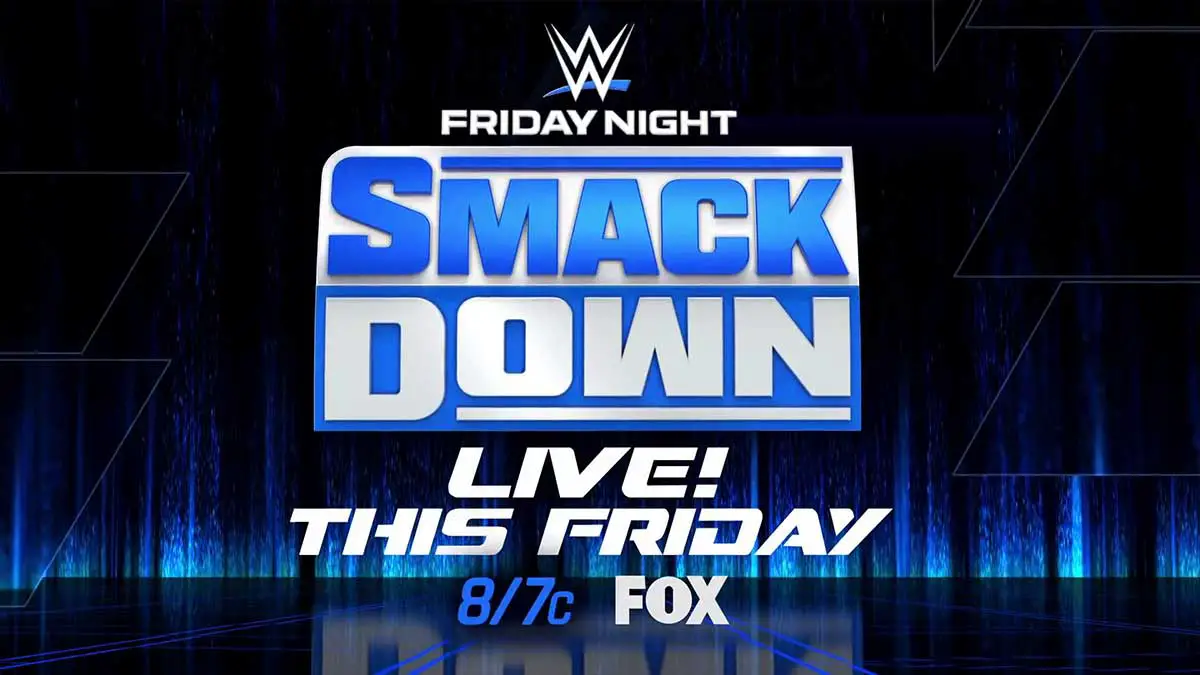 WWE SmackDown episode of January 14, 2022, will continue to build up towards the Royal Rumble 2022 event. The event will air live from the Chi Health Center, Omaha, NE.
Keep on reading to check the complete details on the January 14, 2022 episode of WWE Friday Night SmackDown.
Show – WWE SmackDown
Date – January 14, 2022
Location – Chi Health Center, Omaha, NE, US
Time – 8 PM EST (January 15 – 12 AM GMT)
Commentators – Pat Mcafee & Michael Cole
Interviewers – Kayla Braxton, Megan Morent
Referees – Tom Caster, Darrick Moore
Ring announcer – Samanta Oden
Match Card & Results
The Viking Raiders(Eric & Ivar) defeated Cesaro & Mansoor, Los Lotharios & Jinder Mahal & Shanky in a fatal 4-way via pinfall to become the #1 contenders for Tag Team Championship.
Aliyah defeated Natalya in a singles match via pinfall.
Sheamus defeated Ricochet in a singles match via pinfall.
Madcapp Moss defeated Kofi Kingston in a singles match via pinfall.
Live Updates
The show opens with the recap from last week's segment between Roman Reigns and Brock Lesnar. We also see how Seth Rollins is announced as the next challenger for Reigns. We cut to Rollins laughing at the camera in a sadistic manner.
The Viking Raiders vs Cesaro & Mansoor vs Los Lotharios vs Jinder Mahal & Shanky – #1 Contender for Smackdown Tag Team Championship
SmackDown Tag Team Champions The Usos are in the ring. They talk about beating New Day last week and that New Day push them hard. Moving on from it, They should be celebrating or helping Tribal Chief for face to face with Seth Rollins. But, the management has lined up their challengers. The Usos mimic an announcer to bring out the participants.
All four teams are brought in one by one. They mimic an MMA referee and announcer to tell all the participants about the rules before nailing Cesaro and Mansoor with superkicks. The bell rings and all teams start to brawl. We cut to a break.
Mansoor and Humberto are fighting as we return from the break. Mansoor hits an inverted atomic drop. Cesaro comes in and hits a backbreaker. Shanky and Eric tag in. Eric hits kicks to Shanky's leg before Shanky slaps at his chest. Mahal and Shanky work on Eric for a while in the corner. Ivar and Shanky tag in. Ivar knocks down Los Lotharios from the apron. Shanky with a big blow to Ivar before Ivar hits quick moves to brings him down.
Ivar slams Eric on Shanky. Ivar goes to the top but Mahal gouges his eyes. Cesaro joins him to bring down Ivar. Eric comes in and they do a tower of doom spot to take us to another break.
We return from the break and see Mansoor tagging out to Cesaro. Cesaro unloads on Humberto with uppercuts. He hits a Samoan drop before Ivar tags in. Cesaro hits an upper cut on Ivar and goes for the swing. Mahal cuts him off and this start a sequence where everyone start to come in with their big moves.
Los Lotharios hits stereo suicide dive on Mahal and Cesaro. They cut off Ivar with double superkicks. Ivar and Eric hits the Viking Experience out of nowhere to get the pin on Humberto.
Winners – The Viking Raiders(Eric & Ivar)
We see the replay from last week where Sonya Deville once again interferring in Naomi's match against Charlotte Flair with added stipulations and more. Noami storms into Sonya's office and tells her that toying with her is one thing but she won't let it slide when Deville interferes in her career and messes up her title shot. Naomi tries to threaten Sonya but Sonya tells her that she is the boss here and until she has the jacket on, Naomi can't lay her hands on her. Sonya threatens Naomi with fine, suspension, removal from Royal Rumble and more. Noami leaves.
Sami In-Zayn Stunt Show
Sami Zayn talks about becoming the #1 contender for Intercontinental Championship before coming to Johnny Knoxville. We get the replay from last week where Knoxville threw him over the rope after his match last week. Sami is going to perform a stunt to show us that he is better than Knoxville in every field. There is a wooden ramp set up on one side of the ring and the target is fly over the ring to land on padding on the other side of the ring where a cross is marked as the target.
Sami comes out in a trolley for the stunt with two crew members pushing him. Sami starts having jitters as he now thinks the trolley is uncomfortable, He makes excuses for a while about not being ready, stunt looking more difficult, and so on. Sami finally gives up and gets into the ring.
Sami asks the crowd that they do no want to see him getting hurt, and he is not gonna get hurt over something like this. Rick Boogs appears on the apron and Sami tells him to send a message to Shinsuke Nakamura. Nakamura appears behind Sami and runs him over with kinshasa. Boogs sends him into the padding marked with the cross sign.
Megan Morant is at Gorilla position to interview Aliyah. She asks if Aliyah is nervous to make her singles debut tonight. Aliyah says she is all nerves and she is taking on Triple Crown winner Natalya. Natalya comes up and she has a Guinness Book of World Records 2022 book. Natalya tells that there is no shame in losing to Natalya because she is the winningest woman in WWE history and holds 3 Guinness World Records. Aliyah replies that she didn't know the Guinness Book was a real thing. Aliyah maker her entrance for the match. We cut to a break.
After the break, Natalya is still at Gorilla position with Morant. Natalya says she will break another record tonight which is 3.87 seconds record for the quickest win in the women's division. Natalya maker her entrance.
Natalya vs Aliyah
Natalya starts beating up Aliyah before the bell rings. She slams her into the post and beats her around for a while. The referee checks on Aliyah to ask if she can continue. The referee was about to call it but Aliyah says she can continue.
The bell rings and Aliyah catches Natalya with a surprise rollup and gets the pin right away/
Winner – Aliyah
Aliyah celebrates at the ramp and it is announced that she has broken the record with a win in 3.17 seconds.
Lita Returns
Michael Cole is in the ring and he introduces Lita. Lita makes her entrance. Cole asks her why she decided to return to Royal Rumble. Lita says she has made more highlight reels in her career and goes on to count her accomplishments. Lita says they did not have women's Royal Rumble match in her days. She has a plan – run through 29 other women, win the Royal Rumble and main event WrestleMania.
Charlotte Flair's music hits and she comes out. Charlotte says since she is entering and winning Royal Rumble this year, she will choose her WrestleMania main event. Flair asks Lita how she will react when she crushes her dream of main eventing WrestleMania. Lita fires back by asking Flair how she will eliminate anyone with a giant head like her. The crowd gets on the Giant Head thing.
Flair brings up her match against Trish Stratus at SummerSlam 2019 and how she retired Stratus. Flair says she will do the same to Lita. Lita feints a slap and Flair gets on defensive. Lita hits her with Twist of Fate instead. Lita leaves as Charlotte recovers.
Ricochet vs Sheamus
Sheamus starts with a tackle. Ricochet puts on a side headlock. Sheamus struggles to come out of it. Sheamus comes out finally and hits another tackle. Ricochet throws Sheamus over the ring and hits top cone hilo. Ricochet brings Sheamus back to the ring but he goes out from the other side. Sheamus trips Ricochet at the apron and then catapults him into the steel below the ring.
Ricochet tries to fight back and hits some quick moves. Sheamus hits back with a forearm at the apron. Ricochet hits in his midsection to set for a springboard cutter for a two-count. Ricochet misses a 450-splash from the top and Sheamus hits him with a backbreaker. Sheamus hits his signature hammerblows to the chest. He takes Ricochet to the top on his shoulders.
Ricochet slips out and hits overhead kicks on Sheamus before a sunset flip powerbomb for a near fall. A bit of back and forth action. Ricochet goes for a sprinboard move, but Sheamus cuts him off with the Brogue kick to get the win.
Winner – Sheamus
Kofi Kingston vs Madcapp Moss
Kofi Kingston is out for his match against Madcapp Moss. But before that, he wants to announce some decree from King Xavier Woods. The announcement is for Kofi to enter the Royal rumble match. Happy Corbin and Madcapp Moss come out. Happy mocks Kofi and says he will eliminate Kofi from the royal rumble. Moss makes a poo joke on Kofi and Kofi reacts by incessant mocking laughs. Kofi then says he intends to drop some duece on Moss' head.
Kofi starts with a kick to the midsection. Moss picks him up but Kofi avoids damage and throws him to the floor beside Corbin. Kofi hits them both with a suicide dive as we cut to a break.
Madcapp is in control as we return. He hits a fallaway slam before unloading in the corner. Kofi fights back with punches and dropkicks. He hits a flying clothesline and a boom drop. He gets ready for the Trouble in Paradise but Corbin runs a distraction. Kofi hits an overhead kick. Moss catches him as he goes for the crossbody. Kofi goes for the SOS but Moss hits him with punch line to get the win.
Winner – Madcapp Moss
Seth Rollins & Roman Reigns Face to Face
Seth Rollins makes his entrance before the break. Roman comes out to the ring as we return. Roman asks the crowd to acknowledge him first and foremost. Rollins asks him to pose as the Shield for old times sake. Rollins brings up how Roman was afraid when Rollins was revealed as his opponent. Rollins reminds him how he is undefeated him in every singles match. Roman says he is in God mode now and is not bothered about the record.
Rollins asks him whether he can look in the mirror and says that he has done everything on his own. Rollins says it was Rollins who held his hands during Shield days and even now, he needs the Bloodline to help him. Rollins says he has created Roman and he can destroy him. Roman fires back saying that Rollins is a clown now, and if he wanted to main event Royal Rumble, he would have choosen Becky instead of him.
The Usos try to attack Rollins from behind but he ducks them and gets out of the ring. He ducks The Usos once again at the announce table and comes face to face with Rollins. Rollins runs away as The Usos get into the ring again. Rollins fires a warning to Roman that he will destroy him as the show comes to a close.
Tickets
The tickets for WWE SmackDown at Chi Health Center, Omaha, NE, can be booked via the link given below. The ticket prices start from $44 to $342 plus charges.
Preview
What's Next For Roman Reigns: The forthcoming episode of SmackDown will reveal whether WWE Universal Champion Roman Reigns will continue his feud with Brock Lesnar or will start a new one with his former partner, Seth Rollins.
Who will enter Royal Rumble?: While most of the names for Women's Royal Rumble match are revealed, the men's Rumble match only has 7 participants announced till now. Who else will drop their name in the hat to enter Royal Rumble?