WWE Smackdown April 22, 2022 Results, Live Updates(Preview & Card)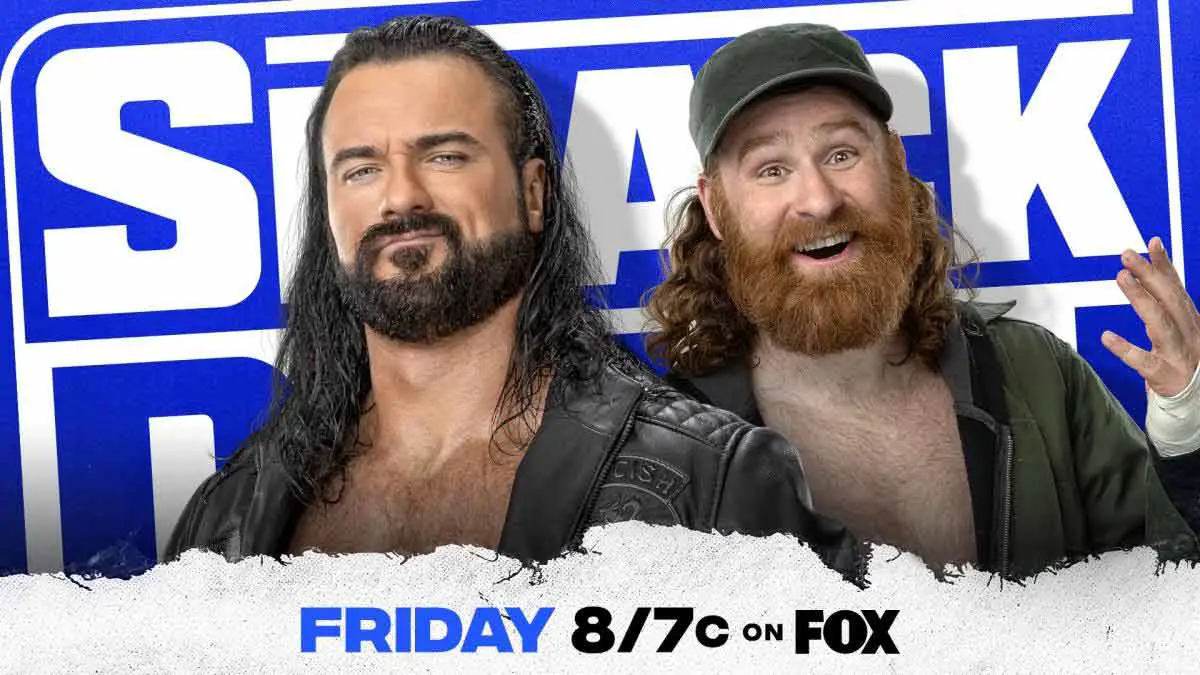 WWE SmackDown episode of April 22, 2022, will continue to build-up towards WrestleMania Backlash 2022 event. Three matches are announced for the show beforehand.
Drew McIntyre face Sami Zayn in a lumberjack match. Butch will face Kofi Kingston this week after being defeated by Xavier Woods. Madcapp Moss continues his journey of redemption as he faces Angel. The Usos and RK-Bro will continue their rivalry on the road to WrestleMania Backlash. We can also expect to know what is the next step for Universal Champion Roman Reigns.
Tune in for the results from WWE SmackDown April 22, 2022 with live updates, preview and complete match card.
Event Info
Show – WWE SmackDown
Date – April 22, 2022
Location – MVP Arena, Albany, NY, US
Time – 8 PM EST
Match Card & Results
Xavier Woods defeated Butch in a singles match via pinfall.
Gunther defeated Teddy Goods in a singles match via pinfall.
Riddle defeated Jey Uso in a singles match via pinfall.
Madcap Moss defeated Angel in a singles match via pinfall.
Drew McIntyre defeated Sami Zayn in a Lumberjack match via count-out.
Live Updates
Contract Signing
Adam Pearce is in the ring for contract signing. He brings out Charlotte Flair. We get the recap of Charlotte beating down Drew Gulak after an interview segment last week. Pearce then brings out Ronda Rousey. Both women are in the ring, but there is no contract to sign there. Pearce tells us that Drew Gulak is auditioning to be his assistant and should be bringing the contract anytime soon. Gulak comes out and tries to give a PowerPoint presentation to explain the rules of an "I Quit" match.
Flair berates him for it. She asks which maneuver will be the best for Ronda to say "I Quit." Flair then says it doesn't matter because she'll always find a way to win. Ronda brings up how the referee can't save her this time, and Charlotte gets angry and tips the table over. She has hidden a kendo stick under it and goes to unload on Ronda.
Rousey takes it away from Flair and beat her down. Drew Gulak comes from behind to pulls Ronda off. He point out that Ronda has not signed the contract yet. Ronda hits Piper's Pit on him before locking him in the armbar. Rousey signs the contract with Drew still in the armbar.
Butch vs Xavier Woods
Woods with a couple of pin attempts early. He nails punches and chops. He ducks a big swing and hits more punches. Woods turns Butch inside out with a clothesline. Butch takes down Woods and start joint manipulation on the arm. Woods reverses an arm wrench. Butch avoids a German suplex and sends Woods into the turnbuckle.
Woods sends him to the floor with a back body drop and hits a dropkick from the middle of the ring to send him over the announce table. Sheamus and Ridge Holland argue with Woods for a while. This allows Butch to jump over the steel steps with a forearm. We cut to a break.
Butch has put Woods in a stretch and works on the arm. Woods hits back with forearms and chops and punches. They run the ropes and Woods ducks a few times before dropping him with a forearm. Woods sweeps his leg. Butch fires back with a slap and follows with a release suplex for a two-count. Woods hits a DDT and holds onto a cradle to get the pin and the win.
Winner – Xavier Woods
After the match, Woods runs away to the stage immediately and celebrates with Kofi. Butch get frustrated over the second consecutive loss. He goes to the floor and into the crowd, attacking a security guy. Sheamus and Holland shouts at him but Butch goes away into the crowd.
Aliyah is talking to Intercontinental Champion Ricochet and brings up how he has defended the title in the last month. Ricochet says this is just a beginning and wants to become an all-time great. Jinder Mahal walks in with Shanky and scoffs at the idea of Ricochet being an all-time great. Ricochet replies that he can take on anyone at any time. Shanky challenges Ricochet and he accepts. After he leaves, Jinder snaps at Shanky saying it was his turn to face Ricochet, not Shanky's.
Gunther vs Teddy Goods
Ludwig Kaiser introduces Gunther and he comes to the ring to take us to the break.
The match starts as we return from the break. Gunther wrenches the arm and brings down Goods. Gunther swats him away as he goes for a dropkick. Gunther drops him with an uppercut. He unloads on the second rope before hitting a suplex from over the ropes. Gunther hits a big chop on the chest. He stomps on Goods a couple of times before hitting another thundering chop. Gunther hits a body slam before another chop on the back. Gunther puts on the sleeper hold briefly before hitting a powerbomb to get the pin and the win.
Winner – Gunther
Gunther poses in the ring after the match to end the segment.
RK-Bro are backstage and Riddle says he is so happy to be on SmackDown as he gets to meet his old friends fom the blue brand. Drew McIntyre walks in and Riddle tells Drew and Randy to bury the past hatchets. Drew replies to Orton that anyone standing to Bloodline's BS is good with him. Orton replies that they are good. Riddle tells Randy that he has signed him up to be lumberjacks in Drew's match against Sami Zayn. Orton leaves and Riddle follows. They make their entrance as we cut to a break.
We get a promo from Xia Li who says she has become her own protector now.
Riddle vs Jey Uso
Riddle with a waistlock takedown to start the match. They lock up now and Jey hits a shoulder tackle. Riddle catches him in a sleeper hold. Jey throws him away from his back and hits a big uppercut. Riddle hits a bodykick and gutwrench suplex. Jey hits back with an elbow to drop Riddle. Jey slows down the match and hits more chops.
Riddle catches him with a knee. Jey rolls to the floor. Riddle goes for a dive but Jey cuts him off on the ropes. Jey throws Riddle into the steel steps. He drops Riddle on the announce table with a side suplex, copying Randy Orton. We cut to a break.
Jey is in control as we return. Riddle nails a forearm strike. They start trading blows. Riddle goes to unloads with hooks. He follows with an overhead kick, forearms in the corner and a suplex. He misses a moonsault and a senton. Jey goes a side suplex but Riddle counters with a final flash knee. Riddle hits floating bro for a close two-count.
Jey tries to counter but Riddle hits a draping DDT. Orton drops Jimmy Uso on the announce table with a side suplex. Jey counters with a pop-up neckbreaker in the ring for a near fall. Riddle hits a running dropkick. Jey hits a superkick. He goes for a splash from the top but Riddle gets his knees up and rolls him up in a cradle for the pin and the win.
Winner – Riddle
Roman was watching this match from the back and is surprised at the finish. Riddle celebrates with Orton.
Next Challengers
Kayla asks them how everything has been since winning the tag team titles at WrestleMania. "You Deserve It" chants from the crowd. Naomi says they are walking the talk and dominating the division. Sasha talks about sisterhood and having each others' back. They start to talk about their challengers and out comes Natalya and Shayna Baszler.
Natalya tells them to not forget about them. Sasha replies that they defeated them at WrestleMania. Some arguments follow. Shayna stops Natalya from unloading on Naomi. Shayna tells them that she will break every bone in their body one by one. She pushes Sasha to the mat. Naomi picks her up. Naomi and Sasha bring up the titles and challenge to them to come for the titles.
---
Madcapp Moss is warming up backstage when Happy Corbin comes to him. Corbin says he will be the bigger man and will let him come back to his side. Moss replies that the chances of that happening are as equal to Corbin growing a full set of hair. Moss laughs off and Corbin goes away. Moss makes his entrance for the match.
---
Back from the break, we get a video package for Raquel Rodriguez.
Angel vs Madcapp Moss
Los Lotharios make their entrance and do the kiss cam again. Angel gets to the ring and the bell rings.
They lock up and Moss puches Angel to the corner. Angel comes out of the corner with a forearm. Moss gets angry and hits back with punches. He takes down Angel with a waistlock takedown. Moss takes a running start and drops Angel with a big tackle. He hits a back body drop to send Angel to the floor on Humberto.
Humberto catches Moss' leg as he was returning to the ring. Angel beats him up for a while before Moss catches him in a crossbody and slams him. Moss charges with shots in the corner. He clotheslines Humberto back to the floor as he tries to interfere. Moss hits a running tackle on Angel and then hits Punch Line to get the pin and the win.
Winner – Madcapp Moss
After the match, Moss celebrates his win. He gets distracted by Humberto on the floor and Happy Corbin attacks him from behind. Corbin drops Moss with End of Days. Corbin picks up Andre The Giant trophy and goes away with it. Moss is screaming from the ring as he recovers.
Sami Zayn Acknowledges Roman Reigns
The camera cuts to Sami Zayn backstage as he is preparing to enter Roman Reigns' locker room. He stops and rehearses what he is about to say to Roman. We cut to a break.
The Bloodline is backstage. Jey Uso assures Roman that he will not lose to Riddle again. Paul Heyman comes to them and tells Roman that Sami Zayn is here to talk to him. Sami tells Roman that he acknowledges Roman and is big fan of superman punch and spear. Sami then tells Roman about Drew McIntyre getting cosy with RK-Bro. He does not like to snitch.
Sami brings up that his reputation has taken a hit and he needs to beat Drew McIntyre. He asks for some help from Roman to beat Drew because he acknowledges Roman. Sami leaves and Roman mulls what Sami has said. Roman says Jey got beat up on his show.
---
We get another promo from Lacey Evans where she tells us that the more money his dad brought in, the more drugs follow. She did not have her mother in the important years of his life and she has to teach herself a lot of things like doing her own hair, get ready for her prom and other things. After all her struggles, she would come home only to find her dad passed out on the couch.
Drew McIntyre vs Sami Zayn – Lumberjack Match
Lumberjacks come out as we cut to a break.
Drew McIntyre makes his entrance. We get a recap of how Sami ran away from the match in last two weeks. Sami comes out for the match. As they are getting ready, The Usos come out to ringside.
The bell rings and Sami tries to run away again. He is stopped by the lumberjacks though. Lumberjacks pick him up and put him back to the ring. McIntyre tosses him across the ring. He hits a big chop in the corner. Sami uses a low-bridge to send McIntyre to the floor. Heel Lumberjacks beat McIntyre up. Face Lumberjacks have a face-off with them as we cut to a break.
Sami pushes Drew to the floor again as we return. Lumberjacks beat Drew up before throwing him back to the ring. Drew hits back with a headbutt. He follows with belly-to-belly suplex throws. He gets ready for Claymore but Sami rolls to the floor. RK-Bro try to pick him up but The Usos hit them with superkicks. Lumberjacks start to fight each other. The Usos have left for backstage.
Sami tries to run away again, but Drew brings him back. Drew is attacked by Shanky. Jinder Mahal joins him. Drew takes care of them and then hits a tope suicide on all the lumberjacks. With Drew down, Sami gets the chance to run away into the crowd.
Winner – Drew McIntyre
Adam Pearce comes out to the stage and announces that Sami will face Drew in a steel cage match next week. Drew is back in the ring now. Jinder attacks him from behind. Shanky joins him. Drew hits back with Glasgow kiss. He hits Jinder with Claymore kick. Drew poses for the crowd and gets on the announce table to close the show.
---
Preview
RK-Bro vs Usos Rivalry Continues: RAW Tag Team Champions RK-Bro will face SmackDown Tag Team Champions The Usos will clash in a tag team title unification match at Backlash. They will continue their rivalry after Riddle defeated Jimmy Uso in a singles match last week.
Lumberjack match: Sami Zayn ran away in last two weeks from his match against Drew McIntyre. So, to counter it, Adam Pearce has put him in a lumberjack match against McIntyre. Will Zayn be able to run away again?
Butch vs Kofi: Butch responds violently to the sight of New Day ever since his main roster debut. He lost his match against Xavier Woods two weeks back, which only added to his anger. This week, he will face Kofi Kingston in a singles match. Will he beat a New Day member now?
Angel vs Moss: Madcapp Moss is searching for his mojo after breaking away from Happy Corbin. He defeated Humberto in a singles match last week in a triumphant manner. This week, he faces Angel. Will this be another easy win for him?
What's Next for Roman?: Roman Reigns has been at the top of the food chain in WWE for more than 600 days now. After he has taken down Brock Lesnar at WrestleMania 38, there are very few challengers left for Roman. Who will step up to him next?