WWE Smackdown April 15, 2022- Results, Live Updates(Preview & Card)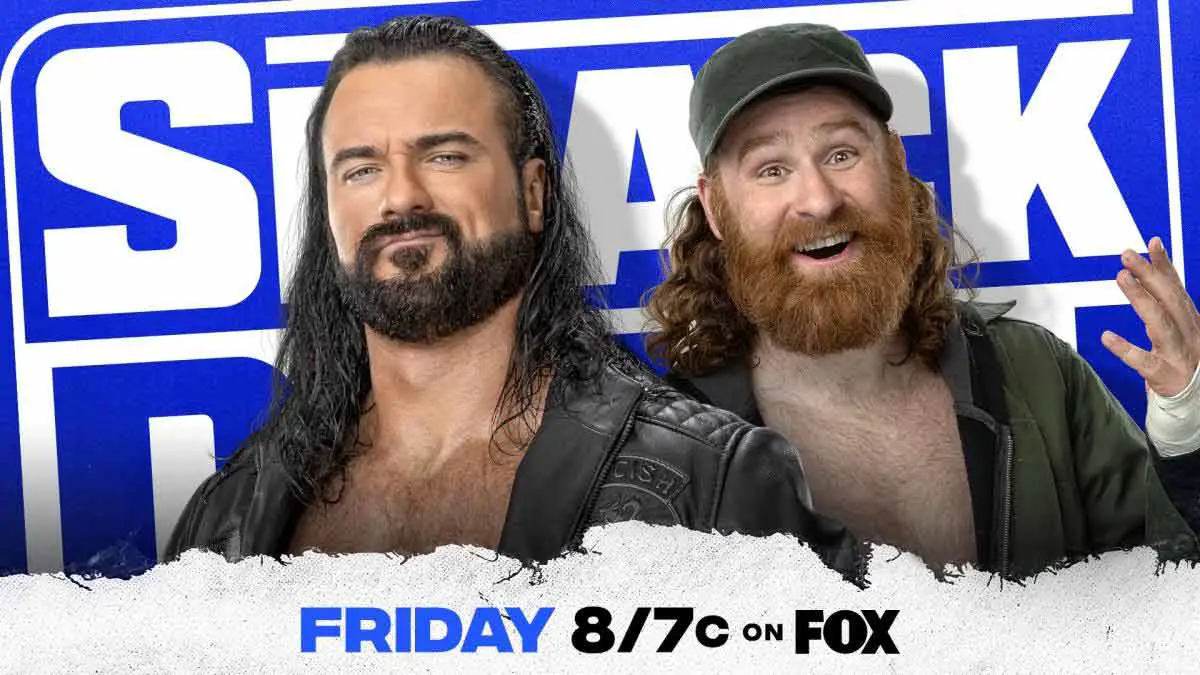 WWE SmackDown episode of April 15, 2022, will feature an Intercontinental Championship match and a rematch from the past week. 
Ricochet will defend his IC title against Jinder Mahal on the forthcoming episode of SmackDown whereas Drew Mcintyre will face Sami Zayn in a rematch from last week's episode. It might also feature Shinsuke Nakamura confronting Roman Reigns to build up their feud. RK-Bro will come to SmackDown to confront the Usos.
Read below to check out the complete details on the April 15, 2022 episode of WWE SmackDown. 
Event Info
Show – WWE SmackDown
Date – April 15, 2022
Location –  DCU Center, Worcester, MA
Time – 8 PM EST
Match Card & Results
Rhea Ripley defeated Naomi in a singles match via pinfall.
Madcap Moss defeated Humberto in a singles match via pinfall.
Drew McIntyre defeated Sami Zayn in a singles match via count-out.
Ricochet(c) defeated Jinder Mahal via pinfall to retain WWE Intercontinental Championship.
Riddle defeated Jimmy Uso in a singles match via pinfall.
Live Updates
RK-Bro Calls out The Usos
The show opens with a recap of Usos going to RAW and becoming the #1 contenders for RAW tag titles by beating Street Profits. Randy Orton's music hits and he comes out with Riddle. The pair gets a huge ovation from the crowd. Riddle starts to ramble about Worcester. Orton cuts him off and tells Riddle they are not here for some wosters. He talks how Usos went to RAW to challenge for a tag title unification match. He calls out the Usos. The Usos make their way to the ring.
Usos tell RK-Bro that they are behind enemy lines. Jimmy asks them what is the answer to their title unification challenge. Jey says they know all about Orton being the legend killer and all, but they should keep in mind that they are the twins with amazing chemistry. They hype their chemistry and the longest-reigning SmackDown Tag Team Champions. The Usos suggest RK-Bro just leave the RAW titles in the ring and leave.
Orton talks about coming up while their father and uncles were in the locker room. Orton hypes up and says he has been setting records for 20 years now and goes on the accept the challenge for tag title unification. Both teams face off briefly before The Usos leave the ring. Riddle and Orton hit the corner to pose. The Usos pull down Riddle and drop him on the ropes before running away.
---
Sasha Banks and Naomi are backstage talking about their challengers. Sasha mentions Rhea Ripley. Liv Morgan enters the scene with Rhea Ripley to ask them what they were saying about Rhea. Sasha replies that Naomi just have to beat Rhea tonight. Naomi says the Glow beats the Night everytime and laughs hysterically. Naomi makes her entrance for the match. Liv tells Rhea that she is looking good. We cut to a break.
RK-Bro duo go to WWE Official Adam Pearce backstage and ask for tag title unification to become official. Pearce tells him that higher ups are still mulling over it. Meanwhile, Riddle can take on on the Usos tonight.
Rhea Ripley vs Naomi
Ripley takes Naomi to the corner. Naomi goes for a monkey flip, but Rhea blocks it. Naomi kicks at her. Rhea catches her as Naomi goes for a crossbody. Rhea hits a shoulder block. Naomi hits shoulder tackles in the corner. They go to the floor.
Naomi hits a knee into Rhea on the apron. Rhea drives her into the turnbuckle. She goes to the top and Naomi nails her with a step-up enziguiri to drop her to the floor. Rhea hits a clothesline on the floor to take us to the break.
Naomi hits a scissors kick as we return. She drives Rhea into the turnbuckle before hitting a crossbody from the top for a two-count. Rhea hits a roundhouse kick. Naomi drivers her head into the mat with a move which can be called scissors DDT. Rhea comes back with a Northern Light suplex and bridges for a two-count. Rhea gets on the top rope. Naomi nails her with an elbow. Rhea goes for an avalanche Riptide but Noami hits her with a kick for the face.
Naomi is dropped to the floor. Rhea hits a missile dropkick, but Naomi kicks out of the pin again. Naomi hits a springboard knee. She drops Naomi on her back. Rhea hits Riptide out of nowhere to get the pin and the win.
Winner – Rhea Ripley
Happy Corbin is backstage for an interview. Corbin says calling Madcap Moss was not his associate, but a hanger-on or a minion. Corbin says he kept Moss around because he was really funny to laugh at. But then, he became an anchor around his neck dragging his career down. Corbin claims that he will be reaching peak levels of happiness without the anchor wieghing him down. We have to just wait until Moss falls flat on his face and becomes the laughing stock of SmackDown.
Tony Nese is apparently auditioning to be a member of broadcast team. He has Moss for an interview. Moss asks us how terrible Corbin's life is that he has to mock him to feel better. Moss gives props to Corbin to give him suspenders and taught him how to say jokes. Nese brings up his match against Humberto. Moss offers his backside for kiss cam tonight.
After the break, Los Lotharios make their entrance and do a kiss cam.
Madcapp Moss vs Humberto
Angel runs a distraction and Humberto unloads on Riddle in the corner. The referee gets distracted by Humberto and Angel takes cheat shots at Moss. Moss tries to fire back with punches but Humberto puts him in the chinlock. Humberto keeps Moss grounded for a while.
Moss gets up and takes the running start. He runs the ropes for a big tackle. Moss drops Humberto with more shots. Moss hits a powerslam. Moss misses Humberto in the corner but ends up catching Angel with it. Moss drops Humberto again before hitting punch line for the pin and the win.
Winner – Madcapp Moss
Charlotte Flair goes backstage to talk to Peace and asks him who sanctioned her match against Ronda Rousey at WrestleMania Backlash. Tony Nese cut them off and asks Pearce about his performance as the interviewer. Flair tells Drew to get his performance evaluated after having an interview with her in the ring.
Flair is A Winner, Not A Quitter!
Tony Nese is in the ring now and introduces Charlotte Flair as the living legend. Flair comes out to the ring. Nese asks Flair if she is afraid of Ronda's submission game. Flair says she never refused the match, she was only trying to protect Ronda's ego which is very fragile. She asks can we imagine Ronda's humiliation after losing an "I Quit" match.
Nese says Ronda made her tap out at WrestleMania though. The crowd starts chanting "You tapped Out," and Flair says she was just fixing her bra. Flair snaps and says none of us would understand it. Nese says if the referee was in position, Ronda would have been standing here as the champion. Flair takes a shot at Drew for quitting being a competitor and becoming an interviewer. Flair goes on and tells the crowd that we have all been quitters- quitting the gym, relationships and more. But she is not a quitter, she is a winner.
Flair tells Gulak to leave the ring. Gulak goes to leave but Flair hits him with a chop block. Flair puts on the figure four and bridges to figure eight. Gulak taps out. Flair asks him to scream "I Quit." He does so, but Flair does not let him go. WWE Crew runs out to separate them.
Gunther is backstage with Ludwig Kaiser. Kaiser says Gunther is the epitomy of distruction.
Drew McIntyre vs Sami Zayn
Sami gets on the mic during his entrance and denies that he ran away. He says he is a master strategist and is waiting for his turn. He gets into the ring and the bell rings. Sami slips out of the ring again and McIntyre picks him up to hit spine busters on the apron and barricade.
Zayn hides behind Pat McAfee at the commentator's desk. Pat ducks as Drew swings and nails Sami. Drew high fives Pat. Sami runs away once again as Drew puts him into the ring. Sami hits punches before Drew drops him with a headbutt. Drew looks for a Claymore but Sami runs out again. McIntyre pulls him back over the barricade and throws him into the ring. Sami avoids Claymore and runs away through the crowd again.
Winner – Drew McIntyre(by count-out)
Ricochet is with Kayla Braxton backstage to talk about Jinder Mahal. He says Mahal is just another tree trunk to be chopped down. He adds that people call him perfect because he makes things look perfect.
Ricochet(c) vs Jinder Mahal – WWE Intercontinental Championship
Mahal starts with a body slam. He puts on a chinlock. Ricochet gets up on his feet but Jinder brings him down by working the knee. A knee drop follows. Mahal drops Ricochet once again. Mahal puts on a chinlock. Ricochet makes a comeback with quick moves. He hits a springboard crossbody and a standing moonsault.
Mahal stops recoil once but Ricochet hits in it in the second attempt. Ricochet goes to the top but Shaky pulls him out of the ring. Ricochet takes them both out with a crossbody from the top. Ricochet brings Mahal back to the ring and hits a Shooting Star Press to get the pin and the win.
Winner – Ricochet
Riddle vs Jimmy Uso
Uso takes down Riddle to start. Riddle goes to attack him but Jimmy slips to the floor. Jimmy suckers Riddle out to the floor and drops him with a clothesline. Jimmy with some ground and pound before whipping Riddle into the turnbuckle. Riddle charges but Jimmy hits him with a back elbow. Riddle leapfrogs and hits a big sidekick. He goes for a penalty kick on the apron, only for Jimmy to drop him to counter. Jimmy sends Riddle into the timekeeper's area as we cut to a break.
Riddle is firing back with punches as we return. Jimmy hits back with an enziguiri. Riddle ducks and hits a Pele kick. Riddle charges into the corner with forearms. He hits running knee, standing moonsault, running kick and German suplex bridge for a two-count. Riddle sets him up for a moonsault but Jimmy gets up his knees. Jimmy hits a Samoan drop for a two-count.
Riddle hits a kick. He gets up on the ropes but Jey pulls him as the referee was distracted. Orton drops Jey on the announce table with a side suplex. Riddle avoids the splash and hits an RKO to get the pin and the win.
Winner – Riddle
RK-Bro celebrate the win as the show goes off the air.
---
Preview
Intercontinental Championship Match: Jinder Mahal complained to Adam Pearce that he didn't get to challenge for the IC title. As a result, he has gotten his wish fulfilled this week as he gets a match against Ricochet for the Intercontinental championship. 
Drew McIntyre vs Sami Zayn: Last week, Sami Zayn faced Drew McIntyre in a singles match. But Sami Zayn ran into the crowd before Dre could put him down. Hence, WWE officials booked a rematch between Zayn & McIntyre for this week's episode of SmackDown.
Will Nakamura be Roman's Challenger? Shinsuke Nakamura confronted the Bloodline last week after his tag team partner Rick Boogs was injured against the Usos. The Usos nailed him with Superkicks and Roman also hit him with Superman Punch. Will Nakamura look for revenge? Will he be the next title challenger?
RK-Bro Comes Calling: RK-Bro will come to SmackDown after The Usos became the #1 contenders for RAW Tag Team Champions. What will happen between them?