AEW Rampage April 15, 2022- Results, Live Updates(Preview & Card)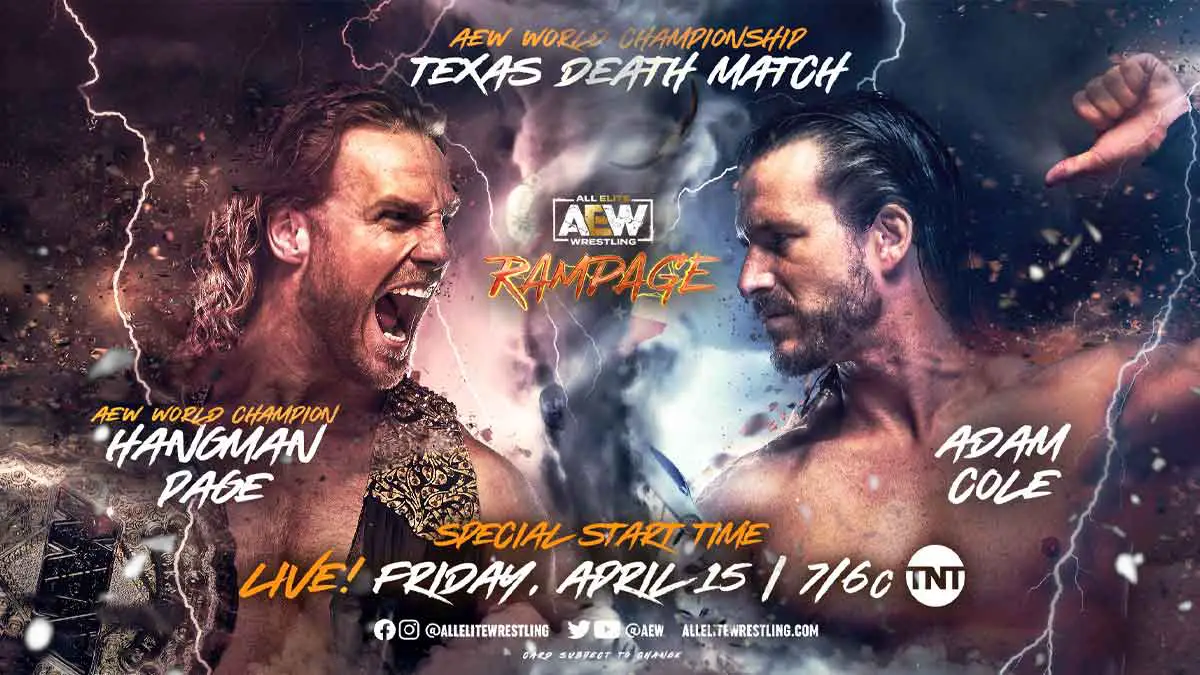 AEW Rampage episode of April 15, 2022, will be a live episode from Curtis Culwell Center in Garland, TX. The show will start at a special time of 7 PM EST.
AEW World Champion "Hangman" Adam Page will defend the title against Adam Cole in a Texas Deathmatch. Blackpool Combat Club takes on the Gunn Club. Ruby Soho face Robyn Renegade in a qualifier for Women's Owen Hart Foundation Tournament.
Check below for the complete details on AEW Rampage April 15, 2022 episode.
Event Info
Show – AEW Rampage
Date – April 15, 2022
Location – Curtis Culwell Center, Garland, TX, US
Time – 7 PM EST
Match Card & Results
Blackpool Combat Club(Jon Moxley, Wheeler Yuta & Bryan Danielson) defeated The Gunn Club(Austin Gunn, Billy Gunn & Colten Gunn) in a trios tag match via pinfall.
The Butcher defeated Local Talent in a singles match via pinfall.
Ruby Soho defeated Robyn Renegade in Women's Owen Hart Foundation Tournament Qualifier via pinfall.
Adam Page(c) defeated Adam Cole in Texas Death Match via Knockout to retain AEW World Championship.
Live Updates
Blackpool Combat Club(Jon Moxley, Wheeler Yuta & Bryan Danielson) vs The Gunn Club(Austin Gunn, Billy Gunn & Colten Gunn)
Austin nails Yuta with a punch to start. Austin sweeps his ankle after running the ropes. Yuta with a flipping neckbreaker before working on the arm. Austin hits a back elbow and quickly tags in Colten. Yuta avoids the dropkick and nails some punches on the mat. He works on Austin's leg for a while. Bryan tags in a continues working on the leg before putting the Romero Special.
Austin scurries away and tags in Billy. Bryan hits a calf kick. Billy misses in the corner and eats chops and punches. Bryan hits a high boot in the corner before cutting off Bryan with a tackle. We cut to a break.
Colten has a chinlock on Bryan as we return. Austin tags and continues the work. Bryan drops him into the turnbuckle with a drop toehold. Moxley and Colten tag in. Mox hits clotheslines on Colten before knocking off Billy. Mox drops Austin with a tackle before unloading on Colten on the top. Mox hits a superplex. Austin and Colten avoids double paradigm shift. Billy tags in and Mox drops him with a big lariat. Yuta hits a crossbody and the pin is broken by Austin.
Bryan hits Busaika knee on Colten. Mox hits a cutter on Austin. They go for suicide dives but Billy hits them with clotheslines. Billy drops Yuta but he kicks out of the pin. Yuta counters with O'Connor's roll-up and gets the pin.
Winner – Blackpool Combat Club
The Butcher vs Enhancement Talent
The local talent starts with a dropkick but Butcher no-sells it. Butcher hits him with forearms and chops. He hits a clothesline in the corner. Butcher hits a powerbomb and gets the pin.
Winner – The Butcher
Dustin Rhodes is backstage. He talks being on the last stage of his career and about beating Lance Archer. He says he wants to face CM Punk which is a dream match for him.
Ruby Soho vs Robyn Renegade – Women's Owen Hart Foundation Tournament Qualifier
They lock up and Robyn takes Ruby to the corner. Robyn smacks her in the face. Ruby puts on the hammerlock. Robyn counters by raking her face. Ruby hits uppercuts and headbutts. An ankle sweep follows. Robyn hits a kick to her face. Robyn puts on the camel clutch as we cut to a break.
Ruby hits a backdrop suplex as we return. Ruby hits clotheslines followed by combo punches. She nails a back elbow before driving Robyn's face into the turnbuckle. The referee separates Ruby from the corner and Robyn rakes her eyes. Charlotte Renegade, Robyn's twin sister, switches places with Robyn. Charlotte gets her knees up on Ruby's senton. Ruby hits a Riot Kick on Charlotte and she rolls to the floor. Robyn comes back from the other side and Ruby is able to hit her with Riot Kick to get the pin.
Winner – Ruby Soho
Adam Page(c) vs Adam Cole – Texas Deathmatch for AEW World Championship
Page brings out a chair in his entrance. Cole picks it up as he throws it in the ring. Page takes it away as he walks into the ring. Both men have a steel chair in their hand. Page nails it on Cole's back. Cole slips out the ring and hits a thrust kick. Page runs him over with a kick against the chair. Ground and pound from Page before sending Cole into the barricade and steel steps.
Cole try to slip away but Page nails him with big punches. Cole gets into the crowd and Page follows him with more punches. Page gets a beer from a fan and drinks it. Cole comes back into the ring. Page stomps and punches him. Page feints a moonsault to counter Cole's thrust kick and then nails him with a chair with a dive. Page sends Cole into the chair setup in the corner. Cole slips to the floor. Page does not follow and sits on the chair comfortably. Cole beats the 10 count to avoid the knockout. We cut to a break.
Cole has chain wrapped around his hands. Page hits him with punches. Cole uses the steel chair for a clothesline, which was tied to the top rope. Cole sets up two chairs back to back. Page tries to drop Cole on it but Cole hits a kick. Page drops Cole on the chairs with a Death Valley Driver. Page brings out more chairs.
Cole goes for the Panama Sunrise but Page counters with the Dead Eye. The referee starts counting down both men. Page gets up. Cole slips out and uses the rope to get up. Page goes for the moonsault on the floor but Cole cuts it off with a superkick. Page is down on the floor and the referee starts the count again. Page returns to the ring and Cole hits him with Panama Sunrise. Page beats the count at 9.
They fight on the top turnbuckle now. Page hits an avalanche exploder onto the chairs. Cole beats the count. Page sets him on the chair. Cole stops him from going to the apron. Page nails him with elbows. They trade strikes in the middle after Page sits in front of Cole on another chair. Cole nails a superkick after they get up. Page hits buckshot lariat.
Page brings out a belt and tires up Cole. He brings out a barbed wire chair. Page thinks of hitting Cole with it, but stops before nailing him with it. Cole hits him with a low blow as Page goes to untie him. Cole hits a couple of superkicks. He goes for the Boom but Page cuts him with a clothesline. Page wraps barbed wire on his biceps now.
Cole hits superkick to set up for Panama Sunrise on the apron but Page counters and wraps barbed wire on his head. Page hits Dead Eye through a table on the floor. The referee starts to count to 10. Page gets up at 9 while Cole is still down.
Winner – Adam Page(retains AEW World Championship)
---
Preview
Texas Death Match: After months of feuding and brawling, Adam Page and Adam Cole will battle in a rematch for AEW World Championship. This time, however, it will be a Texas Deathmatch. Will Page be able to retain the title once again? Or ReDragon could affect the outcome.
Blackpool Combat Club vs Gunn Club: Blackpool Combat Club got a new member in Wheeler Yuta last week. The trio of Jon Moxley, Bryan Danielson and Wheeler Yuta will take part in a match together for the first time when they face Gunn Club(Austin, Colten & Billly).
Owen Hart Foundation Qualifier: Ruby Soho will face Robyn Renegade in the qualifier for women's Owen Hart Foundation tournament.