WWE RAW Results: June 27, 2022 & Live Updates(w/ Preview)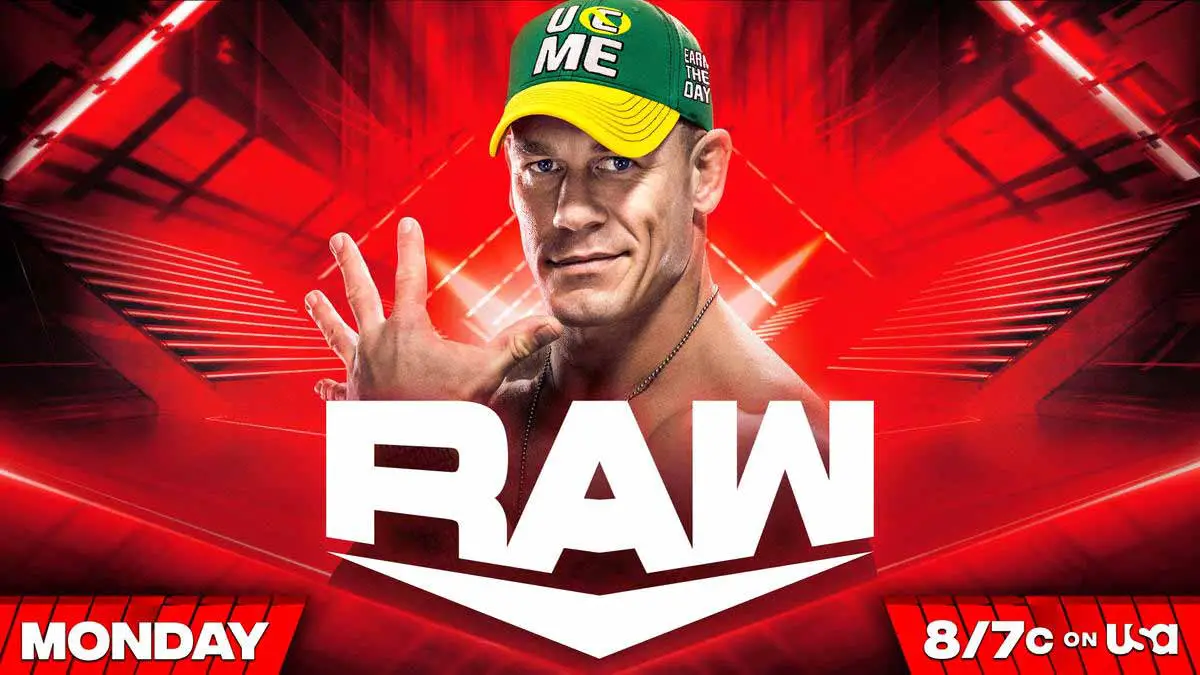 WWE RAW episode of June 27, 2022, will be the go-home edition for the Money in the Bank 2022 event and will mark the return of 16-time world champion John Cena. 
Mr. Hustle, Loyalty & Respect will return to Monday Night RAW to celebrate his 20th anniversary in WWE. On the other hand, Kevin Owens will battle Elias, Ezekiel, or their even younger brother Elrod, which will also be a Money in the Bank qualifier for the men's Ladder match.
Check out complete coverage of WWE Monday Night RAW on June 27, 2022, with results, live updates, videos, match card, preview, highlights and more. 
Live Updates
The show opens with a video of John Cena arriving at the arena earlier today and the complete roster lined up to welcome him. Cena shakes hands with most and hugs some of them as he walks in.
Last Chance Money in the Bank Qualifier Battle Royal
We cut to the ring where the Last Chance Battle Royal is taking place to qualify for Money in the Bank ladder match. The match starts and chaos ensued. Veer and Riddle are fighting in one corner. Ciampa and Jinder Mahal are trying to eliminate Nakamura. Veer throws Towaza over the ropes to eliminate him. He next clotheslines Shelton Benjamin to eliminate him.
Rey Mysterio, Dominik and Mustafa Ali work together to eliminate Veer. Shanky and R-Truth have started dancing in the middle. Jinder kicks at R-Truth and asks Shanky to throw him to eliminate him. Jinder pushes Shanky over to eliminate him. AJ Styles clotheslines Jinder to eliminate him. T-Bar throws Reggie onto Shanky and others to eliminate him. We cut to a break.
Ali was eliminated by Ciampa during the break. Ciampa hits a jawbreaker on Riddle now. Ziggler and Dominik are brawling now. Ciampa and AJ end up on the apron. AJ pushes Ciampa into the ringpost to eliminate him. Dominik saves Rey from getting eliminated by Miz. Ziggler takes him over the ropes and Dominik falls to the floor in his momentum. Ziggler goes for a powerbomb on Rey but Rey uses headscissors to take Ziggler to the apron.
Rey also brings Miz to the apron. Miz and Ziggler work together to throw Rey into the barricade. They now work together on Riddle, but Riddle is holding onto the ropes. T-Bar throws Ricochet away but he lands on the ladder. Ricochet lands back to the apron and hits T-Bar with a hurricanrana to eliminate him. We cut to another break.
Miz hits a double axe handle on Riddle, but has also injured himself. He lands awkwardly on his knee and is hobbling. Miz rolls to the floor from under the ropes. Nakamura hits an enzuigiri on Ziggler to eliminate him. Nakamura hits flurry of strikes on Riddle. Riddle sends him to the apron with a back body and then kicks him to eliminate him. AJ cuts off Ricochet's move and eliminates him.
AJ and Riddle trade shots. Riddle sends AJ to the apron and Miz trips AJ to eliminate him. Miz gets into the ring and throws Riddle to the apron. Riddle fights back and hits him with the draping DDT. He gets ready for RKO but Miz counters with Skull Crushing Finale. Riddle takes Miz and himself to the apron with a headscissor. Miz fights of the headscissor but runs into an RKO on the apron to eliminate Miz for the win.
Winner – Riddle
The commentary tells us that the Kevin Owens vs Ezekiel match is postponed.
The Street Profits are backstage and they have an invisible joke for John Cena. John Cena is there indeed and motivates the Profits. Never Give Up because We Want The Smoke. The Usos make their entrance to take us to the break.
We get a video package for messages for John Cena from Shawn Michaels, Big Show, Booker T, Daniel Bryan, Trish Stratus and Triple H.
Kevin Patrick is with Riddle backstage to talk about Money in the Bank qualifier. Riddle says this win is for Randy Orton. Riddle talks about his bad luck in his matches, but John Cena told him not to give up. Riddle is hyped to go to Vegas.
Montez Ford vs Jey Uso
Ford puts on a side headlock. Jey drags his knees to the mat before Ford hits a shoulder tackle. Jey hits him with double ax to drop him. Ford leadfrogs in the corner and hits an armdrag, transitions into an arm lock. Ford hits another armdrag and work on the arm again. Ford holds onto the arm as he talks trash with Jimmy on the floor. Jey breaks free with a takedown. Ford htis him with a dropkick. Jey catches his leg on the apron and trips him face first. Jey sends Ford to the steel steps to take us to the break.
Jey is in control as we return. Ford hits a clothesline and both men are down. Another clothesline and a series of kicks from Ford before Jey hits back with a couple of punches. Ford hits a dropkick to get a close two-count. Jey hits a pop-up Samoan drop to get a close two-count for himself. Jey hypes up but Ford recovers in time to nail him with a superkick to get a two-count. Jimmy gets to the apron to distract Ford. Dawkins tackles Jimmy. Jey hits a dive on Dawkins and Ford hits a dive on Jey. Ford hits a frog splash to get the pin.
Winner – Montez Ford
Judgment Day's Finn Balor and Damian Priest are backstage with The Mysterios. Balor asks Rey why WWE is not celebrating his 20 years celebration, and what is it that Rey is not able to teach Dominik. They briefly try to motivate Dominik into joining Judgment Day. Rey gets annoyed when Priest takes a shot at him. Balor takes Priest away but Rey challenges them for a tag team match next week.
---
We get a video package for Cena's 20 years career. We also see video for Cena's association with Make A Wish Foundation and Armed Forces, his exploits in Hollywood, along with statements from many of his co-stars, Vince McMahon and others in WWE.
Miz & Logan Paul! & AJ Styles!
Kevin Patrick is in the ring and brings out The Miz to ring. Patrick asks Miz about Logan Paul's preparation to return to the ring. Miz asks Patrick who does he think has set up all this for Logan. Miz then announces that he and Logan will team up at SummerSlam. Patrick brings up Miz hitting Logan after their win over The Mysterios at WrestleMania 38.
Miz gets irritated and talks about his appearances at The Today Show later tonight, Miz & Mrs and more. He says everyone who is trying to enter WWE does not get bigger without his notoriety. He says he talked with Logan backstage after that segment and told him how this is a lesson for him. Patrick brings up AJ Styles and Miz's balls. Miz talks trash about AJ. AJ enters and nails Miz with a big punch. We cut to a break.
AJ Styles vs The Miz
AJ starts with a takedown. He kicks Miz in midsection and multiple chops. He slams Miz's face into the turnbuckle and a calf kick. AJ hits a dropkick and follows with a backbreaker. Miz is asking for mercy before hitting a knee to midsection and running over AJ with a running knee. He hits another running knee by putting AJ against the ropes. Miz hits body kicks. AJ fires back with punches.
Miz whips him to the corner and hits a clotheslines. A double axe handle from Miz. AJ hits back with a kick and throws Miz to the floor. Miz avoids the attack on the floor and drops AJ on the apron. Miz sends AJ into the barricade to take us to a break.
Miz has AJ in a chin lock as we return. Miz hits a kick to gut and a DDT to get a two-count. Miz hits It Kicks now. AJ counters with a German suplex. Both men are down now. AJ hits a flurry of strikes followed by a clothesline and a dropkick. AJ plants him face-first into the mat to get a two-count. Miz blocks the Styles Clash but AJ hits Ushi Garoshi to get another two-coun
AJ nails a punch but misses the Phenomenal Forearm. Miz hits double knees on AJ to get a close two-count. Miz puts AJ on the top but AJ slips through and drops Miz face first on the turnbuckle. Miz fights out of Rack Bomb and hits some kicks quickly. A running knee from Miz but AJ kicks out. AJ hits a Pele kick before hitting a brainbuster. Miz rolls out of the ring to avoid Phenomenal Forearm. He gets counted out.
Winner – AJ Styles(via count-out)
Ezekiel is backstage with John Cena. Cena asks him if Elias is here. Ezekiel tells him that Elias is showing off Elrod. Ezekiel asks Cena that he lose Walk with Elias and Trod with Elrod, but he wants everyone to speak with Ziek. Cena advices him never to forget who he is. Ezekiel thanks him for the advice and leaves. Theory appears behind Cena and argues with him, talking about being the youngest US Champ, Vince McMahon's handpicked prodigy. Theory goes to take a selfie but Cena just leaves. Theory gets angry about this.
---
We get more messages for John Cena from Chris Jericho, Shane McMahon, Stone Cold Steve Austin, Randy Orton and others.
Bianca Belair & Carmella
Bianca Belair comes out to the ring with Kevin Patrick. Bianca says she wishes Carmella was here as she would want to say anything to her face. She says Carmella always resorts to cheating. Nobody respects Carmella because of her tactics. Bianca says Carmella has it, but if she is stepping up to her, she should better bring it. Bianca asks Carmella to come out and show everyone that she can step up to her.
Carmella's music hits and she comes out. Carmella says she is not insecure at all as she got beauty and brain. Carmella enters the ring now and says her resume speaks for herself as she is two times Money in the Bank winner and SmackDown Women's Champion. Carmella asks for respect and leaves the ring. Bianca turns around for another question from Patrick, but was ready when Carmella tries to attack her. Bianca kicks Carmella out of the ring.
Liv Morgan and Alexa Bliss are backstage. Bliss says Liv is not her friend as she does not trust anyone. Bliss adds that she lives Liv though and believes that she could be a champion one day. Liv answers back and claims winning MITB briefcase this weekend and becoming the champion soon. She also talks about some lessons that she has learnt from Cena. Liv claims that she will beat Bliss later tonight.
Liv Morgan vs Alexa Bliss
Asuka is on the commentary for this match. She claims that she will win the MITB again this year. Liv starts with side headlock takedown to get a two-count. They counter waistlocks on each other. Liv hits an uppercut in the corner before Bliss kicks her away. Bliss misses a standing moonsault but connects in second attempt. Back and forth action continues. Liv puts on a choke. Bliss hits her back with a jawbreaker. Liv misses a dropkick. Bliss goes for the DDT but Liv rolls her up to get the pin.
Winner – Liv Morgan
We get a video package for John Cena's Make a Wish foundation work.
Cena's 20 Years Celebration
Vince McMahon comes out to the ring for Cena's 20 years celebration. We cut to a break.
The whole roster is lined up on the ramp. Vince McMahon brings out John Cena. Cena walks through the roster and into the ring. He gets a great ovation from the crowd as he gets into the ring.
Cena says tonight is his WWE birthday and he could not think of a better place to celebrate it than in Texas. He says he is never big on milestones because he always looks to what is next. But, tonight has nothing to do about anything he has done, but it is about the fans as they have allowed him to do it for 20 years. Cena says fans have created an environment for him and told him when he suck and when he does not. He just wants to say thank you. Thank You Cena Chants start in the crowd. Cena says his heart is beating out of his chest and he once again thanks the fans.
Cena says when he talks about WWE making him, it is because of the crowd and their reactions that he has become better. Cena continues to talk about the fans. Cena then says he does not know when we would be seeing him again, so he just want to say that whenever we see him outside of this ring, it is just not him, but he is talking about us the fans. Cena completes his promo on the same lines. Cena fist bumps with some young fans in the front row. He gives his wristbands to some of them and then gives his shirt to one young fan before leaving.
Alpha Academy(Otis & Chad Gable) vs Bobby Lashley – 2-on-1 Handicap Match
Theory is the special enforcer for this match at the ringside. They lock up and come to a stalemate. Lashley hits a shoulder tackle but Otis no-sells him a couple of times. Lashley hits a low dropkick to bring him down to his feet. Lashley goes for a suplex but Theory gets on the apron and objects to something. Lashley chases Theory to the floor and Otis brings him down with a tackle. Otis hits a splash on the floor to take us to a break.
Otis is beating up Lashley as we return from the break. Otis puts on a chinlock. Lashley hits some punches to break free. Otis drops him with a back fist. Gable tags in and Lashley hits both opponents with punches. Lashley sends Otis to the floor but Gable hits him with a chop block. Gable goes to the top but Lashley joins him there. Otis tags in and hits Lashley with a powerbomb. Lashley fights out of a double team move and drops Otis on his back. Lashley catches Gable as he jumps from the top and puts him in the Hurt Lock to get the submission.
Winner – Bobby Lashley
Theory attacks Lashley after the match. Alpha Academy holds Lashley as Theory tries to take a selfie. Lashley kicks him away and fights off Gable and Otis. Lashley hits Gable with a spear. He tries to attack Theory but Theory runs away.
---
We get a recap of Cody Rhodes' torn pectoral injury, how he battled through it at Hell in a Cell match against Seth Rollins and Rollins attacking him. We will get an interview from him next.
We see an interview with Cody Rhodes where he says rehab is an up and down journey and it does not compare to few weeks ago when he was in the prime of his career. Cody says that the sledgehammer attack has pushed his recovery time to 9 months. He goes on to hype the talent in Money in the Bank ladder match. He also says if Rollins wins the MITB and cashes it in to become a champion, he will be the first to congratulate him.
---
Cena is backstage when Seth Rollins enters and asks him he remembers the time he broke Cena's nose. Rollins says he and Cena have a lot in common in never giving up department. He mocked Cena's failed Money in the Bank cash in and compared it with his greatest cash-in ever. Omos and MVP come and stand behind Rollins. MVP says he has a vision of Omos winning MITB briefcase. Cena is looking at Omos in astounding manner. He says Good Luck to Rollins and leaves.
Becky Lynch vs Tamina vs Doudrop vs Nikki ASH vs Xia Li vs Shanya Baszler – Last Chance 6 way Elimination Money in the Bank Qualifier
Everyone attacks Becky and she has to slip out of the ring. Doudrop and Nikki work together on Nikki. Tamina throws Xia Li out of the ring. Nikki and Doudrop work on Tamina now. Tamina throws Nikki out of the ring now. Tamina and Doudrop battle it out now. They trade shots and Doudrop ends up sending Tamina to the floor. Becky hits a gamengiri and a senton on Doudrop. Xia Li comes in and goes for a crucifix on Becky to get a two-count. Becky catches her with Manhandle Slam after she gets distracted by Nikki. Becky pins Xia Li to eliminate her.
Nikki goes after Becky but Baszler pulls Nikki out of the ring. Lynch goes for a pin on Baszler to get a two-count. Doudrop slams Shayna and Becky into the corner. Shayna jumps on her back again. Doudrop slams Shayna into the corner and hits her with a cannonball. Tamina comes in and slams Doudrop into the ringpost. Nikki hits Tamina with a crossbody from the top. Becky comes in and puts Nikki into the DisArmHer to get the submission and eliminate Nikki. We cut to a break.
Becky is fighting Shayna now. Shayna puts her in a choke and Becky sends her to the floor. Becky goes to the floor and sends Shayna into the barricade with an exploder. Tamina goes to attack her but Doudrop runs over all three of them. Doudrop takes Shayna to the ring and Shayna catches her with a knee strike. Shayna is late on the cover and Doudrop kicks out. A Tower of Doon spot follows as Doudrop brings down the other three with a powerbomb.
Baszler puts on the kirifuda clutch on Doudrop. Tamina gets and Shayna puts her in a heel hook. Doudrop hits her with a low clothesline and pins her to eliminate her. Becky goes for a manhandle slam on Doudrop but fails to pick her up. Becky pushes Doudrop into Tamina and she rolls to the floor. Tamina his Becky with a superkick. Tamina misses a splash and Becky rolls to the floor.
Doudrop drops Becky on the floor. Doudrop gets into the ring and hits a corner splash. Doudrop hits Vader bomb to get the pin and elimiante Tamina. Doudrop brings Becky back to the ring. Doudrop hits a corner splash. Doudrop misses a Vader Bomb. She sets up Becky on the top turnbuckle but Lynch hits her back with some punches and hits a Manhandle Slam from the second ropes. Becky pin Doudrop to eliminate her.
Winner – Becky Lynch
---
Preview
John Cena Returns: A few weeks back, it was announced that John Cena would return to the June 27 edition of RAW to celebrate his 20th WWE anniversary. Last week, Mr. McMahon himself hyped the return of the Cenation's leader. So, will the WWE universe get another 'Summer of Cena', or will it be a one-time show? It is heavily speculated that Cena will Austin Theory at Summerslam this year? Will it turn out to be true?
Kevin Owens vs Ezekiel/Elias/Elrod: Last week, Kevin Owens confronted the returning Elias and the latter smashed a guitar on his back. Owens is still determined to prove Elias and Ezekiel are the same people, but another younger brother Elrod has entered the scene. Now, this week Kevin Owens will face one among these three brothers in the Money in the Bank qualifier.