WWE RAW Results October 31, 2022, Live Updates, Roman & Brock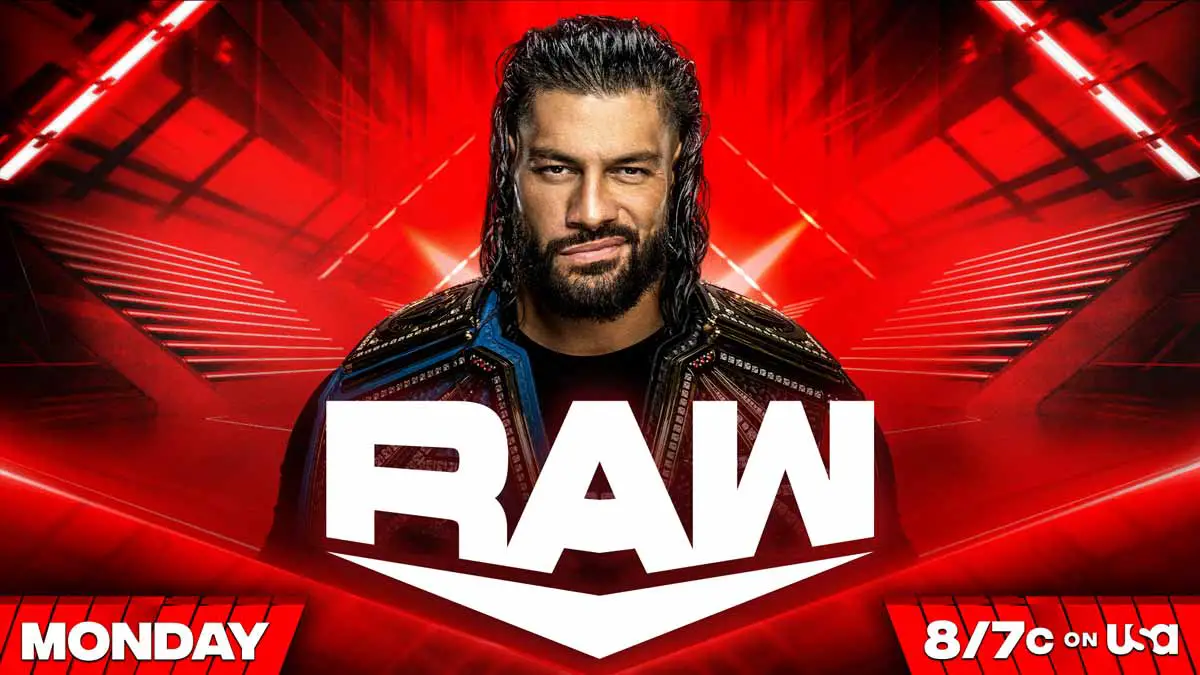 Welcome to the live results blog for WWE RAW episode of October 31, 2022, which will be the go-home show for Crown Jewel 2022 event along with being a Halloween Special show.
Matt Riddle will face Otis in a special Trick or Street Fight on the occasion of Halloween. WWE Universal Champion Roman Reigns and Brock Lesnar will be appearing ahead of their respective matches at Crown Jewel. WWE RAW Women's Champion Bianca Belair will face Nikki Cross in a singles match.
More storyline will continue towards Crown Jewel for The OC vs Judgment Day, and Omos vs Braun Strowman match. Johnny Gargano is about to reveal the truth behind The Miz & Dexter Lumis' feud. How will Mustafa Ali respond to Seth Rollins' attack?
Find out as we post live results from WWE RAW October 31, 2022 episode with updates, complete action, winners and highlights.
Results
Bianca Belair defeated Nikki Cross in a singles match via pinfall.
Seth Rollins defeated Austin Theory in a singles match via pinfall.
Karl Anderson defeated Damian Priest in a singles match via pinfall.
Matt Riddle defeated Otis in a Trick or Street Fight via pinfall.
Mustafa Ali defeated The Miz in a singles match via pinfall.
Asuka & Alexa Bliss defeated Damage CTRL(Dakota Kai & Iyo Sky)(c) in a tag team match via pinfall to win WWE Women's Tag Team Championship.
Live Updates
WWE RAW Women's Champion Bianca Belair comes out to open the show. We get a recap of Nikki Cross' return last week and how she cost Bianca a match against Bayley. Cross makes her entrance.
Bianca Belair vs Nikki Cross
Bianca thwarts an early sunset flip attempt. She hits a shoulder tackle and a dropkick. Cross gets made and hits a crossbody. She stomps on Bianca in the corner. Cross slams Bianca's face into the turnbuckle before Bianca counters. Bianca catches Cross' crossbody and hits a fallaway slam. Nikki trips Bianca at the apron while her other leg was stuck in the middle rope. Nikki slams Bianca's leg into the apron before she traps her in the apron cloth to unload. We cut to a break.
Bianca hits a backbreaker as we return. She hits a trio of body slams. Bianca hits a suplex next, but she is hobbling on one leg. Nikki gets her knees up on a handspring moonsault. Nikki puts on a choke after jumping on Bianca's back. Bianca falls to the floor to break it. Nikki jumps on the back once again and Bianca falls on her back to slam Nikki to the floor.
Dakota Kai and Iyo Sky run out and distract the referee. Bayley comes in through the crowd and sends Bianca into the ring post. Nikki sends Bayley into the barricade. Nikki then knocks off Iyo off the apron before hitting a crossbody on Dakota. Bianca returns to the ring and hits KOD on Nikki to get the pin.
Winner – Bianca Belair
Bayley attacks Bianca after the match. Iyo and Dakota join her. Asuka and Alexa Bliss run out to make the save and force Damage CTRL to backtrack.
---
Bianca Belair is with Asuka and Alexa Bliss backstage for an interview. Bianca says she may not have been done with Nikki but she is glad to have Bliss and Asuka back. Bliss and Asuka go on and challenge Dakota Kai and Iyo Sky for Women's Tag Team titles.
Beast & Almighty!
Lashley is miced up for a split-screen interview but Lesnar is not in the other screen. Lashley says Lesnar has been ducking him for 20 years just like this. He says he would have exposed Lesnar 20 years ago just like he defeated him at Royal Rumble. He would have proved that Lesnar is just a Bobby Lashley wanna be. Brock Lesnar's music hits and he comes out to the ring. Lesnar says he wants to do what the people in Texas would want to do, which is to fight. He tells Lashley to get his a– out for a beating.
Lashley removes his mic and his jacket. He comes out to the ramp as his music hits. Lesnar meets on the ramp to attack him. Lesnar brings down Lashley with a double-leg takedown and starts to unload. Lashley fires back with punches from the ground. Security, WWE officials and several wrestlers come out to try and take them under control. Triple H is also out. Lesnar breaks free and attacks Lashley once more. Lesnar is taken back once again. Triple H tells them their fight will be off if they continue to fight like this.
Seth Rollins vs Austin Theory
They lock up and Theory pushes Rollins to the corner. Theory goes for a chop but Rollins ducks and punches him. Rollins trips Theory and puts on a side headlock. He goes for a pedigree early but Theory blocks it and runs to the floor. Theory tries to play possum but Rollins avoids an elbow drop. Rollins does the same and manages to hit Theory with boots. Rollins drops him on the barricade and then hits a knee drop on his back. Back to the ring, Rollins hits a tackle from the apron but Theory then trips Rollins off the ropes. Theory slams Rollins' face into the announce table before sending him into the steel steps. We cut to a break as the crowd chants "Theory Sucks!"
Theory hits a clothesline in the corner before hitting a fallaway slam. Rollins starts to hulk up as Theory hits more punches. They start to trade blow for blow. Rollins gets the upper hand with a series of punches. Theory cuts him off at the ropes. Rollins returns the favor and clotheslines him to the floor. Rollins takes his time to recover and hits a suicide dive. He hits another suicide dive. Theory comes back before the third dive. Rollins hits him with Falcon Arrow to get a two-count. Theory avoids the stomp but Rollins hits a headbutt, a springboard knee and a superkick to get a close two-count.
Theory blocks the pedigree to start a series of pin attempts from both sides. Theory hits a big punch and ATL, but Rollins kicks out of the pin. Rollins hits an enzuigiri before Theory comes back with a blockbuster immediately, but Rollins kicks out again. Rollins blocks ATL with elbows. Rollins goes for the stomp but Theory picks him up again. Rollins slips out and hits a rolling elbow. Theory hits back with a superkick and a forearm to get another near fall. Theory is frustrated now and starts to talk trash. He goes for pedigree but Rollins counters with a back body drop. He quickly follows up with a stomp to get the pin.
Winner – Seth Rollins
Acknowledge Roman Reigns!
We see Undisputed WWE Universal Champion Roman Reigns arriving to the arena in his SUV. He has his special counsel Paul Heyman with him.
After the break, Roman makes his entrance with Paul Heyman. Roman starts by asking the crowd to acknowledge him. He tells us that he has Sami Zayn working with Jey Uso to get more Ucey, and they will be done by Crown Jewel. Roman says he has been hyping opponents for the last two years and smashed them all. He is one of the greatest of all time while Logan Paul just had two matches. So, he will not hype his match against Logan Paul. But, Paul Heyman will!
Heyman is caught on the spot. He takes a bit of time to regroup before starting. Heyman brings up how Logan Paul has steel screws in his hand due to a hand surgery and that he is training with HBK to prepare for this match. Heyman says all this will not matter as he will still get smashed by Roman on Saturday.
The Miz's music hits and he comes out. He starts by saying that he acknowledges Roman. He says no one in this industry knows Logan Paul as he trained him and taught him everything about pro wrestling. Miz says he taught Logan everything other than that right punch. Miz says Logan has pins that gives him knockout power. Miz says he knows Logan's weaknesses. So, he wants to make a deal with Roman to assist him in his match against Mustafa Ali and Miz will help Roman against Logan.
Roman asks Miz why does everyone keep talking about Logan knocking him out. Roman nails Miz with a Superman punch. Roman then says everyone should be talking about him knocking out Logan. And then, we will not have any other choice than to acknowledge him.
---
The Miz is icing his face backstage. Cathy Kelley catches up with him and tells him Johnny Gargano wil sit down for a tell-all interview to reveal everything about him and Dexter Lumis. Miz says he is more concerned about getting his match against Mustafa Ali cancelled and warns of a lawsuit against WWE if they release a slanderous interview against him. A lawsuit so big that Johnny Depp-Amber Heard lawsuit will look miniscule. Mustafa Ali walks in and taunts Miz into facing him tonight.
Karl Anderson vs Damian Priest
Anderson ducks a swing and hits back with his chops. Priest hits a back elbow. He hits a kick before Anderson clotheslines him to the floor. Anderson slams Priest into the ring post. He goes to punch Dominik. Priest catches him with a punch as we cut to a break.
Priest hits a bell clap and big right hand. He hits a back elbow in the corner before hitting a suplex. Anderson hits a jawbreaker. He cuts off Priest's charge with a bit boot. He hits a sidekick, a running tackle and a senton. He hits a spinebuster to get a two-count. Priest hits back with a facebuster as Rhea distracts the referee. Anderson reverses the Reckoning with a backslide to get the pin.
Winner – Karl Anderson
Both team starts the brawl immediately after the match. Rhea hits a low blow on Luke Gallows. She dares AJ Styles and Anderson to take on her. Finn Balor and Priest attack them from behind. Balor hits Anderson with a Coupe de Grace. Dominik hits a frog splash on AJ Styles.
---
MVP is backstage with Omos. MVP says Strowman will never match up with 7 foot 3 inches and 350 lbs Omos. MVP says he is coming to SmackDown on Friday and has arranged something for him.
JBL, Corbin & The Truth!
JBL comes out to the ring. He talks about greatness of the state of Texas and how many legends have come out of the stage. The state was great until these snowflakes of Gen Z and millenials came out. But, he will not deprive them of seeing the Mordern Day Wrestling God. Baron Corbin makes his entrance. Corbin says he is sure the crowd is elated with the presence of Mordern Day Wrestling God. He wanted to say thank you to the crowd to put together their last few dollars to purchase a ticket to see him.
Corbin wants to tell them the truth and truth is…. R-Truth's music hits and he comes out to the ring. JBL asks him what is he doing? R-Truth says he just wanted to wish happy halloween. But, he also wanted to really tell them they look good in their halloween costumes. JBL tells him that they are not wearing costumes. R-Truth replies that JBL is a mean rich man while Corbin is….. Corbin attacks R-Truth but he ducks him and hits him with a kick. Corbin catches him with End of Days.
Matt Riddle vs Otis – Trick or Street Fight
Matt Riddle comes out dressed as Ezekiel. He has Elias alongside him. Chad Gable comes out and reveals that he and Otis are dressed as Chip and Dales. Otis gets into the ring. Riddle sends Otis into the ring post. He hits a kick to Gable from apron before hitting them with floating bro on the floor. We cut to a break.
Otis hits punches as we return. Riddle fires back with his own shots. Riddle hits a knee before hitting corner clotheslines. Otis tackles him to the mat. Gable gets in the corner and tells Otis that he is allowed to do the caterpillar for one night only. Otis hits caterpillar elbow drop on Riddle. Riddle gets hold of a kendo stick and unloads on Otis. Gable hits him with a clothesline. Elias tackles Gable off the apron and through a table. Otis counters RKO with a powerslam. Elias puts a pumpkin on Otis' head and Riddle hits him with an RKO to get the pin.
Winner – Matt Riddle
Damage CTRL trio are backstage. Dakota Kai is angry and asks what have Bliss and Asuka done to get a title shot. She says they will inflict tons of damage on Bliss and Asuka. Bayley hypes them up to take the control of the women's division.
The Miz vs Mustafa Ali
Ali avoids Miz's attack with his speed. He mimics Muhammad Ali before starting a series of quick moves. Ali hits an inverted atomic drop before hitting several chops. He hits a rolling neckbreaker to get a two-count. Miz avoids a 450-splash and runs into a boot. Miz rips off his shirt and slams Ali into the corner.
Miz hits It kicks on Ali as we return. Ali ducks the final kick and hits a backstabber. Miz blocks another backstabber by holding onto the ropes. Miz hits a DDT to get a two-count. Ali slips out of Skull Crushing Finale. He hits a satellite DDT to get a two-count. Ali goes to the top and hits a crossbody on Miz on the floor. Miz pushes Ali over the announce table. Miz goes to set up the table but Dexter Lumis comes from the front row to grab him. The security runs after Lumis as he runs into the crowd. Ali hits Miz with a superkick as he returns to the ring. Ali hits 450-splash to get the pin.
Winner – Mustafa Ali
We get an Investigation Discovery type video package for Johnny Gargano's tell-all segment related to Miz and Dexter Lumis. Gargano tells us how he accepted Lumis into his family. But, Lumis lost his job after that and they grew apart. Miz took advantage of a struggling artist. Gargano reveals that he heard Miz and Dexter Lumis talking backstage on the day he returned to RAW on August 22. He airs a voice recording between Miz and Dexter Lumis. Gargano reveals that Miz was colluding with Lumis to stage these attacks on him and was paying Lumis to do all this. But along the way, Miz might have stopped paying Lumis, and then the things between them might have turned sour.
Damage CTRL(Dakota Kai & Iyo Sky) Asuka & Alexa Bliss – WWE Women's Tag Team Championship
Alexa Bliss takes Iyo to the corner and kicks her viciously. She stands on top of Iyo until the referee counts to five. Bliss misses double knees drop. Iyo unloads on her before Kai tags in to hit a big boot/chop block combo. More kicks from Kai to get a two-count. Kai hits a running boot in the corner. Quick tags from Kai and Sky to keep Bliss under control in the corner. Bliss slams Kai's face into the mat and hits double knees and a senton to get a two-count. Kai drives Bliss to the corner. Bliss hits an elbow and headscissors takedown.
Asuka tags in and slams Kai down by her head. She hits spinning elbows and a German suplex. Kai slams her face to the mat and tags in Sky. Asuka no-sells a tackle. They trade forearms. Asuka hits a spinning kick. Iyo hits her with an elbow. Asuka hits a lariat. Bliss comes in breifly before Asuka tags back and hits a dropkick on Iyo. Kai sends Bliss into the barricade. Asuka misses Iyo and hits the ring post with a kick. Kai sends her knee into the barricade. Bliss and Asuka are down on the floor as we cut to a break.
Bliss hits a flying clothesline on Sky as we return. Sky tries to hurt Asuka's injured knee but Asuka rolls her up for a two-count. Asuka sends Sky to the floor. Kai tags in to block a tag from Asuka. Asuka puts her in a backslide to get a two-count. Asuka throws Kai out of the ring. She also throws Sky out of the ring. Bliss tags in and unloads on Kai. Bliss hits Code Red on Kai to get a two-count. Asuka tags in and puts Kai in an armbar. Sky breaks the move. Kai tags in and hits a backbreaker on Bliss. She hits double knees on Asuka in the corner before a missile dropkick. She goes to the top but Asuka counters her with double knees to get a two-count.
Asuka immediately puts her in an armbar. Sky counters with a pin attempt. Asuka puts on the armbar again. Sky taps out but Bayley had the referee distracted. Kai breaks the armbar. Bianca tackles Bayley through the timekeepers area. Kai hits Scorpion kick on Asuka. Bayley puts Bianca through a table with Bayley-to-Belly. Kai hits Asuka with a kick. Bliss pulls her out of the ring sends her into the steel steps. Asuka avoids Over the Moonsault from Sky and tags in Bliss. Bliss hits Twisted Bliss to get the pin.
Winner – Alexa Bliss & Asuka
The new champions celebrate the win as the show goes off the air.