WWE RAW Live Results- 1 June 2020- Rollins vs Black, Asuka vs Flair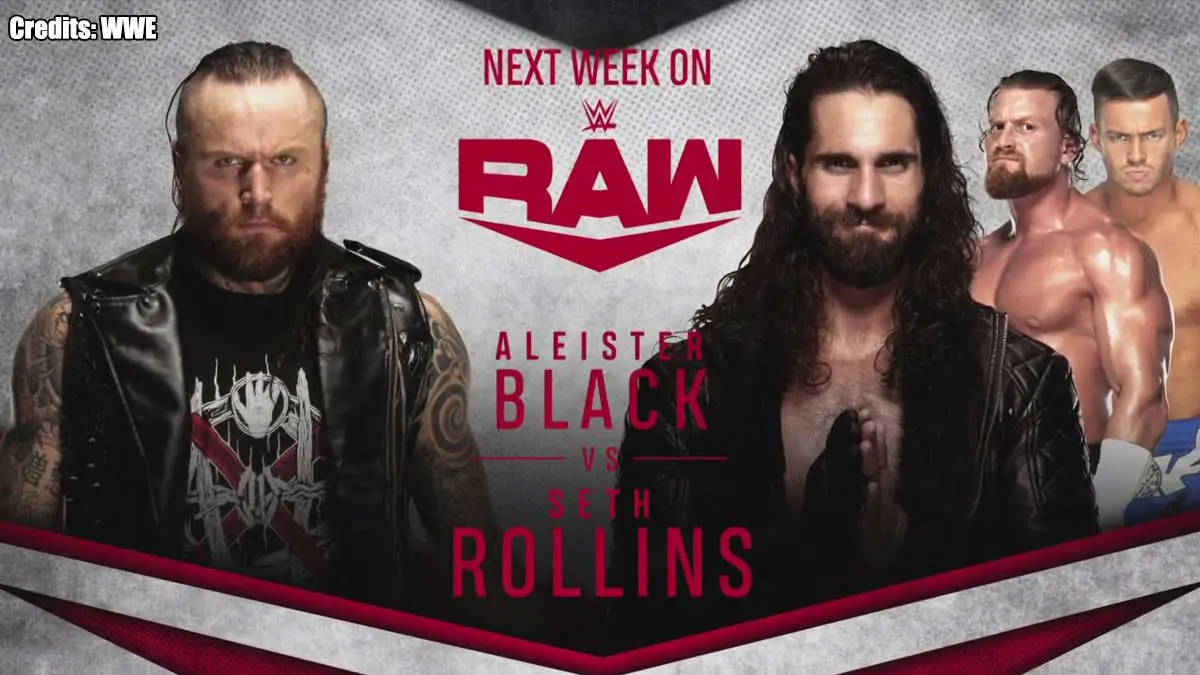 Welcome to ITN's Live Results & Updates for WWE Monday Night RAW episode of 1 June 2020(6/1/2020).
Location- WWE Performance Center, Orlando, FL, US
Time- 8 PM EST(2 June 2020 12 AM GMT/5:30 AM IST)
The build-up for WWE Backlash 2020 continues on WWE RAW tonight along with more storylines. The commentators welcome us for the show and announce Drew McIntyre vs MVP match along with bowling competition between The Street Profits and The Viking Raiders, apart from the earlier announced matches.
Rollins Retires Rey Mysterio
Seth Rollins comes out to the ring for the retirement ceremony of Rey Mysterio. We see the replay from last week where Rollins warned Black about sacrificing Humberto Carrillo if he does not back away. Murphy and Austin Theory are sitting at the ringside. Rollins starts his promo and says Black is confused about what has been going on and he need to enlighten him. So, Black has left him no choice but to face him.
He talks about Rey Mysterio now. Rollins says Rey will be on the show later tonight but it will be difficult for Mysterio to announce his retirement. So, Rollins is taking it upon himself to do it for Mysterio. Rey was chosen as a sacrifice for the greater good. Rollins continues by saying that Rey is the greatest Luchador and he sacrificed himself so that Rollins could take WWE to the next level. Rollins takes us to a video package honoring Rey's career in WWE over the years. We cut back to Rollins in the ring where he is saying that it will be his honor to personally induct him in the Hall of Fame. Aleister Black's music hits and he runs into the ring to attack Rollins. Rollins is forced out of the ring as we cut to the commercial.
Seth Rollins vs Aleister Black
Rollins is cautious as they lock in. Black with a few kicks. Rollins moves out of the ring after avoiding Black's kick. Rollins takes his time to recover on the outside. Black follows him and Rollins tries to catch him on the way. But Black hits him with another kick. Rollins catches Black with a dropkick as he was coming back into the ring. Rollins unloads on him now with punches before hitting a few chops in the corner.
A snap suplex gets him a two-count. Black fights back out of the corner but Rollins hits another dropkick. Black is sent to the outside and Rollins hits a suicide dive. Back in the ring, back and forth between them. Black catches Rollins with a sidekick and Rollins backdrops him out of the ring. Murphy and Austin Theory approach Black but Humberto Carrillo comes out with a steel chair. Rollins stops him as we go to the break.
Rollins is unloading in the corner as we return. Black hits knees to the gut to come back. He then catches Rollins with a kick but Rollins comes with the slingblade right away to get another two-count. Rollins goes for the knee strike and Black dodges him. He hits a series of kicks and sweeps Rollins off his feet. A moonsault gets him a two-count. A sidekick and snap German suplex gets Black another two-count. Rollins avoid the Black Mass and hits superkick and Falcon arrow to get a near fall.
Rollins goes to the top and jumps with the frog splash. But Black gets his knees up. They end up at the apron for more back and forth. Rollins was going for the powerbomb but Black pushes him into the ringpost and then hits a moonsault at the ringside as we go to another break.
They are fighting at the top as we return. Rollins manages to send Black down and hits the frog splash to get a near fall. Black avoids the stomp and puts Rollins in an armbar. Rollins counters with a powerbomb, but he is now selling an arm injury. Rollins jumps from the ropes but Black hits him with a knee strike. Black gets ready for the Black Mass when Murphy and Theory come up to the apron. Carrillo takes care of them while Rollins tries to roll-up Black in the ring. Black counters with his roll-up and gets the pin out of nowhere.
Winner- Aleister Black
After the match, Murphy and Theory attack Black in the ring. Carrillo comes in to make the save but Rollins keeps him down. Rollins hits Carrillo with the stomp while his disciples hold Black. Rollins trash talks Black, saying that he will show everyone what happens when someone gets in his way and then hits the stomp on Black also.
We see a recap of Apollo Crews' United States title win from last week. Charly Caruso is backstage with Angel Garza and Zelina Vega. She shows the replay from last week where Garza beat Kevin Owens. Vega says they believe the win over Owens was triumphant because he saw something and took it. Garza flirts some with Caruso and hands him a rose. Garza walks off and Vega rips the rose that Caruso received from Garza before walking off.
Shawn Michaels is backstage to plug Edge vs Randy Orton's match at Backlash which is billed as the greatest wrestling match ever. He recalls his best matches over the years against the likes of Bret Hart, The Undertaker and others. He puts over the match at Backlash and picks Edge as his winner.
We see the recap of Drew McIntyre's feud with MVP and Bobby Lashley. We cut to Lana ranting on MVP backstage. MVP tells her not to bother him as he has much work to do. Lana replies that MVP is just a leech who is using his husband to revive his career. MVP says that the same thing seems to be working for Lana. Lana smiles and slaps him before walking away.
Apollo Crews vs Kevin Owens – WWE United States Championship Match
Charly Caruso is in the ring now and announces the new United States Champion Apollo Crews. Crews comes out to a huge cheer from the trainee crowd. Caruso asks him how he is feeling in the first week of being the champion. Crews replies how good has been. Caruso asks him about his opponent for this week. Crews says he has a list of superstars against him to defend this title but very first, he wants to defend it against Kevin Owens.
Kevin Owens comes out and congratulates Crews. He tells Crews that he has not had a title opportunity in a long time but he feels that it is coming out of pity. Crews tells him that it is out of respect. Owens tells him that he is feeling bad for Crews now because his first title reigns is gonna be a short one. The announcers make the match official.
They lock up and trade waist locks to start. Crews catches Owens with a dropkick to get first blood. Owens puts him in a headlock now. A shoulder tackle and a dropkick from Owens before he clotheslines Crews out of the ring. They go back and forth at the ringside now. He avoids a moonsault and hits Crews with a cannonball. Back in the ring, Owens hits a cannonball to get a near fall.
Crews avoids the pop-up powerbomb but Owens kicks him in the gut to set-up the stunner. The kick gets a bit low and Crews is in pain now. Crews takes a bit of time to recover. They start again and Crews starts unloading. They get out of the ring and are brawling on the floor as we go to the break.
They are trading punches as we return. Owens hits a headbutt and Crews comes back with a power slam right away to get a two-count. Owens catches him with a super kick to get a two-count for himself. A moonsault gets Owens another two-count. Crews with an enziguiri and an olympic slam and then a standing moonsault to get a near fall. A couple of corner splash by Crews before Owens hits another superkick.
Owens goes to the top but misses the frog splash. Andrade and Angel Garza hit the ring to attack both of them. The referee has called for the bell. We go to the break as Owens and Crews recover at the ringside.
Result- Disqualification
Apollo Crews & Kevin Owens vs Angel Garza & Andrade(w/ Zelina Vega)
Andrade and Crews are going at it as we return from the break. Andrade kicks Crews to bring him down. Garza tags in. Crews avoids him in the corner but Garza catches him with a dropkick. Garza puts him in a submission shortly before tagging Andrade back in. Andrade with more blows and a basement dropkick now. Crews hits a couple of punches but Andrade keeps him down and tags in Garza back. Garza goes for the wing clipper but Crews avoids it and tags in Owens.
Owens charges at Garza and Andrade gets the blind tag. Garza rakes Owens' eyes and Andrade takes advantage. Andrade with a submission move to keep Owens down. Owens kicks his way out of it. He hits a few chops and a kick. He sets up for the cannonball but Garza provides a distraction. Owens avoids Andrade's charge and tags in Crews. Crews picks up Andrade but he counters. Garza trips Owens from the apron and this provides a distraction for Andrade for a roll-up. Crews kicks out of two and hits an Olympic slam for the pin and the win.
Winners- Apollo Crews & Kevin Owens
Kayla Braxton is with Asuka at the backstage. Asuka talks about defeating Nia Jax at Backlash and fefore that Charlotte Flair tonight.
We go to a bowling arena where RAW Tag Team Champions The Street Profits and The Viking Raiders are facing off. The Viking are leading the first half thoroughly. The Profits step it up in the second half. They are neck to neck before the last throw. Erik sends a ball down the alley with Ivar attached to it which gets them a strike. Their competition tie is at 2-2 now.
Billie Kay vs Nikki Cross
We see a replay from last week from the feud between The IIconics and Alexa Bliss & Nikki Cross. We go to the ring and The IIconics' music hits. But they do not come out. The camera cuts to backstage where these two teams are arguing. We go to the break.
The bells rings as we return. Cross with an early advantage. Cross hits a dropkick to get a two-count. Kay kicks back at her. Cross charges into a big boot from Kay for her to get a two-count. Kay argues with the referee about the count. Kay unloads Cross in the corner. A suplex gets her another two-count. Kay gets distracted by Bliss and Cross rolls her up for a two-count. Kay levels her with a forearm. She keeps Cross under control and drops her with a backbreaker.
Kay with an elbow drop and she continues to dominate. Cross starts to fights back now and hits forearm after forearm. Cross with a running forearm and then a bulldog. Cross goes to the apron and uses the middle rope to kick Kay back. Cross goes to the top for a crossbody but Kay moves away. Kay grabs Cross and hits the Boyfriend Stealer finisher to get the pin.
Winner- Billie Kay
Rey Mysterio Joins The Show
Rey Mysterio is joining the show from his home apparently. His mask has an eye covering. Mysterio says he does not know when he can come back. Samoa Joe asks him if Mysterio is here to announce his retirement as Rollins is saying. Mysterio replies that he doesn't know and it's up to him anymore. Rey could be cleared in a few weeks or never, but he didn't sacrifice himself.
Dominick Mysterio comes up now and says something needs to be done about Seth Rollins. Mysterio shouts at Rollins now for making his family suffer when he made them watch him with blood running down his face. Mysterio says he is a man of forgiveness, but he will never forgive Rollins for what he did to him and his family. Mysterio walks off. Dominick looks into the camera and says, "Seth Rollins, you're a man of scripture. An eye for an eye." We cut to the break.
Charly Caruso is backstage with Drew McIntyre to talk about Bobby Lashley interfering when he will face MVP. Drew loves challenges and if MVP wants to get back in the ring to take another Claymore, that's fine with him. Lashley can have another one too. Drew goes on about lining everyone who wants one up and giving them a one-way ticket to Claymore Country.
We see the promos from R-Truth and WWE 24/7 Champion Rob Gronkowski from last week. We cut to some town where Gronk is coming out of a building. He hands his phone to another guy is apparently making Tik Tok. A sweeper is working in the garden who obviously is R-Truth. The other guy reveals his referee jersey and R-Truth rolls up Gronk to win back the 24/7 Champion.
Nia Jax vs Kairi Sane
Nia Jax comes out to the ring. She cuts a promo saying that she did not start this. She was double teamed by Asuka and Kairi Sane and calls herself the victim here. She also degrades Asuka's title saying that it was Becky who just handed her the title because Becky got pregnant. Nia calls wants to make it right at Backlash. We go to another break now. After the break, Kairi Sane makes her way to the ring.
Jax throws Sane to start. Sane punches her back when Nia goes to taunt her. Asuka is cheering her from the back. Nia drops Sane and goes on to punch him a couple of times. Sane gets on her back to put her in a sleeper. Sane with some kicks as she starts shouting at Nia. She goes to the top and Nia picks him up. Sane counters with a tornado DDT now. Sane gets angry and hits a sliding elbow. She goes to the top but Nia moves out fo the ring.
Sane goes for a basement slide when Nia catches her and slams her to the floor. Nia sends her face-first into the steel steps. The referee checks on Sane now and the match continues. Jax brings her in and hits the Samoan Drop to get the win.
Winner- Nia Jax
After the match, Asuka runs into the ring to check on Sane. Asuka and Jax have a face-off in the ring for a while.
Randy Orton cuts a promo in reply to Edge. Orton addresses Edge about his comments that Orton had been complacent and was only working for a paycheck. Orton replies he did not have do much to be a great. He just needed to lace-up his boots and get into the ring. He will see him at Backlash.
WWE RAW Women's Champion Asuka vs WWE NXT Women's Champion Charlotte Flair
Charlotte Flair makes her way out to the ring. She cuts a promo against Asuka and then plugs her match at NXT TakeOver: In Your House against Io Shirai and Rhea Ripley. Asuka makes her way out for the match.
They lock up and Asuka goes for the waistlock. Flair puts her in the armbar. Asuka tries to put on the Asuka lock early. They dodge each others' kicks before Charlotte slams Asuka in the corner. Flair takes her from corner to corner with chops and slamming her head into the turnbuckle. Asuka tries to fight back in the corner but Charlotte starts to work on her leg.
After the break, Flair still in control and is working on Asuka's knee. Asuka fights back with forearms and punches. Flair once again attacks the knee to get some breathing space. Asuka hits a roundhouse kick to drop Flair now. Asuka is getting on her legs now. Hip attack in the corner, a German suplex, kick to the face and shining wizard in quick succession from Asuka to get a two-count. Asuka goes to the top but Flair moves away. Asuka puts her in armbar and Flair turns it into the Boston crab. After some struggle, Asuka rolls her into a knee bar. Flair overpowers her to hit a German suplex.
Asuka avoids a big boot and succeeds in putting Flair in another armbar. Flair struggles but picks Asuka up to hit the powerbomb to get a two-count. Flair tries to setup the figure four but Asuka avoids it by going to the apron. Flair runs him down with a big boot to send him to the floor. The referee starts counting down. As Asuka was recovering, Nia Jax comes out to Kairi Sane's music and wearing her mask. Asuka is counted out. Nia runs down Asuka with a clothesline on the ramp.
Winner- Charlotte Flair
Charly Caruso is with Lana at backstage now. She asks whether it was Lashley's idea for her to not come to ringside for his matches or was it MVP's? Lana looks confused and says it might be MVP's idea. She also says that Lashley asked her not to be at ringside during his matches, but she can be at ringside during MVP's matches.
Drew McIntyre vs MVP
Bobby Lashley is first to come out. MVP makes his way next. WWE Champion Drew McIntyre comes out to a huge cheer from the trainee crowd. The match was about to start but Lana is also coming out now. Lashley looks tense as she comes and stands beside him at the ringside.
The bell rings and McIntyre corners MVP right away to unload on him. MVP tries to fight back but McIntyre puts him in the corner again. McIntyre with a few chops now. He whips MVP corner to corner now. MVP tries to hit an armdrag but McIntyre stops it. A big boot sends MVP out of the ring. McIntyre follows and Lashley tries to sneak up on him. The distraction allows MVP to send McIntyre into the ringpost.
Back in the ring and he runs Drew over with a big boot. McIntyre gets up and hits a big boot of his own. He goes to the top to hit a clothesline from there. McIntyre was getting ready for the Claymore but Lashley pulls out MVP. McIntyre takes both of them out with a tope suicide. Back in the ring, McIntyre hits the claymore to get the pin and the win.
Winner- Drew McIntyre
After the match, McIntyre was celebrating when Lashley comes from behind and puts him in Full Nelson. McIntyre tries to fight back and slams Lashley into the corner a few times while still in the hold. Lashley is refusing to let go off him as the show goes off the air.
Raw Results Chronology