Johnny Gargano Tell Hillarious Story of First Meeting with Shawn Michaels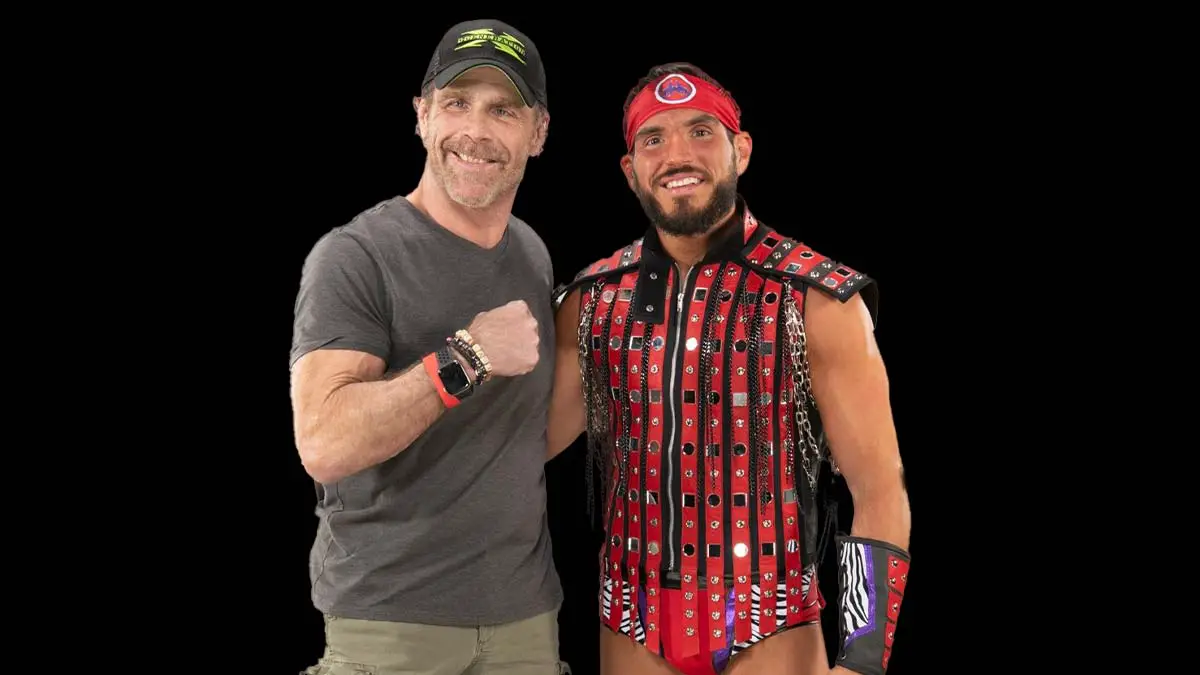 NXT Superstar Johnny Gargano joined WWE Live Dhammal show where he talked about what inspired him to become a professional wrestler, his favorite NXT moments and matches, Shawn Michaels and Tommaso Ciampa. Here is the complete transcript of the interview. You can check the complete interview here.
Johnny Gargano on What Made Him Choose Wrestling as a Career
So, I was always drawn to larger-than-life characters when I was younger. I was really big into Teenage Mutants Ninja Turtles, Power Rangers, superheroes. Unfortunately, those are not real-life job professions. I couldn't be that in real life. But, I saw a guy named Shawn Michaels, and I started watching wrestling. And when I saw Shawn, I saw this larger-than-life persona who is doing amazing things in the ring. But also, he was not the biggest guy. He had a certain aura and charisma about him. When I saw him, I was like that I need to do this one day. That was kind of the turning point for me where I saw Shawn Michael who was not the biggest guy. I wasn't the biggest kid. Shawn was kind of doubt during his whole run. He was looked upon and I just kind of related to that somehow. That made me want to do this[wrestling].
Johnny Gargano on Support from Parents
I was kind of an overweight chubby kid. When you tell your family members that – you know what, I am going to be a professional wrestler when I grow up… You look at pictures of me growing up, obviously, I can see why they doubted me. I get it. I don't look like a wrestler. I did not look like a professional wrestler. But my mom was such a big supporter. She would just make costumes for me and she would support me 110%. And my Dad used to have independent wrestling shows in the back of his parking lot because he had a catering company. So, that was actually the first I set my foot in the ring. Because he had an independent wrestling show in the back of his catering company. The first time I got into the ring though, I just knew this is what I was made for. So, if it wasn't for my parents supporting me and backing me 110%, I can honestly tell you I would not be here today.
Johnny Gargano On Tribute to Shawn Michaels at NXT TakeOver: In Your House 2021
He was the reason that I got into professional wrestling. I used to dance in my house to "Sexy Boy" on a daily basis. I used to dress like him for multiple Halloweens. He was my birthday cake. My mum actually painted him on my wall. And the fact that I was able to honestly work with him in NXT and see him on a regular basis, it's literally a dream come true. What I was able to do kind of inspire my ring gear on. I kind of paid tribute to him, entire way I paid tribute to Kliq. It is just super cool. I can honestly say that there will never be another Shawn Michaels ever. But I can just strive to be the first Johnny Gargano. And hopefully, one day… I have been told this, which is amazing to me, that my match at Takeover: New York with Adam Cole – that was kind of my boyhood dream – I have talked to people that have kids, that have said that they have watched that match and that match has inspired them to become wrestlers one day and to say that anything is possible. That's all I can do. I can put that out there and hopefully inspire some people.
Johnny Gargano on Meeting Shawn Michaels for the First Time
The first time when I met Shawn Michaels, was at an autograph signing when I was in High school. I got a picture with him. All I could matter was that you are my hero, man. He just said thank you.

The first time when I met him in a wrestling environment was at WWE Performance Centre. Me and Tommaso Ciampa heard that he was there that day when we were first starting in NXT. And we were walking down the hallway. We saw him coming down the same hallway. We were going to go right into him. So, we were like- this is going to be the first time that we're going to meet Shawn Michael in person. And we looked at each other and we dipped out the wrong way. We were like we can't do this right now. We cannot meet him right now. That was the first time I saw him.

So, my first two interactions were not the best. After meeting the guy, after talking to him, I have so much respect for that man. I have to remind him sometimes that is Shawn Michaels. I think he forgets sometimes that he is Shawn Michaels. That he is one of the best, if not the best ever to do it. So, it is super cool to see how humble he is and how much respect he has to we do.
Johnny Gargano on Criticism
I never want to forget how that felt. We talked earlier about how people told me my whole life I will never be a wrestler. My dream was to be in WWE. It's no secret I am not the biggest, I am not a prototype and I am not the guy you are going to look and say he is going to the Star of my show. It doesn't happen. I know I was not gifted in the best physical skills. But what I do have is a very particular set of skills. And that's just my ability to not give up. My ability to outwork anyone and never take no for an answer.

When WWE told me that they do not have a spot for me in NXT, I said ok. There is not a spot for me in NXT, then I am going to make one. When you give me an opportunity, I am gonna take it and kick that door down. That comes across as me being angry about it, but I am not. Everything happens for a reason and I wouldn't change the path that I was on. Because that has led to where I am today and it made me work even harder.
Johnny Gargano's Favorite Shawn Michaels Match
Obviously, the Ironman match[against Bret Hart at WrestleMania XII] has a special place in my heart just for the boyhood dreams of being in the moment and seeing Shawn final win the title. That was a huge moment for me. His match versus Undertaker at Hell in a Cell blew my mind when I was younger. And then you can take his any match from Wrestlemania. His match with Kurt angle with Chris Jericho, and a lot of matches with Triple H. But if I have to take a few, that I will be Iron man match and Hell in a Cell match.
Johnny Gargano on Failing in NXT Tryouts
So, it's funny because the timeline is kind of wild. When I did my try-out, I was told no. But then a few weeks later, me and Tommaso were contacted for the Dusty Rhodes Tag Team Classics. So, literally, it was a whirlwind of – I did a try-out, and a dark match in NXT. Then, I was told no and then we did the Dusty Rhodes Classics. But it was one of those things where we did not have a contract. We were just brought in on a random basis. We never knew whether we were going to be on the television or not. We never knew where we were going to show up. But I think that made things even more exciting. And it made fans wanna see us even more because they knew they played a big part in our success. Every time you cheered, every time you chanted "Johnny wrestling," every time you changed for me or Tommaso, you were playing a big part in getting us a contract. We became undeniable. They saw our talent and they saw what we were doing. They saw the people behind us and they like to hear – we have to sign these guys. If it wasn't for being told no, if it wasn't for Dusty Rhodes Classics, I would not be here today.
Johnny Gargano on Winning NXT Tag Team Championship with Tommaso Ciampa
I have said the word "dream come true" a lot. But you dream of winning a title in WWE. A lot of people when they grow up watching WWE, they say that I want that to be me who wins the title. And to be able to win the titles against Revival – especially coming after our match at Takeover: Brooklyn. Especially like how well received that match was. I honestly believe that if that match at Takeover: Brooklyn didn't go the way it did, if it wasn't so overwhelmingly praised, if people didn't love that so much, I don't think the tag title win would not have happened. So many things that went into this moment, that went into that particular night – especially for me, my mum was able to come. Candice was there. Tommaso's wife was there. We had our family there. And get them to enjoy that moment with us. They have been a part of this as much as I have. So, to do all that and to win the titles, you can't play it any better.
Johnny Gargano on Working With Tommaso Ciampa as Tag Team & as a Rival
It's funny because me and Tommaso, as people, are polar opposite. You look at us, you look at me and him. We are polar opposites. But when we were both told no and we went home together, we are kind of paired together. And me and Tommaso, before we came to WWE, we were never a tag team. We wrestled each other a few times, but we were not always against each other. But there was some kind of magic combo when you get me and Tommaso together. Whether it be in a team or against one another. There is just magic there. We bring out the best in one another. I think a lot of people say Triple H and Shawn Michael – they had kind of a similar aspect when they bring out the best in one another whether they are teaming or going against each other. I think we and Tommaso have the same vibe. And we owe each other, each others' careers honestly, I believe.
Johnny Gargano on Not Liking Any of His Matches
So, we talked about how I was a chubby kid and had low self-esteem. I think it comes from a place of that to where I also just don't want to get too comfortable. So, I am always striving for that perfect match. I am always striving for more. And I never want to be content. So, I don't want them to be like – there was that match and I did it.. that's the "A grade", A+. So, I think there is just a part of me that always looks for the bad parts. And when I find one little bad part, I just hate it. So, I just end up hating all my matches. But it is a blessing and a curse. It keeps me humble it and it keeps me wanting more.
Johnny Gargano on Bests of His Career
Best Match:
I always have 3 answers for these for different reasons. If I had to pick one pure wrestling match – I would say my match with Andrade at TakeOver: Philadelphia. If I had to pick the match best story match, my match with Tommaso at TakeOver: New Orleans. If I had to pick the best moment, story and overall match, it will be my match against Adam Cole at Takeover: New York.
Best NXT Moment:
I have to say it is winning the NXT championship from Adam Cole at Takeover: New York.
Toughest Opponent:
Tommaso Ciampa 100%. You watch any of the matches that we had against each other, they have absolutely taken years off my careers.
Favorite Match with Tommaso Ciampa:
I will say TakeOver: New Orleans, just for the atmosphere and the arena that night. I have not seen someone so universally hated as Tommaso that night. I was sitting in Gorilla and watching his entrance, watching the reaction he got- everyone in the building hated him. They were gonna love me. That atmosphere I will never forget. I will never forget that night.
Favourite Dream Opponent in WWE:
I have 3 I guess. I will go Seth Rollins. Here we go, Seth Freaking Rollins vs Johnny Freaking Wrestling. I will go AJ Styles and then Daniel Bryan. That's the three that I go with all the time. I have been in the ring with those three men before in independent and whatnot, but never in the WWE ring. So, I think it will be a whole different ball game.
Johnny Gargano on The Way
I came up with the idea of a faction. And me & Candice always be a kind of centerpieces of it. But, I can have the idea of evolution-esque behind it, where me and Candi will be in the Triple H & Ric Flair role, but we also take on younger talent that we were able to spotlight, were able to give a platform to similar to Randy & Batista. how they were able to grow and learn from Triple H & Ric Flair. So, Austin & Indi are two people that we saw that have potential through the roof – super young and so much untapped potential. Be able to kind of molded them & give them a platform that they feel like they can kind of growing. And the Way – that kind of the whole family vibe – that kind of just came out the on-screen, that kind of happened organically. We always make jokes that Austin or Indie are like our kids. They are big versions of us that we made in a lab. But now, it has become true. They really are kind of our kids that we can take care of it. But it's super fun. And it's be something that has benefitted to everyone. Austin and Indi have done such amazing work and be able to see their personality and see them grow on screen. It's been supercooled to watch. I think WWE has two stars for a very very long time. I think they going to do an amazing thing in their careers.
Johnny Gargano on Candice Le Rae Winning NXT Women's Championship
We talk about my favorite TakeOver moment and other moments. My favorite NXT moment is Candice winning the tag team title. It might be number 1 honesty. I know how hard that she has worked and we talked about what it felt like to win your first title, win my first title at takeover Toronto. It's what you work for, it just what you dream, when you are a little kid. And Candice has been waiting for the moment for a very very long time and she has worked extremely hard, she sacrifices so much for what we do, for the women's locker room and for NXT in general. So now, to be able to see her get that moment and win the tag team title with Indi, that we genuinely love and adore, it's just super cool. And it's something that I was really happy to see. It made me very very happy.