WWE RAW June 20, 2022 Results & Live Updates(w/ Preview)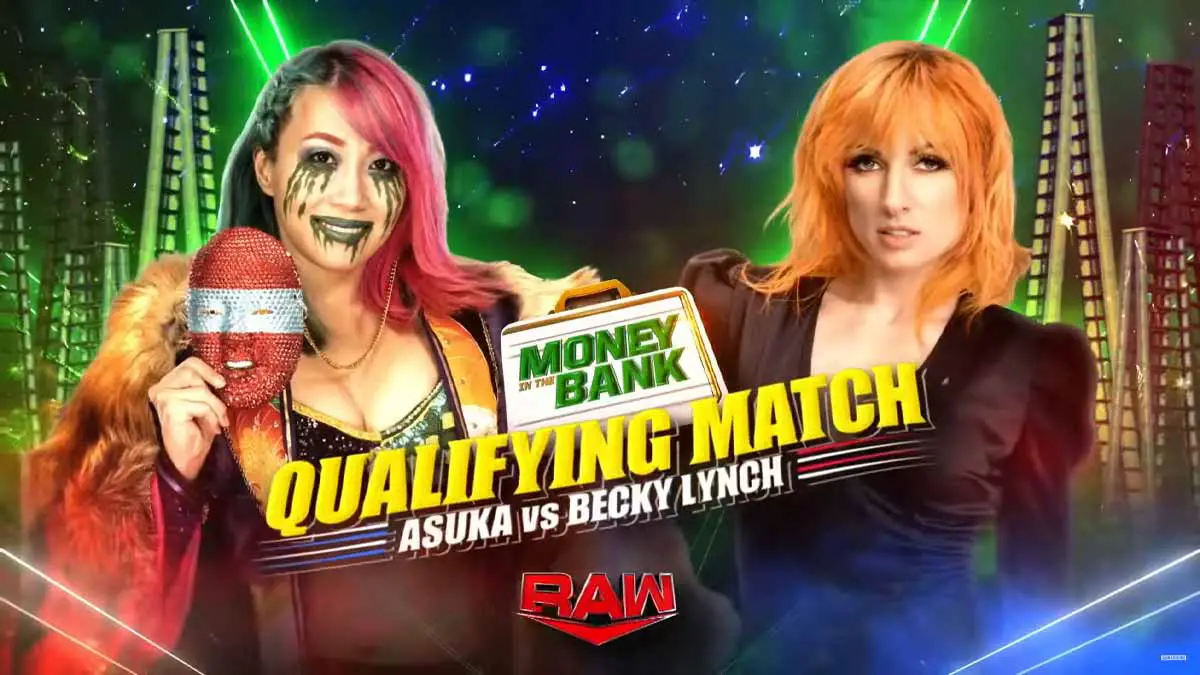 WWE RAW episode of June 20, 2022, will continue the build-up towards the upcoming Money in the Bank 2022 event. The event will air from the Pinnacle Bank Arena in Lincoln, Nebraska. 
It has been announced that Becky Lynch would Asuka in a MITB qualifying match.  Also, Elias will return to the red brand for one more concert. More MITB Ladder qualifying matches are also expected to take place.
Check below for WWE RAW June 20, 2022 episode results with live updates, winners, video highlights, preview and match card.
Live Updates
Bianca Belair comes out and tells us that Rhea Ripley is not cleared to face her at Money in the Bank. So, there will be a new #1 contender crowned tonight. She lists all the competitors from the match Liv Morgan, Alexa Bliss, Carmella, Asuka and Becky Lynch.
Becky Lynch vs Asuka vs Liv Morgan vs Alexa Bliss vs Carmella – #1 Contender match for RAW Women's Championship
Bliss goes for a cradle and they roll in the ring once again. Both Bliss and Liv are dizzy and end up dropping each other after colliding. Carmella tries to steal a pin but both Bliss and Liv kick out. Asuka gets in and Carmella avoids a German suplex. Asuka nails her with a roundhouse kick. Becky pulls Asuka out of the ring. Bliss drops Carmella. Becky misses a leg drop on Bliss.
Becky blocks a suplex. Asuka attacks Becky now. Carmella returns to the ring and sends Bliss out of the ring. Liv comes in and sends Carmella face-first into the turnbuckle. Liv goes to the top and Carmella pushes her into others on the floor.
Liv hits quick kicks and an enzuigiri on Becky. She hits a missile dropkick on Becky and then slams her face to the mat with a bulldog. Carmella drops Liv before Asuka gets mad at her and puts her in Asuka Lock. Becky breaks the lock and sends Asuka into a missile dropkick from Liv. Becky throws others outside and then hits Manhandle slam on Asuka. Liv hits a 450-splash to break the pin.
Bliss and Carmella break the pin attempt after that. More back and forth action and Becky hits Liv with Manhandle slam. Asuka pulls out Becky to break the pin. Bliss hits Liv with Twisted Bliss. Morgan recovers and sends her to the floor. Carmella nails Liv with a superkick to get the pin.
Winner – Carmella
Becky Lynch is arguing with Adam Pearce backstage. She keeps ranting about being stolen of the opportunities time and again. She says she is on the MITB poster, so, how can she not be in the match at MITB. Pearce tells her that she can have a qualifying match against Asuka later tonight.
Vince McMahon comes out to the ring and says this is 1517th edition of RAW and 20 out of 30 years of RAW, Cena dominated. He hypes Cena's return next week and leaves.
We get a recap of Roman Reigns defeating Riddle and Brock Lesnar returning to attack Roman.
Riddle vs Omos – Money in the Bank Qualifier
Riddle makes his entrance before the break. Riddle takes the mic after the break. He recalls how Randy Orton was injured by Roman Reigns and the Bloodline, and how he vowed to get revenge. He let everyone down including Randy Orton. Riddle says he might not be able to challenge Roman for the title, but he can win the Money in the Bank ladder. He continues his promo until MVP and Omos cut him off.
MVP asks Riddle if he is hanging out with Snoop Dog and others because a person could only talk about winning against Omos being that high. Riddle replies that he will get high when his hand will be held high after beating him.
Riddle charges with forearms. He unloads a flurry of strikes. Omos puts him in the corner but Riddle hits body kicks. Omos cuts him off with a side slam. Omos hits a back splash before whipping Riddle to the other corner. Omos steps up on Riddle's injured ribs.
Omos puts him in a bear hug. Omos nails a big elbow to his back. Omos continues to keep Riddle under control.
Riddle slips out after a while and hits a jumping knee. Riddle hits running forearns in the corner. Omos throws him across the ring. Riddle hits a moonsault kick. Riddle goes for an RKO, but Omos counters and hits double chokebomb to get the pin.
Winner – Omos
Omos hits another chokebomb on Riddle after the match. Omos and MVP leave and Seth Rollins makes his entrance while Riddle recovers. Rollins gets in the ring and decks Riddle before throwing him out of the ring. Rollins says he does not share space with a loser. Rollins says Riddle is a loser as he lost his friend, title match and MITB qualifier. Rollins says there is only one man who can dethrone Roman Reigns and that is him. Rollins continues his promo until Riddle attacks him from behind. Rollins brings him down to his knees and hits a stomp.
Theory Pose Down Again!
Austin Theory comes out to the ring. We get a recap of Pose Down segment from last week between him and Bobby Lashley. Theory cuts a promo mocking Lashley and also takes some shots at John Cena. Theory goes to repeat his pose down until Lashley appears behind him. Lashley throws baby oil at Theory and beats him up for a while.
Backstage, Theory is caught up by Kevin Patrick for an interview. Theory says Lashley does not deserve at a shot at United States title. But, he will face Lashley at Money in the Bank if he can win a Gauntlet match.
Jey Uso vs Angelo Dawkins
Dawkins hits a corner splash and an enzuigiri. Jey low-bridges him to the floor and hits a suicide dive. Jey unloads on the barricade and clotheslines him over it. We cut to a break.
Dawkins is fighting back with some big rights. He hits clotheslines before Jey hits a superkick. Dawkins hits a back elbow to fight back. A jumping clotheslines drops Jey again. Dawkins misses a corner splash. Jey hits a Samoan Drop. Dawkins counters and hits a twisting neckbreaker for a two-count. Dawkins nails him with big rights. Jey nails him with a superkick. Dawkins counters a splash with powerbomb to get the pin and the win.
Winner – Angelo Dawkins
Elias is in the middle of the ring now. He thanks the fans to welcome his younger brother and wants to remind everyone that WWE stands for Walk with Elias. Elias starts to play but Kevin Owens cuts him off and says no one wants to hear to his concert. Owens throws one of Elias' guitar from his hand. Elias nails him with a jumping knee and then smacks a guitar on his back.
Bobby Lashley vs Chad Gable – Gauntlet Match Part 1
They start with a lock up. Lashley grabs his shoulder before putting a side headlock. Lashley takesdown Gable with a headlock. He drops Gable to the mat and puts on a front facelock. Gable turns it into an arm wrist. Lashley reverses it. Gable rolls over and nails a chop. Gable goes to Shooosh Lashley but Lashley brings him down with a tackle. Lashley puts Gable on the apron and knocks him off. Lashley drives Gable into the ringpost. Lashley hits a delayed vertical suplex. Gable counters a spear with drop toe hold.
Gable puts on an ankle lock quickly and puts a lot of pressure on it. Lashley is struggling. He starts to hype up and kicks Gable away. Gable hits a tackle and then hits a splash from the top to get a two-count. Lashley blocks a German supelx and hits one of his own. Gable escapes the Hurt lock once but Lashley quickly puts him back in it. Gable taps out.
Winner – Bobby Lashley
Bobby Lashley vs Otis – Gauntlet Match Part 2
Otis attacks Lashley after the match. Otis beats up Lashley on the floor and sends him into the barricade. He sends Lashley into the ringpost now. Otis breaks the count and hits a splash on the floor. We cut to a break.
Lashley is trying to fight back but Otis ducks his clothesline and hits one himself. Otis hits a leg drop before nailing big rights in the corner. Otis misses a Vader Bomb. Lashley drops him with a Leg Sweep. He goes for the Hurt Lock but could not complete the lock. Otis slams him back to the corner to break it. Lashley ends up hitting a spear on Otis. Gable interferres to break the pin and causes a DQ.
Winner – Bobby Lashley
Bobby Lashley vs Theory – Gauntlet Match Part 3
Otis and Gable continue to beat up Lashley after the match. They slam Lashley into the ring post and then Gable hits a German suplex and Otis hits a splash.
Theory runs out and starts to unload on Lashley for a while. Lashley starts to fight back. Theory nails him with a dropkick. Lashley counters an ATL with an inside cradle to get the pin.
Winner – Bobby Lashley
Miz welcomes AJ Styles on The MizTV. The Miz asks AJ about his bad luck lately with him losing to Edge and Judgement Day, losing Finn Balor to Judgement Day and then to Seth Rollins last week. AJ mocks Miz with big balls chants. The segment was about to turn violent but Miz left the ring. Ciampa attacks AJ from behind to send us to a break.
AJ Styles vs Ciampa
AJ puts Ciampa in the corner and unloads. He hits a big clothesline. AJ's dropkick sends Ciampa's tooth flying. Ciampa goes to the floor and return to the ring to catch AJ on the apron with a knee. Ciampa hits another running knee. He continues to work on AJ for a while. AJ comes back with a flurry of strikes and hits a low clothesline. Ciampa hits a rolling elbow. Ciampa goes for the fairytale ending but AJ counters it with sunset flip. AJ hits a Phenomenal Forearm to get the pin.
Winner – AJ Styles
Miz tries to attack him from behind but AJ nails him with a Pele kick. AJ hits him with Styles Clash to end the segment.
Asuka vs Becky Lynch – Money in the Bank Qualifier
Becky attacks Asuka during her entrance. Becky throws Asuka into the barricade and drivers her into the apron. Asuka turns it around for a while before they get into the ring to start the match.
They start to brawl on the mat. Asuka goes for an armbar but Becky blocks it. Becky goes for a shoulder tackle but Asuka does not budge. Asuka drops Becky with her shoulder tackle. Becky sends Asuka to the floor and hits a basement slide dropkick. Becky slams Asuka's face into the apron. Becky throws her back into the ring and Asuka nails her with kick.
Asuka knocks her off with a hip attack. Becky hits a kick to the midsection as she comes to the floor. Becky goes to the top and Asuka meets her there. Becky blocks a superplex but Asuka ends up hitting her with a double knee. Asuka hits sidekicks. Becky hits back with uppercuts. She knocks Asuka off the top to take us to a break.
Both women are down as we return from the break. They trade shots. Asuka gets Becky into a cradle before hitting a clothesline. Asuka hits a flurry of spinning backfist and kick. A hip attack from Asuka gets her a two-count. Becky goes for Asuka lock but Asuka blocks it and puts on an ankle lock. Becky rolls her into the turnbuckle. Becky slams Asuka"s face into the turnbuckle a few times to get a two-count.
Becky nails her with more shots but misses a leg drop. Asuka puts on the Asuka lock on the ropes until the referee's count. A missile dropkick gets her another close two-count. Becky hits a leg drop on the apron. Asuka catches her with a knee as Becky jumps on her on the floor. They both beat the referee's count. They trade more shots. Asuka counters Manhandle slam with a pin attempt. Asuka hits a big roundhouse kick to get the pin.
Winner – Asuka
Asuka celebrates the win while Becky is down on the floor crying.
---
Preview
Asuka vs Becky Lynch: Asuka has been creating troubles for Becky Lynch ever since she made her return to Raw. She cost Big Time Becks a RAW Women's title opportunity and a 24/7 title match. Now, Becky Lynch will try to take her revenge against Asuka and cement her place in the women's MITB Ladder match. 
Elias Returns to RAW: Last week, Ezekiel announced that his elder brother Elias would finally return to Raw for one more concert, and when he returns it will become clear that he is not Elias. Will it be proven that Ezekiel and Elias are different people?