WWE NXT Results April 11, 2023, Live Updates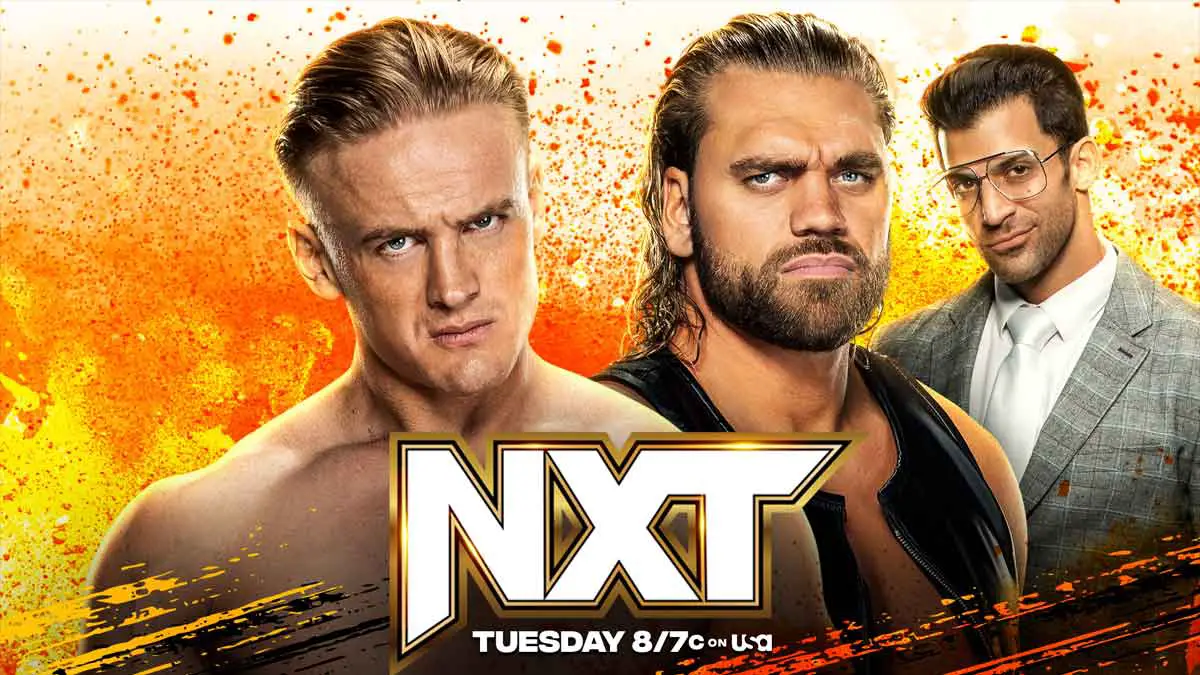 Welcome to the live results blog for WWE NXT April 11, 2023 episode which featured a #1 contender match for NXT Championship in the build-up for NXT Spring Breakin'.
Dragon Lee and JD McDonagh were two of the announced participant for the #1 contender match. How did former NXT Champion Bron Breakker factor in this? Breakker turned heel on NXT Champion Carmelo Hayes last week, indicating that his rivalry with Hayes would continue.
Ilja Dragunov and Von Wagner were set for a singles match. Mr. Stone had told Wagner that he would walk out as his manager if he loses. Fallon Henley and Kiana James got another chance to win NXT Women's Tag Team Championship as they got a rematch against Isla Dawn and Alba Fyre.
Cora Jade was set to address fans after attacking NXT Women's Champion Indi Hartwell last week. Duke Hudson was to be awarded an MVP trophy by Chase University after he helped Andre Chase keep hold of the school at Stand & Deliver.
Check below for results from WWE NXT April 11, 2023 episode with live updates, winners, highlights and complete action from the show.
RESULTS
Isla Dawn & Alba Fyre(c) defeated Fallon Henley & Kiana James in a tag team match via pinfall to retain NXT Women's Tag Team Championship.
Eddy Thrope defeated Javier Bernal in a singles match via pinfall.
Tiffany Stratton defeated Sol Ruca in a singles match via pinfall.
Ilja Dragunov defeated Von Wagner in a singles match via pinfall.
Joe Coffey defeated Tank Ledger in a singles match via pinfall.
Grayson Waller defeated Duke Hudson, Dragon Lee & JD McDonagh in a Fatal 4-Way #1 Contender match for NXT Championship via pinfall.
LIVE UPDATES
Champions Address!
Carmelo Hayes opens the show with Trick Williams. Hayes says everything between him and Bron Breakker was about respect. But Breakker caught him when he let his guard down. Hayes assures this will never happen again. If Breakker thinks him raising his hand after the match was some sign of passing the torch moment, then Breakker is mistaken because Breakker did not pass the torch but Hayes took it from him. Hayes orders Breakker to take a spot in the #1 contender match later tonight, win it and face him at Spring Breakin'.
Dragon Lee's music hits and he comes out. Lee claims that he will win the #1 contender match tonight and then they will face off at Spring Breakin'. Hayes gives him props for his talent but says he cannot call out a champion like that and is only getting a pass because he is new. JD McDonagh's music hits and says Hayes is already slipping in just one week after becoming a champion. He says he is not an internet darling like Dragon Lee and does not need fancy entrance like Grayson Waller, but is great already.
Grayson Waller comes out next. He claims the fans and Lee are stupid and that a true star will take the title off Hayes. Hayes says he is ready for anyone at Spring Breakin' in two weeks.
---
Fallon Henley goes to Kiana James backstage and asks her if they are ok. James is in foul mood but says they need to win the title by any means neccessary. They argue over that part until Josh Briggs comes in and calms them down. When asked, James tells them that Jensen does not want to see them.
---
Sol Ruca was making a Tik-Tok with Dani Palmer earlier tonight when Tiffany Stratton interrupted and argued with them.
Isla Dawn & Alba Fyre(c) s Fallon Henley & Kiana James – NXT Women's Tag Team Championship
James fights with Fyre on the floor while Henley hits a Thesz press on Dawn in the ring. James comes in after hitting Fyre with a body slam on the floor. Quick tags between Henley and James as they corner Dawn. Henley sends Dawn on the ropes. Fyre takes a blind tag and trips Henley. Fyre and Dawn keep control for a while with quick tags. We see Brooks Jensen entering the arena in his SUV.
Henley hits a jawbreaker on Fyre and tags in James. James sends both opponents to the corner to hit a big corner splash. Henley comes in to help her out with some double team action. Dawn and Fyre are thrown to the floor and dropped there to take us to a break.
Dawn is in control against James as we return. James counters with a sunset flip for a two-count. Dawn trips her when she gets back to her feet. Fyre comes in and and James hits a side suplex. James drags to the corner to tags in Henley. Henley hits big punches before a bulldog, a corner elbow and another bulldog. Henley hits a springboard clothesline.
Fyre breaks the pin attempt. James comes in to fight Fyre but Fyre sends her back to the floor. Henley hits a Canadian Destoyer on Fyre. Jensen comes in and tries to give Henley a bag to use. Henley refuses. The referee sends him out of the ring and Jensen is frustrated. He pushes Josh Briggs down when he tries to calm him down. Fyre and Dawn double team on Henley to get the pinfall.
Winners – Alba Fyre & Isla Dawn
Jensen picks up Henley and takes her to the back. Briggs is angry at Jensen as he gets up at ringside.
---
We get a video package from Naom Dar explaining Heritage Cup and says he is here to see if anyone in NXT can step up to him to take it away from him.
MVP
Andre Chase opens the segment and says he is here as the Dean of Chase U because of Duke Hudson and they are here to present him with Most Valuable Player trophy. Chase says they do not see eye to eye on many things but he is sure that Duke will fight with him side by side. He presents Hudson with a trophy. Duke takes over and says he does not like awards and ceremonies but this is not about him but "U". He says he took the weight of all the responsibilities when millions were watching him at Stand & Deliver. And now, he can proudly say that he is the MVP.
Bron Breakker comes in and says everyone just keeps telling him that he should be in the #1 contender match tonight, but he has realised that he does not need approval of these s###bags. He offers the spot to Duke Hudson and offers a handshake. Chase tells Hudson to shake hands. Breakker goes to leave but turns back and hits a spear on Chase. Hudson contemplates whether to take Chase U flag or MVP trophy. He picks up MVP trophy and runs away with it. Breakker rips the Chase U flag.
---
NXT Anonymous has posted a video of Tony D'Angelo and Stacks attacking Pretty Deadly somewhere outside and kidnapping them.
Eddy Thorpe vs Javier Bernal
Back and forth action and counters as the match starts. Bernal trips Thorpe to the floor. He slams Thorpe's face into the announce table before taking him back to the ring. He hits a running bulldog and a low clothesline to get a two-count. He blocks a dropkick from Thorpe. He puts on Boston crab but Thorpe rolls over quickly and hits upkicks. They trade punches before he hits an enzuigiri and an elbow drop to get a two-count. Bernal drops Thorpe for a two-count. Thorpe hits a German suplex before he hits his finisher to get the pinfall.
Winners – Eddy Thorpe
We see Gallus confronting Tank Ledger backstage who is supposed to make his debut soon. They suggest he makes his debut against them tonight. Schism come in and the two side argue for a while.
Tiffany Stratton vs Sol Ruca
They lock up and Tiffany calls for a break when they get to the ropes. She takes a cheap shot at Ruca and drops her with a leg sweep before putting on an arm wringer. Ruca counters several takedowns and trips. Tiffany comes out of top on a lengthy sequence as she stomped on Ruca's elbow. She keeps working on the shoulder for a while before putting on a shoulder lock.
Ruca breaks free and hits quick moves including a flying shoulder tackle, a suplex and a body slam to get a two-count. She hits a handspring elbow shot before another powerslam to get a two-count. Tiffany rolls to the floor and cuts off Ruca on the apron with a knee strike. Ruca rolls her up but they are near the ropes. Tiffany hits a rolling driver and a moonsault to get the pinfall.
Winner – Tiffany Straton
Duke Hudson is getting ready for his match later tonight. He thanks Andre Chase, who is still selling a spear from Breakker, to take one for the team. He claims that he will be the first one to take the gold home for Chase U. Thea Hail gets hyped hearing this.
---
Diamond Mine is backstage and they challenge Gallus for tag team titles. They rant on Schism getting everything they want and say they will be ringside of Joe Coffey's match. Tiffany Stratton comes in after Diamond Mine leaves. She praises herself for a while and says Indi Hartwell is the most beatable champion ever.
Cora Speaks
Cora Jade makes her entrance and starts her promo. She says she returned to find the women's division upside down and it's time to humble some people. She credits Zoey Stark but adds that she will always be the challenger, never the champion.
Next, Cora claims that she is only reason Roxanne Perez is here in NXT. She gives Gigi Dolin some credit for not crumbling without Toxic Attraction, but adds that the women's title says "Cora Jade".
Cora then moves to Tiffany Stratton who looks the part and plays it, but Cora runs this place now. For Lyra Valkyria, Cora says she attacks everything with a pulse but she should fears Jade even if she does not fear anything else. For the champion, Cora says the chants should have been "Took you long enough!"
Lyra Valkyria interrupts her with her entrance. She asks if Cora is mad because the whole women's division moved forward without her. Lyra tells her that she can give her a crown for ripping apart the division on the mic, but for the title, if she goes near it, she will rip her eyes out. Cora slaps Lyra and laughs about it. Lyra drops her a kick.
Ilja Dragunov vs Von Wagner
Wagner hits a big boot to start the match. He hits several elbows in the corner before a corner splash. Wagner tosses Dragunov across the ring before whipping him hard into the corner again. Ilja counters with a boot from the corner. Wagner hits him with a side slam. Mr. Stone fires some instructions from the floor. Dragunov switches a waistlock but fails to hit German suplex.
Dragunov comes off the ropes with a clothesline. Dragunov hits a German suplex. Dragunov goes to the top now but Wagner picks him up and throws him to the floor. He hits a double underhook slam to get a two-count. Dragunov comes back with an enzuigiri and diving punch. He finishes off with a torpedo to get a pinfall.
Winner – Ilja Dragunov
After the match, Mr. Stone leaves without Wagner. Dijak's music hits and Dragunov waits for him and he appears behind Dragunov. Dragunov turns back as Dijak comes into the ring and says, "If pain makes you feel alive, then I am gonna make you immortal".
---
Hank Walker is with Tank Ledger and tries to motivate him and discuss his match against Joe Coffey.
Joe Coffey vs Tank Ledger
Tank Ledger is the first singing from WWE NIL program. Coffey goes to his back and hits a blow. Ledger pushes Coffey to the mat. He no-sells Coffey's shoulder tackle. Ledger hits a flying shoulder tackle before more tackles. Coffey hits an European uppercut before a dropkick. He hits a backbreaker to get a two-count. Coffey toys around with Ledger and goes for an arm wringer. He works on the other arm now.
Legder tries to take a shot but Coffey controls his arms. Ledger counters with a belly-to-belly suplex. He hits some running tackles and splash. Coffey avoids a slam by holding onto the ropes. Coffey drops him to the floor with a big left. He hits a crossbody next against the steel steps. Back to the ring, he hits another crossbody. Ledger gets up and Coffey drops him again with a lariat to get the pinfall.
Winner – Joe Coffey
After the match, The Creed Brothers and Schism come out and brawl with Gallus.
---
Roxanne Perez is stopped by Tony D'Angelo and Stacks. Perez says she is back after the break she needed after Stand & Deliver. Zoey Stark comes in and takes shots at Perez. Perez tells her she will see her in a match next week. Perez leaves and Stack moves towards Stark to talk. Pretty Deadly attack them from behind.
Dragon Lee vs JD McDonagh vs Grayson Waller vs Duke Hudson – Fatal 4-Way #1 Contender match for NXT Championship
Duke blocks a shot from Waller and sends him to the floor. Lee and JD try to take him down before Waller pulls him out. Lee and JD go back and forth. Lee hits a dropkick on JD. Waller comes in and takes shots at Lee. Lee slaps him when he talks trash. JD hits a kick from behind on Lee. Waller hits him with a clothesline. JD and Waller work on Duke now.
Duke blocks a double suplex and hits one himself on JD and Waller. He hits body slams on all three, dropping them on each other. Lee uses a low bridge to send him to the floor and hits a suicide dive. Waller hits a clothesline on Lee on the floor before JD hits him with a moonsault. Duke gets back in to the ring. His move is cut off by Waller with a stunner. Lee and JD break the pin. We cut to a break.
JD and Waller has Duke in a Boston Crab. Lee comes to the apron and both of them go to deal with him. Lee hits quick moves to set them up in the corner for dropkicks. JD sends him into the ringpost. Waller then sends JD into the ringpost. He hits an elbow drop on Duke in the ring for a near fall. Duke starts to hulk up as he soaks in Waller's punches. Duke hits several punches before a back elbow and a side slam. JD comes in and gets hit with a back body drop. Lee is hit with a belly-to-belly slam.
Duke hits an Urinage on Waller. Duke continues to run riot. He hits jabs on Waller before hitting a senton on him. He hits a German suplex on Lee. Waller breaks the pin. Duke gets Waller on his shoulders and drops him to on his back. He does the same to Lee before JD counters the move with a poisonrana. JD trips Waller and hits a senton. JD hits his finisher but Lee hits a double stomp to break the count. Lee sneds JD's face into the turnbuckle. JD hits him with a knee. Lee gets him in the tree of woe and hits double stomp.
Winner – Grayson Waller
Waller does a shoey on the stage. NXT Champion Hayes comes out to the stage to have a face-off with him to close the show.