WWE Clash of Champions 2019- Preview & Predictions
The complete preview, storylines and our predictions for WWE Clash of Champions 2019 match card.
WWE's Clash of Champions, where every WWE championship will be defended. And only one non-title match between Roman Reigns and Erick Rowan. The final of King of the Ring 2019 Tournament is unceremoniously dropped from the card. The logic given is that the final will need a proper amount of time which could not be allocated to it when there are 11 matches in 3 and a half-hour time(plus one hour on pre-show). But I am of the opinion that WWE doesn't deem Baron Corbin vs Chad Gable as grand to create space for them.
But regardless, there are some new faces on the card, competing for the championship matches like Cedric Alexander for US title, Humberto Carrillo and Lince Dorado for Cruiserweight title, Sonya Deville and Mandy Rose for Women's Tag Titles, and even Robert Roode is on the card. But the more dynamic feature of this card is the convoluted storylines for all the top titles. More on this when we preview those matches in detail below. For the complete storylines for all these matches, please check the below link.
---
Shinsuke Nakamura vs The Miz- WWE Intercontinental Championship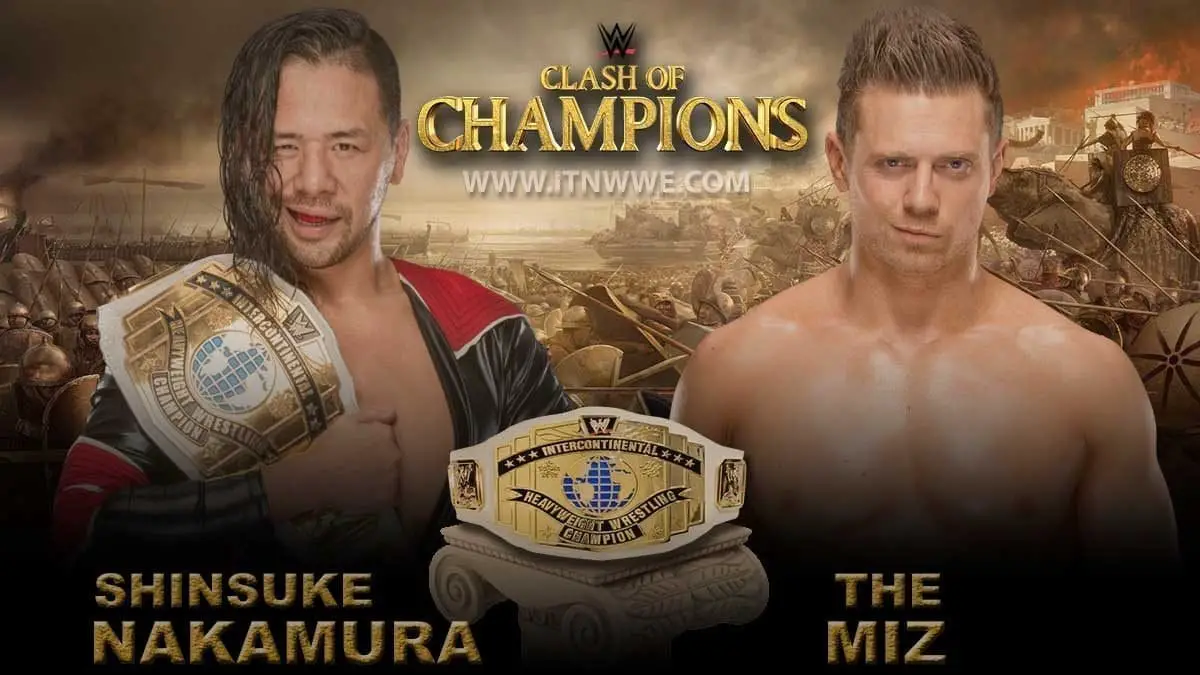 Preview- Ever since the Miz has turned face, he has been booked in the worst possible manner. Losing and losing, apart from an odd win to remind us that he can actually win. Like the one against Andrade earlier this week. Nakamura has made the IC champ but WWE never knew what to do with him next. So, we don't know who stumbled upon it, they paired him with one more guy who they had no ideas for; Sami Zayn. The pairing is quite brilliant if they would just let Nakamura destroy his opponents and let Sami do the mic work. And Miz is kind of a perfect fodder for them in the initial stage.
Prediction- Nakamura should win this at Clash of Champions. If WWE does not go along with this Nakamura-Zayn storyline and let Nakamura retain the title, it would be atrocious.
---
Kofi Kingston(c) vs Randy Orton – WWE Championship + The New Day(c) vs The Revival- WWE SmackDown Tag Team Championship
Preview- WWE is out repeating the storyline from last summer when Samoa Joe used AJ Styles' family to get under his skin. This time, it is Orton who merely looked towards Kofi's family and Kofi blew off. Since then, it is more of Orton using all his tricks to try to beat up Orton. The Revival became a part of it with their feud with Kofi's buddies and SmackDown Tag Team Champions Xavier Woods and Big E. Orton took them under his wings and they look a perfect heel combo.
Predictions- After borrowing the family storyline, I believe WWE will go ahead and borrow another one when Randy Orton wins the title here, only for Kofi to win it back down the line. As far as tag titles go, Woods and Big E will retain them.
Please switch to next page for more!!