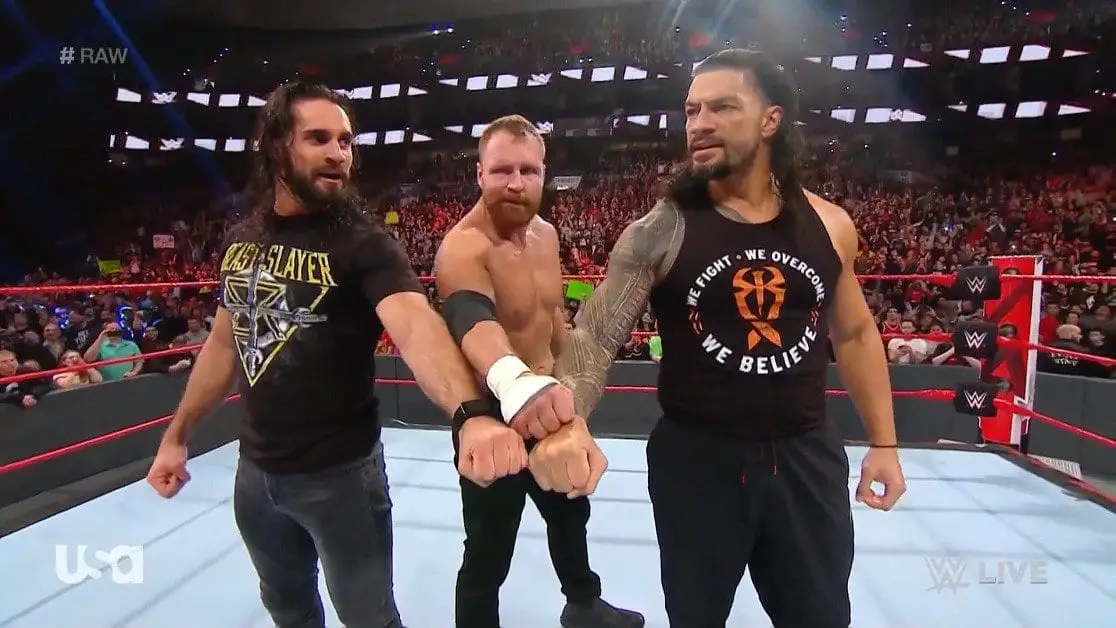 The Shield is finally reunited after teasing for the event last week and will face the trio of Drew McIntyre, Baron Corbin and Lashley at Fastlane.
Roman Reings came back to WWE last week and announced that he is remission in his battle with Leukemia. Reigns and Rollins later combined to save Dean Ambrose from a 4-on-1 assault from the team of Elias, Baron Corbin, Drew McItnyre and Bobby Lashley. Roman again opened the show this week and asked Seth Rollins to unite Shield for the last time. Rollins agreed to it after some convincing from Reigns but when Ambrose came out he was attacked by Elias on the entrance before he could say anything.
After this segment, both Reigns and Rollins tried to convince Ambrose to agree to reunite the Shield but he shrugged both of them off by saying he wants to focus on his match against Elias later in the night. Ambrose lost that match as he was still feeling the guitar strike from the Elias earlier. After the match, Rollins and Reigns came to the ring to talk to Ambrose but he walked away through the crowd.
Drew McIntyre with Baron Corbin and Bobby Lashley attacked Reigns and Rollins. After watching his Shield Brothers getting outnumbered, Ambrose finally joined the fray. The trio took down their opponents in the brawl and Reigns and Rollins stood in the ring with joined fists in the signature pose of the Shield. After some cheering from the crowd, Ambrose also gave in and joined them to make the reunion official.
The Shield will now face Drew McIntyre, Baron Corbin and Bobby Lashley in an earlier rumored 6 men Tag Team Match at Fastlane on this Sunday, 10 March. This will be the first match for Roman Reigns since his return to WWE last week. Also, it is being speculated in the media that the news of Dean Ambrose leaving WWE is a work from WWE and that he will continue with the company post WrestleMania also.
In some other reports on the internet, it is mentioned that Roman Reigns is trying to convince Dean Ambrose to continue with WWE after all. Earlier in the show Reigns will want his title back but also acknowledged that Rollins has carried the show since he was gone and deserved the title shot.