AEW Double or Nothing 2019 Live Results and Updates
Welcome to the live results and updates blog from AEW Double or Nothing 2019. After months of talk and promises, AEW will host its first show tonight at MGM Grand Arena in Las Vegas, Nevada, US. Below are the line-up and previews.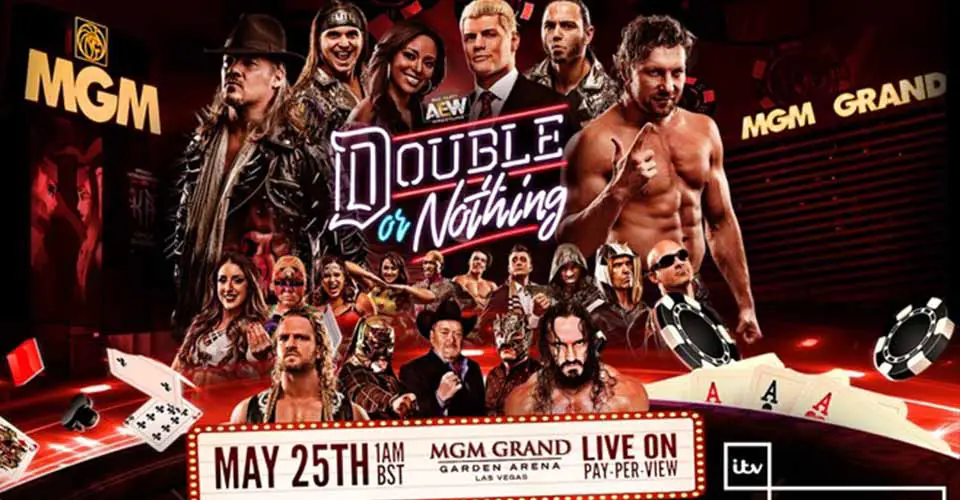 Quick Results
Adam "Hangman" Page wins the Casino Battle Royal
Kip Sabian defeated Sammy Guevara
SoCal Uncensored (Kazarian, Daniels and Sky) defeated Strong Hearts (Cima, T-Hawk and El Lindaman)
Britt Baker defeated Kylie Rae, Nyla Rose and Awesome Kong in a fatal 4-way Match
Best Friends defeated Angelico and Jack Evans in a tag team match
Hikaru Shida, Riho Abe and Ryo Mizunami defeated Aja Kong, Yuka Sakazaki and Emi Sakura in a 6-woman tag team match
Cody Rhodes beat Dustin Rhodes
The Young Bucks(Matt and Nick Jackson) defeated the Lucha Bros.(Rey Fenix and Pentagon Jr.) to retain the AAA Tag Team Championship
Chris Jericho beats Kenny Omega
Buy In Pre-show
The pre-show is live with Casino Battle Royal being the first match.
#1 Casino Battle Royal
MJF, Dustin Thomas, Sunny Daze, Brandon Cutler, and Michale Nakazawa start things off.  MJF immediately goes after Thomas and calls him Lt. Dan from Forrest Gump, Cutler immediately swings on MJF. Nakazawa brings out the baby oil and uses it to his advantage to slide out of a few moves. Diamond Group is drawn: Brian Pillman Jr., Isiah Kassidy, Jimmy Havoc, Joey Janela, and Shawn Spears. Shawn Spears heads out and gets a "10!" chant from the crowd. He goes right after MJF but gets poked in the eye and MJF mocks the 10 pose. Spears returns fire with a neckbreaker, does his ten hand pose and then gives a middle finger.
Glacier gets a quick elimination while MJF and Billy Gunn fight near the ropes. Brian Pillman Jr. comes in with a dropkick off of the top rope. Only a few people have been eliminated so far. Billy Gunn, Glacier, Ace Romero, Marq Quen, Sonny Kiss, Tommy Dreamer, Luchasaurus, Marko Stunt and others enter. One last guy to go as every swing away on each other. Plenty of bodies still to go. Dream heads into the ring and sends a trash can into the ring, clipping Luchasaurus. Dreamer starts smacking everyone with a trash lid. Havoc wants a shot from Dream, then gets a cutter.
Surprise but no Surprise when Adam "Hangman" Page enters at no. 21. Page has some tapes on his knees. He takes out so many one by one. Janela and Page meet in the middle of the ring and swing away on each other. Spears lights up Romero in the corner as Luchasaurus wants a piece of Page, but Romero ends up taking out Luchasaurus. Page tried to lift up Romero and the knee gives out. Stunt takes on Romero, but ends up getting pounced out of the ring and onto Private Party! Jungle Boy with a dropkick to Romero's back and sends him out of the ring.
Shawn Spears set up Jungle Boy for Dustin Thomas to hit him with a 619 and a springboard 450. He ends up eliminating Shawn Spears before MJF pushes him out of the ring for an elimination. Cutler sends Gunn out, MJF tosses Cutler. Luchasaurus ends up sending Janela out and down through a table! Dreamer eliminates Kiss. Cassidy finally gets into the ring and hits the Kicks of Doom on Dreamer's leg. Dreamer plays along and punches Cassidy, he kips up with hands in his pockets. Dreamer then just sends him out of the ring. Havoc with a staple gun to Dreamer's head and down low, he's out of the match. Jimmy Havoc eliminates Jungle Boy to bring it down to the final four: Page, MJF, Luchasaurus and Havoc.
Jungle Boy was nearly thrown out by MJF, but Havoc bites on Jungle Boy's fingers and he's out. Down to the final four: Page, Luchasaurus, Havoc, and MJF. The three go after MJF at first, he rolls out to the floor, but not over the top rope. Luchasaurus sends out Havoc. Page and Lucha face off in the ring with MJF still sitting out on the floor. He gets dropped on his knee, Luchasaurus charges, Page drops down and out he goes. Page thinks he won, MJF sneaks in and tries to throw him out. Page hangs on, hits buckshot lariat and sends MJF out of the ring.
Winner- Adam "Hangman" Page
Backstage, Alicia A talks with Kylie Rae about tonight's show. Rae is super excited about tonight's match and talks about how cool tonight is. She ends up getting quieted by "The Librarian" Peter Avalon, he then gets silenced by Leva Bates. They end up in a "shush-off" as Rae just smiles and watches on in the background.
#2 Sammy Guevara vs Kip Sabian
Guevara applies a headlock to start. Sabian turns it into a hammerlock before bringing him down into a headscissor. They keep going back and forth with counters and takedowns. They lock down and come to stalemate a couple of times. Sabian runs rope to rope before hitting a dropkick. Guevara returns the favor with a dropkick on his own. He eats a kick to the face at the apron to go to ringside before they trade suicide dives on each other. Sabian locks Guevara in a reverse figure four until he gets to the ropes.
Guevara tries to send Sabian out with a suplex but he lands on the apron and hits a dropkick. A penalty kick gets Sabian two count. Sabian with a punch and shoulder tackle and goes for the suplex. Guevara counters and takes Sabian out of the ring to hit the suplex on the floor. He sets up Sabian on the barricade and hits a shooting star press from the apron. He rolls Sabian back in and goes for a 630 off the top. Sabian gets his knees up to block and hits the Deathly Hallows for the pin and the win.
Winner- Kip Sabian
Backstage, Jim Ross makes his way up to the announce table.
Outside, a pickup truck pulls up, we see Pharaoh first, then Brandi Rhodes, and finally Cody. He sips some coffee, gives Brandi a kiss and heads in. Inside, Kenny Omega is apparently watching the show on a laptop and gives the camera a big thumbs up. Matt Jackson is walking around backstage and meets Michael Nakazawa. Matt tries to put on a friendly face, but then gets angry as he heads off. Nick asks him if he's okay, Matt says yeah. Matt and Nick are asked about their credientials, Nick superkicks the guys and papers fly.
The group comes out to hype up the crowd. Cody goes to welcome the crowd, Matt takes the mic, Nick grabs it, Kenny then snatches it away to welcome the crowd. "AEW!" chant from the crowd. Matt says it's so cool to see 20k people, Cody says it's more like 13k, Matt says this is pro wrestling, you round up. Cody goes along with it and says they set the attendance record with 20k fans! Brandi notes this is the first sensory inclusive event in wrestling history. Cody says this is a revolution and screen fades to black.
Main Show
#1 SoCal Uncensored (Kazarian, Daniels and Sky) vs Strong Hearts (Cima, T-Hawk and Lindaman
Christopher Daniels starts for his team against Cima. They start with a standard exchange of counters and takedowns. They show their technical ability with a smooth sequence of moves before tagging in Kazarian and T-Hawk. Hawk hits a stiff chest chop and a shoulder tackle. Sy comes in for SoCal and gets dropped with a powerbomb for two. Lindaman tags in for the first time to hit a double team with Hawk.
SCU takes control by using quick tags and triple teams combos to keep Lindaman isolated. Cima finally gets the tag and hits a knee drop to the back of the head of Daniels. Everyone starts getting involved. Strong Hearts come out of the exchange with the upper hand. The crowd chants for both teams as Daniels gets taken down with a double dropkick. Sky saves Daniels from a submission to keep the match going.
Sky takes several high-impact moves from Strong Hearts but manages to kick out at two. Kazarian and Hawk get the tag and Frankie runs wild on everyone. All six men start exchanging big moves. Daniels and Kazarian end up scoring the win for SCU with a piledriver/moonsault combo.
Winners- SoCal Uncensored
Before things get going, Brandi Rhodes' music and she heads out in her ring gear. She announces Awesome Kong will also be competing to make it a Fatal 4-Way. Allie joins the commentary team for this match.
#2 Britt Baker vs Nyla Rose vs Kylie Rae vs Awesome Kong
Rose and Kong square off. Rae and Baker try to help Rose but Kong just tosses all of them aside. She throws Rose out of the ring before taking out Baker and Rae with ease. Rae takes down Baker with a shoulder block. Baker mocks Kylie's smile after hitting a body slam. Kong catches Baker and Rae takes them both out with a suicide dive. Rose rolls Rae back in for two. Rose nails a spinebuster for another near fall as she continues to focus on Smiley Kylie.
Rae counters a powerbomb with a frankensteiner but Baker runs over to break up the pin. All four women end up in the corner for a Tower of Doom. Kong is the last woman standing when the dust settles. Kong prepares to powerbomb Baker on the apron. Baker counters and hits a kick to the head. Rose spears Kong into the steel steps. Baker gets a few near falls on Rae. Rae hits Baker with a German suplex for a two count. Baker drills her with a superkick before hitting an Ushigoroshi for the pin and the win.
Winner- Britt Baker
#3 Best Friends vs Angelico and Jack Evans
Beretta and Evans lock up to start the match. Trent stays standing when Evans attempts a shoulder tackle. He turns Evans inside out with his own shoulder before he brings in Taylor for a dropkick. They bring in Angelico for some tag team antics but Evans and Angelico turn the tables and dropkick them into each other. Evans and Angelico use their speed to hit some nice double team combos for a two count. Taylor gets the hot tag and goes to work against Evans. Angelico tries to help to no avail. Chuck hits the falcon arrow for two.
Beretta hits a beautiful tornado DDT and Evans follows up with a double stomp for a close two count. Best Friends put Evans through a lot but can't seem to keep him down for the full three count no matter what they try. Angelico comes back in and helps turn the tide in their favor. He and Evans hit a series of cool double team moves for a few near falls. Angelico hits a big knee to Beretta's face. He hits a running crucifix bucklebomb before Evans hits a 630. Taylor breaks up the pin at the last second. Taylor takes down Angelico with a dive at ringside while Beretta grabs Evans so they can hit the Tag Team Crunchy for the pin.
Winners- Best Friends
Post-match, The Best Friends want a hug, the lights go out as they do so. Lights up and The Super Smash Bros. are in the ring. Lights off and on again and a bunch of masked minions are around the ring. Both teams end up getting destroyed by them. Crowd didn't really know how to react to that, got some boos and what sounded like a "Who are you?" chant.
#4 Aja Kong, Yuka Sakazaki and Emi Sakura vs Hikaru Shida, Riho Abe and Ryo Mizunami
Shida and Sakazaki start for their teams. Shida uses her speed to avoid some strikes early before she tags in Aja Kong. Mizunami comes in and locks up with the legend and they come to a stalemate. Kong gets the upper hand and blocks a few shoulder tackles. They tag out to Sakura and Abe so they can trade some offense. Shida comes back in and uses some speed to hit several moves. Sakura comes in and throws Abe by her hair.
Kong almost gets the win with an elbow drop. She grabs Abe for a piledriver but still can't get the pin. Mizunami comes in for her team and starts going on a rampage. She spears King off her feet. Riho comes back in and Kong takes her down with a kick. Shida uses a kendo stick but Kong uses a metal can to even the odds. Sakura gets the crowd singing Queen as she hits a backbreaker. Everything breaks down as all six women get involved. Emi and Aja dominate the action for a long time. The timekeeper accidentally rings the bell when Emi gets a two count with a moonsault. But the match carries on and Shida nails Ami with a running knee for the pin and the win.
Winners- Hikaru Shida, Riho Abe and Ryo Mizunami
There's a throne that looks very Triple H-like on stage. Cody and Brandi head to the ring, Brandi grabs a sledgehammer from under the ring and hands it over. Cody goes back to the thrown and smashes it.
#5 Cody Rhodes vs Dustin Rhodes
After sizing each other, they lock up and fight for control. Cody takes him down with a trip and does a cartwheel to mock his brother. Cody steals a move from Dustin by dropping to his back and hitting a shot to the face. He takes Dustin down with a suicide dive as Brandi looks on with a smile. Dustin misses a counter but hits it on the second try. He takes Cody down with a senton from the apron. Cody eats several jabs before he rolls out of the ring to take a breather. Brandi helps Cody take control and score a near fall.
Cody puts Dustin in an abdominal stretch. Dustin breaks free and sets his brother up for Shattered Dreams. Cody removes the middle turnbuckle cover and sends Dustin into it. Brandi spears Dustin on the floor. Earl Hebner boots her from ringside. DDP comes out and carries her away. Dustin is busted open and bleeding as Cody continues to beat on him. Dustin is bleeding profusely as Cody nails him with a few dropkicks for a two count. He is literally pouring blood as he keeps kicking out of Cody's moves.
Dustin locks in the Figure Four and Cody reverses the momentum. Dustin rolls to the ropes to force a break. He grabs Cody's belt and whips him in the butt with it. He hits a snap sunset flip for two. The crowd is giving this a standing ovation as Dustin puts Cody on the top turnbuckle. He hits a superplex followed by Cross Rhodes for a close two count. Cody hits a low blow and the Disaster Kick before taking him down with his own Cross Rhodes for another near fall. Dustin hits Cross Rhodes for yet another two count. Cody and Dustin trade strikes for quite some time. Cody drops Dustin on the back of his neck in the middle of the ring. He hits one more Cross Rhodes to get the win.
Winner- Cody Rhodes
Cody comes back to the ring and grabs a mic. He says Dustin doesn't get to retire because he needs a favor from his brother. He says he wants to team up with Dustin next month to face The Young Bucks. Both men have tears in their eyes as they hug to a standing ovation.
AEW Championship Belt
Jack Whitewall introduces Bret Hart who will introduce the new title belt of AEW. Bret remembers a bit title match he had in Vegas prior to introducing Hangman Page. MJF enters and cuts a promo on the crowd for being jealous of him. Then he turns to Hangman and tells him he is like a horse and when a horse has a bum leg, you blow their brains out. So he may as well relinquish his title shot and give it to a real man.
MJF steps on the apron and Page takes a punch at him but MJF jumps off. Jungle Boy walks out. He walks past Jungle Boy saying he doesn't want to wrestle a teenage boy. But then Jimmy Havoc walks out and MJF is trapped between Paige, Jungle Boy, and Havoc. MJF throws a punch at Jungle Boy but then takes it from all three guys. In the ring, Hitman shows off the new belt.
#6 The Young Bucks(c) vs Lucha Bros – AAA Tag Team Championship Match
Pentagon and Matt start for their teams. Pentagon grabs Matt for the Pentadriver early but isn't able to hit it. Fenix is tagged while Nick also makes the blind tag and Fenix takes them both down with a double arm drag. Fenix and Nick have a furious exchange and go kick for kick until they come to a stalemate. They start trading chops again until Pentagon gets the tag and they double team Matt and Nick to take control.
Nick uses his agility to take down both Lucha Bros at the same time. Matt comes back in and keeps Pentagon on the defensive with a powerslam. Pentagon is able to gain some momentum by countering some double team moves. Fenix recovers and gets the tag. Matt hits Fenix with a trio of northern lights suplexes before applying a sharpshooter. Pentagon comes in to break things up but gets taken down in the process. Nick takes down Pentagon with a moonsault from the apron. The Young Bucks put both Lucha Bros into Sharpshooters at the same time. Fenix and Pentagon get to the ropes to force a break. Nick hits a 450 for a two count. The Bucks keep Fenix isolated with quick tags and some of their signature double team moves.
The Bucks and Lucha Bros hit superkicks at each other gets a standing ovation from the crowd. Fenix gets a close two count with a Canadian Destroyer while Pentagon hits the same move to Matt on the apron. The Lucha Bros get a few more near falls. Matt hits a superkick to break up a submission. Fenix springboard into a double superkick. Nick takes out Fenix with an Escalera from the top rope while Matt gets a near fall on Pentagon. Pentagon snaps Matt's arm and Fenix comes in to keep focusing on his shoulder. Matt grabs him and Nick helps him hit the Meltzer Driver for the pin and the win.
Winner- The Young Bucks
Jericho's entrance shows off his different gimmicks over the years: lionheart, light-up jacket, and the list. Omega has a new theme for AEW.
#7 Chris Jericho vs Kenny Omega (Winner will face Adam Page for AEW World Championship)
They lock up and Jericho scores the first takedown with a running shoulder. Omega comes back with some chops to the chest. Kenny runs into an elbow and misses a V-Trigger. Jericho counters a hurricanrana with the Walls of Jericho. Omega escapes under the ropes and Jericho follows up with a dropkick. Jericho grabs the bell and rings it symbolically. Omega slams him onto the timekeeper's table. Kenny tries a moonsault from the barricade and Jericho pushes him into the crowd.
Omega hits a crucifix slam and a moonsault for two. They trade stiff chops before Jericho hits a missile dropkick for a near fall. Jericho gets distracted by the crowd while Omega is looked at by the ref for a broken nose. Omega is bleeding as Jericho hits a few punches. Kenny takes him down with a hurricanrana. Jericho pulls a table out from under the ring and Kenny hits a dive to take him and the table down. Kenny hits a double stomp before he sets up the table next to the ring. Kenny hits the V-Trigger to the back of the head.
Omega puts Jericho on the top turnbuckle and hits super back suplex. Omega blocks a Lionsault and hits another V-Trigger. Y2J counters his finisher and hits a German suplex. Jericho hits a pair of Lionsaults for two. He backdrops Omega over the top rope and through the table. Jericho brings him to the top turnbuckle for a superplex. Omega counters and knocks him down. He jumps right into a Codebreaker to give Jericho a near fall. Omega pops up and hits a dragon suplex out of nowhere.
Jericho blocks a running knee and locks in the Walls of Jericho once again. Kenny is able to roll over and kick his way out. They trade strikes and Omega hits another V-Trigger. They botch a move out of exhaustion but recover right away. Y2J spikes Omega with a DDT and hits a running Codebreaker. Jericho hits his new move 'the Judas Effect' to score the pin and the win.
Winner- Chris Jericho
Jericho and Omega are 1-1 now. They might face-off later for the Championship but right now, Jericho is going to face Adam Page for the title. Post-match, he tells the crowd they can boo him all they want, but he knows it's his time now. Some people try to cheer and he tells them to shut up because Chris Jericho is AEW. He says it's not a company for the fans, it's a company for him.
Suddenly, Jon Moxley comes out through the crowd and gets into the ring. The crowd erupts. Moxley drops Jericho and the ref with DDTs. He picks up Omega and tries to hit one more. Omega pushes him out of the ring and they brawl into the crowd. The crowd goes nuts as Omega and Moxley brawl all the way to the stage. They end up on the stack of poker chips and Moxley DDTs Omega to end the fight. He picks Omega up and drops him down to the floor.